Coconut Salmon Zucchini Noodle Bowl Recipe
Coconut Salmon Zucchini Noodle Bowl Recipe is packed with veggies, and spiralized zucchini, topped off with a sprinkle of crushed red pepper!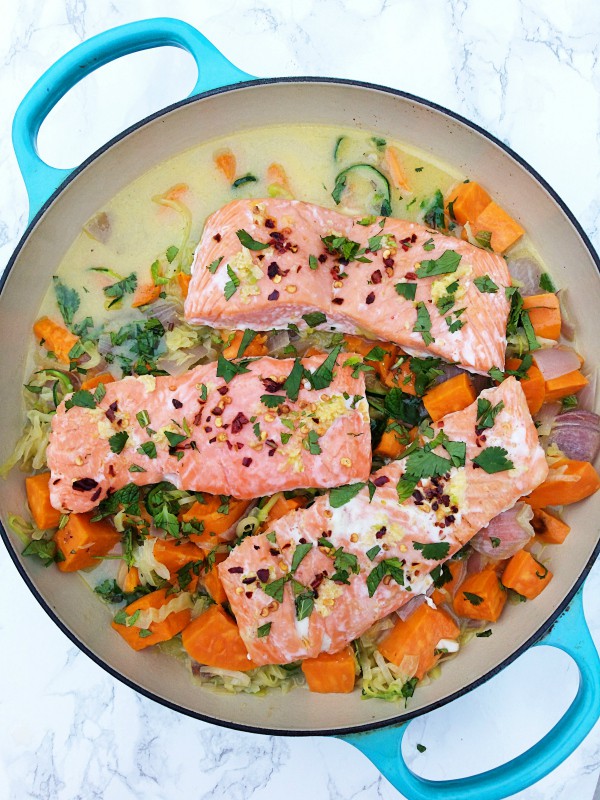 Friends, I am so drawn to succulents this time of year, so when I found this beauty in one of my favorite stores here in Bend, Oregon, (Newport Avenue Market) I snagged it. The designer came out and talked to me–about each plant, the bark, the moss. We had quite the chat, which I loved. Being in a new town, I like striking up new conversations.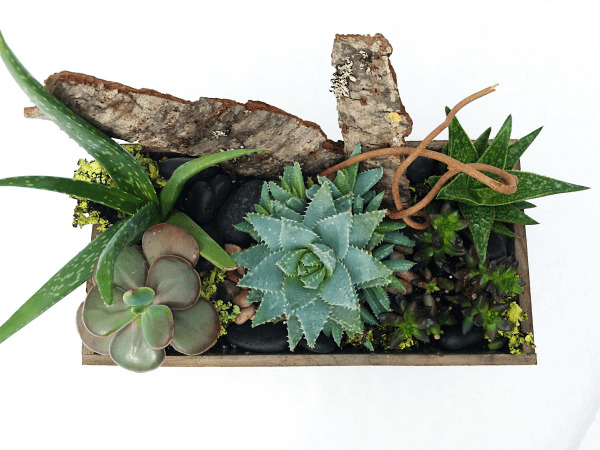 I never see anyone I know, which is nice for the days I haven't washed my hair in quite some time, pulled back in a pony tail, and I'm in my workout clothes, or pajamas (kidding). None of this matters though, quite honestly. I love talking to people, and being interested in their lives, their jobs, whatever the subject may be!
The world would be a happier place if we just took the time to talk. To care and to invest, and eventually … just possibly eventually, you'll have the courage to make a dinner invite!
There's something about a new, fresh succulent plant in March, that lasts for months on end, and is the perfect centerpiece.
Fresh and bright! (And here's a fun place setting idea made with succulents.)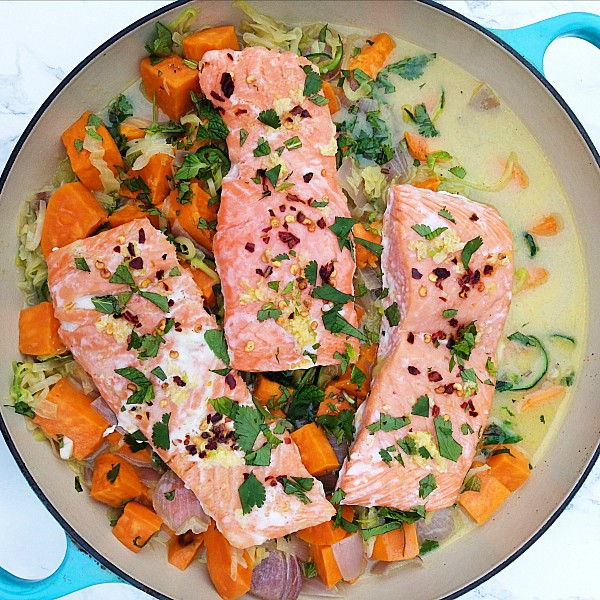 Coconut Salmon Zucchini Noodle Bowl Recipe
I was chatting with my friend the other day, as I sent a text of my Coconut Salmon Zucchini Noodle Bowl Recipe, asking her if her 4 daughters would eat something like this dish!
Our kids grew up eating salmon. When I saw Weelicious' Instagram story, her one-year old devouring salmon, it brought me back to when our kids were little. Salmon has been a part of their diet, at least twice a week, all their lives.
Kids learned to eat salmon at our house!
It's all about the preparation, and salmon is actually very simple to cook with.
Food can be so pretty, and it doesn't take much effort to add a dash of crushed red peppers, or your favorite fresh, chopped herb on top! We're horribly missing our herb garden right now, but it's okay. When you move, you leave things that you love, but you welcome newness and change into your life.
Today I'm presenting to you my Coconut Salmon Noodle Bowl, that is easy enough for any weeknight meal, and good enough for company! Your kids will gobble this up, and not even know how healthy it is.
Get your spiralizer out, friends! And enjoy!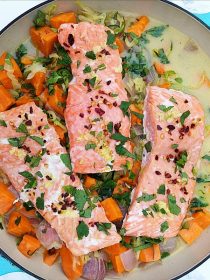 Get the Recipe: Coconut Salmon Zucchini Noodle Bowl Recipe
Ingredients
4 Tbsp. extra-virgin olive oil
2 cloves garlic, minced
1/2 tsp. ginger
Sea salt + pepper
Pinch red pepper flakes
4 small salmon filets, 5 to 6 ounces each
2 medium sweet potatoes, or yams, peeled and cut into 1-inch pieces
1 medium red onion, cut into thin wedges (about ¾ cup)
4 small zucchini, about 8 ounces, trimmed, and spiralized
4 cups green cabbage, thinly sliced
1 13 oz. can coconut milk, make sure and shake the can before opening
2 cups chicken broth
1 Tbsp. chopped fresh cilantro
1 Tbsp. chopped fresh mint
Instructions
Preheat the oven to 400°F. In a shallow roasting pan, combine the sweet potato and onion. Sprinkle with salt and pepper; drizzle with 1 Tbsp. olive oil; toss to coat. Bake for 30 minutes until the vegetables are tender and lightly browned.

On another baking sheet (I line with parchment paper), add the salmon filets. Rub with 1 Tbsp. olive oil; season with salt and pepper and sprinkle with ginger. Bake at 400°F for 15-18 minutes.

Use a spiral slicer (spiralizer) or julienne peeler to cut the zucchini lengthwise into long, thin noodles (or use a regular vegetable peeler to cut the zucchini lengthwise into thin ribbons).

In a large skillet, heat the remaining 2 Tbsp. olive oil over medium-high heat. Add the zucchini, and the remaining garlic; cook, tossing gently with tongs, until the noodles are crisp-tender, 1 to 2 minutes. Add in the cabbage and cook for another 2-3 minutes.

Add the coconut milk and broth. Bring just to a boil, stirring frequently. Remove from the heat. Stir in the sweet potato mixture.

To serve, divide the zucchini mixture into 4 shallow serving bowls. Top with salmon. Sprinkle with the cilantro and mint. (You can also serve it in one big pot, as photo shows.)

Hello and welcome to my home and table!
I'm Sandy—lover of food, family, cooking, THE BIG BOARD, travel, and bringing people together. Through great recipes and connection around the table, we become better, stronger, and more courageous people. Feasting on Life is real, and every time we do it, we grow a little more. Read more...