Mahogany Bay Resort, Ambergris Caye, Belize
Our recent travels took us to Mahogany Bay Resort, Ambergris Caye, Belize, Curio – A Collection by Hilton, a beautiful property on the Carribean.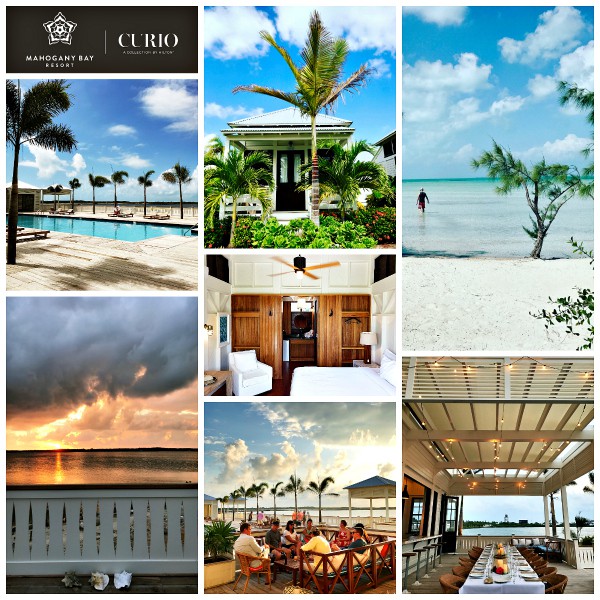 Our recent stay in San Pedro, Belize was a little slice of heaven! My husband and I just returned from staying at a new property, Mahogany Bay Resort, Curio – A Collection by Hilton, the largest development on Ambergris Caye, 2 miles from town.
The sunsets … be still my heart.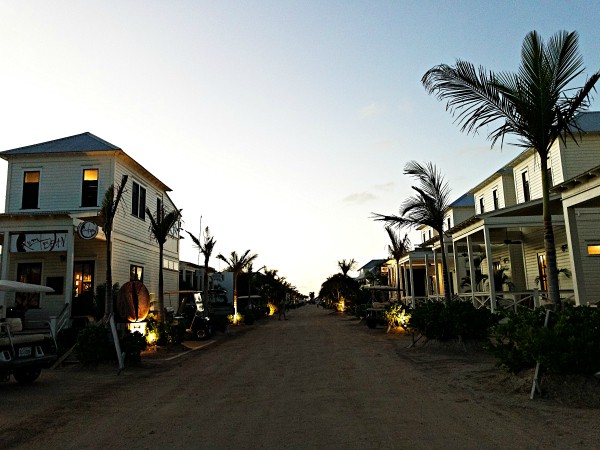 San Pedro is a town on the southern part of the island of Ambergris Caye, in the Belize District of the nation of Belize, in Central America. We flew in to Belize City airport, and then took a puddle jumper out to the island, flying over some of the most beautiful water we've ever seen.
Mahogany Bay Resort, Ambergris Caye, Belize
Mahogany Bay Resort sits adjacent to the village's greatest gem, "the townlet," so alive with the vibrant spirit of Belize, with many opportunities to become immersed in the local lifestyle–authentic foods, hospitable beaches, shopping in town, a spa experience, coffee, snorkeling and diving, or a guided tour.
They offers 205 cottage-like hotel rooms nestled amongst groves of coconut palms and tropical foliage.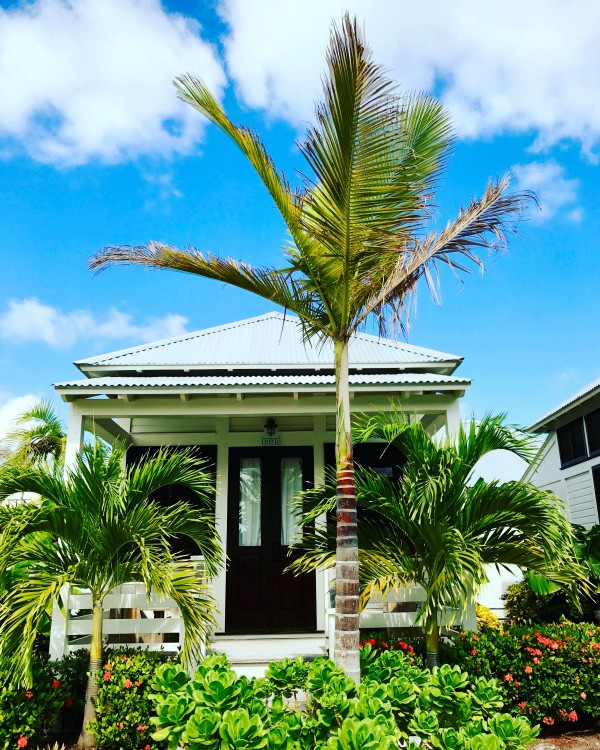 Let's just say this was our little haven for 5 days!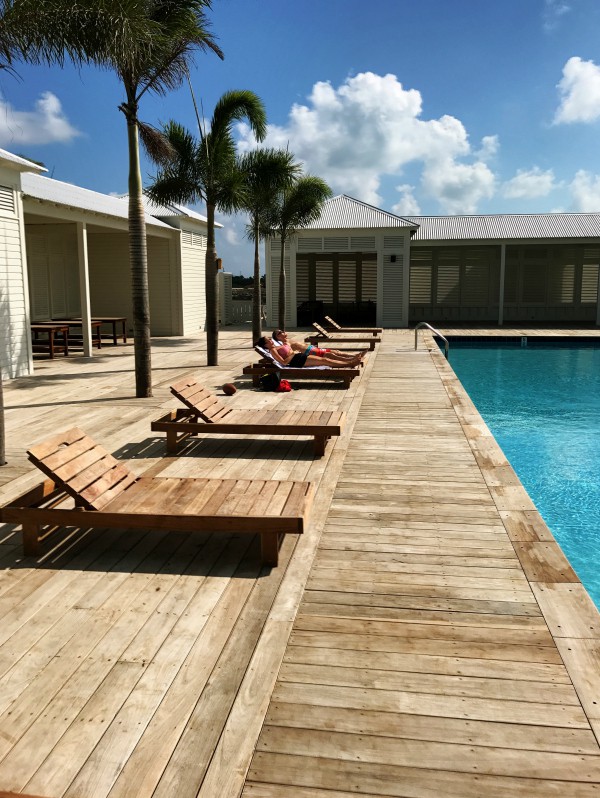 Each morning, we woke up to the most beautiful Caribbean sunrise, as we took a dip in the pool.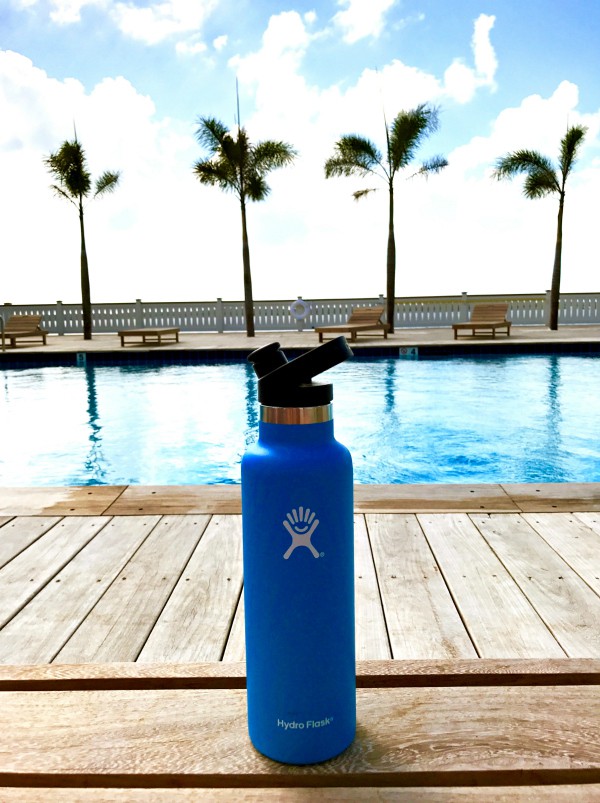 Of course with our Oregon-made Hydro Flasks nearby.
Guests have full access to an array of appealing amenities — from their Bay Club (with a grand pool and bar), to their private white sand Beach Club, just a short boat ride from our marina (with a water taxi service every 30 minutes).
At the private beach, we enjoyed the white sand, and all the sea life (we saw a barracuda for the first time). So many textures, and layers of colors, in the tranquil Caribbean.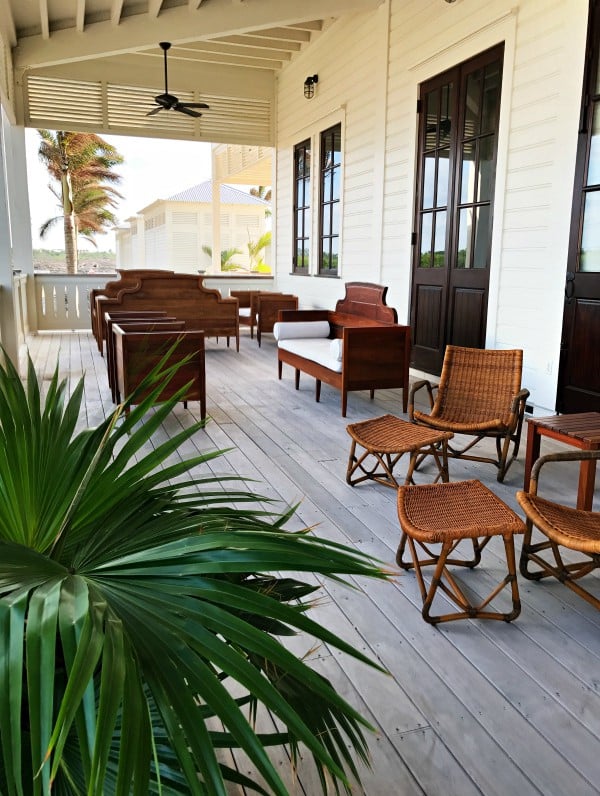 The Great House
The Great House hosts private dinners, and we enjoyed a welcome dinner with new friends when we arrive.
The dinner was cooked by their on-site chef, with foods grown in their aquapodics greenhouse on site, Ambergreens Aquaponics Organic Greenhouse.
They will eventually be hosting conferences and weddings in this stunning hall–22,000 sq feet, that will host up to 1,000 people! (Are you planning a destination wedding?)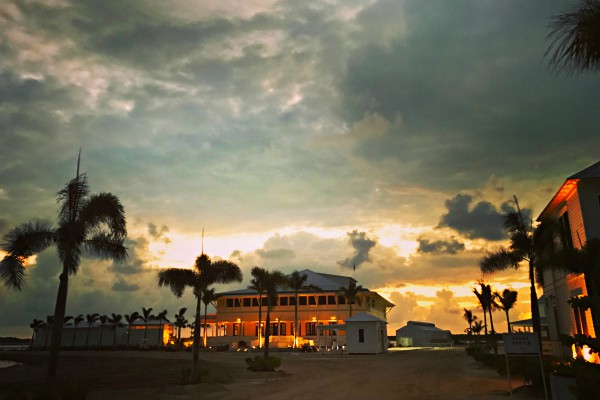 The skies were spectacular, I love this shot of the Great Hall at dusk.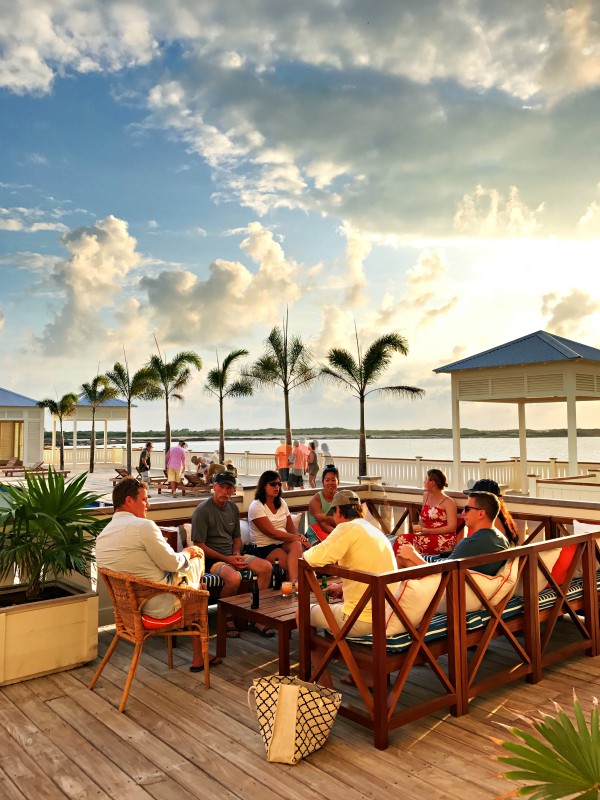 One thing Paul and I love about travel and new countries is mingling with locals, but also getting to know other travelers from around the world. Some of the best gifts in life are relationships, learning about new cultures, and bringing back home new experiences and lessons for life.
The Mahogany Chocolate shop? Divine!
We met the chocolatier, Josh Parker , whose process starts in the choice organic cacao farms of southern Belize, and finishes on site at Mahogany Bay Village!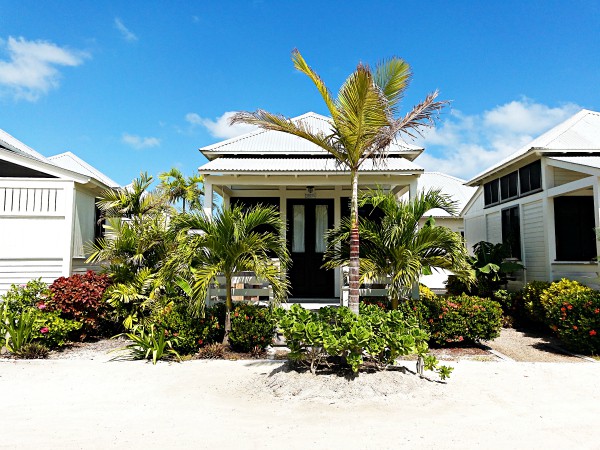 The Cottages
When we arrived, we were greeted by a great staff, and golf-carted (everyone zooms around in golf carts in this town) to our home for 4 days, our Garden Cottage!
Mahogany Bay Resort offers 205 cottage-like hotel rooms, different sizes, nestled amongst groves of coconut palms and tropical foliage.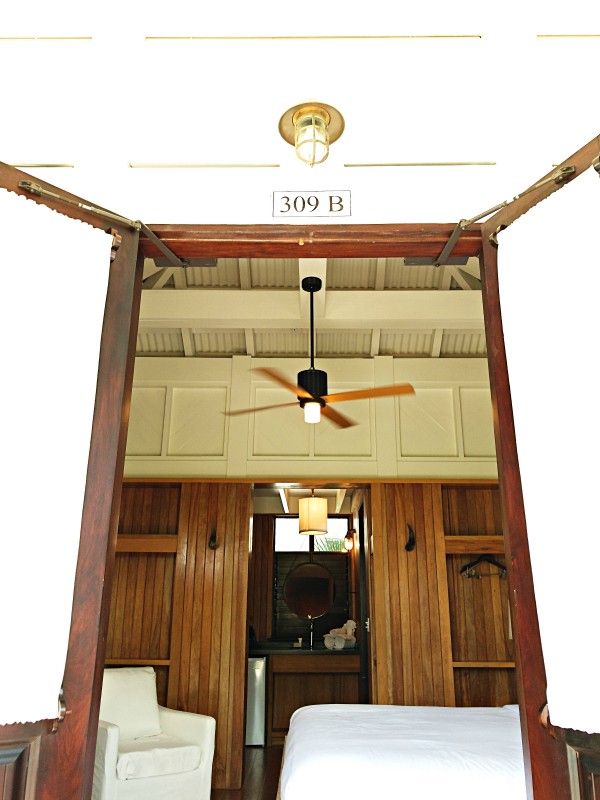 We stayed in the smallest, yet coziest, of the Curio Collection – 309B.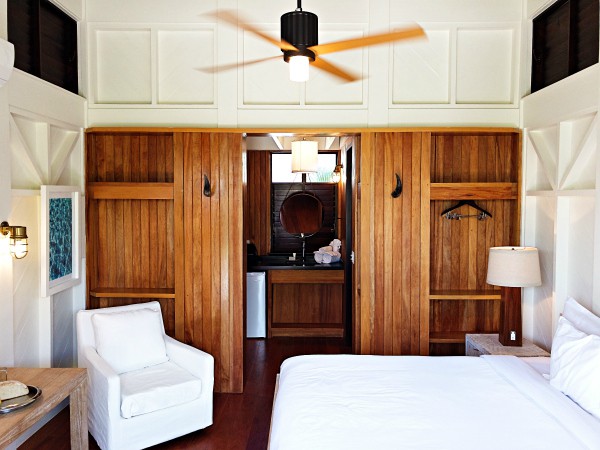 Walking into our cottage, with elevated and lofty ceilings, the hardwood in the buildings on this property is sustainably harvested from Belize's mainland forests.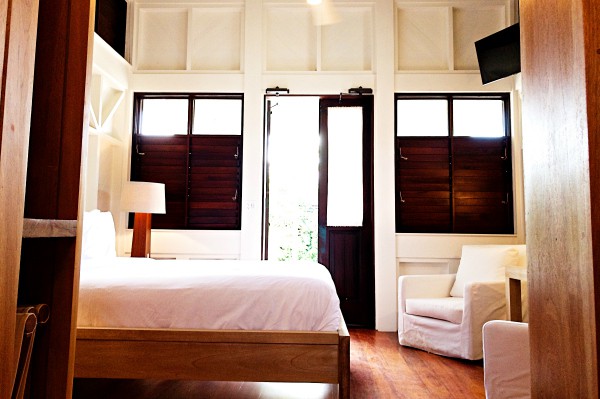 (Only specific mahogany trees that are marked in areas that devoted to sustainable forestry.)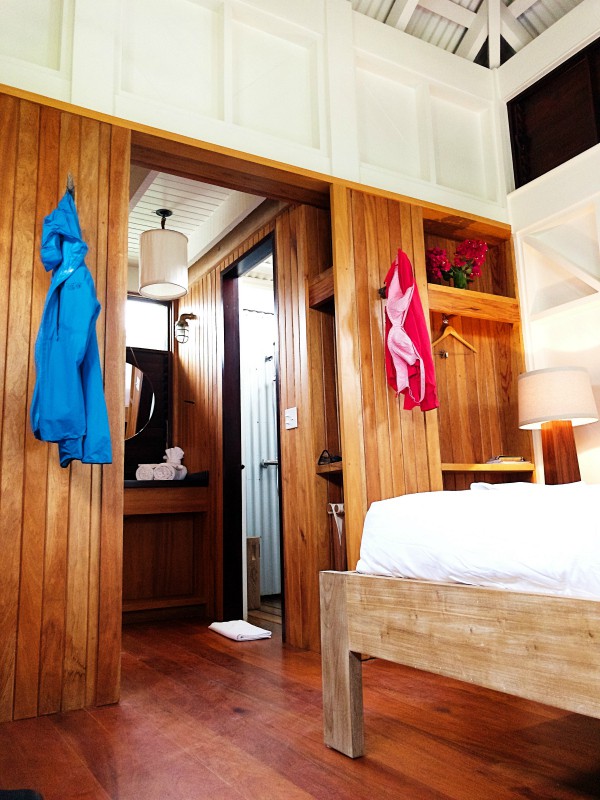 They worked with Belizean and Belizean-Mennonite craftsmen near Belmopan, making the cottages and furniture. It all arrives on the barge and the buildings are pieced together shockingly quickly.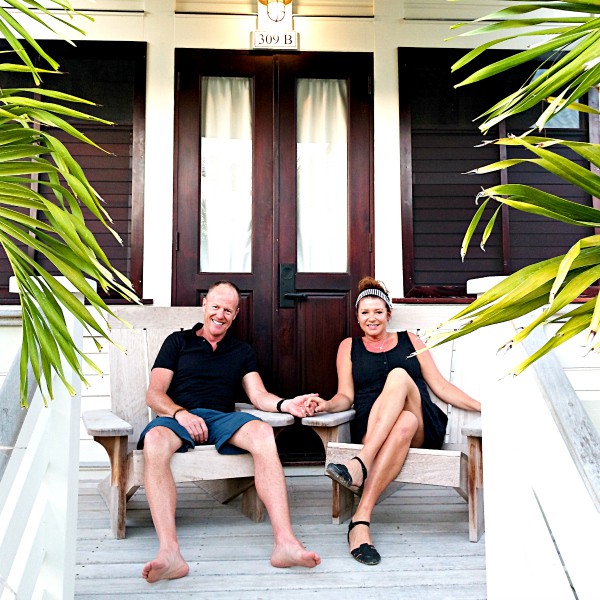 We sat on the outdoor lounging porch morning after morning, eating our breakfast, befriending a butterfly, or engaging a curious resident iguana.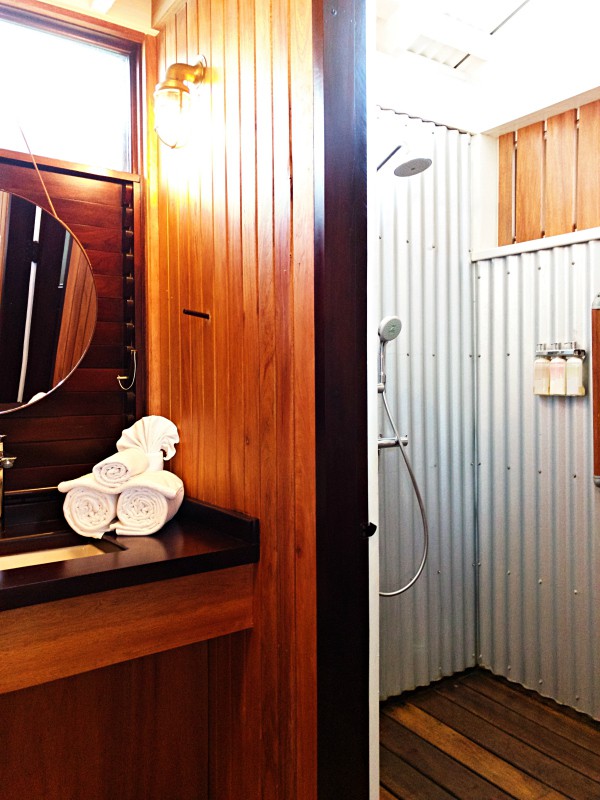 The indoor/outdoor shower was spacious, and we loved how the warm outside air mingled with our comfortable indoor air.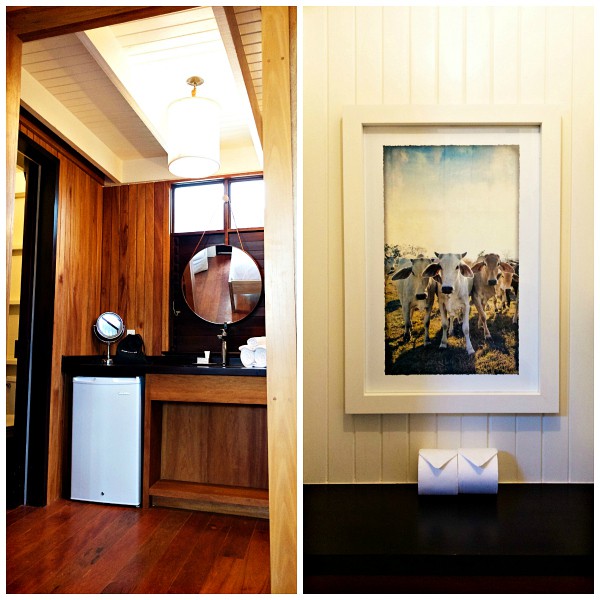 On Valentine's Day, Paul brought me a hand-picked bouquet of bougainvillea.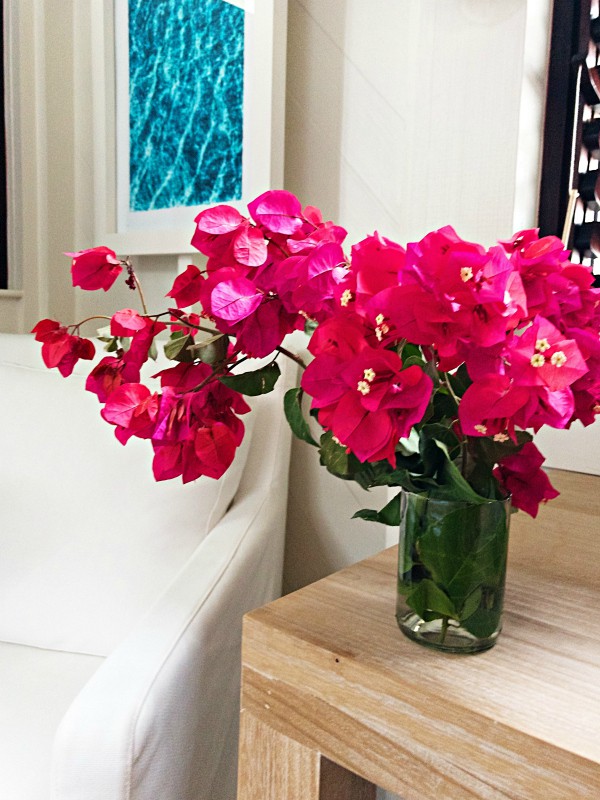 We lounged in our room, and enjoyed lunch at The Taco Shack.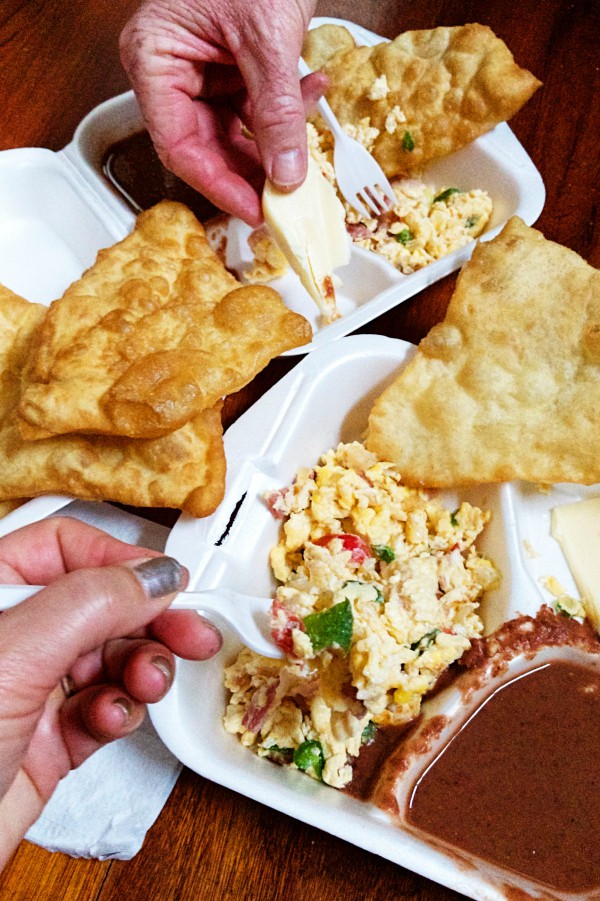 This was a go-to spot for the best Belizean tacos around, open for breakfast and lunch, with plantains served with every meal!
Soon to be opened is the JYOTO, Japanese cuisine made with the freshest and highest-grade sushi, sourcing fresh fish daily from local fishermen on Ambergris Caye.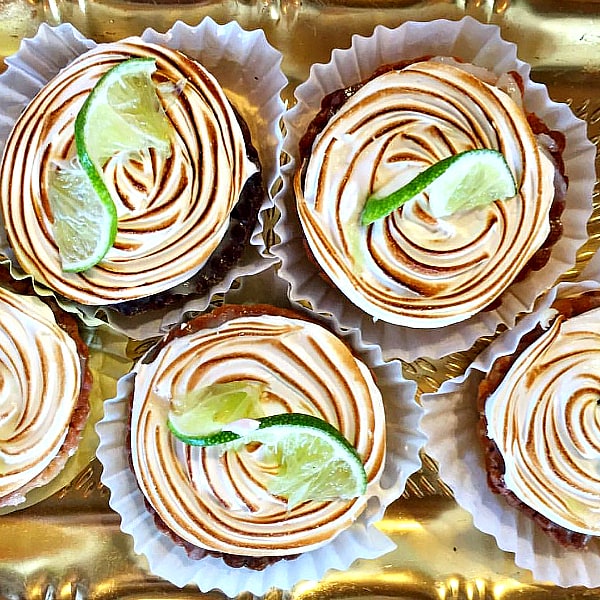 Market Day
Market day is a huge success, with live music and children and pets running around! At the Village Green, vendors serve up delicious foods, such as cheese, breads, the healthy, nuanced flavors of authentic dishes, choice meats, take-home gifts crafted by local artisans, wines, and desserts, like this creamy delight, from a new French bakery from downtown San Pedro.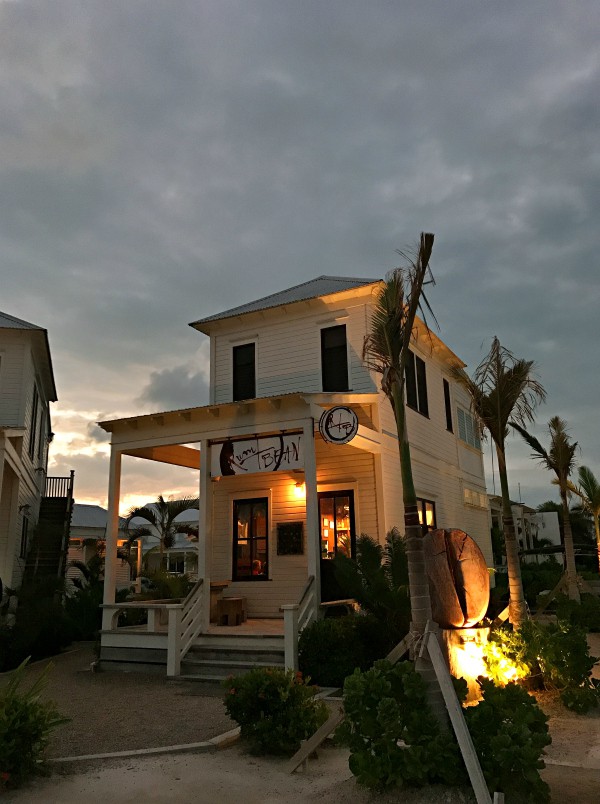 Rum + Bean
We'll never forget the award-winning coffee, at the coffee and rum bar, Rum+Bean.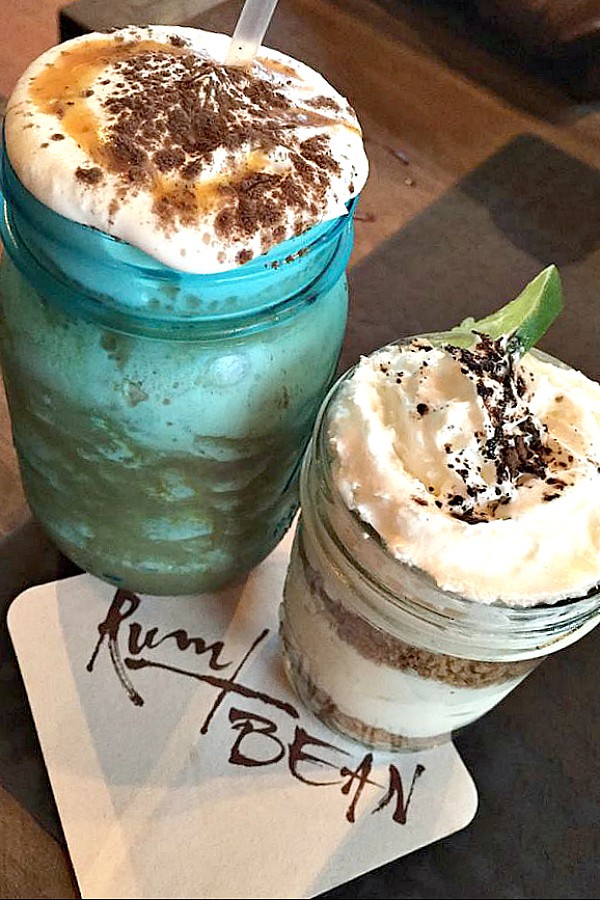 From frozen frappés to rum craft cocktails, this inspired coffee bar has been an island favorite among locals and travelers on Ambergris Caye. (Above photo from San Pedro Scoop.)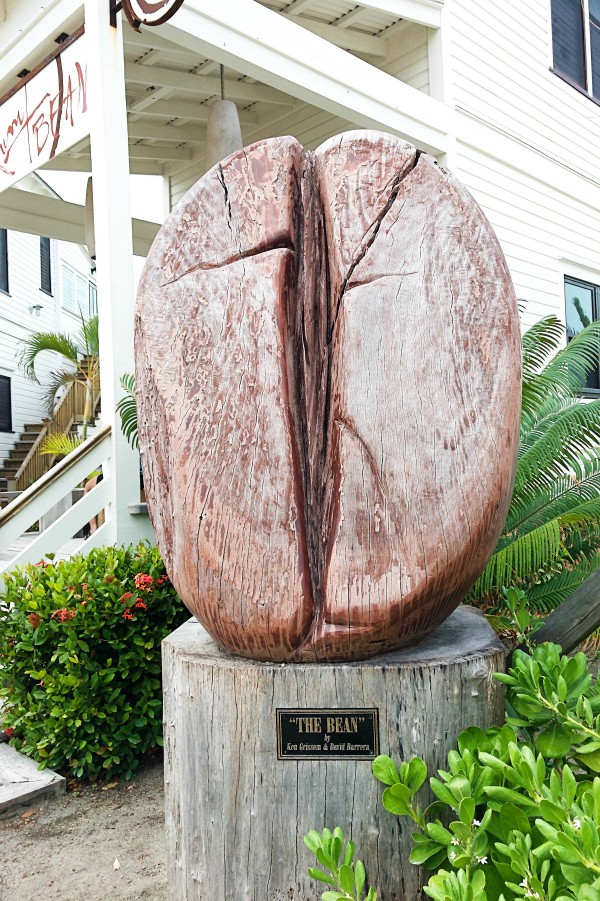 We hung out in this cool, air-conditioned space (a great place to work, since my husband and I mixed work and travel together), and sipped on our morning espresso!
So besides coming to Mahogany Bay Village to relax, it's also a place you'll never have to leave, because guests can find everything from a general store, to amazing cafes, to restaurants run by award-winning chefs.
And then, jump right into Belizean adventures, like fly-fishing, snorkeling, and scuba diving. There are more than 100 dive sites along the Mesoamerican Barrier Reef nearby!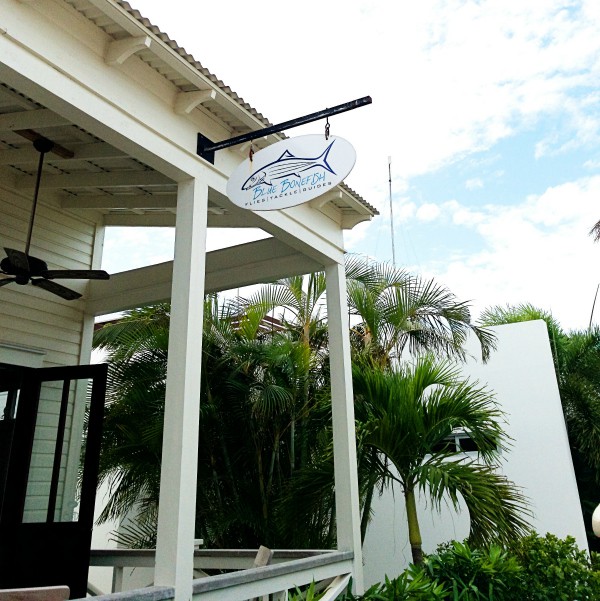 Blue Bonefish Flyshop
Paul and I went on a private fly-fishing excursion with the owner of Blue Bonefish Flyshop, a one-stop shop for any fishing adventure, offering guided tours of the flats, reef, and other offshore fishing excursions.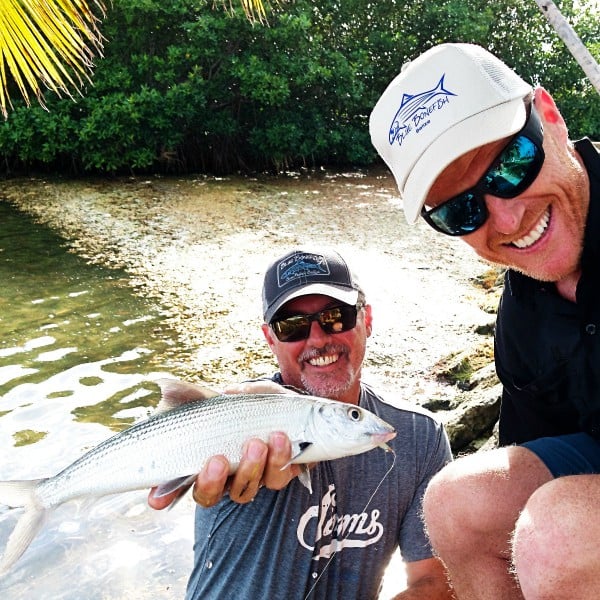 We took a different approach, instead of a standard boat fishing experience, deciding to fish the way many of the locals do, from the beach and various other locations.
I sat on the side of the bank, feet dangling in the salt water, gazing over the ripples of blue, watching my hubby do what he loves. He fished for tarpon, schnook and bonefish. He couldn't get a schnook to come out and attack his fly from under the mangrove, but he did manage to land a few bonefish!
Chris, our guide and the owner, really took the guesswork out of fishing. You not only get a pretty good chance of catching some amazing fish, but you also get the local stories and history of the island. We loved spending the day with Chris and his girlfriend, and hope to see them again!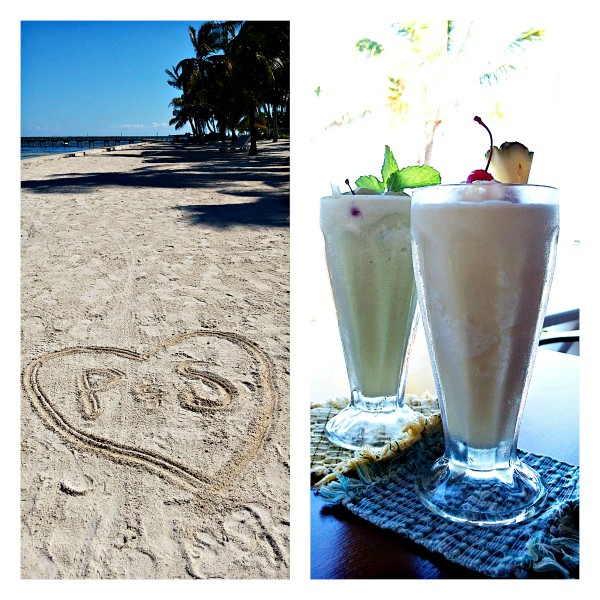 We spent quite a bit of time just relaxing on the beach.
And walking on the beaches for hours and hours, just looking at houses. So many vibrant colors. (This was the perfect week to spend together, celebrating our 25th Valentine's Day together!)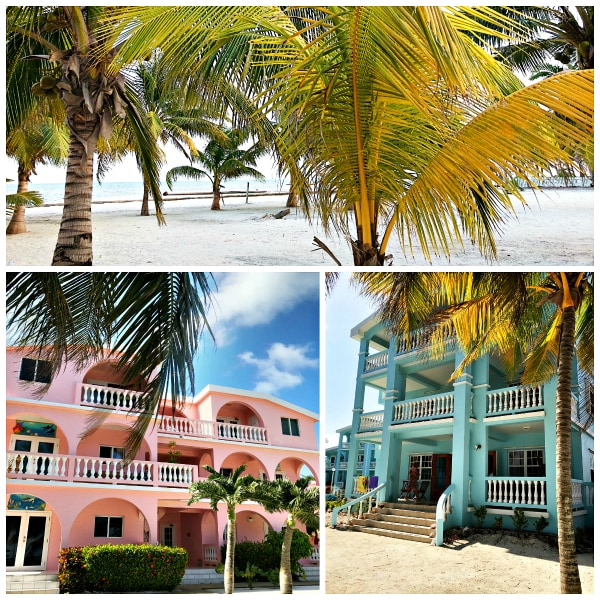 The color palette of the Caribbean water was something we had never seen before. Vibrant blues made you want to stare at it for hours. (Me and the pilot in the puddle jumper!)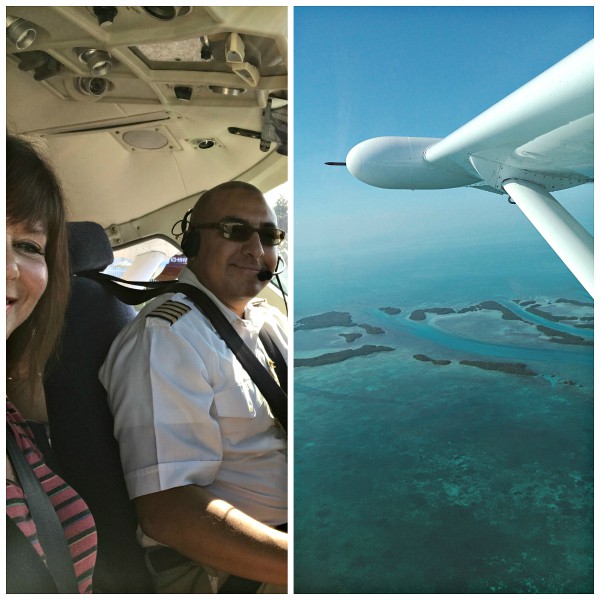 Getting to know the project managers behind this new property was a real treat for Paul and me. We were inspired by MBV's giving back to the community, by employing a large amount of the local population, plus their encouragement of the creation of numerous new businesses that will help locals grow and prosper for years, if not also in the generations to come!
We were able to sit down with Beth and have the most intriguing conversation with her. We remembered her on International Women's Day, a true inspirational story.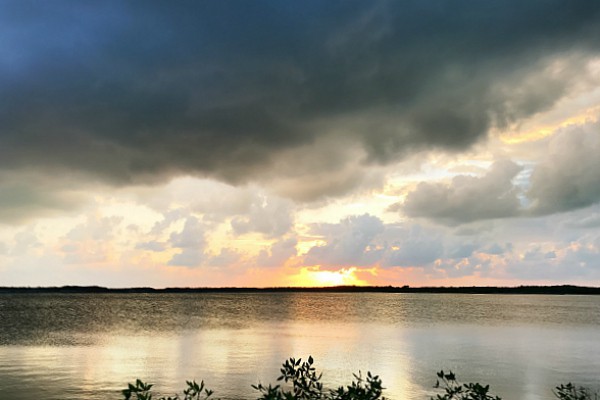 Next, after 5 rejuvinating days at Mahogany Bay Village, on to a fruitful, educational, fun experience in the rainforest, an eco-resort experience.
---
My lodging was paid for by Mahogany Bay Village, but as always, all opinions are my own.
Hello and welcome to my home and table!
I'm Sandy—lover of food, family, cooking, THE BIG BOARD, travel, and bringing people together. Through great recipes and connection around the table, we become better, stronger, and more courageous people. Feasting on Life is real, and every time we do it, we grow a little more. Read more...