Cooking for a Crowd with The Pioneer Woman's Peach-Whiskey Chicken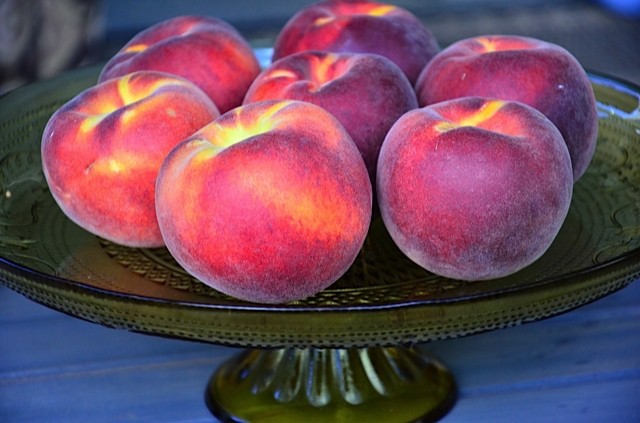 We've been cooking a lot with peaches this month, plus my son wanted to learn how to can them. He's planning to take the jars he's canned up to college for winter-smoothies. Smart boy!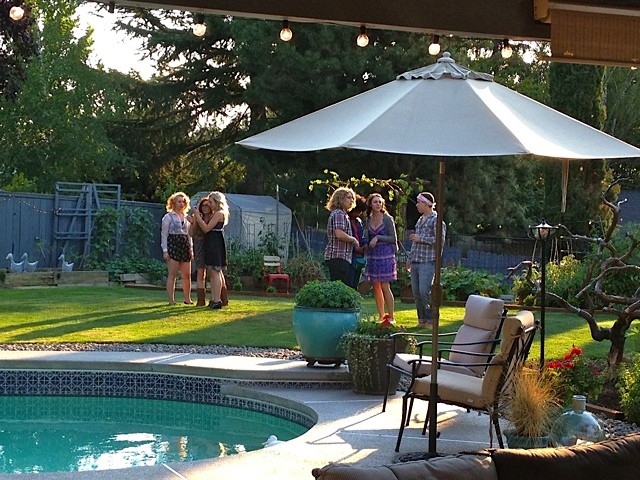 We also enjoyed a fun get-together in our backyard last weekend, as we hosted 15 adults, well, 4 adults and the rest all teens and in their 20s.
Having already fallen in love with The Pioneer Woman's Peach-Whiskey Chicken (we were served this wonderful dish, while visiting Ree on her ranch) I knew this would be a crowd-pleasing recipe to try on my guests.
So what was my secret cooking for a crowd?
When hosting a large group, cook the recipe the night before to make the next day's entertaining much easier!

My husband and I doubled the recipe (watch out when you add that whiskey!), and with the exception of adding in the peaches, we allowed it to cool on the kitchen counter. Then we stored it in the refrigerator until the next day, waiting for the final step of adding the peaches and baking it.
A few hours before our guests came, I removed the chicken from the fridge.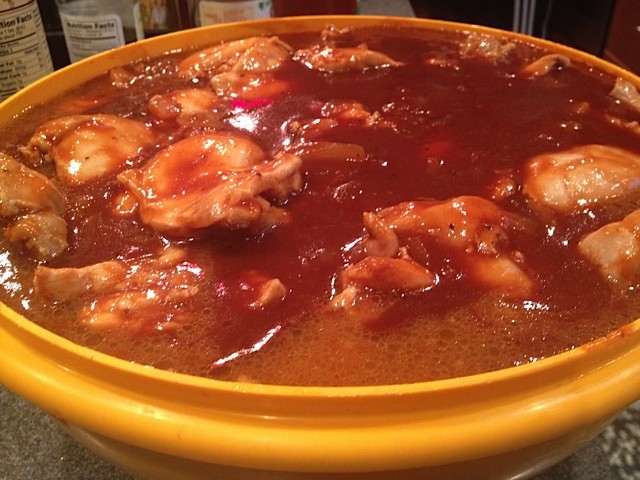 Sliced up the peaches, adding them to the mixture; separated out the recipe into two different pans (because of the amount), and then started baking.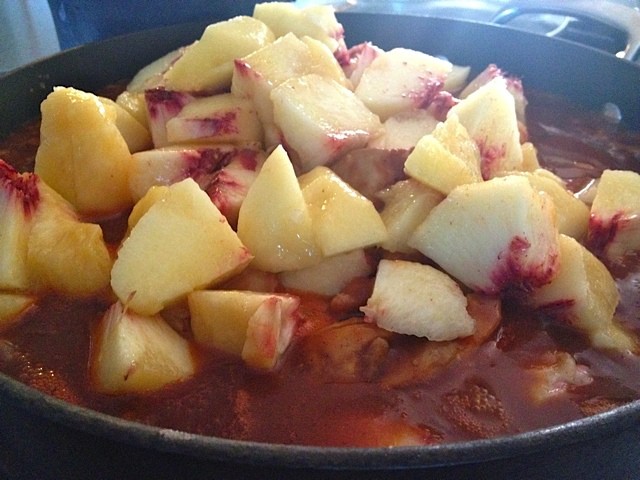 I timed the recipe to be finished 1/2 hour after the guests were here, because I knew we'd be having appetizers and enjoying each other's company for a while before sitting down to eat.
Our meal consisted of:

-Appetizer platters with fresh veggies and fruit; peach chutney, nuts and goat cheese – served with pita chips. Our home-canned zucchini salsa and rice chips.

-A huge green salad; Caprese Salad; watermelon.

-Rice (pressure-cooked with garlic and ginger and cranberries).

-Peach-Whiskey Chicken Thighs (boneless, I used 15 pounds for a crowd this size).

-Wonderful bread served with Meyer Lemon butter.

And dessert … was a surprise. Our guests brought cheesecake with fresh berries. I love surprises!
Here we are, enjoying this amazing meal! Great food, great friends.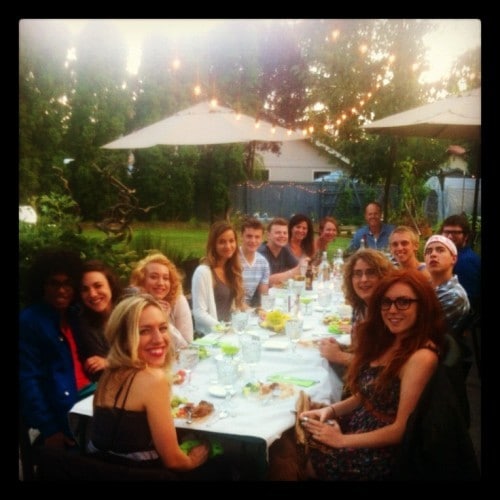 I actually made Ree's recipe from her book, which is slightly different than the recipe here, but either way, it's a KILLER good recipe and your guests will be HAPPY! :)
Do you think ahead when cooking for a large crowd, about what you can make up the day before?
Hello and welcome to my home and table!
I'm Sandy—lover of food, family, cooking, THE BIG BOARD, travel, and bringing people together. Through great recipes and connection around the table, we become better, stronger, and more courageous people. Feasting on Life is real, and every time we do it, we grow a little more. Read more...