Cranberry Moscow Mule and What to Wear for Holiday Hosting
A delicious Cranberry Moscow Mule drink to make, made with non-alcoholic Ginger Beer, and what to wear for holiday hosting!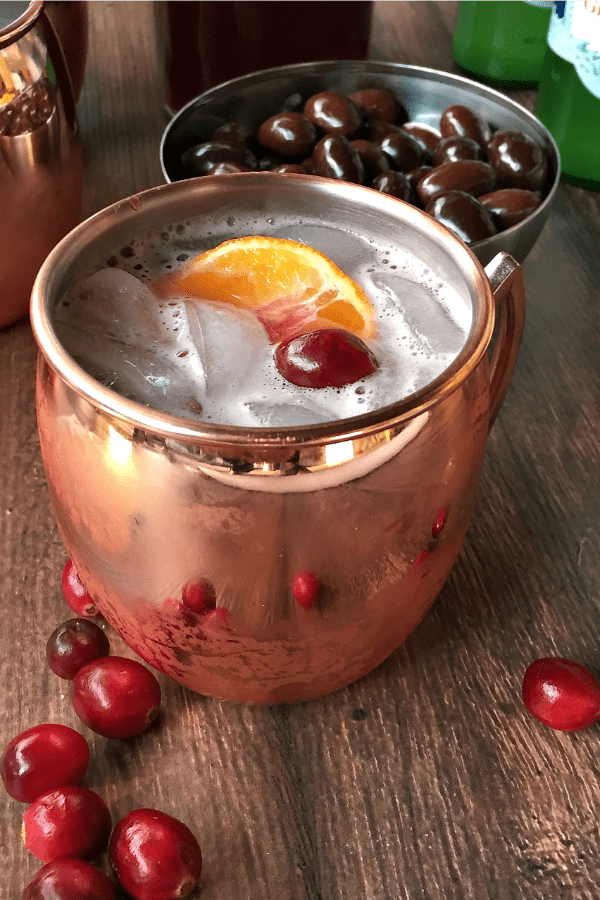 Friends, today I'm sharing a simple holiday drink: Cranberry Moscow Mule, which can also be made non-alcoholic.
Cranberry Moscow Mule.
So simple, pull out the chilled Moscow Mule Copper Cups for some added fun. Combine and serve to your holiday guests!
The art of hosting for me is making people feel comfortable the minute they walk into our home. Being organized is key, so you aren't frazzled when the guests arrive. There've been a few times, in my 25 years of entertaining, where I have not thought out my wardrobe in advance, leaving me scrambling at the last minute. Now don't get me wrong, entertaining is not about what the hostess looks like, but it is important to feel comfortable, feel good about yourself, and feel like you're ready to dive into making your guests feel welcome for the next 4-5 hours!
What to wear for holiday hosting.
So today, I'm sharing my simple tips on what to wear while hosting for the holidays!
Depending on the type of party, you can dress up or dress down. When you don't have to leave your house, you have all the freedom in the world to wear what you want, or to wear those uncomfortable shoes. I've often started off in a black dress and my red pumps! As the night goes on, you can kick them off and go barefoot, which I've done many times. I've also entertained quite a bit in flats, which I do more now (in my 50's), especially when I'm moving quite a bit in and out of the kitchen. I'm not so quick in high shoes any more; I feel sort of clunky in them.
I've also made mistakes in the past, wearing pretty blouses that get messed up with food splattering, or the long, or flowy sleeves that get in the way of kitchen work. I now most of the time wear black! I bought this lovely black dress at Target, with tight-fitting sleeves, easy to push up, and it's a light knit, so I won't get too hot. I also skip the pretty jewelry when I'm hosting a party (unless it's a simple, short necklace). More often than not, I've had necklaces on that look great with the outfit, but dangle in the food, or my favorite lucky bracelet, that gets in the way of my hands reaching in and out of the fridge and cupboards.
Wear your favorite apron.
I have a collection of aprons that I love. Wearing an apron is crucial if you get dressed an hour before, as I've suggested above, so you can put the finishing touches on the dinner, and know your party clothes are clean! Invest in a cute, short apron to wear, one you don't mind having on when the guests arrive, rather than one you might wear all the time to do the dirty work, that is stained and … possibly shabby looking. Guess what? I haven't bought an apron in years. I have a stash that I love, so especially during the holiday season, I like to rotate through them and use what I have. Plus, they each have a special place in my heart, and remind me of someone, usually, which makes entertaining even more fun! It's really all about the people, even when it comes to what apron to wear.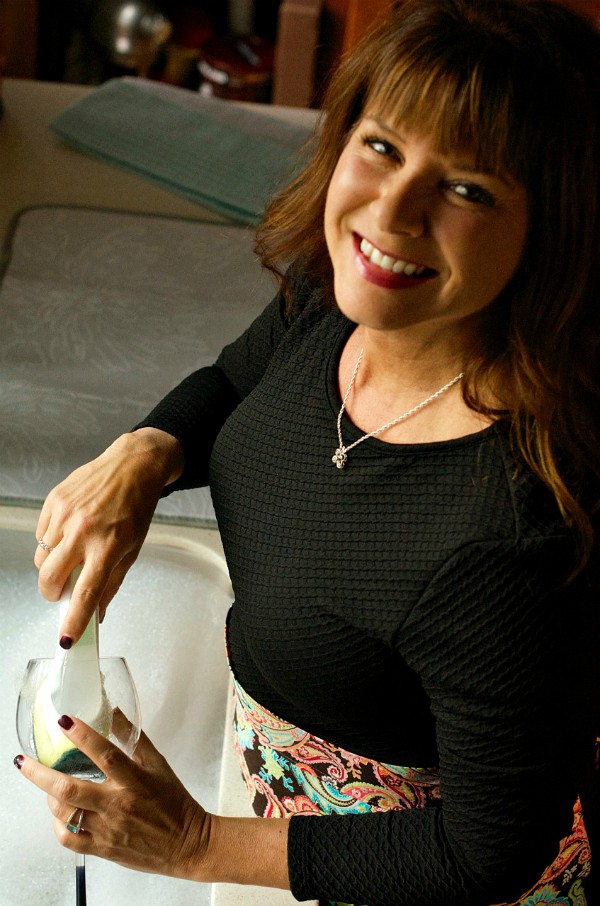 Get dressed one hour ahead of time.
Get dressed early. Lay your clothes out ahead of time. My rule of thumb is to get dressed one hour before the guests arrive. It gives me time to do last minute chores, like lighting the candles, filling the water glasses, getting the appetizer out, arranging the drinks, wiping down the counters, doing the last-minute dishes. My hubby gets the music going, we're dressed and ready—avoiding being stressed and in the bedroom or bathroom getting dressed when the first guests arrive. Believe me, I've made this mistake many times, and I hate starting off a party this way. All it takes is a little organization and sticking to a schedule, so you're at your very best when people start showing up.
My best advice.
Wear simple clothing when entertaining. A simple black dress, black or red flats, and call it good.
Timing is everything, so stick with a schedule and a plan.
And don't forget the holiday lipstick!
Oh, and enjoy this very fun Cranberry Moscow Mule drink for the holidays, and Happy Monday!
What best tips for "what to wear" can you provide for holiday hosting?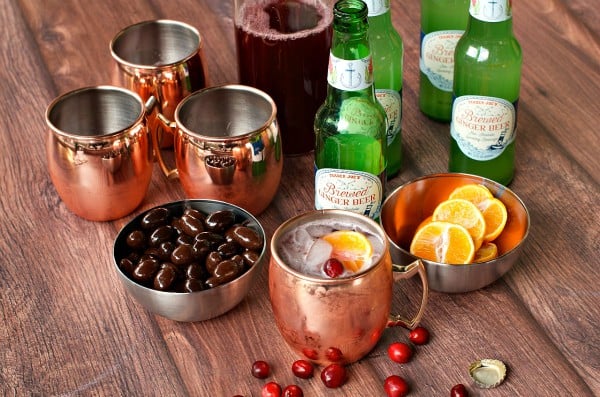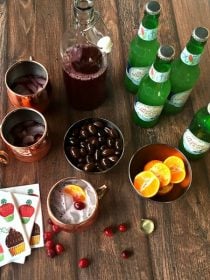 Get the Recipe: Cranberry Moscow Mule
I made this drink with vodka, but you can also use gin or cranberry moonshine. This is a deliciously adaptable drink! I buy my Ginger Beer (non-alcoholic) at Trader Joe's.
Ingredients
3 ounces cranberry juice
2 ounces about 2 shots Cranberry Vodka
Juice from ½ a lime
12 ounces ginger beer
Orange wedges, cranberries (sugared), and rosemary sprigs for garnish
Instructions
Combine cranberry juice, vodka, and lime. Pour over ice in Moscow Mule Copper Cups and top with ginger beer. Serve garnished with rosemary, orange wedge and sugared cranberries (optional), if desired.
Are you following me on Instagram, Twitter, Facebook and Pinterest? If you'd like to subscribe to Reluctant Entertainer, to have each post delivered straight to your e-mail box, then please add your email, here. It's really easy! Thanks for being here today!

Hello and welcome to my home and table!
I'm Sandy—lover of food, family, cooking, THE BIG BOARD, travel, and bringing people together. Through great recipes and connection around the table, we become better, stronger, and more courageous people. Feasting on Life is real, and every time we do it, we grow a little more. Read more...