Cucumber Lime Shaven Slaw Recipe
Delicious served with pulled pork, this Cucumber Lime Shaven Slaw Recipe is perfect for any summer party, picnic, or potluck! A party hit!
We recently had a couple of new friends over, having barely met them. I served Crock Pot Pork Roast, and this Cucumber Lime Shaven Slaw Recipe.
Easy menu. Great conversation, and new friends!
The anxiety of having new people over can be real. But if we learn to care less about our performance, and more about the people (getting to know them, what makes them tick, what their passions are, more about them … ) we truly can find joy in the process!
You know that saying, that anxiety has eyes all over its head. It's swamping, overwhelming, and it steals from what should be. So many people are scared in life right now, and our fears stop us from so many blessings.
Hope looks to the future. Resentment looks back.
When anxiety rears her ugly head, hope exits every time!!
One small way to make a change is to start with a simple meal.
Ask a person or 2 to come and join you.
Don't worry about things being perfect. And if you do happen to worry about your house, invite them to your front yard, or your back yard! Bring dinner outside!
I recently read The Tourquoise Table by Kristin Schell.
Kristin started a movement in her front yard. It makes me think of how much we all need friends and conversation. This book is about slowing down, encouraging easy ways to connect in our neighborhoods and communities, but there's more.
The Tourquoise Table is about simple hospitality, and why we should practice it.
I wrote a similar book back in 2009, so this book is an updated version, in an even busier, chaotic world!
Even in our small, unorganized, imperfect spaces, we can share our lives.
Cucumber Lime Shaven Slaw Recipe
This Cucumber Lime Shaven Slaw Recipe only takes a few minutes to prepare.
Shave the red cabbage by slicing very thinly with a sharp knife!
Make ahead, and pull out of the fridge when dinner's on the table!
Even more delicious if you have pork cooking in the slow cooker!
A great end-of-summer salad for your next gathering!
Food is where it's at, Friends!
It's the conduit to great things!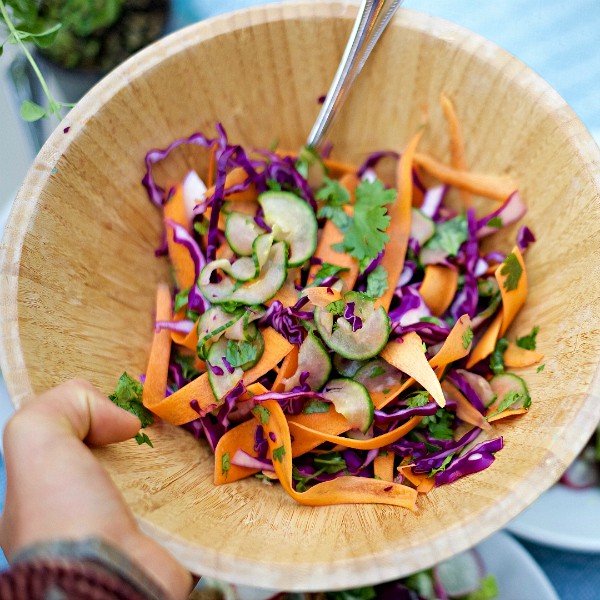 Get the Recipe: Cucumber Lime Shaven Slaw Recipe
Ingredients
1/2 red cabbage, thinly shaven
4 Tbsp. Rice vinegar
3 Tbsp. lime juice
1/2 cup chopped cilantro
1 Tbsp. honey
1 Tbsp. sesame oil
3 carrots, shaven with peeler
1 Armenian cucumber, spiraled (or zoodled)
Cilantro
Instructions
In small bowl, combine oil, honey, vinegar, and lime juice. Mix until honey is dissolved.

Combine shaven carrot, cabbage, cucumber, cilantro, and dressing. Drizzle dressing on top and chopped cilantro; serve!
More slaw recipes: Quick Korean Spicy Slaw [FoodieCrush], Cranberry Zucchini Slaw [Inside BruCrew Life], and Light and Crunch Chinese Slaw [TidyMom].

SaveSaveSaveSave
SaveSave
SaveSave
Hello and welcome to my home and table!
I'm Sandy—lover of food, family, cooking, THE BIG BOARD, travel, and bringing people together. Through great recipes and connection around the table, we become better, stronger, and more courageous people. Feasting on Life is real, and every time we do it, we grow a little more. Read more...