Summer Zucchini Turkey Burgers
Delicious ground turkey burgers are always a hit for summer entertaining! These Summer Zucchini Turkey Burgers are moist and tasty, the perfect summer barbecue main dish to serve for a casual gathering! Serve with your favorite toppings!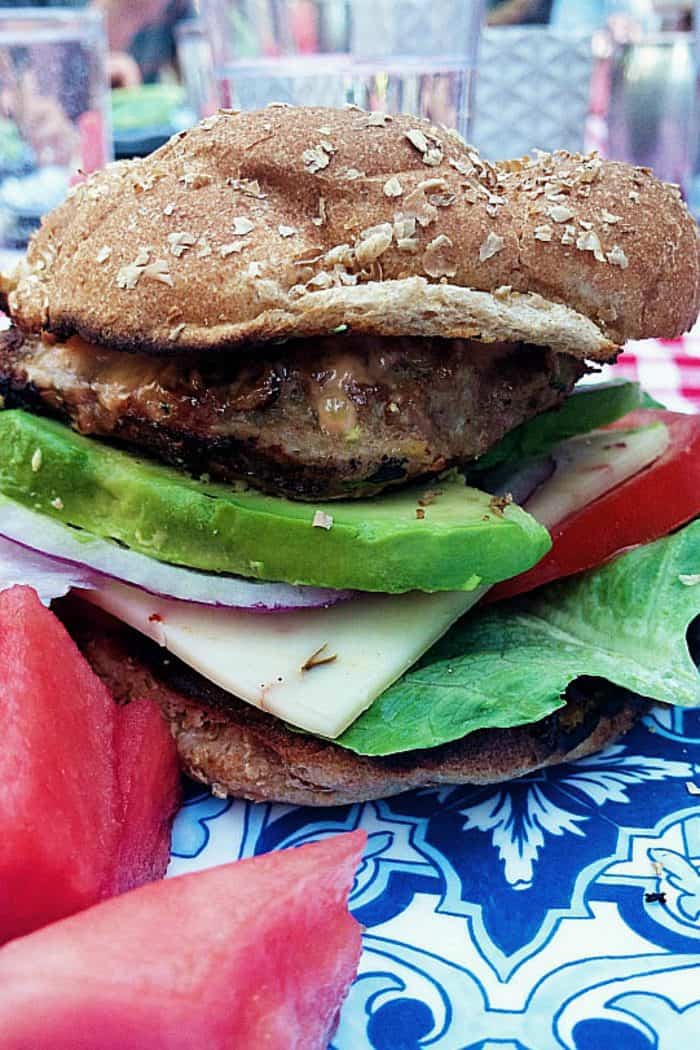 Friends, have you been barbecuing up a storm this week? We sure have, every night! It's way too expensive for our family to eat out that often, so we've enjoyed chicken, salmon, and lots of burgers!
Ground turkey burgers
This past week we enjoyed Summer Zucchini Turkey Burgers – so good! We love how moist and tasty these burgers are. 
Made with garden zucchini and grated red onion, these are super easy to make ahead of time, and toss on the grill when your guests arrive!
Summer Zucchini Turkey Burgers recipe makes 12-15 patties, so invite your family, friends or neighbors over!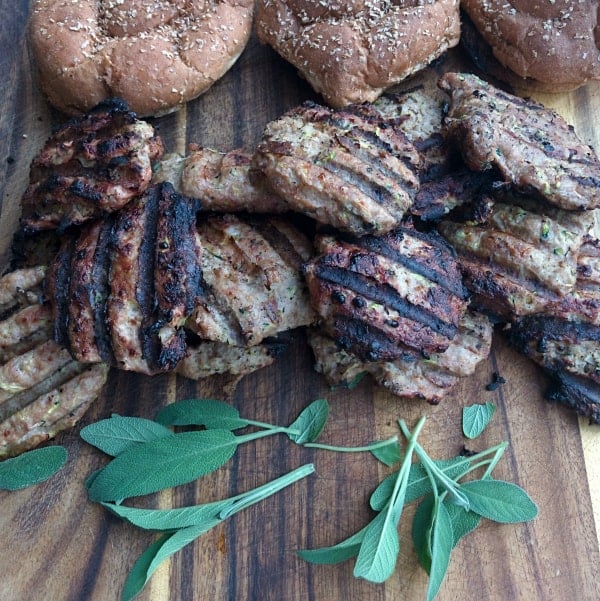 We've also been hosting a lot, and burgers are a great entree to serve, because whether your guests want a bun or not, burgers are still delicious assembled just the way you like them.
Less house, more home
I've been thinking about this perfection and this saying … Less House, More Home. I recently saw this plaque at the store, and I thought, how perfect.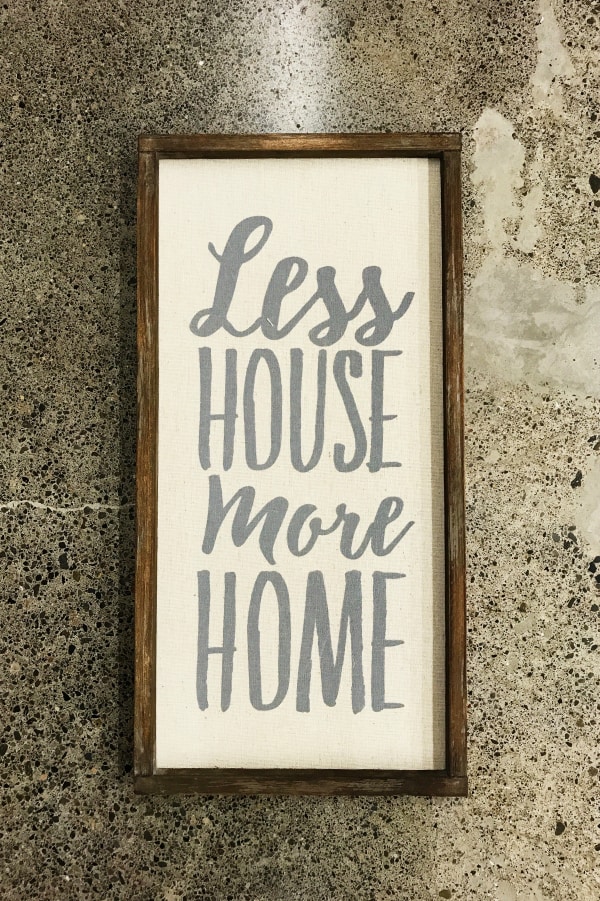 We certainly have a small entertaining space in our mountain home, but it's just right for hospitality. Simple hospitality. The kind where you set the table outdoors, but serve indoors. I love this for summer, as you don't have to worry about the bugs on the food in the outdoors, and everyone can easily come back for seconds.
The kind of space that allows me to set a simple table, and invite a few guests in.
A place where our family can learn how to love other families. We listen, we learn, we love.
Our house is way smaller than our last one, but actually more robust now in this season of life, with 3 kids in their 20's. Essentially grown-ups now (how did that happen so quickly?)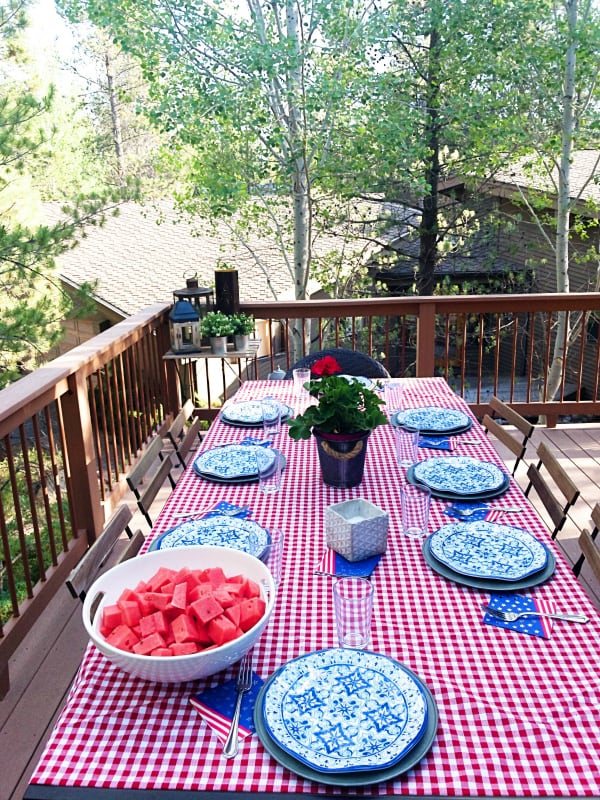 Less house and more home also means to me, that I don't worry as much about our house like I used to. I am settling into summer by serving an easy menu, and letting go of things like house cleaning, worrying about being a perfect cook (not!), all the silly details that take away from simple hospitality.
Perfect just does not exist, Friends, and when you get caught in the trap, it robs you of so many gifts.
Hospitality gifts
Being with family and friends.
Connecting around the table; learning how to listen better.
Thinking less about yourself and more about others.
Seeing things in a new way. Seeing things through the eyes of others.
Being encouraged, stimulated, or passionate to start doing for others and our world.
For our family, thinking more about justice, mercy, and love.
And being humble.
My go-to person who explains perfectionism so well is Dr. Brene' Brown, one of my favorite authors. I've read most of her books.
"Perfectionism is, at its core, about trying to earn approval. Most perfectionists grew up being praised for achievement and performance (grades, manners, rule following, people pleasing, appearance, sports)."

"Perfectionism hampers achievement. Perfectionism is correlated with depression, anxiety, addiction, and life paralysis or missed opportunities. The fear of failing, making mistakes, not meeting people's expectations, and being criticized keeps us outside of the arena where healthy competition and striving unfolds."

"I remind myself, 'Don't let perfect be the enemy of the good.' … The dinner party of take-out Chinese food is better than the elegant dinner that I never host." —Brene' Brown, Daring Greatly
Summer Zucchini Turkey Burgers
Now for the burgers …
Oh, and don't forget to end the summer evening with my mom's Homemade Vanilla Ice Cream recipe (so good with white peaches!) And these burgers are great served with this Peaches Quinoa Salad,, Fresh Peach Arugula Basil Salad [A Spicy Perspective], Tomato, Peach, and Burrata Salad [Two Peas and Their Pod].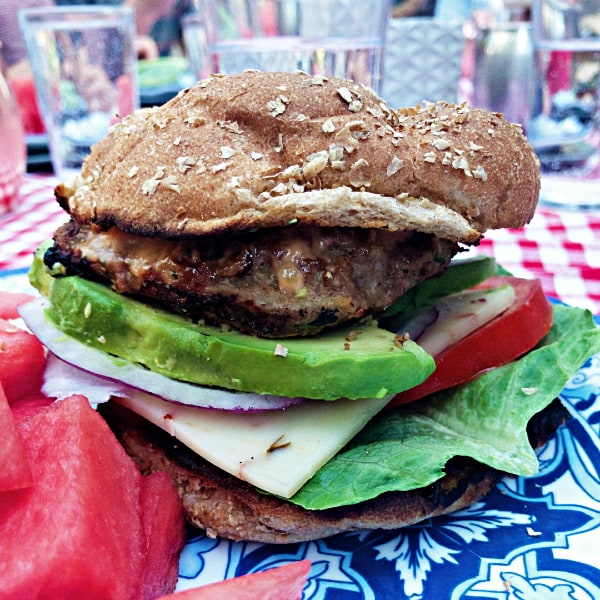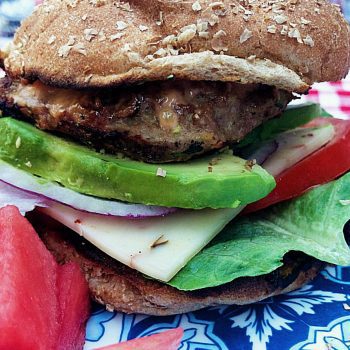 Print Recipe
Summer Zucchini Turkey Burgers
Ingredients
2

pounds

ground turkey

2

eggs

2-3

small zucchini

grated (about 1 cup squeezed)

1/2

cup

Panko bread crumbs

2

cloves

garlic

grated

1/2

cup

red onion

grated

1

tsp.

garlic salt

1

tsp.

salt

1

tsp.

white pepper
Instructions
In a large bowl, combine the ground turkey and eggs. Squeeze the moisture from the zucchini with your hands or a paper towel. Add the zucchini, breadcrumbs, garlic, onion, garlic salt, salt and pepper.

Make about 12-15 patties.

Barbecue or broil the burgers until no longer pink in the middle. Serve with your favorite buns and toppings!
SaveSaveSaveSave
SaveSave
SaveSaveSaveSave
SaveSave
SaveSave
SaveSave