Trader Joe's Macaroni Salad
This Trader Joe's Macaroni Salad Recipe is an anytime salad! It's great for holidays, potlucks, and picnics. Make with bread and butter pickles!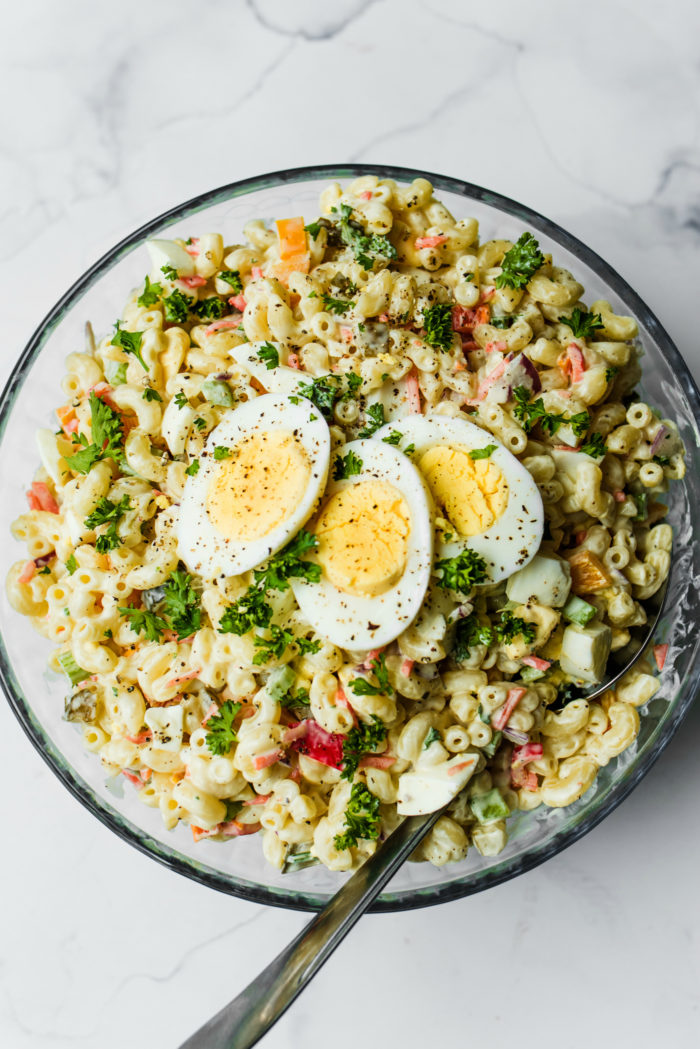 Friends, for Game Day last weekend we served a new sandwich board, and our guests brought the best side dishes, dips, and desserts.
Trader Joe's Macaroni Salad
In the middle of the Epic Roast Beef Sandwich Board, I served this Trader Joe's Macaroni Salad Recipe!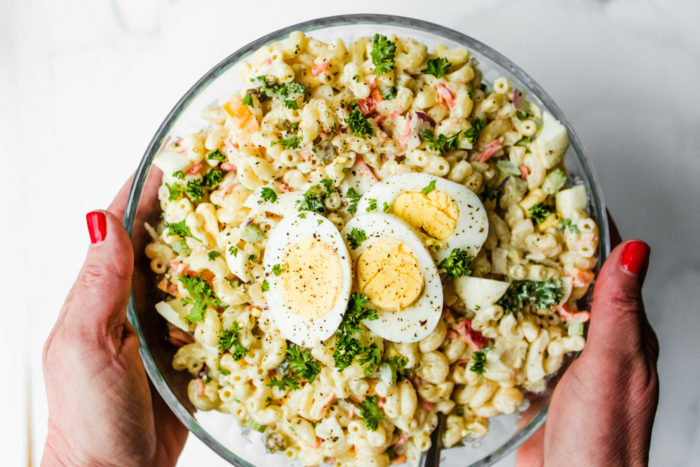 Friends, let's talk Macaroni Salad
What is your favorite recipe? What are your tips and tricks?
I bought everything for this salad today at Trader Joe's – so instead of using sweet pickles, I used bread and butter pickles! That's my tip … bread and butter pickles are sort of between dill and sweet pickles. SO GOOD!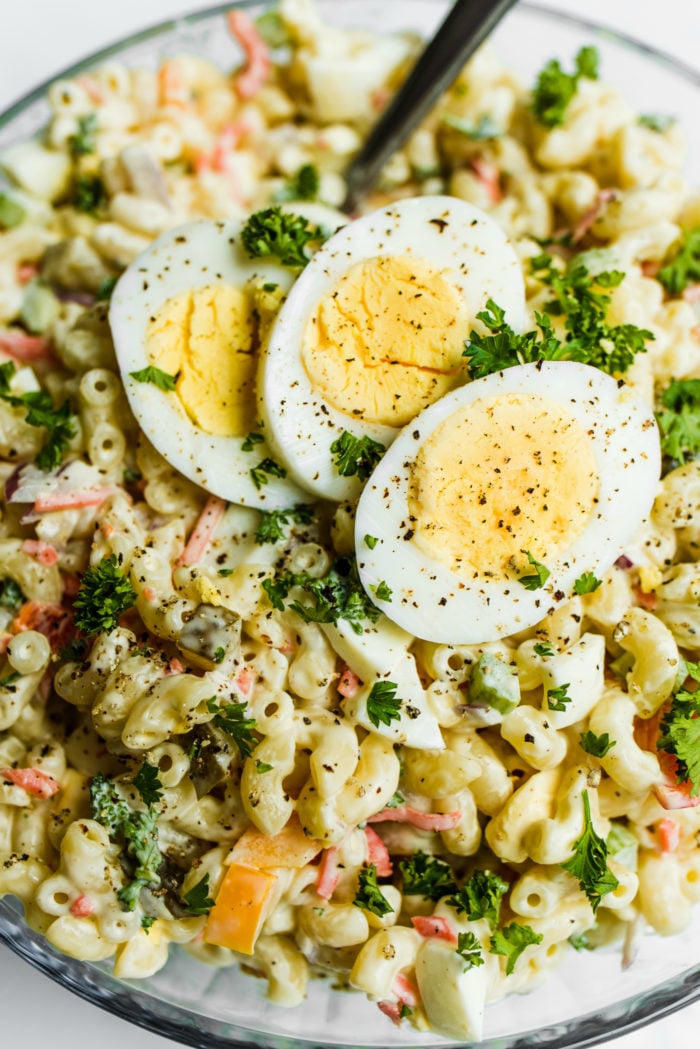 How to Make the Best Macaroni Salad Recipe
Like many of my favorite classics, this recipe is basically my Mom's. Mom used dill pickles—and of course the hard boiled egg makes the salad! She also had another recipe where you cook the dressing!
For this recipe, don't overcook the macaroni. My tip is to actually cook it one minute less than called for. I hate a mushy salad!
And … just saying here, this salad goes great with Tavern Fried Chicken!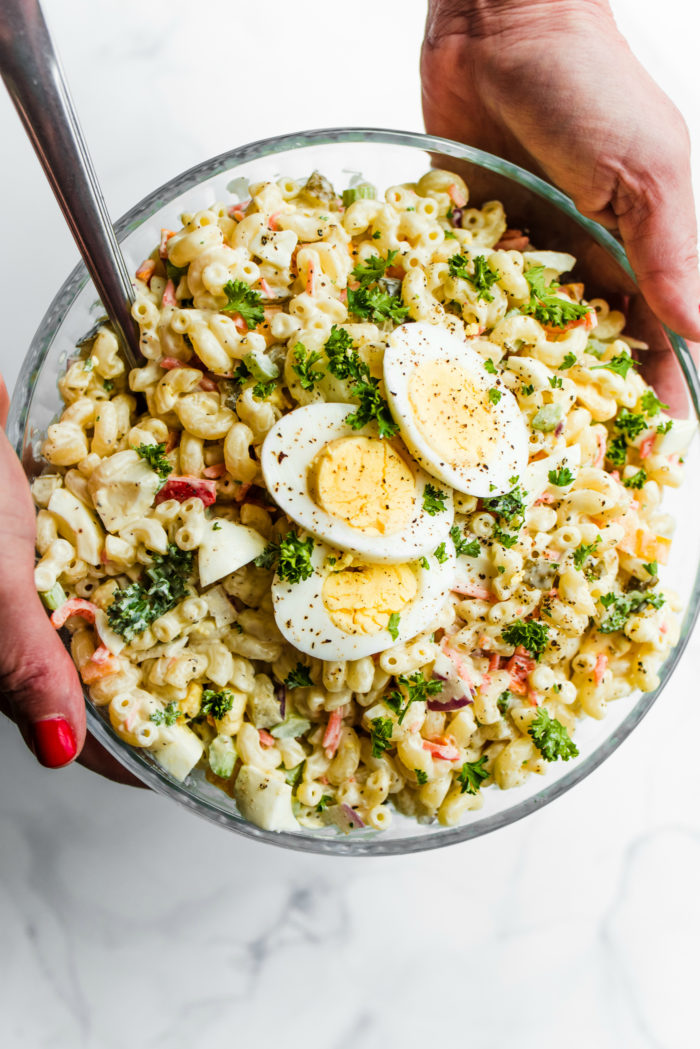 Ingredients for Macaroni Salad
Macaroni pasta
Hard boiled eggs
Celery ribs, shredded carrots, mini bell peppers (oh so sweet!), and red onion
Bread & butter pickles + juice makes the salad sweet, but not too sweet!
Mayonnaise
A tad bit of granulated sugar
Dijon mustard
Kosher salt and freshly ground black pepper
Parsley
How to make the dressing
Just like this BEST BLT Pasta Salad or this Classic Bay Shrimp Pasta Salad, a good salad is all about the homemade dressing!
The dressing for this salad is a mayonnaise with pickle juice. You can use either sweet pickles or bread and butter pickles.
This dressing mixes together very smoothly, and then you can taste it to see if you need to add more salt or pepper.
Refrigerate for at least an hour and ENJOY!
Why Hospitality Matters
Friends, we all know that we're better together, which is why we need to making entertaining moments happen! We're distracted by so much these days, and we all need different levels of interaction, which I've written about for years on my blog.
I wrote a post seven years ago, Why Hospitality Matters. I updated the post a year ago, because man, have times changed in seven years. Read it, here.
I wonder if we've all gotten better with our hospitality, or worse?
I'd love to hear your thoughts!
Ingredients
1 lb. macaroni pasta
5 hard boiled eggs, diced (keep 1 egg for garnish)
3 celery ribs, finely chopped
1/4 cup shredded carrots, finely chopped
5 mini bell peppers, finely chopped
1/4 red onion, finely chopped
1/2 cup bread & butter pickles, chopped
1 1/4 cup mayonnaise
1/3 cup pickle juice
2 tsp granulated sugar
1 1/2 TBSP Dijon mustard
Kosher salt and freshly ground black pepper
Parsley, finely chopped for garnish (mix in with the salad, or add on top)
Instructions
Cook the pasta in salted water according to the package directions. Drain and rinse under cold water until cooled. Make sure all the water is drained, before proceeding with the recipe.

Transfer the pasta to a large bowl and add the chopped ingredients (4 eggs, celery, carrots, mini bell peppers, red onion, pickles, and chopped parsley. Mix the mayonnaise, pickle juice, sugar, and Dijon mustard in a small bowl and season with salt and pepper. Add the same to the macaroni mixture and toss.

Season with more salt and pepper to taste and refrigerate for one hour before serving. Sprinkle with chopped parsley. Cut last boiled egg in half or slices and serve!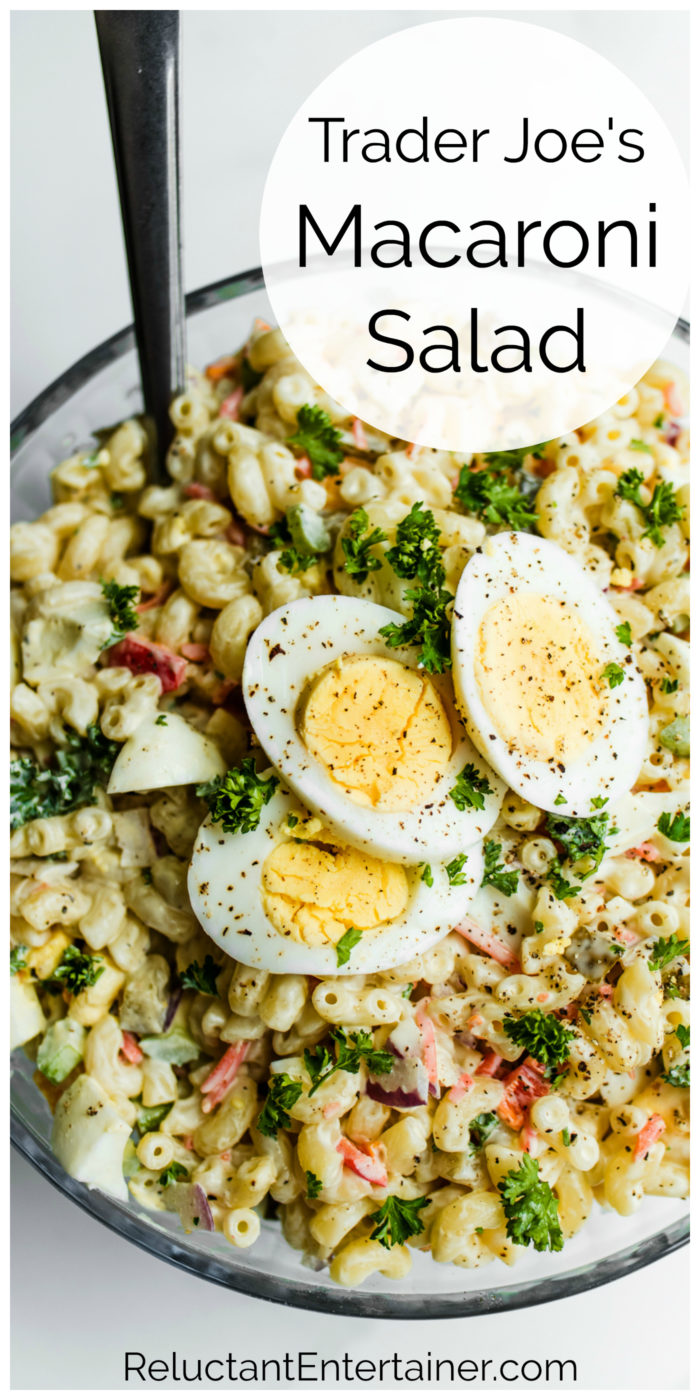 Hello and welcome to my home and table!
I'm Sandy—lover of food, family, cooking, THE BIG BOARD, travel, and bringing people together. Through great recipes and connection around the table, we become better, stronger, and more courageous people. Feasting on Life is real, and every time we do it, we grow a little more. Read more...