Macaroni and Cheese Dinner Board
Just in time for a cozy meal, serve a Macaroni and Cheese Dinner Board. Add your favorite Mac & Cheese recipe, along with a variety of tasty toppings!
Friends, perfect for Mac and Cheese Monday (or any day of the week), enjoy a Mac and Cheese Board for dinner and invite your friends!
Macaroni and Cheese Dinner Board
Serving a "cozy" Macaroni and Cheese dinner on a booard is easy! Above I made this dinner on a 24-inch board (not available anymore), but GREAT NEWS! I now have my boards for sale (3 epic sizes), that are food safe, and made in the USA!
You may have also tried my Caprese Chicken Casserole recipe (that would be fun served on a "board") or my Chili Dinner Board Recipe.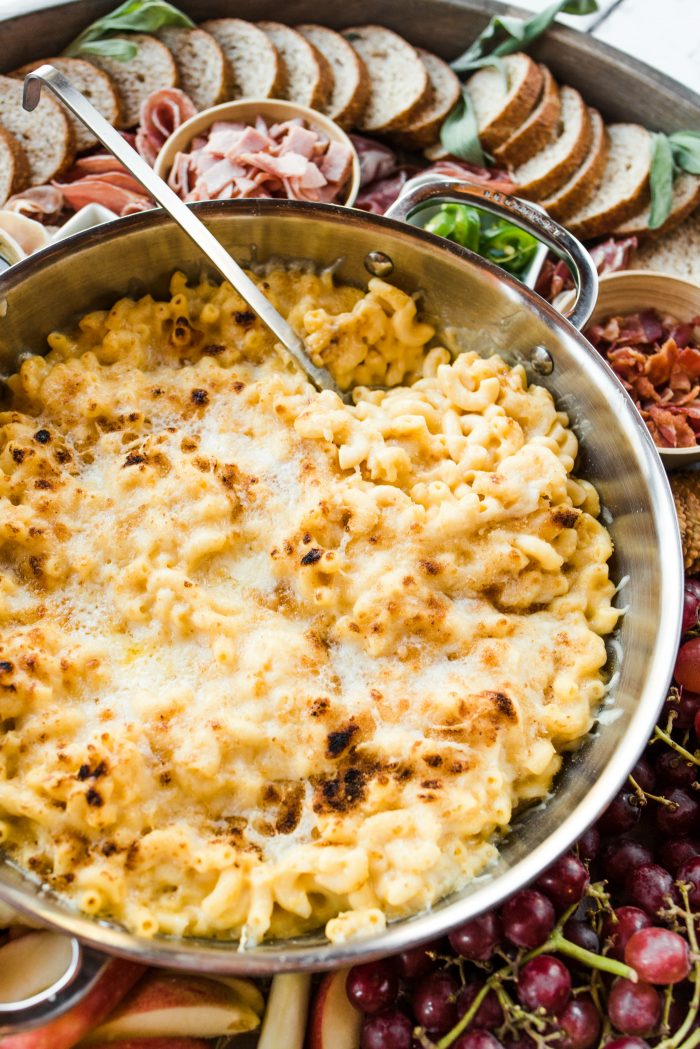 Serve your favorite mac and cheese recipe, or if you're in a pinch for time, buy at the local market. This is what I love about dinner boards. The options are plentiful, and you can always take shortcuts.
And so many of you have asked about the pan that fits perfectly on this board!
LeCreuset 5-quart stainless steel braiser
Guys, I'm using my favorite 5-quart Stainless Steel Braiser that is lightweight and fits beautifully on these big boards. It's shallow enough to not overpower the board. It comes with a lid, so you can serve the food hot (place a pothoolder down first). You can buy this LeCreuset 5-quart Stainless Steel Braiser [affiliate link] and I think you'll love it!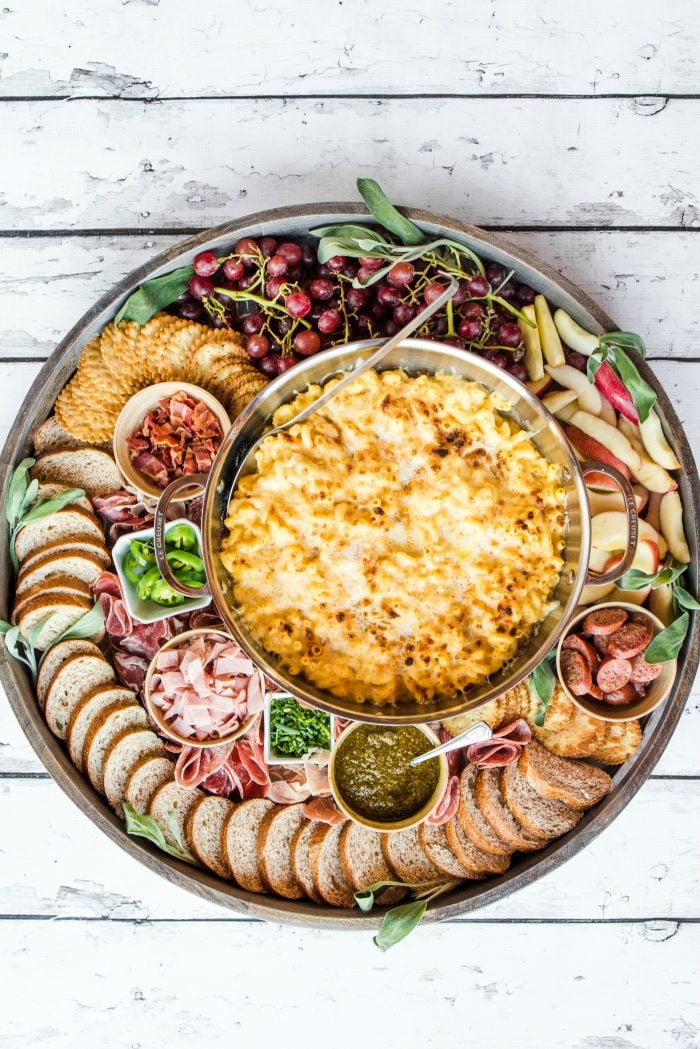 Mac and Cheese Bowls
Building your own Mac and Cheese Bowl is a fun, cozy dish for weekend hosting! Think outside of the box and let your guests make their favorite mac & cheese bowl.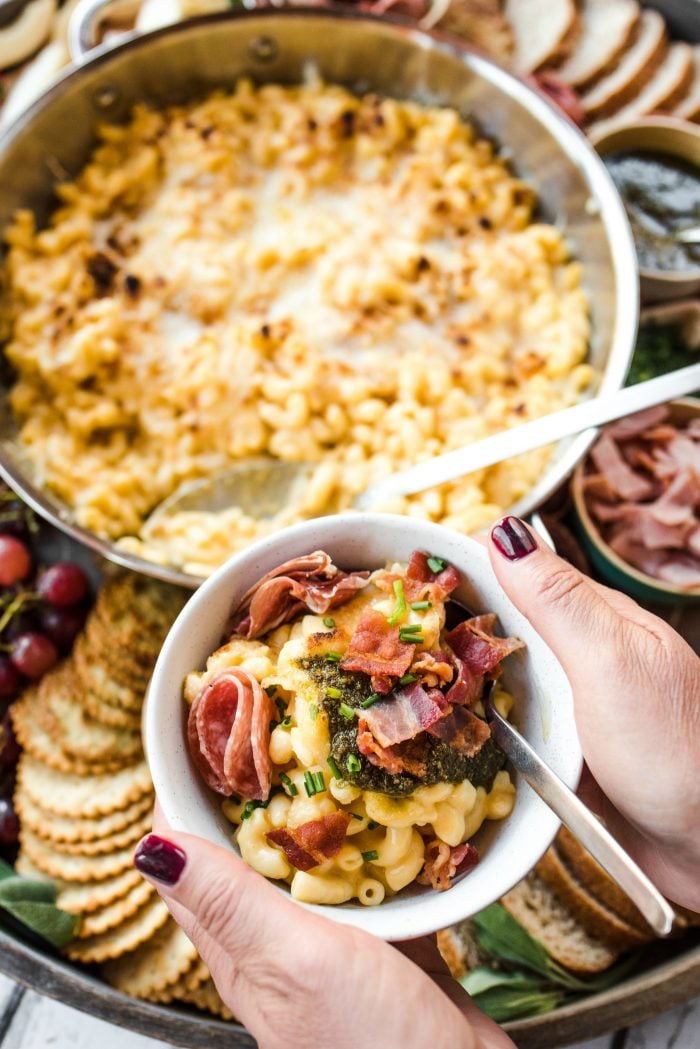 Toppings for a Mac & Cheese board
Here are some of the toppings to serve with a Mac and Cheese board:
Chopped ham
Chopped crispy bacon
Parmesan cheese
Pesto
Chopped chives
Salami pieces
Chopped sausage
How to serve an epic dinner board
Serve the mac and cheese hot by adding it to the board last.
We served ours in a Le Creuset braiser. Keep the lid on until right before serving!
Nice and hot!
Set out ramekins or your favorite bowls!
5 quart braiser for a dinner board
Friends, I love this [Amazon affiliate link] Le Creuset Stainless Steel 5 quart Braiser for dinner boards because it's "light in weight" and isn't too heavy for the board.
You can buy it >> HERE.
Welcome to Reluctant Entertainer blog!
If you're new to my blog, then WELCOME! I know I have a lot of new readers, so I thought I'd share a little more about Reluctant Entertainer.
First of all, I started my blog 14 years ago for reluctant entertainers. If you follow my The Big Board or dinner board ideas, you may wonder if I am actually reluctant. HA! No! But I've had family members who are, and I wanted to share more about hospitality, including ideas for opening our homes.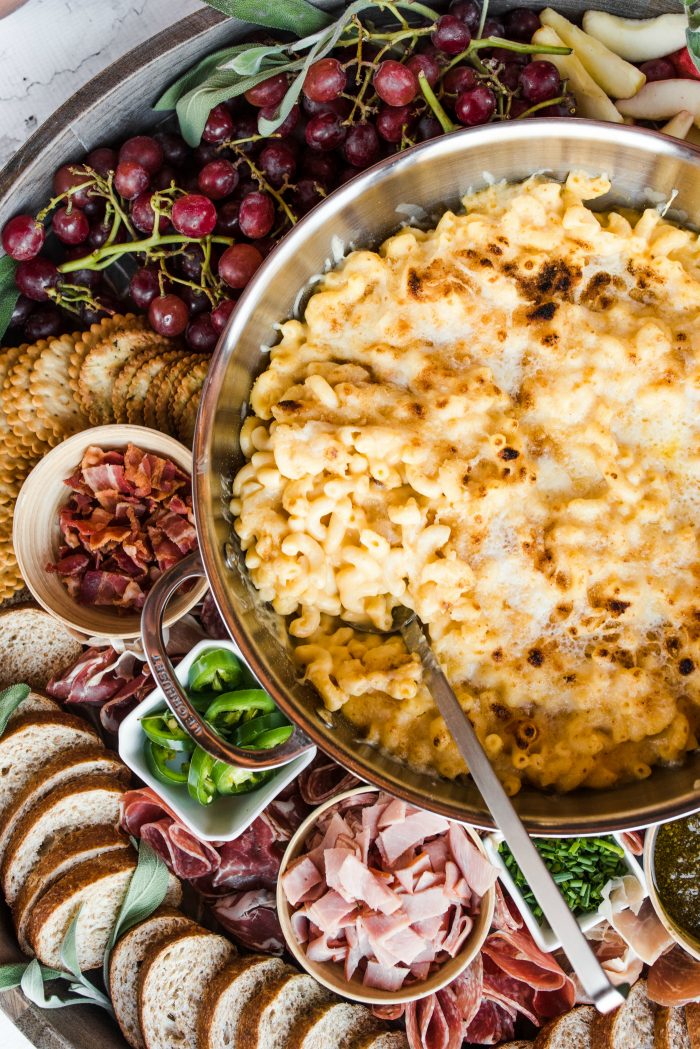 I've never been reluctant, but I want to help those who are!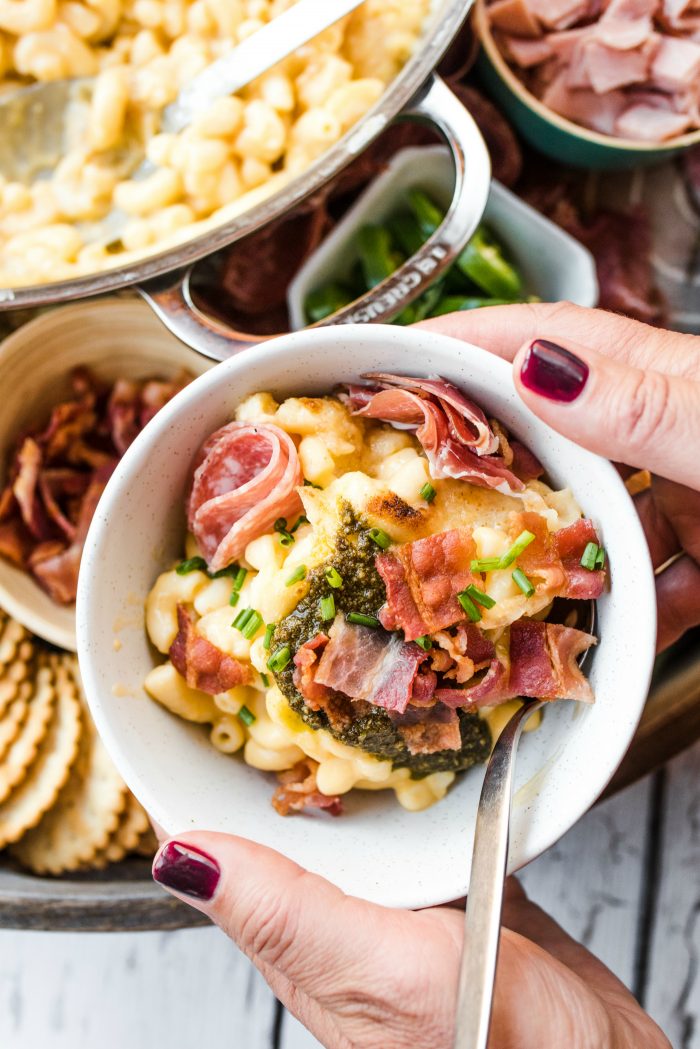 Bringing people together
Dinner boards are a fun way to bring people together in a casual way. Create one big board, set out the plates and silverware and napkins, and you've got a party!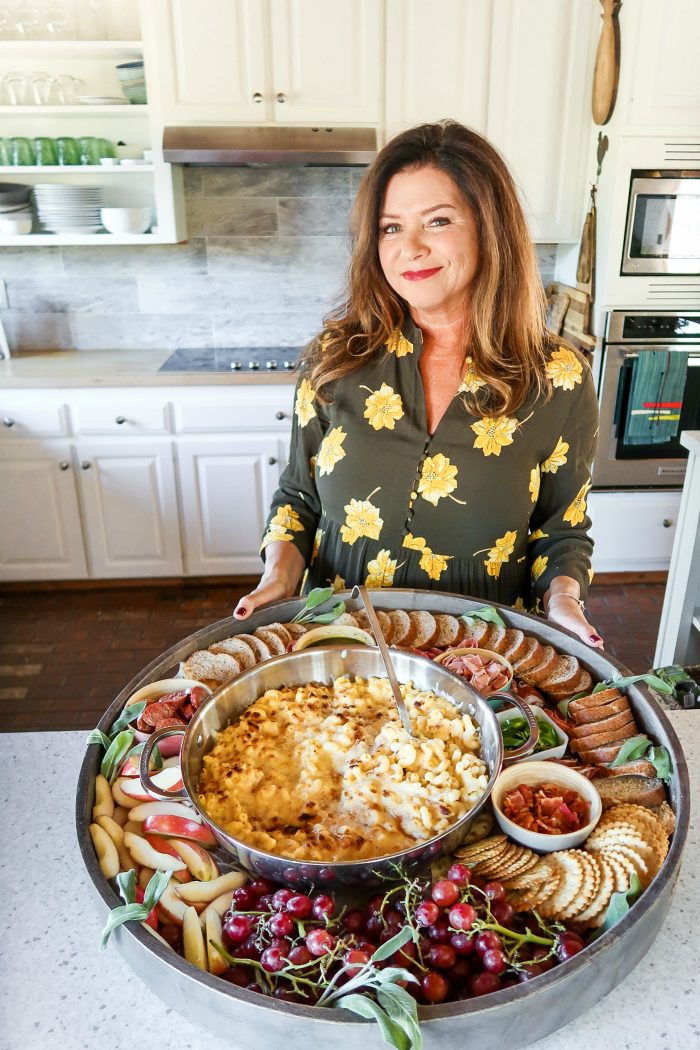 Try my Pumpkin Apple Three Cheese Mac and Cheese, or Recipe Girl's Classic Macaroni and Cheese recipe!
Make Apple Goody Dessert or even Tidy Mom's Layered Walnut Pumpkin Pie for dessert.
And we love my friend Ree's Mulled Cider, that not only makes the house smell delicious, it's tasty and perfect for the weekend!
Friends, The Big Board is here! Yes, I've partnered with JK Adams, the premier woodmaking company in Vermont, with my own line of RE boards!
20-inch
26-inch
A board with a lip (or raised edged) so the food doesn't fall off
FOOD SAFE
Made in the USA
Undercut handles (a unique design)
Thank you for your support, as we've sold out so many times already!
Order The Big Board today!
Get the Recipe: Macaroni and Cheese Dinner Board
Make homemade mac and cheese, or buy store-bought and heat up.
Ingredients
3 pounds Mac and Cheese, topped and browned with bread crumbs and Fontina cheese
Crackers
Procuitto
1 loaf bread
Butter
Red grapes
Apples, sliced
Fresh sage, garnish
Toppings
Chopped ham
Chopped crispy bacon
Parmesan cheese
Pesto
Chopped chives
Salami pieces
Chopped sausage
Instructions
On a large prepared board, leave room in the center for a large pot of cooked mac and cheese.

On the outside of the board, layer the sliced bread, along with butter, sliced apples and grapes.

Place the toppings in small bowls and arrange on the board.

Fill in any open areas with crackers, charcuterie meats, and garnish with fresh sage!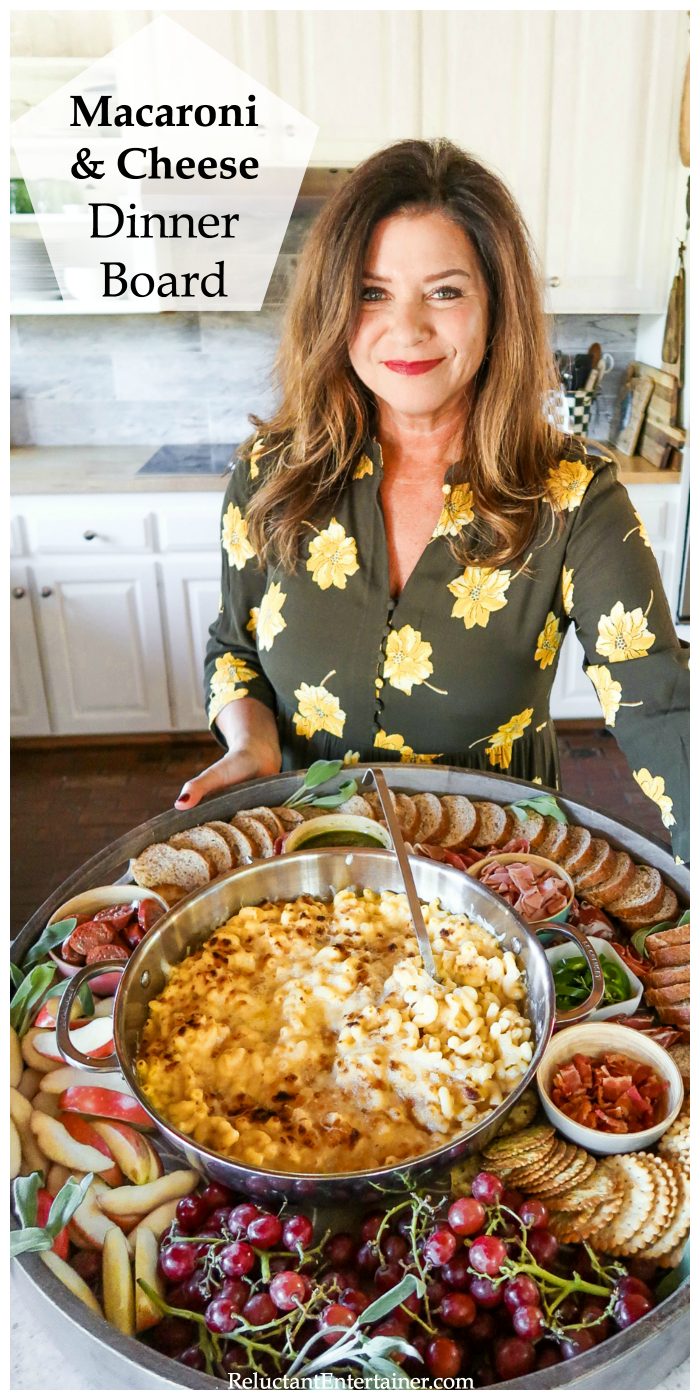 Hello and welcome to my home and table!
I'm Sandy—lover of food, family, cooking, THE BIG BOARD, travel, and bringing people together. Through great recipes and connection around the table, we become better, stronger, and more courageous people. Feasting on Life is real, and every time we do it, we grow a little more. Read more...