Macaroni and Cheese Dinner Board
Just in time for a cozy meal, serve a Macaroni and Cheese Dinner Board. Add your favorite Mac & Cheese recipe, along with a variety of tasty toppings!
Friends, we're back from Europe after being gone for 2 weeks. I'm not sure if you followed along on my Instagram, but I'll be sharing more about the river cruise here in the next month or so.
Macaroni and Cheese Dinner Board
For now, we're settling in to "cozy" with this Macaroni and Cheese Dinner Board. [This post has affiliate links!] You may have also tried my Caprese Chicken Casserole recipe (that would be fun served on a "board") or my Chili Dinner Board Recipe.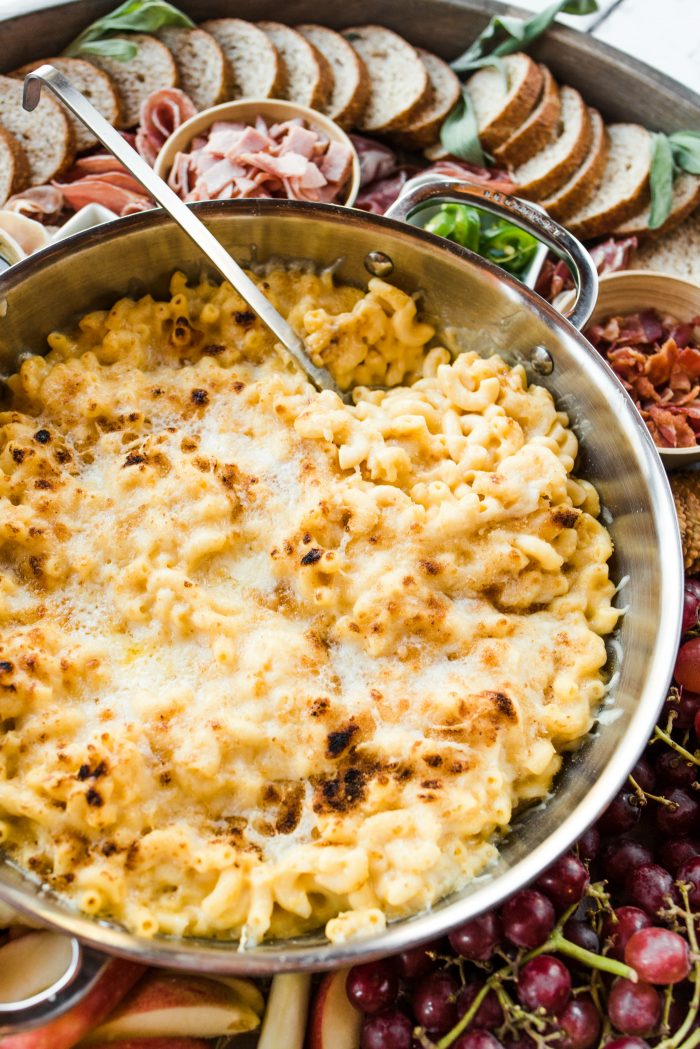 Serve your favorite mac and cheese recipe, or if you're in a pinch for time, buy at the local market. This is what I love about dinner boards. The options are plentiful, and you can always take shortcuts.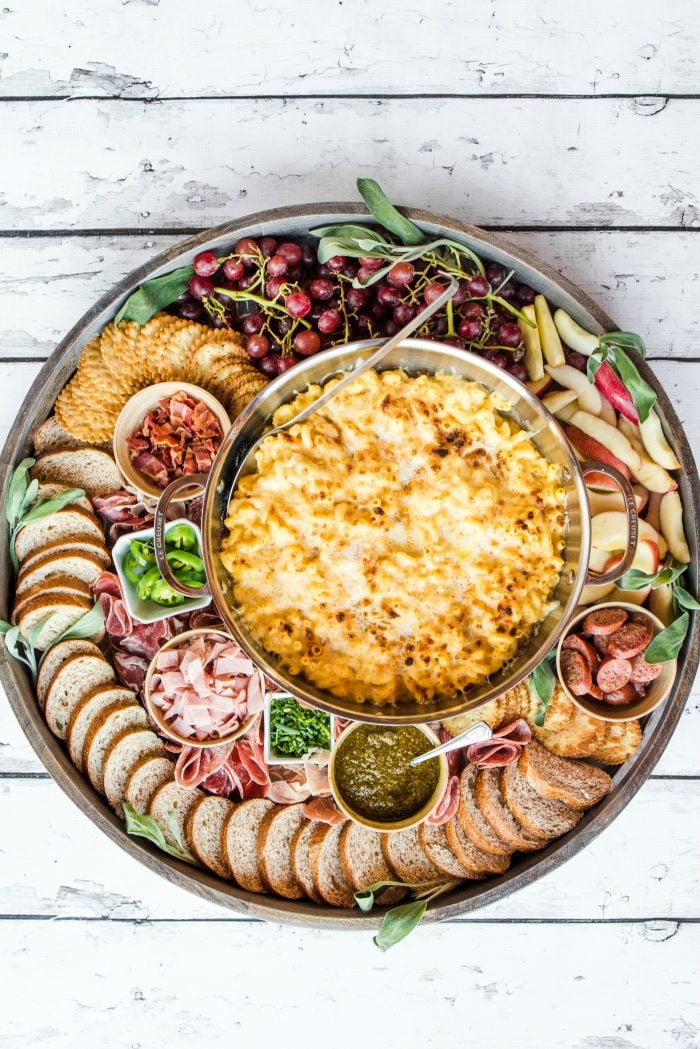 Mac and Cheese Bowls
Building your own Mac and Cheese Bowl is a fun, cozy dish for weekend hosting! Think outside of the box and let your guests make their favorite mac & cheese bowl.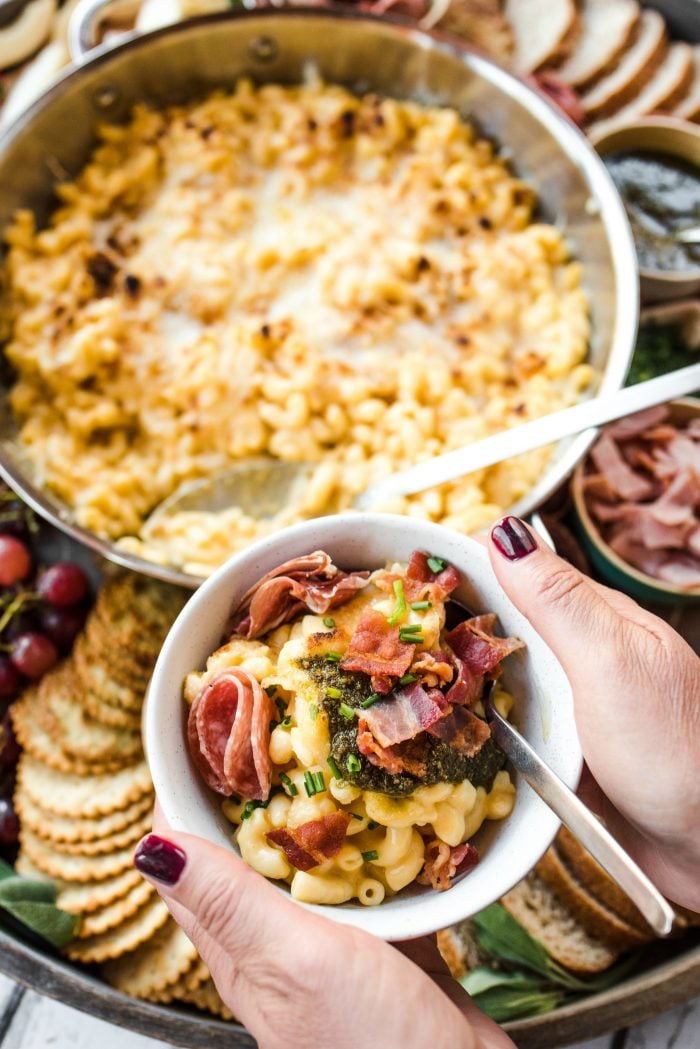 Toppings for a Mac & Cheese board
Here are some of the toppings to serve with a Mac and Cheese board:
Chopped ham
Chopped crispy bacon
Parmesan cheese
Pesto
Chopped chives
Salami pieces
Chopped sausage
How to serve an epic dinner board
Serve the mac and cheese hot by adding it to the board last.
We served ours in a Le Creuset braiser. Keep the lid on until right before serving!
Nice and hot!
5 quart braiser for a dinnr board
Friends, I love this [Amazon affiliate link] Le Creuset Stainless Steel 5 quart Braiser for dinner boards because it's "light in weight" and isn't too heavy for the board.
You can buy it >> HERE.
Welcome to Reluctant Entertainer blog!
If you're new to my blog, then WELCOME! I know I have a lot of new readers, and since the holidays are almost here, I thought I'd share a little more about Reluctant Entertainer.
First of all, I started my blog 13 years ago for reluctant entertainers. If you follow my charcuterie/cheese boards or dinner board ideas, you may wonder if I am actually reluctant. HA! No! But I've had family members who are, and I wanted to share more about hospitality, including ideas for opening our homes.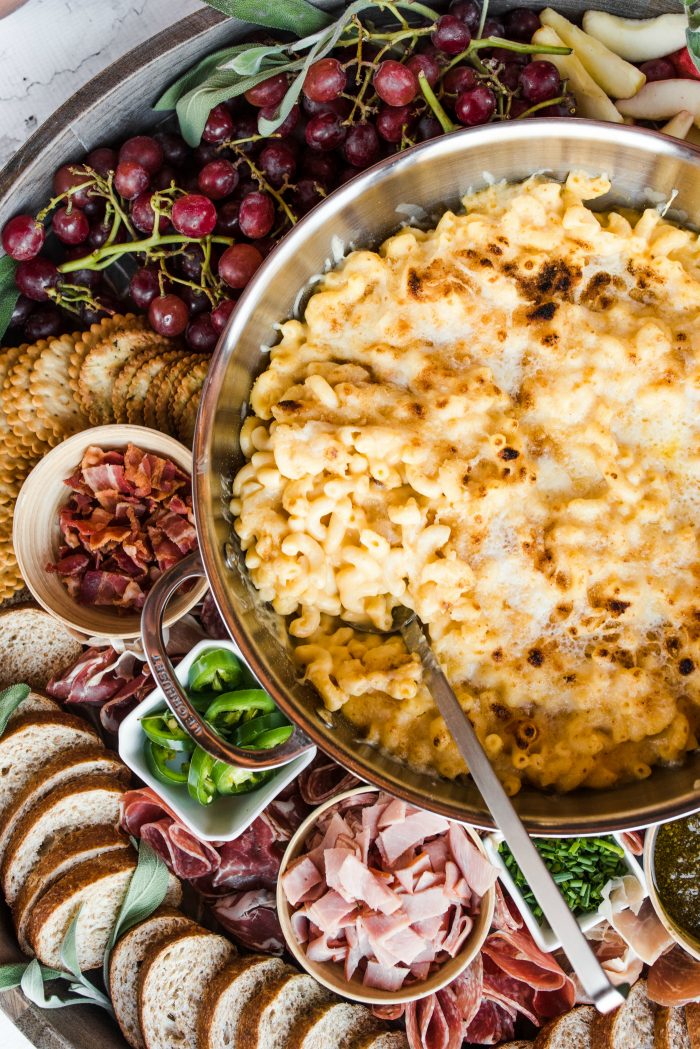 I've never been reluctant, but I want to help those who are!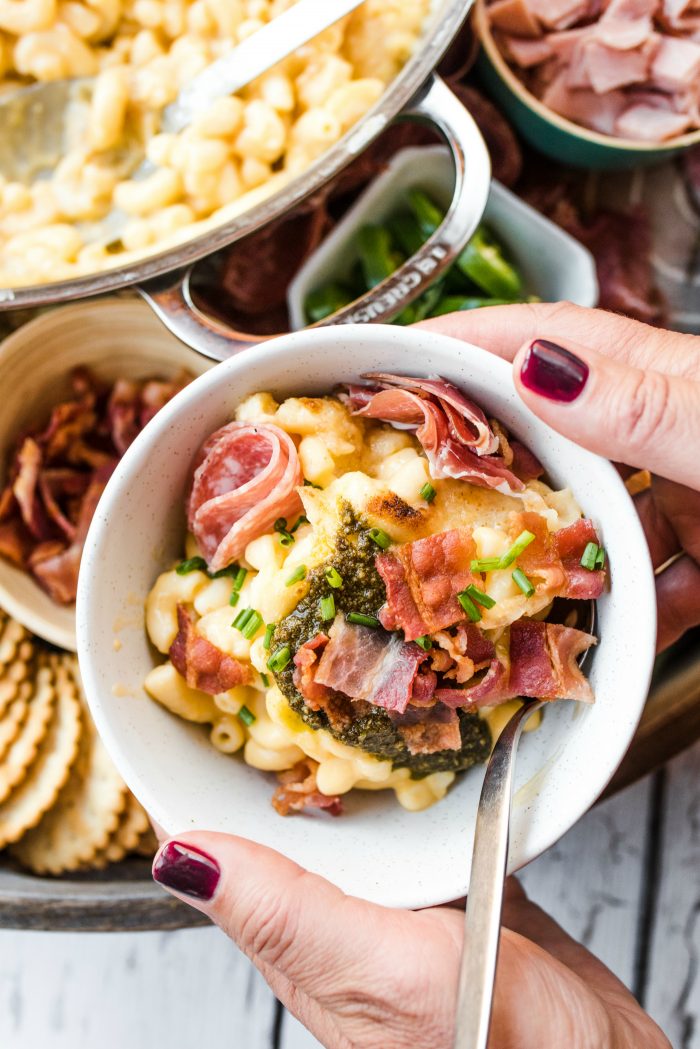 Bringing people together
Dinner boards are a fun way to bring people together in a casual way. Create one big board, set out the plates and silverware and napkins, and you've got a party!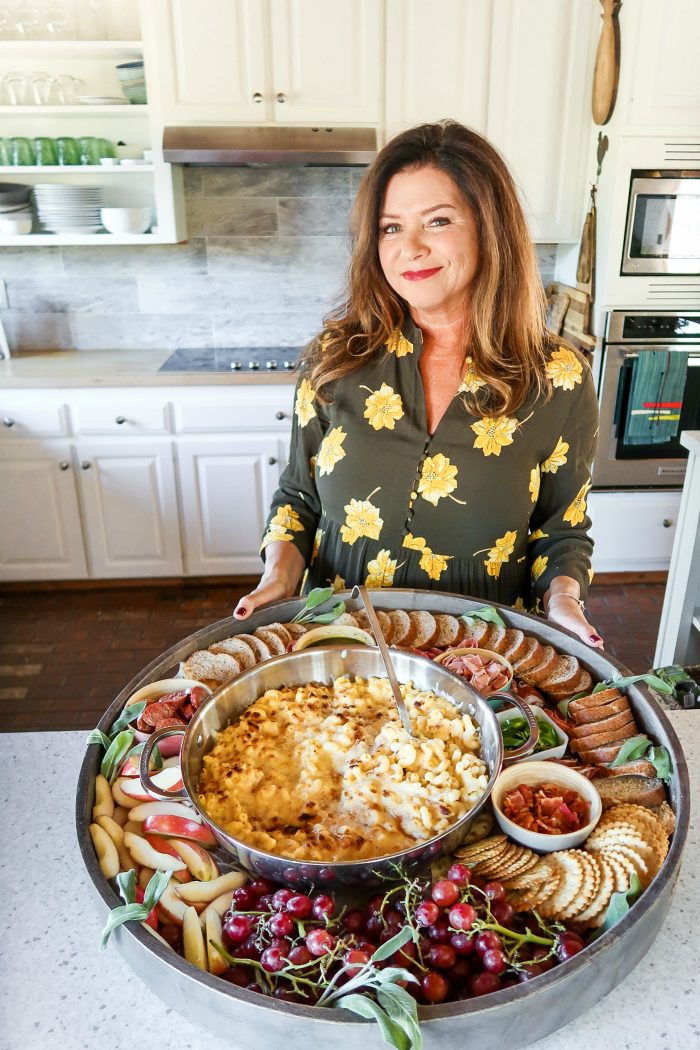 Try my Pumpkin Apple Three Cheese Mac and Cheese, or Recipe Girl's Classic Macaroni and Cheese recipe!
Make Apple Goody Dessert or even Tidy Mom's Layered Walnut Pumpkin Pie for dessert.
And we love my friend Ree's Mulled Cider, that not only makes the house smell delicious, it's tasty and perfect for the weekend!
Happy weekend!
28-inch Charcuterie Board
Friends, here are the boards that I LOVE. A "lip" is the secret to the best charcuterie or dinner board, because the food does not fall off. [This post has affiliate links. Every purchase from these links supports RE at no extra cost to you. Thank you!]
Here are the affiliate links:
LARGE Hand-Carved Gabrielle Tray, Large – 28.5 inches round. Buy >> HERE
LARGE Hand-Carved Gabrielle Tray (gray) – 24 inches round. Buy >> HERE
MEDIUM Hand-Carved Vine Round Tray (white washed) – 20 inches round. Buy >> HERE
SMALL Hand-Carved Gabrielle Tray (gray) – 18-inches round. Buy >> HERE
MEDIUM Willow Hand-Carved Tray (mango wood, gray) – 20.25 inches round. Buy >> HERE
MEDIUM Whitewashed Mosaic Wood Tray (antique white) – 20-inches round. Buy >> HERE
Rememember it says it is "not food safe," so you need to prepare the board by either laying down parchment paper under the food, or you can "season" it like we did.
Here are a few other (affiliate) options:
Courtland Wooden Lazy Susan – 18-inch round. Buy >> HERE
LAZY SUSAN is a board that spins. It does NOT have a lip, but it's cool for the center of the table.
Here's an 18-inch wine barrel wood board or a 24-inch hammered large round tray or a 26-inch stainless steel serving platter that you may also like! Check out the weight on these boards.
How to season a Charcuterie Board
If a wood board says it "not food safe," you can lightly sand it down with sand paper, and rub down with beeswax and mineral oil.
We used this butcher block and cutting board oil conditioner after we lightly sanded the board down.
Or, lay down parchment paper! Easy peasy!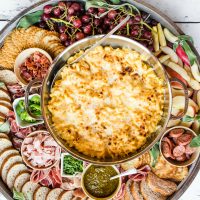 Print Recipe
Macaroni and Cheese Dinner Board
Make homemade mac and cheese, or buy store-bought and heat up.
Ingredients
3

pounds

Mac and Cheese

topped and browned with bread crumbs and Fontina cheese

Crackers

Procuitto

1

loaf bread

Butter

Red grapes

Apples

sliced

Fresh sage

garnish
Toppings
Chopped ham

Chopped crispy bacon

Parmesan cheese

Pesto

Chopped chives

Salami pieces

Chopped sausage
Instructions
On a large prepared board, leave room in the center for a large pot of cooked mac and cheese.

On the outside of the board, layer the sliced bread, along with butter, sliced apples and grapes.

Place the toppings in small bowls and arrange on the board.

Fill in any open areas with crackers, charcuterie meats, and garnish with fresh sage!