Apple Goody Dessert
Enjoy 3 easy tips to setting a fall table, plus an Apple Goody Dessert to serve for a dinner party dessert. Add a dollop of fresh whipped cream on top!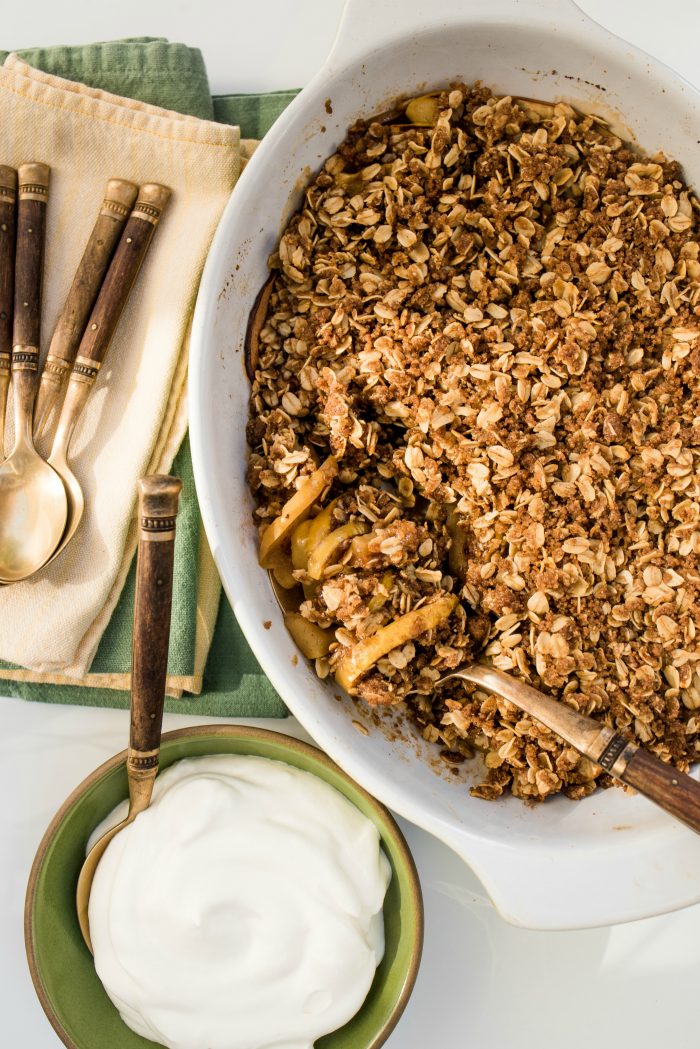 Hello Friends! Today I'm sharing with you a NEW book my friend Melissa wrote with KariAnne Wood, But Where Do I Put the Couch? You can buy the book today!
I'm also sharing a delicious apple crisp recipe, Apple Goody Dessert. This is my go-to apple dessert recipe, especially for fall, when there is an abundance of apples.
Apple Goody Dessert
It's just a perfect homestyle comfort dessert that's an easy dessert to make for an autumn dinner. Serve with fresh whipped cream or vanilla ice cream.
This book is beautiful, full of pictures and tips and a little bit of humor. Buy it, HERE.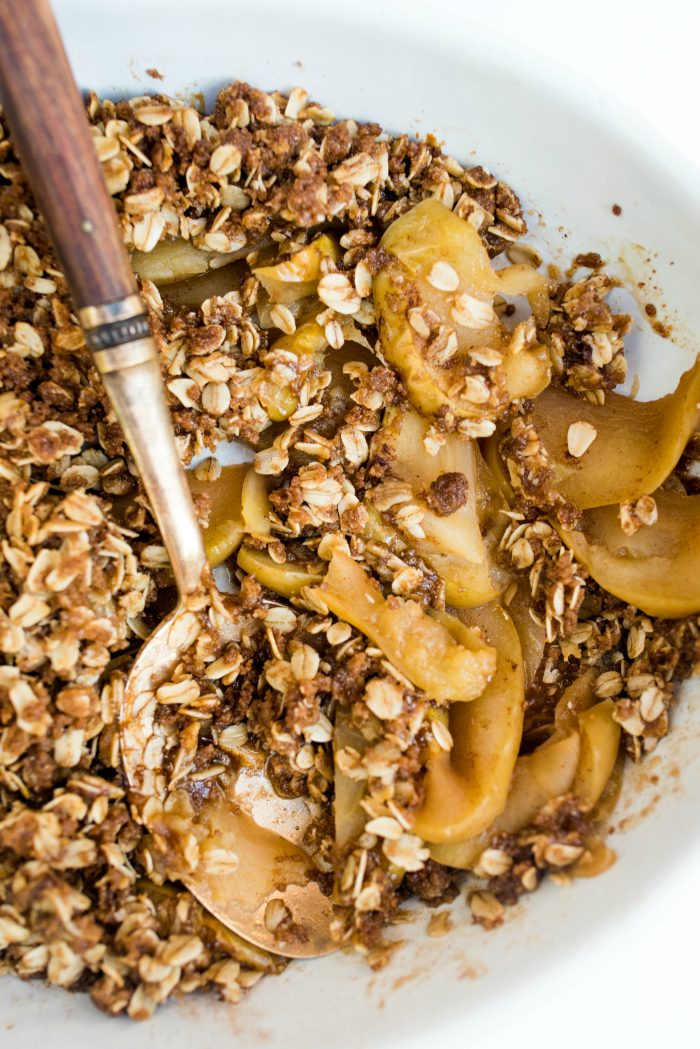 Apple Goody Dessert
Also, enjoy this simple Apple Goody Dessert recipe, a not-too-sweet fall dessert that everyone loves!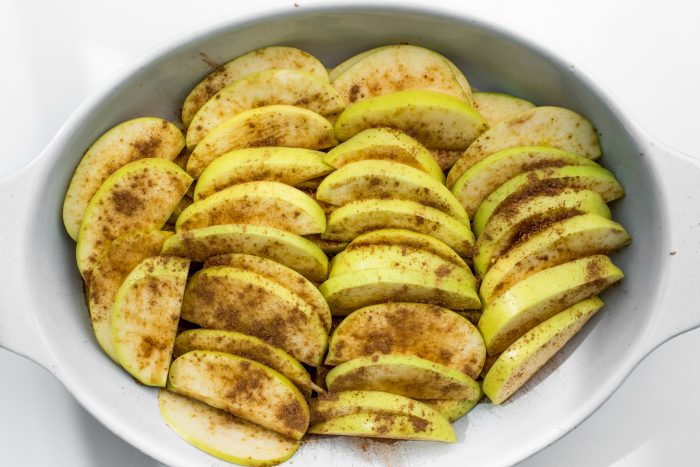 Start with your favorite apples (we used Golden Delicious because this recipe is inspired by our friend's apple tree). Then add the usual "crisp" ingredients.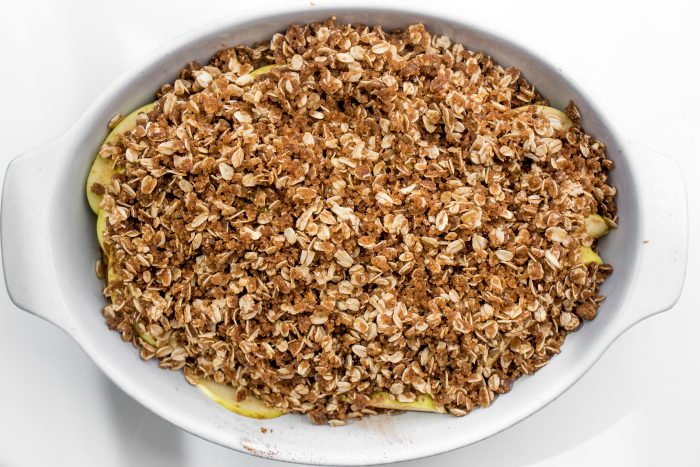 Cardamom makes everything taste better! It's citrusy, minty, and spicy, and it's one of my favorite fall spices!
How to set the table
I get asked all the time, how do you set a simple table for guests?
It's easy, and fall is one of my favorite seasons for getting an invitation on the calendar.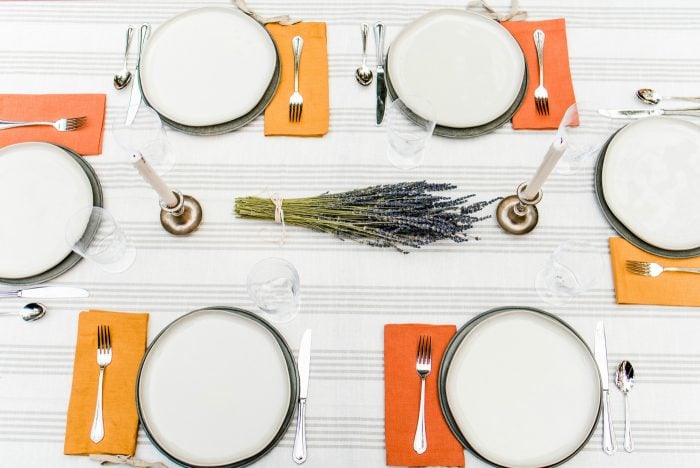 Fall dinner party menu
Just in time for fall, enjoy THIS fall menu!
Winter Rustic Charcuterie Board (make a smaller version)
Minestrone Soup
Basic Green Salad
Apple Goody Dessert
Ask your guests to bring either an appetizer, bread, and a bottle of wine!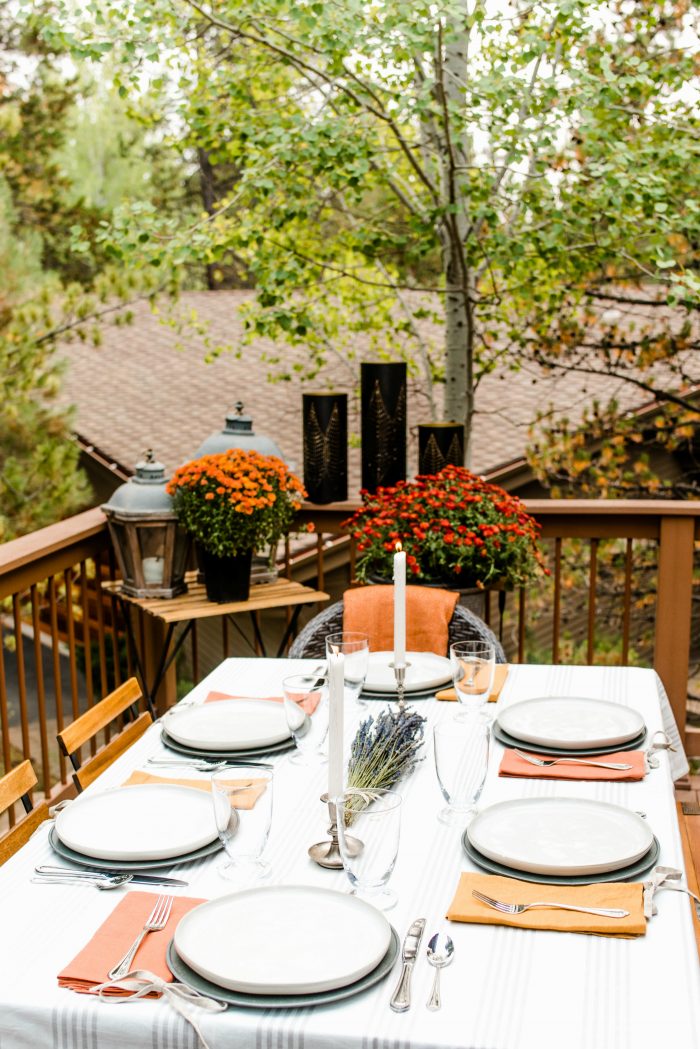 3 easy tips to setting a fall table
Also just in time for fall, here are 3 simple tips for table decorating:
Use flowers in season. Look around and gather the plants in season (mums, fall leaves). Right now at the Farmer's Market you can buy fresh lavender.
Use your everyday dishes, silverware, and waterglasses. I love to keep a table cloth ironed, hanging in the hall closet, and a set of ironed cloth napkins ready. But of course, paper napkins work just fine, too.
Where will you eat? Set the table early, tablecloth or not, as it gives you a BOOST to know the table is ready. Just focus on the meal and getting organized before your guests arrive.
Fall is the perfect time to host an "early" outdoor dinner party! Nothing on this table is brand new!
Set a fall table
Tablecloth – Target (a year ago)
Dinner Plate Reactive Glaze – Hearth & Hand™ with Magnolia AFFLINK >> HERE for set of 4
Chargers (I bought at a yard sale about 10 years ago)
Cloth napkins – World Market (clearance)
Flowers – Mums on the deck! Plus a small bouquet of yummy smelling lavender from the Bend Farmer's Market
Elegant and beautiful.
Warm fall dessert
Another TIP: I love to have dessert reaady to pop into the oven when the guests arrive. If you make this recipe ahead, you can bake it right as you sit down for dinner. This way the dessert is warm when it comes time for serving.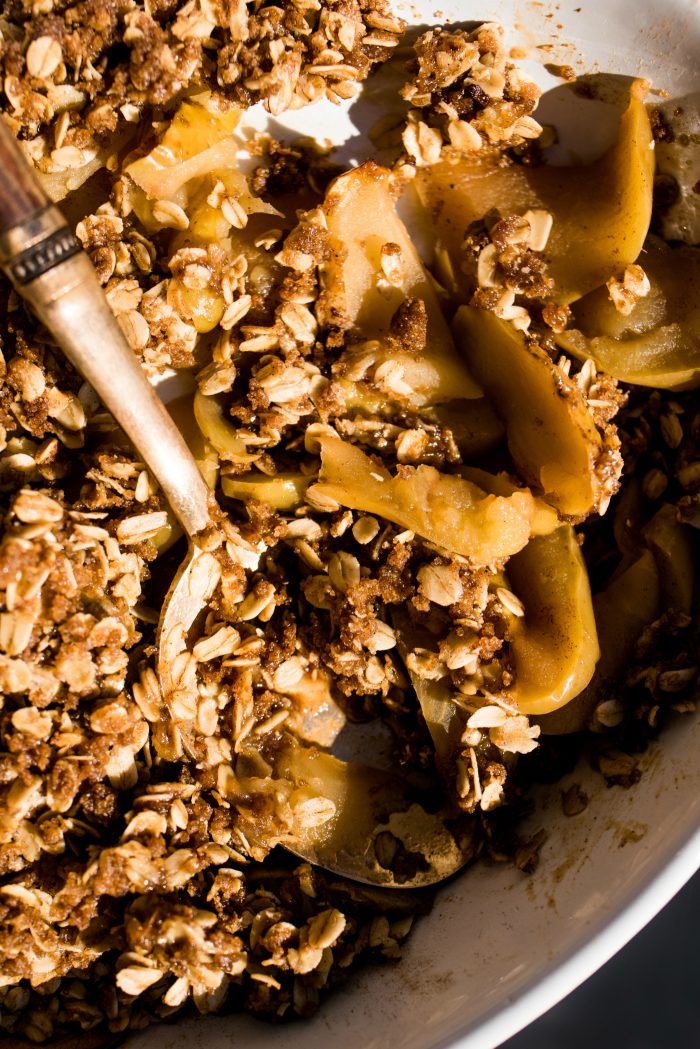 Apple Goody Dessert Recipe
We love also love an easy dessert! Try this Apple Goody Dessert, my go-to fall apple crisp that's not too sweet!
The best fall dessert: A warm fruit dessert with fresh whipped cream or vanilla ice cream!
Yes, please!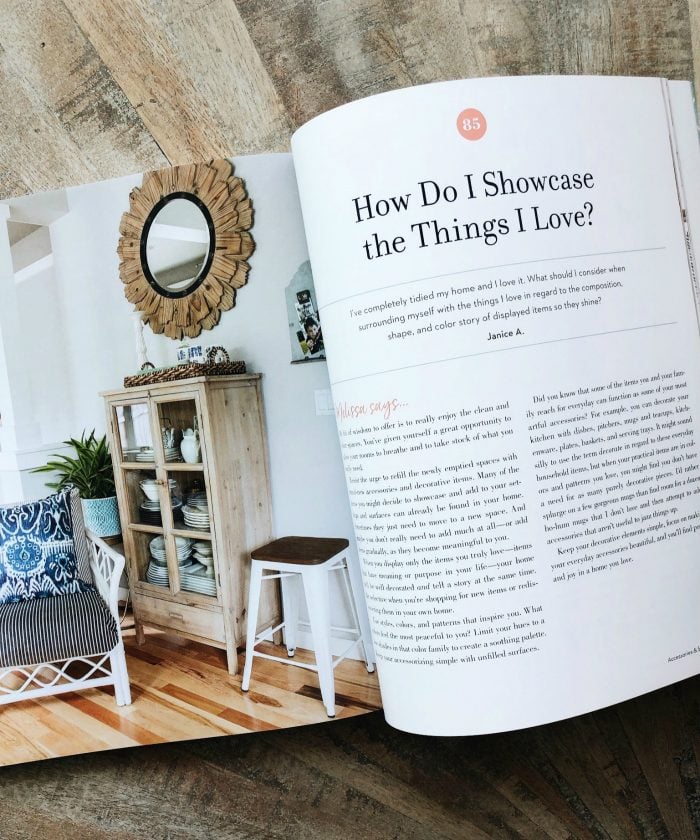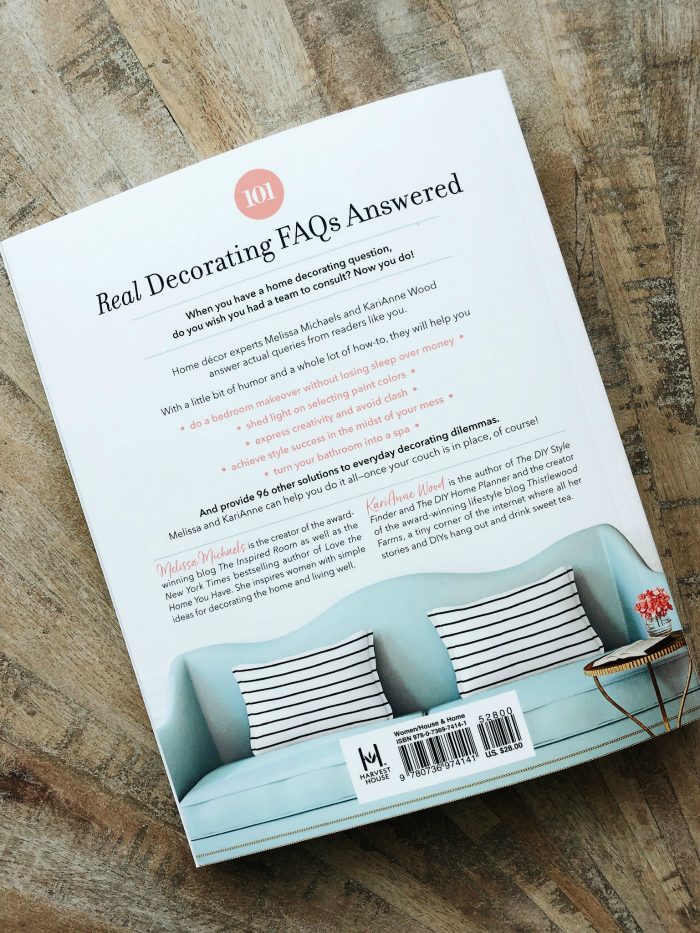 Don't forget to buy this fabulous book with 101 real decorating questions, covering everything from getting started, to putting finishing touches on the room. It's also a great "gift" idea, too.
Plus, there are a few hosting tips in the book!
Again, this book is great. A fun gift idea, too. ENJOY! Buy it, HERE.
Get the Recipe: Apple Goody Dessert
Ingredients
5 Golden Delicious apples, peeled and sliced
1 tsp cinnamon, plus some to sprinkle
1/2 tsp cardamom
1 cup quick rolled oats
1/4 cup all-purpose flour
2/3 cup brown sugar
1/4 cup melted butter
3/4 tsp salt
Instructions
Slice Golden Delicious apples into about 1/2' slices. Lay slices in the bottom of an oval baking dish in two layers—lightly sprinkle brown sugar and cinnamon on top of each layer.

Mix together oats, flour, brown sugar, cinnamon, cardamom, salt, and melted butter; spread evenly over apples.

Cover with foil and bake at 350 degrees for 30 minutes, then bake for 20 more minutes, uncovered. Serve warm with whipped cream or vanilla ice cream.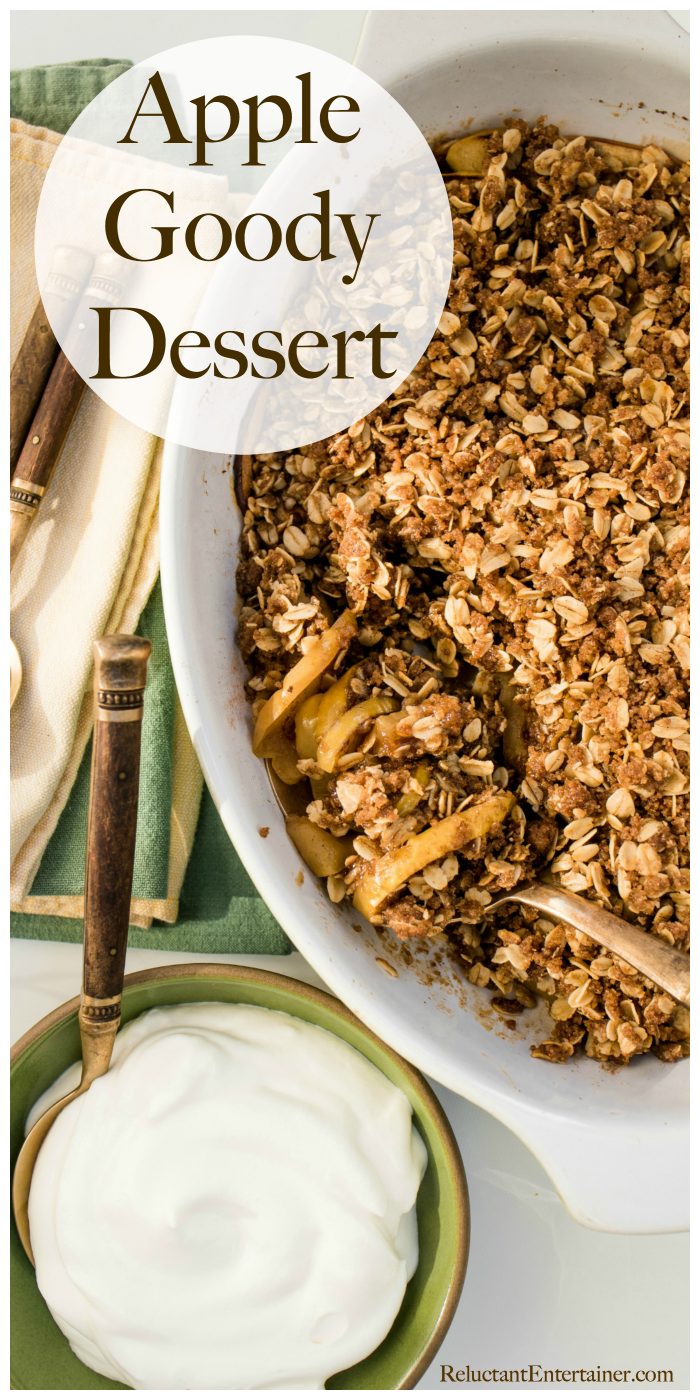 This post has affiliate links. Every purchase from these links supports RE at no extra cost to you. Thank you!
Hello and welcome to my home and table!
I'm Sandy—lover of food, family, cooking, THE BIG BOARD, travel, and bringing people together. Through great recipes and connection around the table, we become better, stronger, and more courageous people. Feasting on Life is real, and every time we do it, we grow a little more. Read more...