Peanut Butter Cinnamon Granola Bars
Have you tried making homemade granola bars? These Peanut Butter Cinnamon Granola Bars are high in fiber, protein, healthy fats, and of course, chocolate.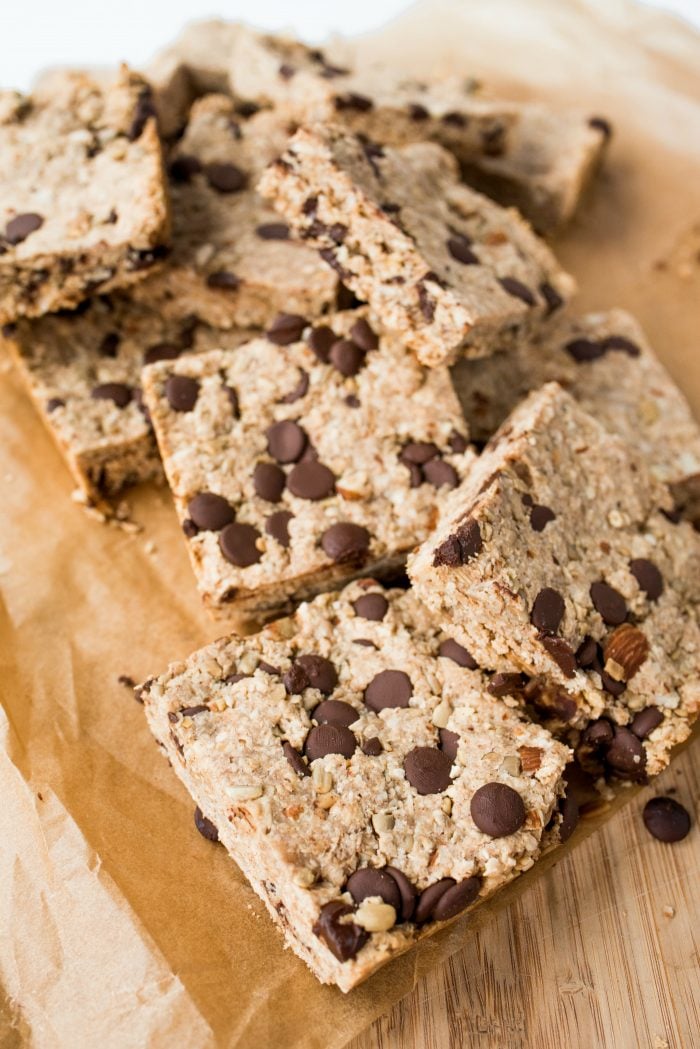 Friends, I'm always looking for recipes I can make in advance, and that are easy for gift-giving during the holidays! I also love a good recipe, like these Peanut Butter Cinnamon Granola Bars, to bring as a hostess gift.
Peanut Butter Cinnamon Granola Bars
They are so much better than anything you can buy at the store! And who doesn't love peanut butter?
These are the ultimate snack (with a glass of milk). :) Last year I made these Pampered Chef Baked Pumpkin Granola Bars, and you can also make your own homemade granola! Try this crunchy, tasty Chocolate Peanut Butter Granola or Abby's Hit the Trail Mix.
Homemade granola bars
Granola bars are easy to wrap up with parchment paper and a tiny string, and place in a brown paper bag.
Bring them with you when you get a dinner invite!
Or, better yet, just enjoy at home, for breakfast, a snack, or to take out on the hiking trail.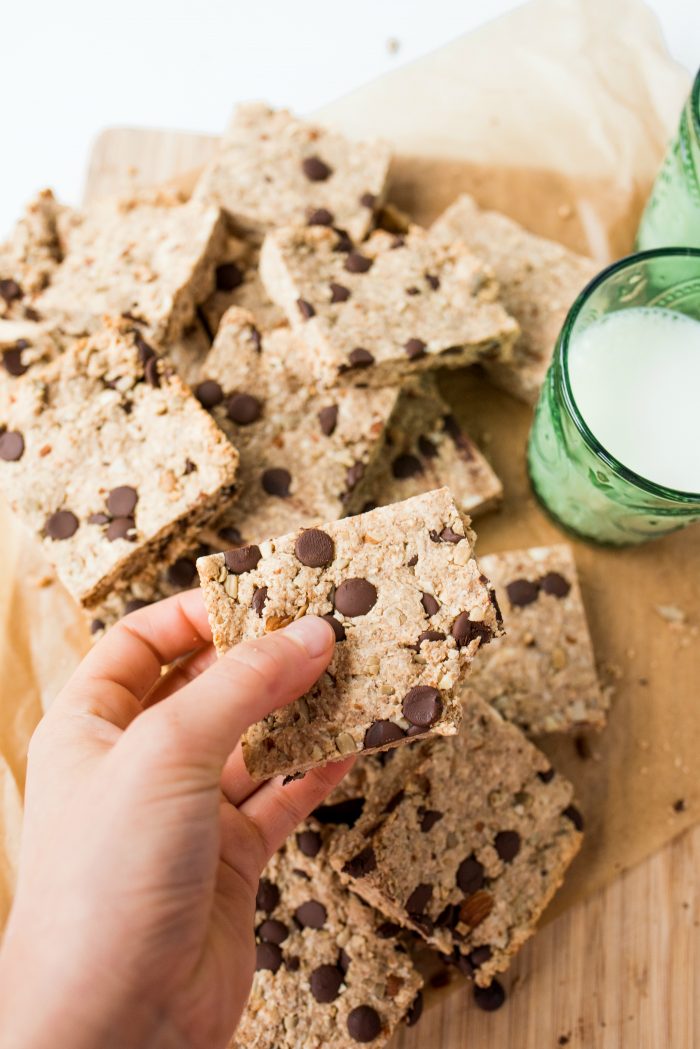 Is it cheaper to make your own granola?
Homemade granola is always tastier, healthier, and cheaper than the store-bought version. That's also true with your own homemade granola bars. Making granola in your own kitchen isn't hard, time-consuming, or expensive.
Ingredients for homemade granola bars
Here are the ingredients you'll need to make granola bars, with peanut butter as the star!
Oats, peanut butter (or other nut/ seed butter, we like the Costco version)
Sea salt, cinnamon, nutmeg, allspice
Toasted sunflower seeds, almonds and coconut
1 can sweetened condensed milk
Avocado oil & chocolate chips
With peanut butter (or other nut butter), these are also perfect for breakfast or for a quick, high-energy snack!
How long do homemade granola bars last?
We've found that homemade granola bars stay fresh for about 1 week when stored in an airtight container. Leave at room temperature. Any longer than that, be prepared for stale, crunchy bars. Not so good!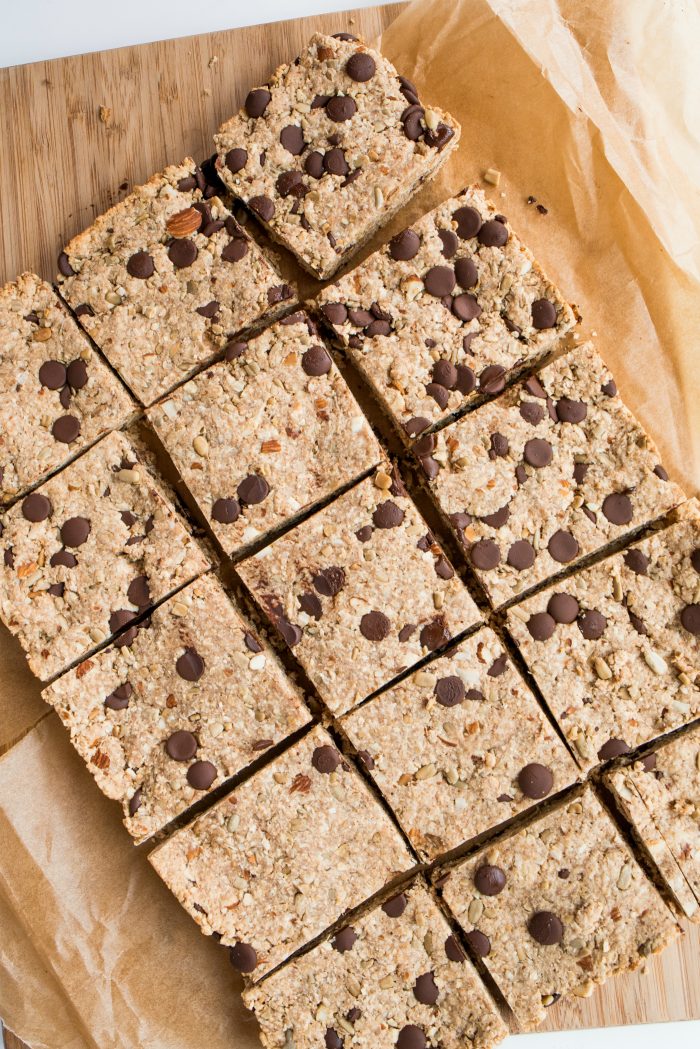 Should I refrigerate homemade granola?
No! Granola bars should be stored in a cool airtight container (keep dry) for six months. Oh, and there's good tips on this post from my friend, Ali. She's sharing her BEST Healthy Granola recipe.
To make these homemade granola bars, simply mix the ingredients.
Press into a 9×13 pan.
Bake and chill and GIVE AWAY!
Or enjoy! :)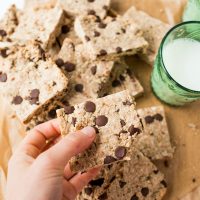 Print Recipe
Peanut Butter Cinnamon Granola Bars
These bars are wonderful for a mid day snack or after a workout. They're high in fiber, protein, healthy fats, and of course, chocolate.
Ingredients
3 2/3

c

old fashioned rolled oats

lightly toasted (optional)

1

c

peanut butter

or other nut/ seed butter

1

tsp

sea salt

3

tsp

cinnamon

1/2

tsp

nutmeg

1/4

tsp

allspice

1

c

toasted unsalted sunflower seeds

1

c

sliced

toasted almonds

1 1/4

c

shredded coconut

1

can sweetened condensed milk

3

Tbsp

c avocado oil

2/3

c

chocolate chips
Instructions
Preheat oven to 350 degrees F.

in a large bowl, combine oats, cinnamon, nutmeg, allspice, sunflower seeds, almonds, coconut, and chocolate chips. Mix until combined, then set aside.

In a large bowl or a stand up mixer, combine the peanut butter, condensed milk, salt, and vanilla. Mix until smooth, then add in oat mixture about 1 cup at a time. Mix until combined.

Prepare a 9X13 baking dish or cake pan with parchment paper—draping it over the edges so it can easily be lifted out.

Press the oat mixture into the pan so that it is in one, even layer. Place on the center rack of the oven. Bake for 22-25 minutes, or until bars are firm and golden around the edges.

Allow bars to cook before cutting into squares or bars.