Abby's Hit The Trail Mix
Abby's Hit The Trail Mix is the perfect combination for a weekend snack if you're hitting the trails for a beautiful hike!
Friends, Happy Friday! I'm so happy that our Abby-girl is home. It's been one year since her high school graduation. She's our outdoor love-bug, with a nose for nature that takes her to places with a camera in one hand, usually on a bike or a hike, and a Kombucha and a healthy snack in the other.
I can't wait to hear about some of her adventures, now that we are living in central Oregon. In the past we've visited places like the Painted Hills, Smith Rock, and then our most recent midnight canoe adventure.
The other thing that I'm so happy about is live violin music once again, this time in our smaller house, but with better acoustics. I wonder what the neighbors will think, as the windows are wide open. With the boys playing piano, too, we'll be called the "house of music." Don't worry, you will never hear a complaint from this mom!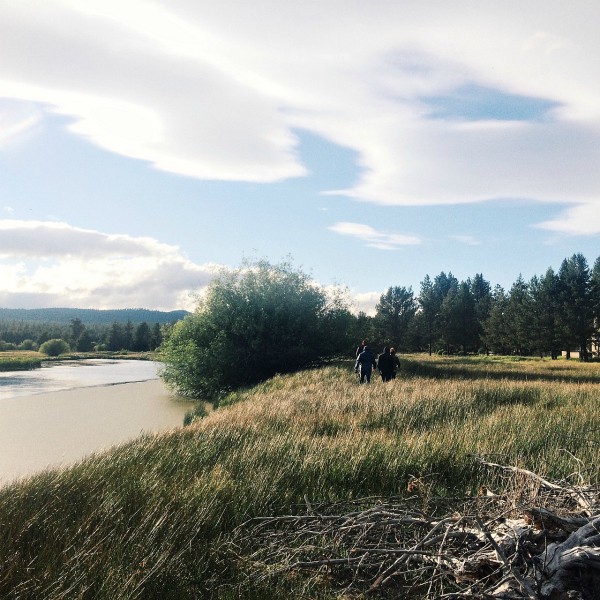 Our last goodbyes were hard, but our middle son made it to Beijing, happy to be in his apartment and a great area of the city. The night before he left, we went into Bend and enjoyed dinner, good laughs, probably out of genuine fun, but also a bit of nervousness. I always say that traveling out of the country is like running a marathon. When I see older people traveling (I mean, 90+ – ha. No, actually like 75+), I have a world of admiration for them. Traveling long-distance is not for wimps! I'll be sharing very soon my recent trip to Tuscany and Venice, with some pretty amazing pictures, and experiences. I've been a bit distracted with our house project!
Which, by the way, the kitchen is close to being done. We are getting our appliances on Monday, my husband will be putting up the backsplash, he's already built the center island, and then we'll be ordering countertops. Because this is a DIY project, and we have a tight budget, we decided to keep the current countertops and stain them the color of the beams, then get a white solid surface for the center island.
More to come …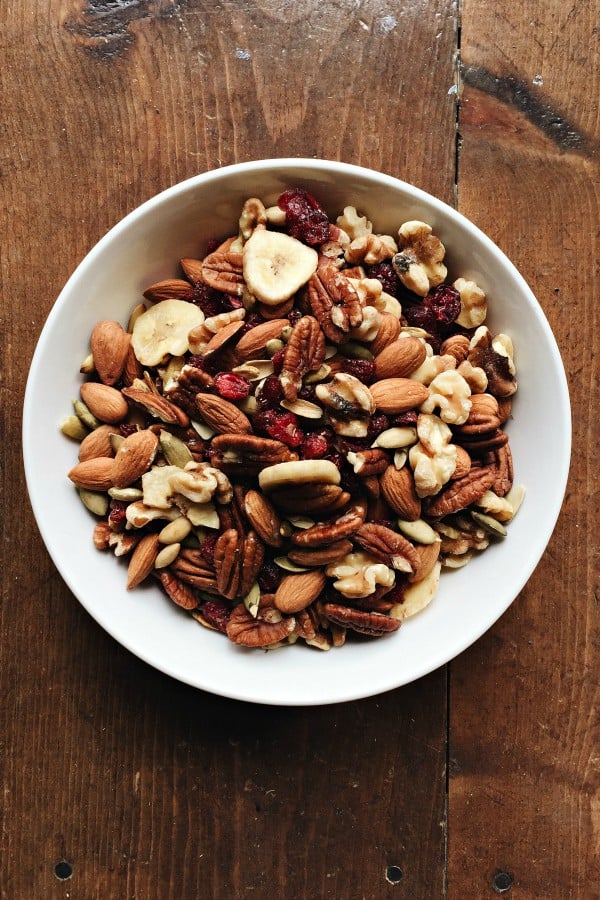 Abby's Hit The Trail Mix
In the meantime, my nature girl has whipped up another delicious recipe, perfect for the trail this weekend if you love hiking…..or, any ordinary "healthy" snack.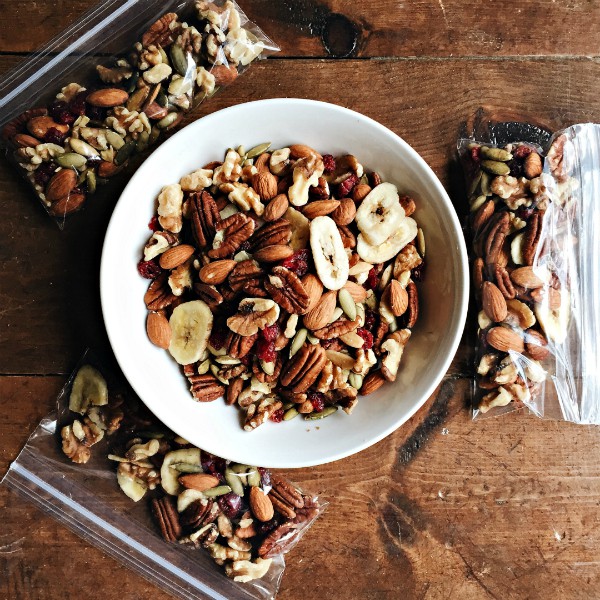 You can buy everything at Trader Joe's.
It's always more affordable when you make your own trail mix.
And it's made with love!
And happy Father's Day weekend, if you decide to hit the trails or not!
ENJOY!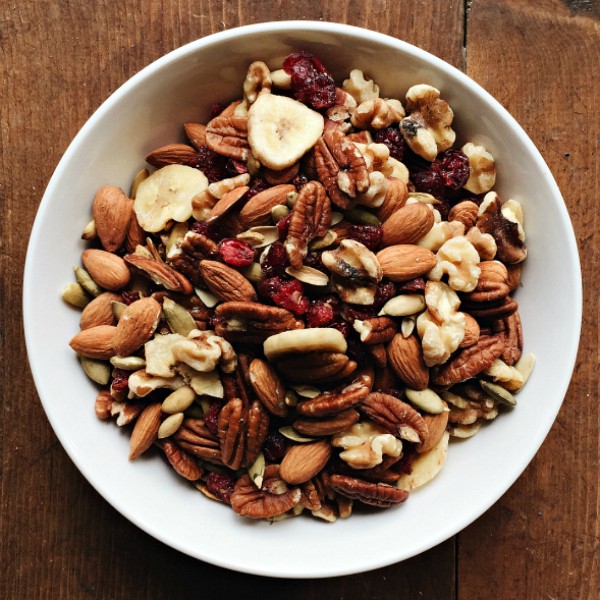 Get the Recipe: Trail Mix
Ingredients
1 cup raw almonds
1 cup raw walnuts
1 cup raw pecans
1/2 cup dried salted sunflower seeds
1/2 cup sweetened banana chips
1/2 cup dried cranberries
Instructions
Mix together in a large bowl.

Divide 1 cup portions into small ziploc bags to take with you on the trail.

Hello and welcome to my home and table!
I'm Sandy—lover of food, family, cooking, THE BIG BOARD, travel, and bringing people together. Through great recipes and connection around the table, we become better, stronger, and more courageous people. Feasting on Life is real, and every time we do it, we grow a little more. Read more...