Birthday Party: Sushi Sandwiches are Easy!
These Birthday Party Sushi Sandwiches are easy for lunches, snacks, or party food!
My guest today is Amy from Living Locurto. I call Amy's site "Party Central" for any kind of a kid party you are thinking about – she has some great ideas to help you out!
Hi I'm Amy from Living Locurto, a blog about parties, food, crafts and free printables. I'm excited to be guest posting here today! I love to entertain and a big fan of the stay at home birthday party. I have many fond memories of my birthdays and all I had was a cake and a few friends! Making special birthday memories can be fun and easy.
I threw my daughter a fun mermaid party and the sushi sandwiches were the big hit and they were the easiest thing I made! So I thought it would be a good thing to share with you today.
Whether you entertain for kids or adults, everyone will love this easy to make dish.


Amy and I would love to hear your favorite kid party that you have been to, or a favorite easy snack that you prepared?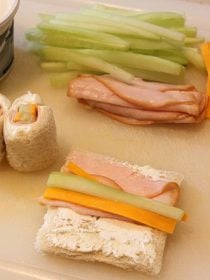 Get the Recipe: Birthday Party Sushi Sandwiches
Ingredients
Whipped Cream Cheese
Cheddar Cheese Slices
1-2 Cucumbers
Turkey
Mustard, optional
White Sandwich Bread
Instructions
Slice the cheddar cheese and cucumber into long thin pieces.

Cut the crusts off the bread.

Roll the cheese, cucumbers, cream cheese and turkey up in a piece of white bread. I also added mustard to some.

Slice the roll in half. Slicing with a knife helps make the roll stick.

Place on a plate like real sushi and watch your guests eat them up!
If you love birthday parties like me, you can find easy to make party printables in my shop. Hope you'll stop by! -Amy
Living Locurto is published by Amy Locurto, a graphic designer and mom of two. Amy owns Atomic Egg and is also co-owner of a photography web site I Heart Faces. Here you can find her free printables, menu plans, recipes, fun party ideas and crafts.
Hello and welcome to my home and table!
I'm Sandy—lover of food, family, cooking, THE BIG BOARD, travel, and bringing people together. Through great recipes and connection around the table, we become better, stronger, and more courageous people. Feasting on Life is real, and every time we do it, we grow a little more. Read more...