BLT Focaccia Sandwich Board
Looking for a lighter lunch idea to serve this weekend? Serve a BLT Focaccia Sandwich Board with garlic aioli and with your favorite snacks!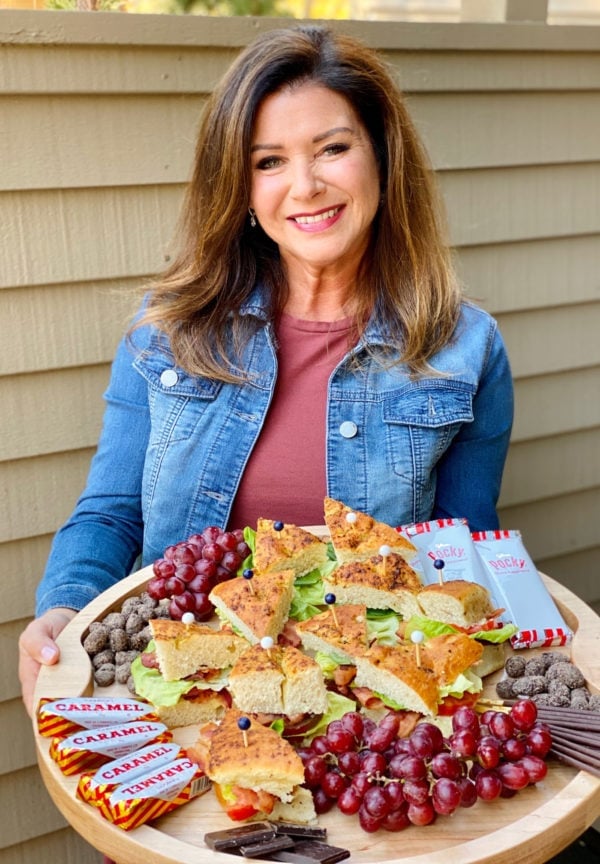 Friends, take a traditional BLT sandwich and make it better, with pesto, garlic aioli, and warm focaccia bread, and serve on a BLT Focaccia Sandwich Board! And if you haven't preordered my new book, yet, Big Boards for Families, you will love the 52 recipes and board ideas! Thanks for your support!
BLT Focaccia Sandwich Board
Today we added pesto, and a homemade aioli sauce, and served it on focaccia bread. So good! And here's a fun BLT Endive Bites recipe (that you could also add to the board).
What does BLT stand for?
Bacon, lettuce, and tomato. Of course there are many ways to fancy up a BLT sandwich, other than the traditional ingredients.
How about adding your favorite cheese?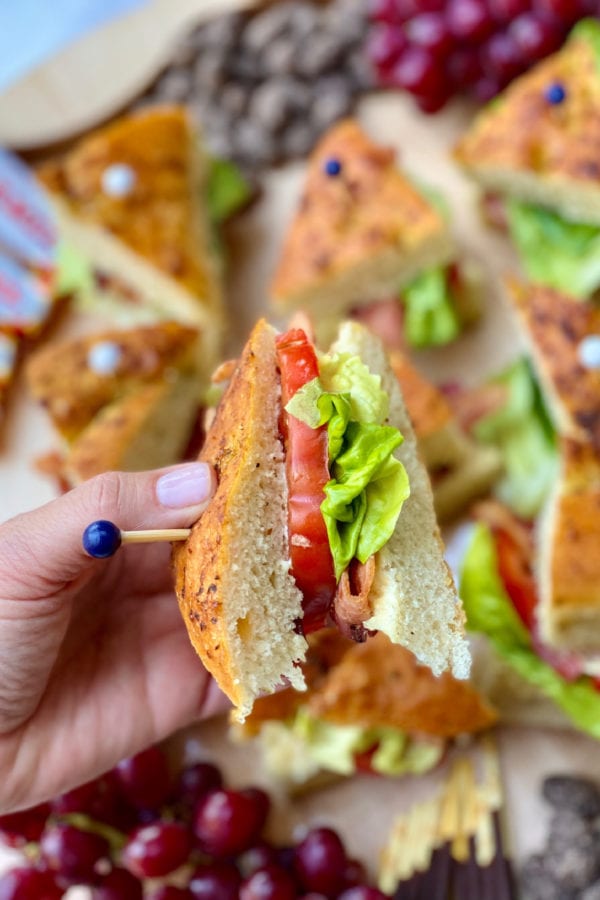 BLT Sandwich Board
What I love about serving a board is that the food does all the "talking." As I've said for years now, set it out, and they will come! This lunch recipe is served on the 20-inch BIG BOARD.
In this post I'm sharing a fun lunch idea, a Pesto BLT Focaccia Bread Board, with a few snacks.
A board doesn't have to be packed with food. Yes, it's pretty when it is, but for this lunch, we spread it out.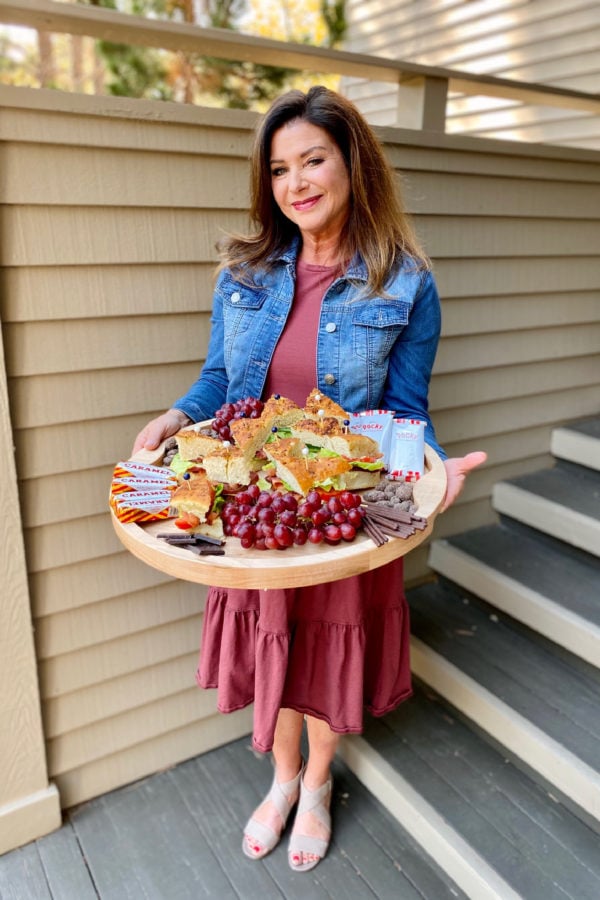 All you need are these ingredients:
Focaccia bread
Garlic Aioli Spread
Tomatoes
Bacon
Red onion
Red grapes
Favorite chocolate snacks: Pocky Sticks, caramel wafers, chocolate candy bar
Does Mayo go on a BLT?
Typically yes, mayonnaise always goes on a BLT. But simple variants include using different types of lettuce, toasting or not, different breads, or adding mayonnaise.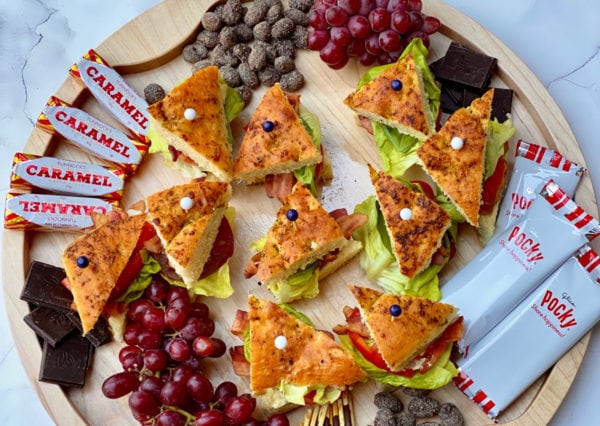 How do you make your own aioli?
Make garlic aioli by mixing mayonnaise, minced garlic, lemon juice, a sprinkle of salt, and a dash of cayenne in a small bowl. Cover and refrigerate for 30 minutes. It's super easy!
What do you put on a BLT sandwich?
Here are some fun ideas for sprucing up your BLT:
Add a fried egg on top.
Fig jam
Slices of avocado (and fresh cracked pepper)
Chipotle mayonnaise
Pesto
Sprouts
Cheese
Hey friends, I know your to-do list is probably pretty full, like mine is. But think about hosting an easy lunch for a friend or two?
It's easy to procrastinate on the invite, but think about what really matters.
Hospitality is something you can add to your to-do list that has the potential to make a lifelong impact.
People and food (and fun boards) … always equal great conversation!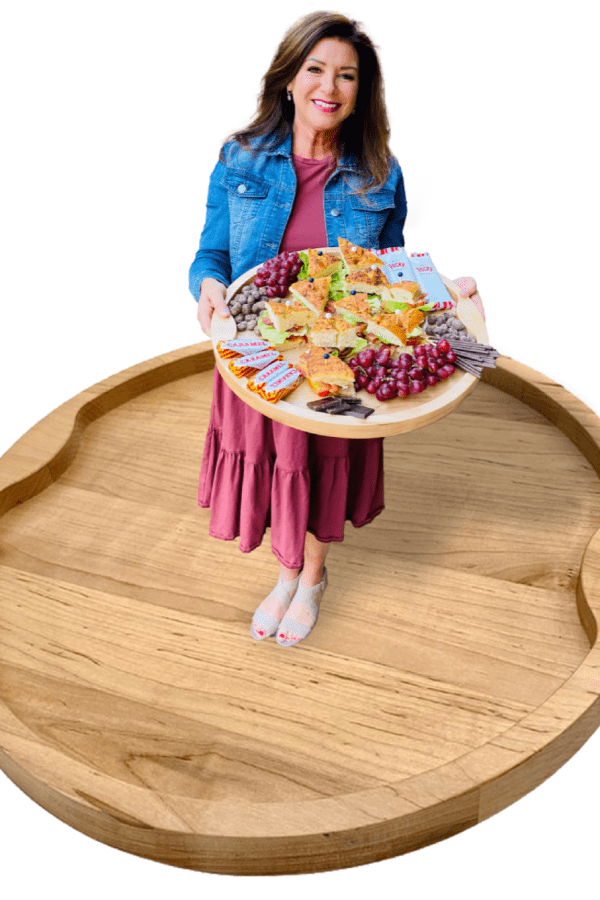 More BLT recipes:
BLT Grilled Cheese Salad with Ranch Dressing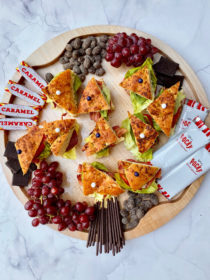 Get the Recipe: Pesto BLT Focaccia Bread Board
Ingredients
1 pound 8 x 9" loaf of pesto focaccia bread
10 slices heirloom tomatoes
20 slices bacon, cooked
1 purple onion, thinly slices
Red grapes
Pocky Sticks
Caramel wafers
Chocolate candy bar squares
Sandwich skewers
Garlic Aioli Spread:
¾ cup mayonnaise
2 cloves garlic, minced
2 tablespoons fresh lemon juice
Salt and pepper to taste
Cayenne pepper, dash
Instructions
Make garlic aioli by mixing mayonnaise, minced garlic, lemon juice, a sprinkle of salt, and a dash of cayenne in a small bowl. Cover and refrigerate for 30 minutes.

Cover a baking sheet with foil. Using 8 bacon slices for each, form bacon into 2 weave patterns on the foil by using "under-over" layering. Place into a cold oven and set temperature to 350° F. Cook for 15-20 minutes, or until desired doneness. Drain bacon weaves on a paper-towel lined plate.

Carefully and evenly slice focaccia in half (to form a top and bottom). Optional to wrap in foil and warm in the oven for the last 5 minutes of cook time of the bacon cooking if desired. You can also make these sandwiches on un-toasted bread.

When ready to assemble sandwich, spread garlic aioli on bottom, and pesto on top. Layer bacon, tomatoes, and red onion slices. Place the top of bread on top. Cut into triangles and serve!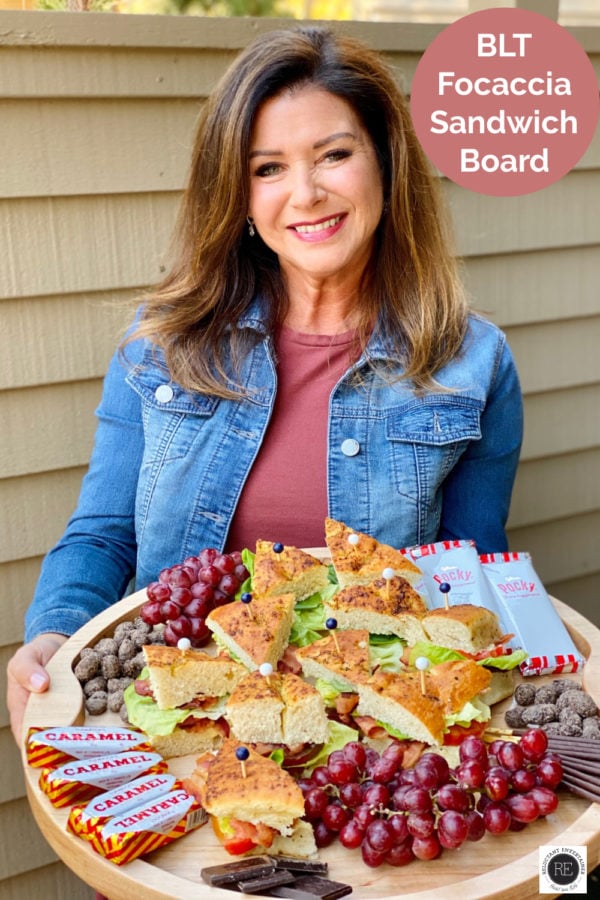 Hello and welcome to my home and table!
I'm Sandy—lover of food, family, cooking, THE BIG BOARD, travel, and bringing people together. Through great recipes and connection around the table, we become better, stronger, and more courageous people. Feasting on Life is real, and every time we do it, we grow a little more. Read more...