Crock Pot Beans with Ground Turkey
Everyone goes crazy for a bowl of Crock Pot Beans with Ground Turkey, loaded with ground turkey, bacon, and mixed beans.
This recipe is delish, loaded with beans, bacon, and ground turkey–a hit at every cookout, potluck, or just an easy meal! Some people call it "calico beans."
Crock Pot Beans with Ground Turkey
These are also known as calico beans, or cowboy beans, and you can even eat them on a Sloppy Joe!
It's just the kind of thing to make when the weather takes a chilly turn and you're hungry for something that really sticks to the ribs. And kids love these beans! This is a repost from years ago, as I got a pot of beans cooking for my working-mom friend who asked if I could help her out. She had one of her son's soccer parties at the end of the day, and she didn't have time to make a potluck dish. (Read the ending at the bottom of this post.)
What are Calico Beans?
Made with a variety of beans, you can always mix it up, and use what's in your pantry! I never had a calico cat growing up, but the nickname for this recipe is just like a calico cat with so many colors. A hodge-podge of beans and colors are used in the recipe!
Kidney beans (use regular or white)
Canellini beans
Pinto beans
Butter beans (or canned lima beans)
Black beans
You can even use Pork and Beans!
The beans are all cooked with bacon and ground turkey in a tangy, sweet sauce.
In other words, pick an assortment of beans that you like and put them together in your slow cooker. They'll be great, no matter what you use.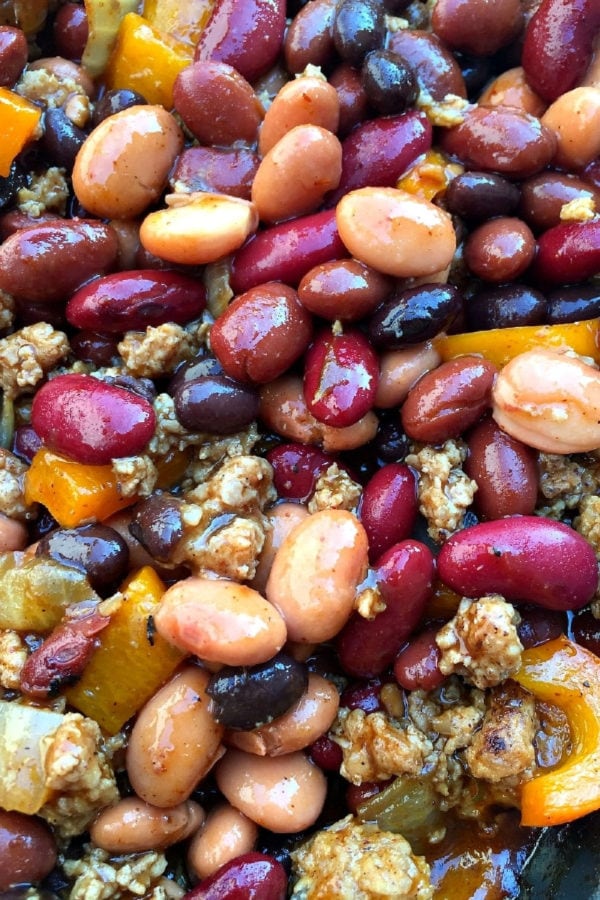 Grab a large skillet and cook the bacon and the ground beef over medium-high heat. Drain off the fat and transfer the meat to the slow cooker. Then add the remaining ingredients.
Other optional ingredients in Calico Beans:
Liquid smoke. A tiny bit of liquid smoke gives a nice smokiness to the beans. You might want to give it a try!
BBQ sauce. Switch out the ketchup (or part of the ketchup) for your favorite BBQ sauce.
Molasses. This adds an additional richness, but the recipe already includes brown sugar.
Ground beef. Some cooks love using ground beef in Calico Beans in place of ground turkey.
Beans. Mix and match your favorite beans (listed above).
How to serve Crock Pot Beans with Ground Turkey:
These beans are divine all on their own in a bowl, as a main course. You can also serve a bowl like chili, loaded with all your favorite chili toppings:
Sour cream
Diced jalapeno
Chopped raw onions or green onions
Shredded cheddar cheese
Corn chips
Serve on a hot dog board
Place in the center of a hamburger board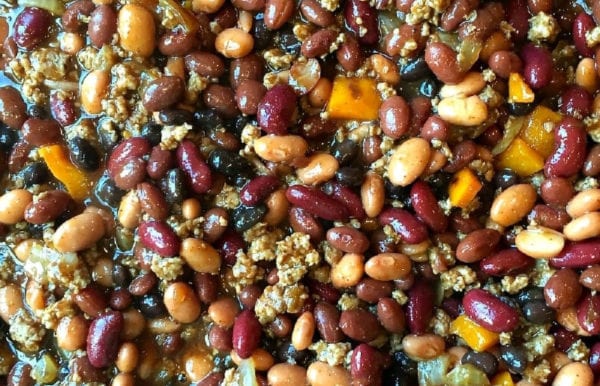 Crock Pot Beans
Mix al the ingredients together and get the beans slow cooking. Your house will smell delicious!
My friend came at 5 pm when the beans were hot and ready. I unplugged the slow cooker, and she ran out the door to her party!
It took such little effort, on my part, to help out a busy mom. I'm glad I listened to my friend, and that inner nudging inside my heart, that said I could possibly lighten her load, and bless her family on this day.
Hospitality comes in all forms, doesn't it?
Get the Recipe: Crock Pot Beans with Ground Turkey
Ingredients
1 pound ground turkey
½ pound bacon, finely chopped
2 tsp cumin
Salt and pepper to taste
1 large onion, diced
1 large bell pepper, red, yellow, or orange, diced
1 15 oz white kidney beans, drained
1 15 oz black beans, drained
1 15 oz kidney beans, drained
1 15 oz pinto beans, drained
¾ cup brown sugar
¾ cup ketchup
2 tsp white vinegar
1 tsp yellow mustard
Instructions
In a large skillet over medium-high heat, cook ground beef and bacon; drain. Add the cumin and salt and pepper to taste. Transfer to the slow cooker.

To the meat mixture in the slow cooker, add the onion, chopped pepper, all of the beans, brown sugar, ketchup, vinegar, and mustard.

Mix well, cover, and cook on HIGH for 4 hours or LOW for 8 hours. If needed, season to taste more salt and pepper.
Notes
Reposed from SEP 2015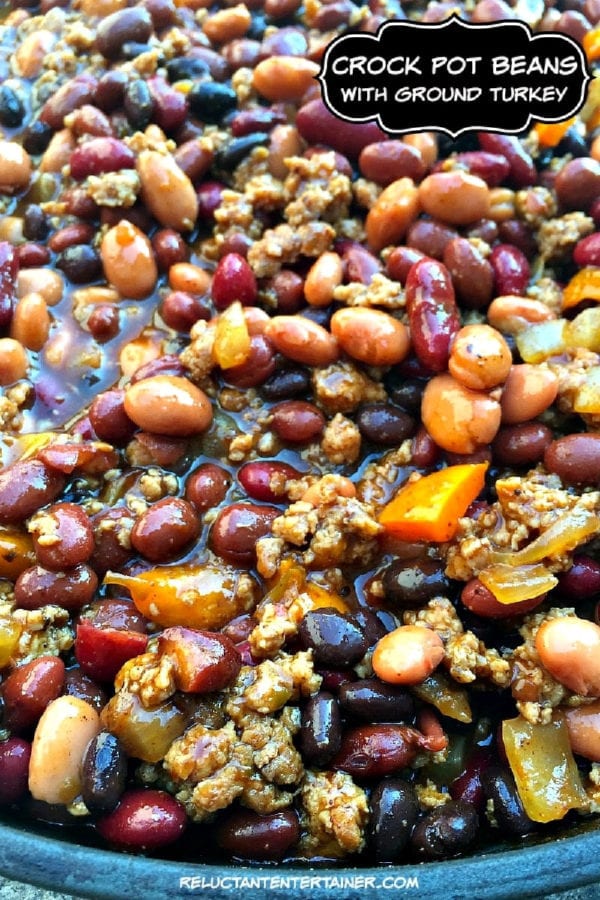 Hello and welcome to my home and table!
I'm Sandy—lover of food, family, cooking, THE BIG BOARD, travel, and bringing people together. Through great recipes and connection around the table, we become better, stronger, and more courageous people. Feasting on Life is real, and every time we do it, we grow a little more. Read more...