Epic Summer Hamburger Board
Friends, building community isn't hard. Send that text, and make an invitation to host a summer gathering. Serve this Epic Summer Burger Board!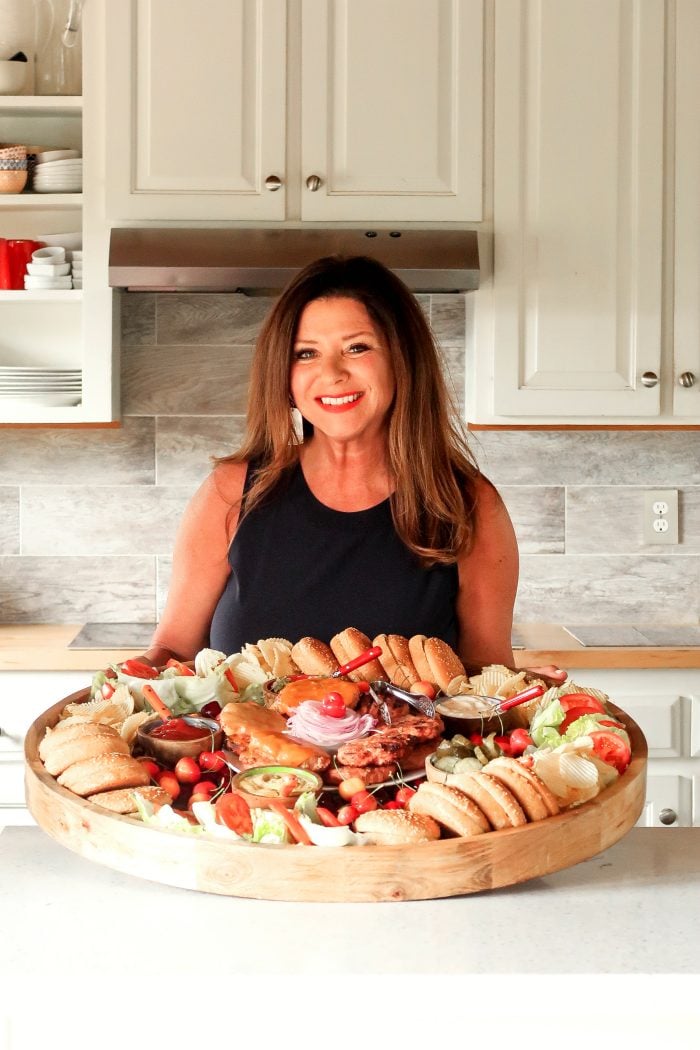 Could it be that our personalities influence how neighborly or hospitable we really are?
Yes, I believe that to be true. That is why we sometimes have to stretch ourselves and just make that invite. Recently we had a few neighbors over to enjoy this Epic Summer Burger Board and it was delicious!
Epic Summer Burger Board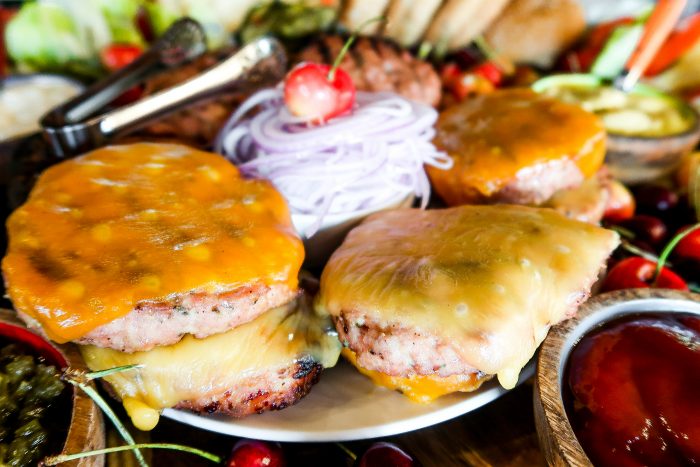 Summer Hamburger Board
You can prepare most of this Epic Burger Board before the guests arrive, placing the hot burgers in the center right before serving. Here's my recipe for delicious [gluten-free] burgers, Grilled Best Turkey Burgers Recipe.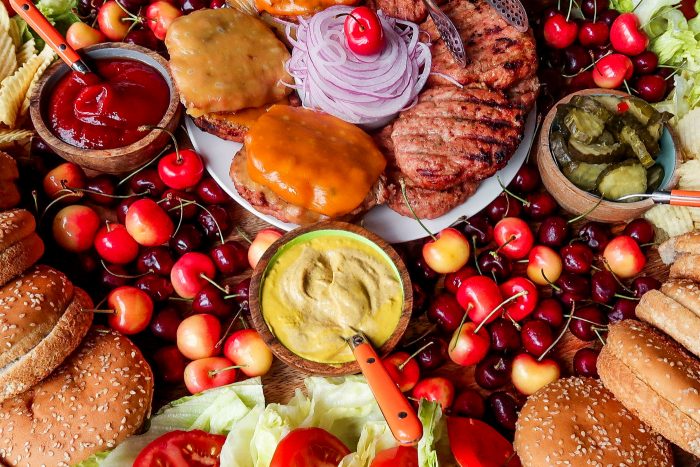 It's fun, light, casual, and everyone loves a dinner board.
You can even ask guests to bring side salads.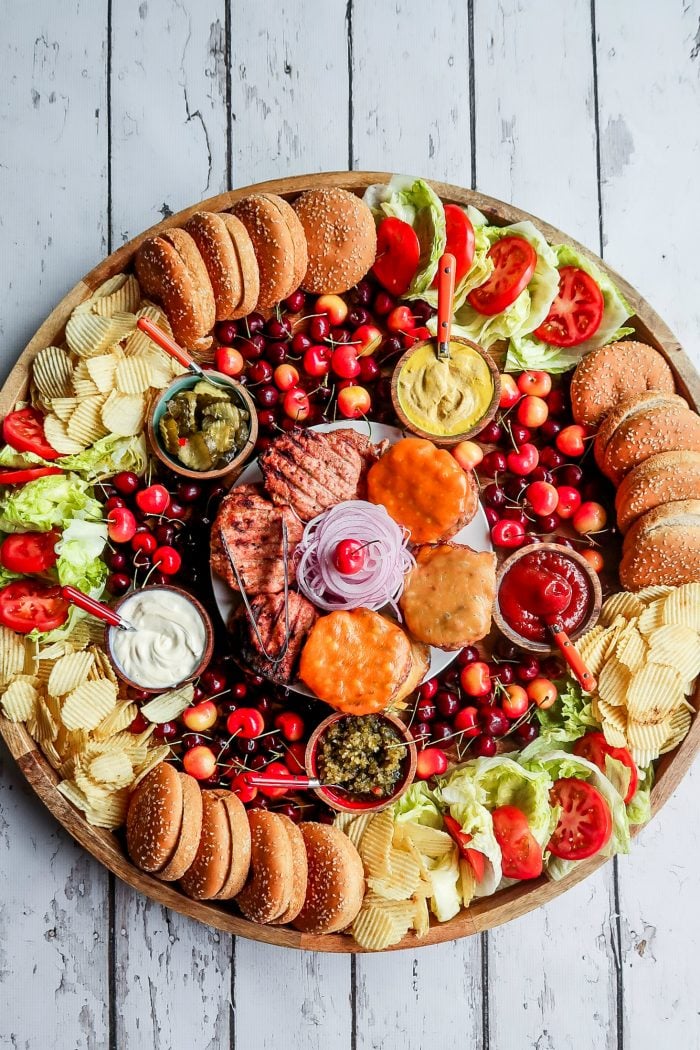 Best Turkey Burgers
With only one extra step, which is sautéing the free herbs, this burger recipe is truly the BEST.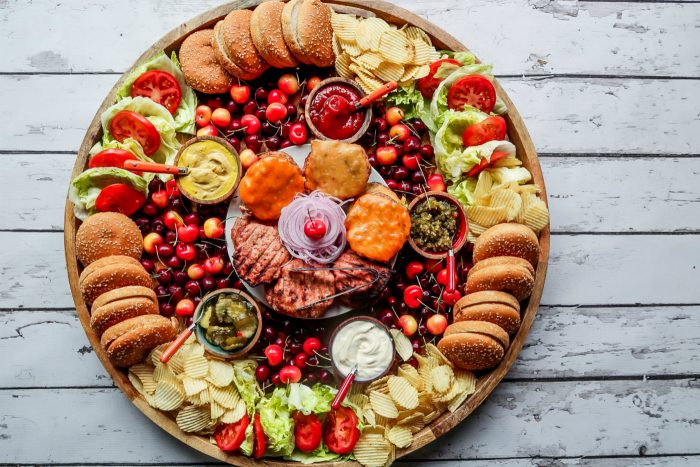 Grilling tip
Another tip–Grill the burgers ahead and just reheat before the guests arrive. I've done this many times. They taste just as good, as long as they are hot.
How to keep the food hot
Everyone asks about how to keep the food warm on these boards.
Arrange all the food on the board, leaving a plate-size space where you'll be placing the hot food.
Don't place the hot food on the board until you're ready to eat!
It's that easy!
Then let everyone dig in.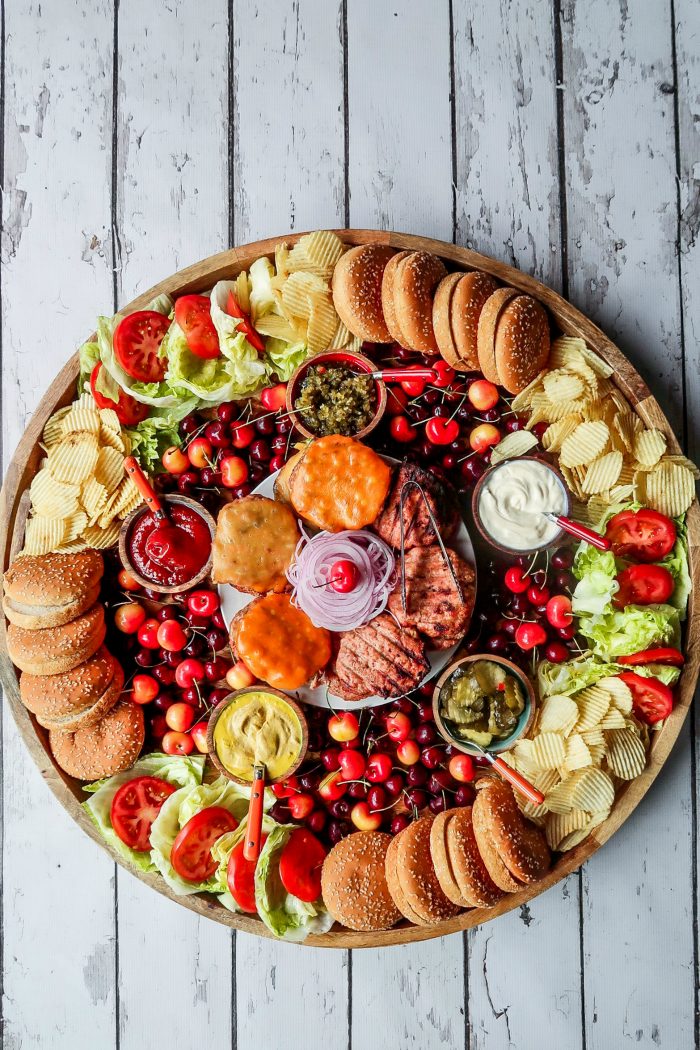 The best version of me is when I pour out my time and energy and invite people over. Sometimes it's new people that we've just met, neighbors, or friends we've known for years.
Hosting comes from a place of gratitude for being alive, and for the privilege of setting the table, placing food out, and pouring the wine. I seem to forget about myself when I host.
Possibly because you do have to be thinking about organizing the meal, and what comes next, and of course you think about the people you are hosting.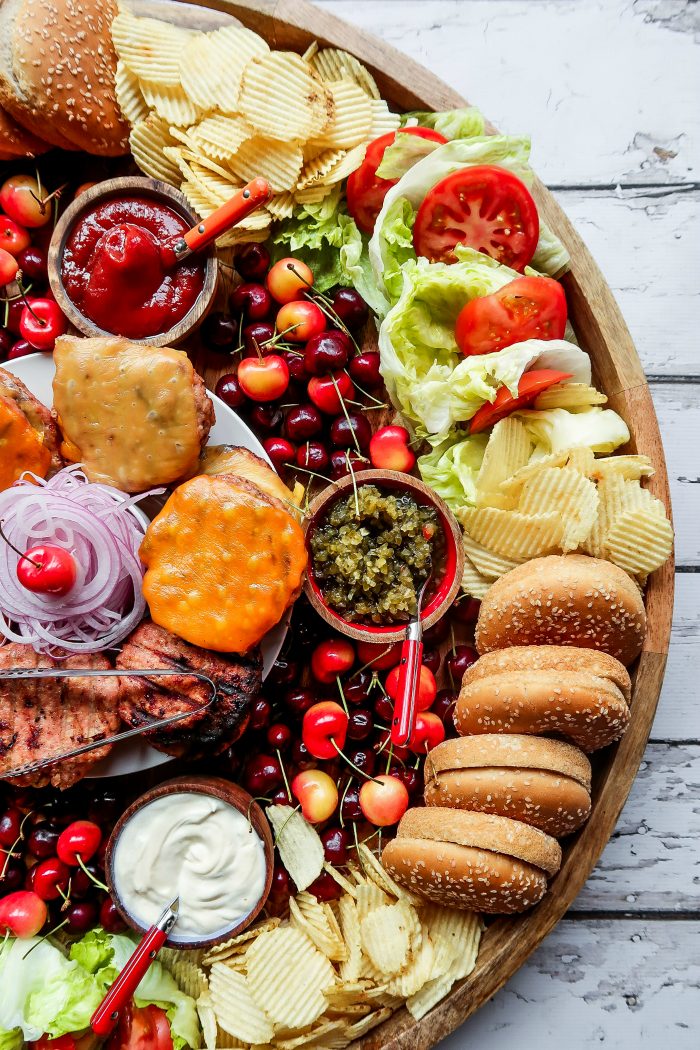 While I'm preparing, I start to think about their lives (not mine!)
A pause in my busy life, when the first doorbell rings, helps me remember and reignite my gratitude. Yes! We get to spend the evening with so and so!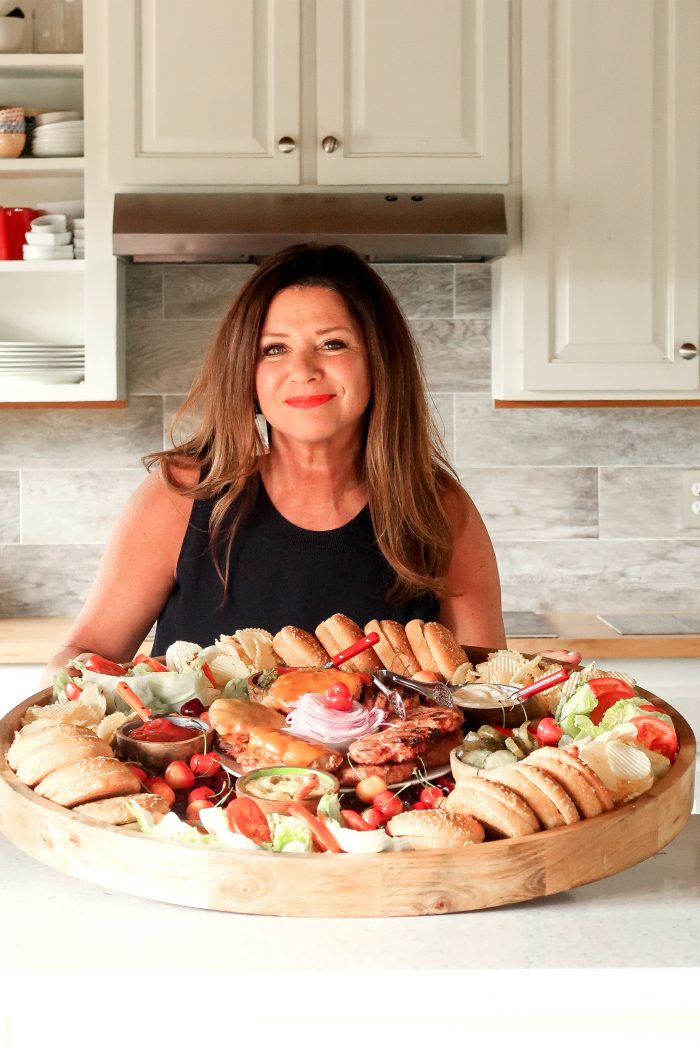 I know my Instagram page is full of life and recipes and ideas and beautiful pictures to help create food and inspire hospitality.
But when I actually host, I'm just a regular person. And the nitty gritty happens with mistakes in the kitchen, and things not always perfect, and then getting down to business around the table. I mean, deep investment into the lives and true goings-on with each person seated around the table!
This is community! This is when it all becomes very real.
24-inch Charcuterie Board
Friends, here is the board that I LOVE. It's 24-inches in diameter with a 2-inch lip. A "lip" is the secret to the best charcuterie or dinner board, because the food does not fall off.
You can buy in 2 sizes.
Here are the LINKS:
LARGE Hand-Carved Gabrielle Tray – 24 inches round. Buy >> HERE (affiliate link)
SMALL Hand-Carved Gabrielle Tray – 18-inches round. Buy >> HERE (affiliate link)
Rememember it says it is "not food safe," so you need to prepare the board by either laying down parchment paper under the food, or you can "season" it like we did.
Here are a few other options:
Courtland Wooden Lazy Susan – 18-inch round. Buy >> HERE (affiliate link)
LAZY SUSAN is a board that spins. It does NOT have a lip, but it's cool for the center of the table.
Here's an 18-inch wine barrel wood board or a 24-inch hammered large round tray or a 26-inch stainless steel serving platter that you may also like! Check out the weight on these boards.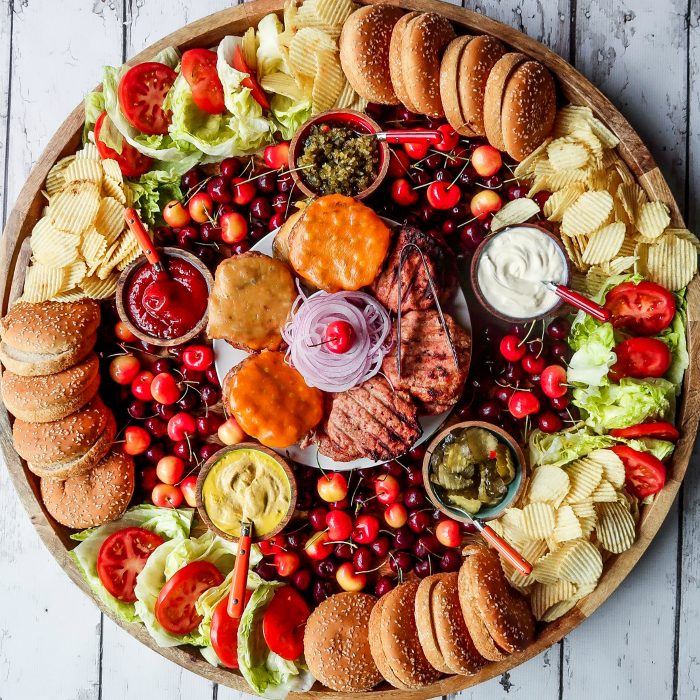 How to season a Charcuterie Board
If a wood board says it "not food safe," you can lightly sand it down with sand paper, and rub down with beeswax and mineral oil.
We used this butcher block and cutting board oil conditioner after we lightly sanded the board down.
Or, lay down parchment paper! Easy peasy!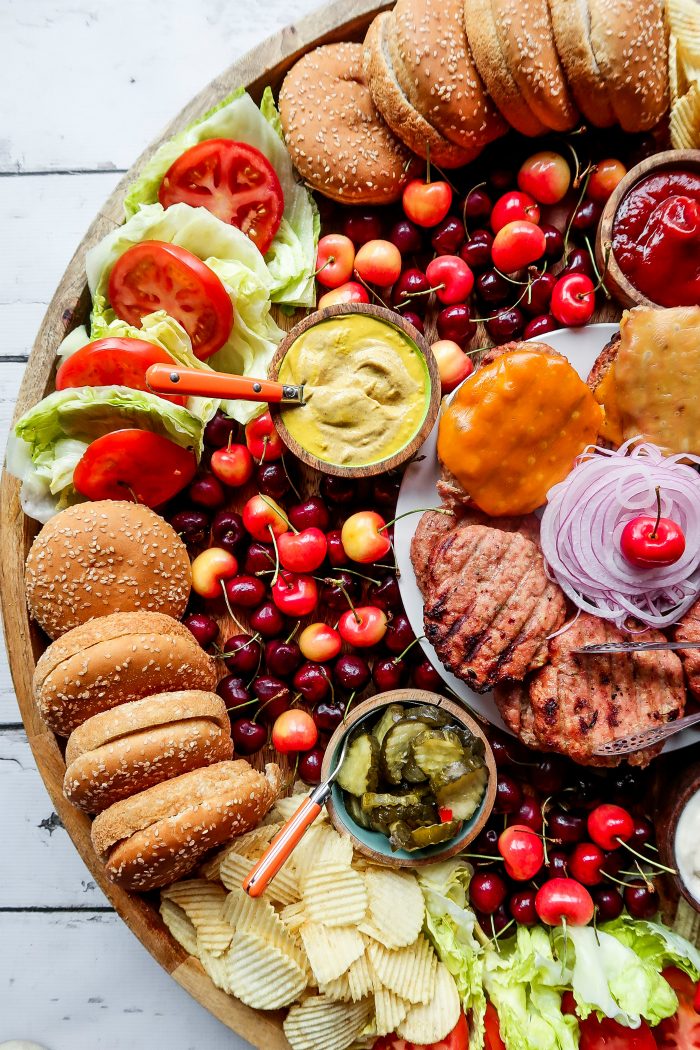 I wish more people would experience this and invite people into their homes!
Burgers is a fun way to start!
Happy hosting!
Print Recipe
Epic Summer Hamburger Board
Ingredients
3

packages Trader Joe's gluten-free hamburger buns

or you can buy regular

12

Best Turkey Burgers

6-12

slices

cheese

1

head iceberg lettuce

3

large tomatoes

sliced

1

large onion

thinly sliced

2

pounds

cherries

or summer fruit

Potato chips
Toppings
Mayonnaise

Mustard

Ketchup

Relish

Pickle slices
Instructions
Prepare a large platter or board. Add parchment paper if not food safe.

In the center of the epic board, place a large plate to hold the cooked, hot burgers.

Around the outside, lay down the 12 buns. Optional to toast the buns ahead of time. Also lay down lettuce and sliced tomatoes.

Grill the burgers ahead and keep hot until serving. [Add cheese on half of the burgers.] Stack on a dinner plate; add the thinly sliced red onions in the center.

Lay down small bowls for the condiments.

Fill in the open areas with potato chips and cherries (or summer fruit).

Don't forget the napkins!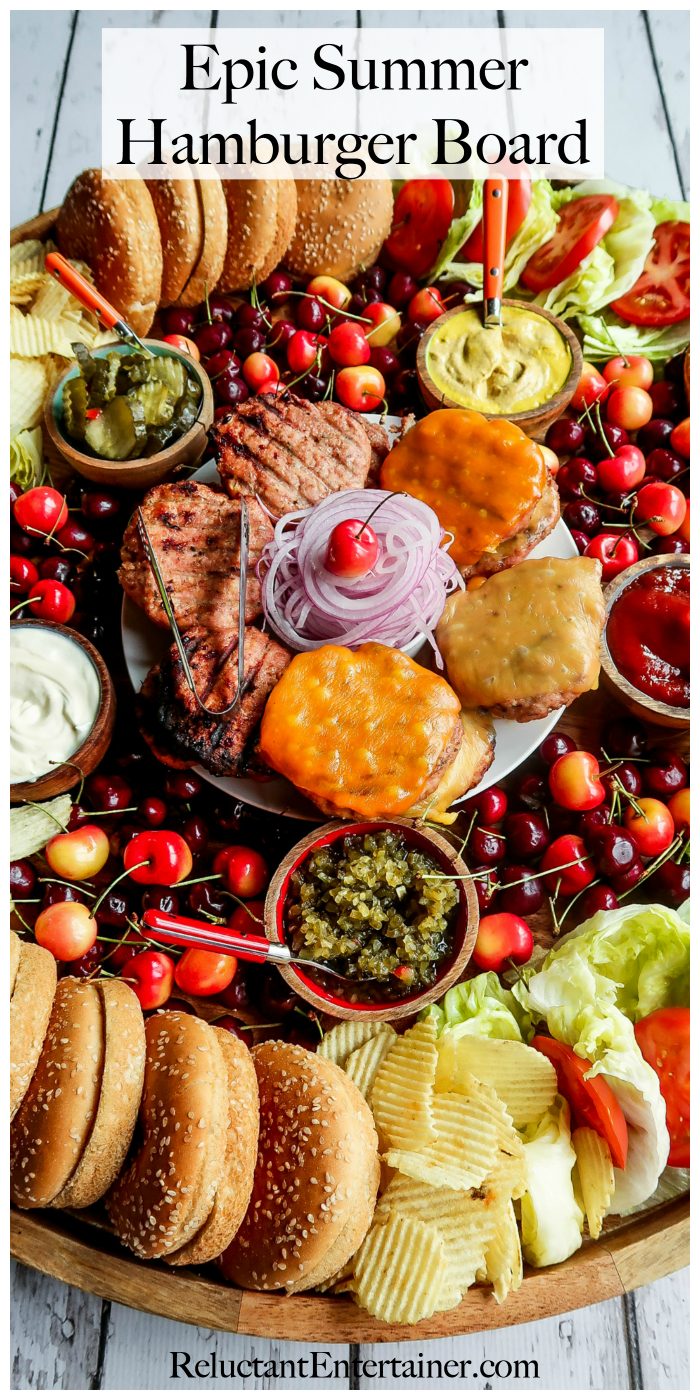 This post has affiliate links. Every purchase from these links supports RE at no extra cost to you. Thank you!