Best Blueberry Spinach Salad
My go-to party salad with red onion salad dressing; bring a Best Blueberry Spinach Salad with red onion, toasted pecans, and goat cheese!
Here's my favorite anytime salad: Best Blueberry Spinach Salad. You can make my red onion salad dressing or you can buy a bottle of Briannas Poppyseed Dressing (easy to keep in the pantry), and this is delish on this salad, too. The new white extra large mango salad bowls are back in my store. Here I am in a video talking about this salad!
Best Blueberry Spinach Salad
When's the last time you reached out to someone in need and how did you live out the simplicity of hospitality?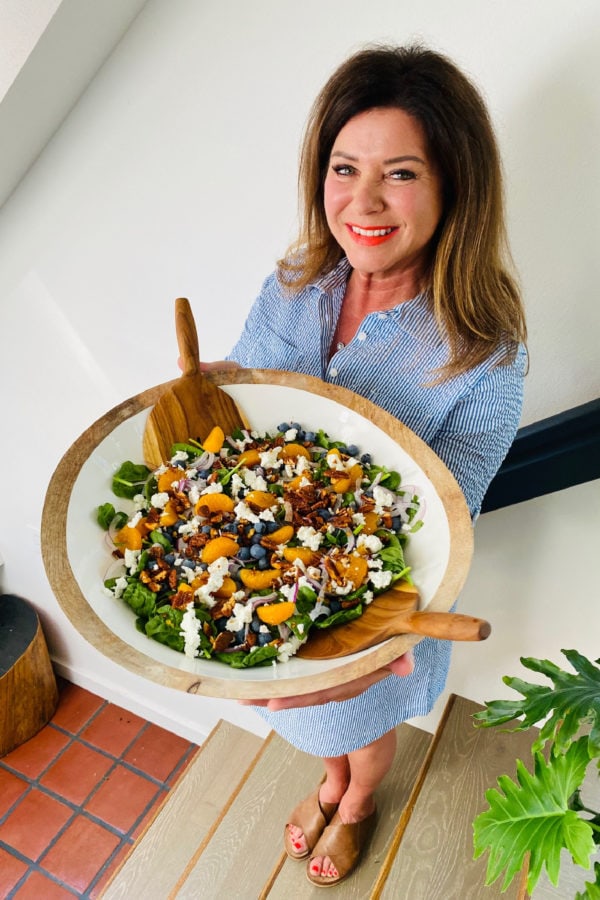 Potluck dinner parties are one of my favorite ways to reach out, by inviting people in, with everyone bringing a dish. Or, you get invited to a potluck dinner party and you need to bring a salad?
Best Blueberry Spinach Salad Ingredients
Spinach. Spinach and blueberries are classic together and an excellent choice. You can always use any kind of lettuce or arugula for this salad in place of spinach.
Blueberries. Fresh blueberries are the bomb. You can always mix a combination with blueberries, raspberries, dried cranberries, or even strawberries.
Toasted pecans. We love a crunch to our salad, but if you don't like pecans, swap them out with toasted, slivered almonds or chopped walnuts. TIP: Lay on a paper towel and toast in the microwave for two minutes, shuffling them around halfway through. Or, buy the spiced pecans at Trader Joe's.
Goat cheese. Adding a bit of creaminess and tang is what we love with this sweet salad. If you don't like goat cheese, try adding feta, or a mild blue cheese like gorgonzola.
A tip for buying cheese: Don't buy it already crumbled. Crumble it yourself, because it will be way more fresh and tasty.
Mandarin oranges: Those sweet little bites of orange really make this salad.
Red onion: Read my tip below on how to slice the onion (thin!) SO GOOD!
Best red onion dressing: Recipe here for my homemade dressing. It thickens up as it sits in the fridge. Add a tiny bit of water or olive oil and whisk to thin it out before using.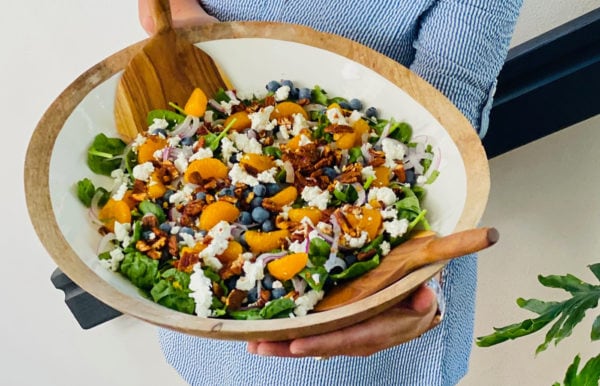 The bowl? YES! Back by popular demand, the first round of this Mango Wood and Enamel Salad Bowl sold out. But they are now back in stock. Buy yours now before they are gone (again).
Buy the salad bowl, HERE.
And the wood paddles? My favorite. Grab them also in my store, The House of Hyacinth.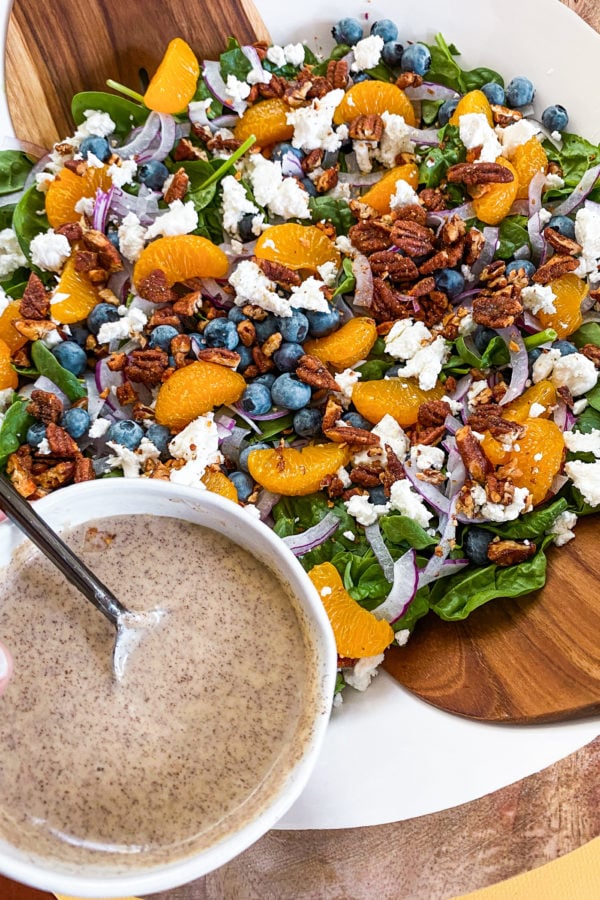 Red onion tip for blueberry spinach salad
Adding the red onion really makes the salad. It gives this healthy Blueberry Spinach Salad a friendly bite, keeping it from being too sweet.
RED ONION TIP: I swear by this tip, when cutting red onion. Using a mandolin (pick your best price range– affiliate link), place the setting on as thin as you can get it (to actually make a slice), and slice about half of the onion. Then cut into halves, or fourths, and sprinkle on the salad. The onion is light enough so that you don't get punched in the gut when you take a bite. It really adds to the salad.
Additions or substitutions to Blueberry Spinach Salad:
Feel free to make adapations. I do this all the time, depending on what I have in my pantry or fridge! It's fun to create new flavors and play around with salad ingredients:
Grilled steak or chicken slices or leftover rotisserie chicken, chopped
Crumbled feta, blue cheese, or creamy goat cheese
Candied almonds, walnuts, or pecans, or the spicy ones from Trader Joe's
Toasted almonds, walnuts, or hazelnuts (Oregon hazelnuts are the best!)
Fresh raspberries or strawberries or blackberries
Pickled red onions
Sunflower seeds (leave out the nuts and add seeds to make a nut-free salad)
Dried cranberries or cherries or other dried fruit
Avocado
You can always grab a pre-made salad dressing, like Marie's Raspberry Vinaigrette.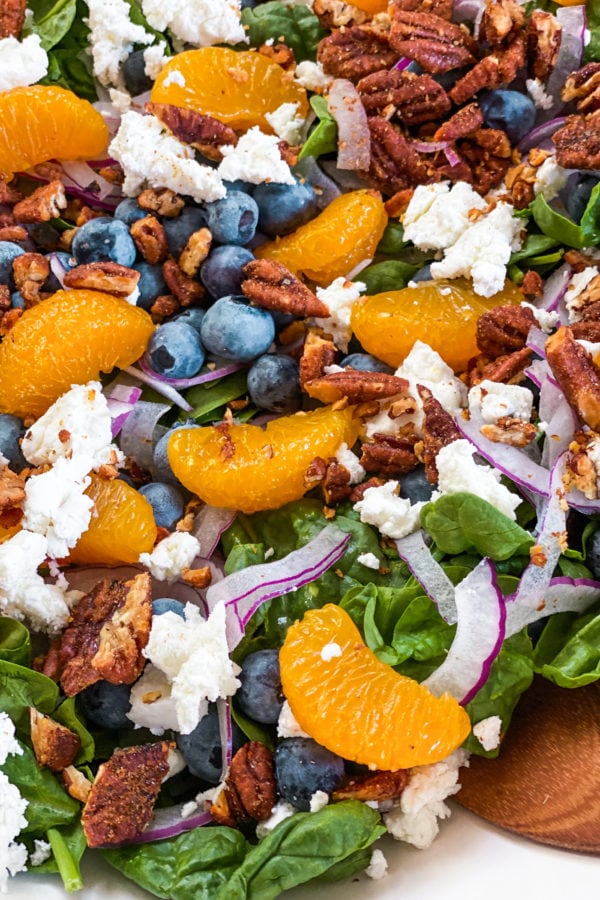 How to make the salad
Toast the pecans; cool and set aside. Chop before using.
To assemble the salad: In a large bowl, add spinach, blueberries, drained mandarin orange and chopped pecans. Top with sliced red onion and crumbled goat cheese; optional to add avocado.
Drizzle with dressing right before serving and gently toss (using these teak wide serving paddles).
Potluck dinner party
After the potluck dinner party was over last Sunday evening, my husband and I loaded the last dish of blackberry-stained white bowls (link to blackberry cobbler recipe), with crumbs and streaks of ice cream, hit "start" on the dishwasher, and headed to bed.
This is a normal routine for us after a party, after the food is put away. But we've never had to have a completely spotless kitchen when we kiss each other goodnight, which I'm thankful for.
ENJOY!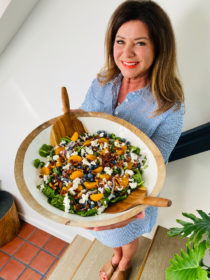 Get the Recipe: Blueberry Spinach Salad
Ingredients
1 cup pecans, toasted (or 1/2 package Trader Joe's spicy pecans, chopped)
16 ounces baby spinach
1 cup or more fresh blueberries
1 small can mandarin oranges, drained
½ red onion, finely sliced
4 oz goat cheese, crumbled
Favorite salad dressings, or make my Red Onion Poppyseed Dressing.
Freshly ground black pepper
Optional: dried cranberries, avocados, or fresh strawberries
Instructions
Combine spinach, drained Mandarin oranges, chopped pecans, red onion, and goat cheese in a salad bowl.

Right before serving, drizzle salad dressing over the salad; lightly add fresh ground pepper. Toss lightly and serve.
Hello and welcome to my home and table!
I'm Sandy—lover of food, family, cooking, THE BIG BOARD, travel, and bringing people together. Through great recipes and connection around the table, we become better, stronger, and more courageous people. Feasting on Life is real, and every time we do it, we grow a little more. Read more...