Burrata Chopped Salad Board
A delicious deconstructed Burrata Chopped Salad Board, easy to make your own serving! Drizzle with olive oil and balsamic vinegar!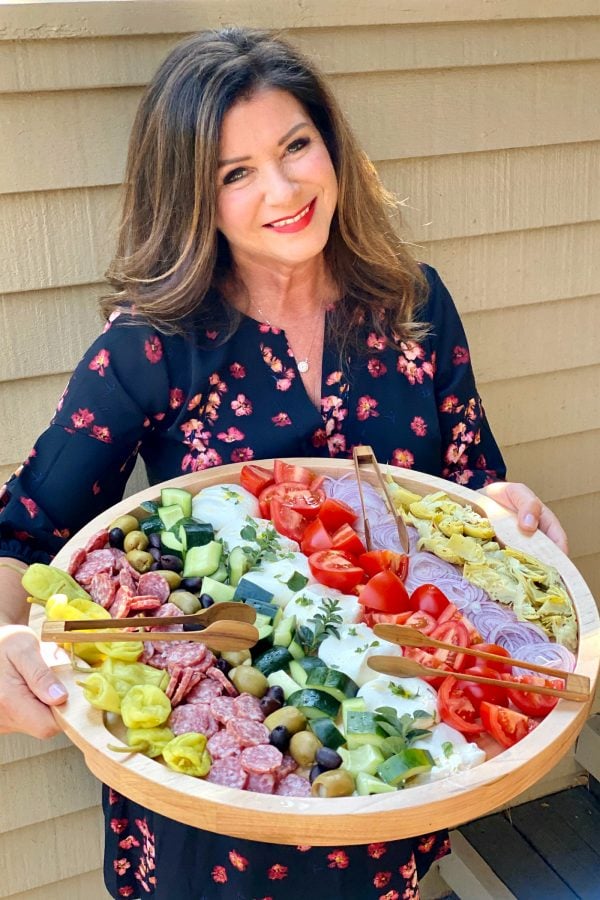 Friends, we're not giving up on salad season yet! We've had the most glorious weather this week here in Oregon, and there's more to come! So bring on the salads!
Burrata Chopped Salad Board
Last month we enjoyed this deconstructed salad (served on my new 20-inch board!), and it was so good!
You may also want to try my Shrimp Cobb Salad Board or Epic Bacon Wedge Salad Board!
What is burrata cheese?
Burrata is an Italian cow milk cheese made from mozzarella and cream. The outer shell is solid mozzarella, while the inside contains a soft textured stracciatella and cream. In the directions, we mash it open with a fork or spoon for serving.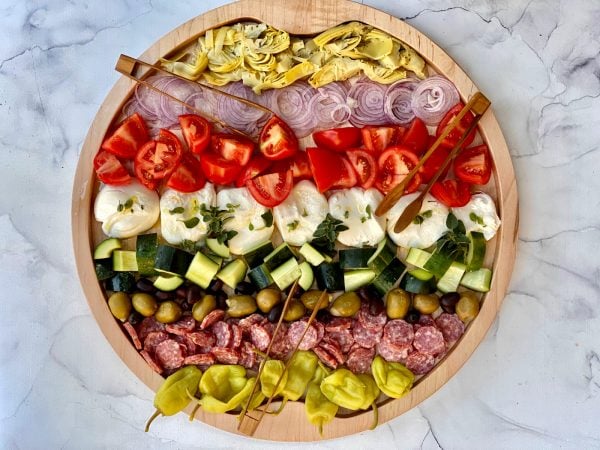 Burrata salad with grilled streak
Grab all the details, plus easy recipe to print out, this amazing Make Your Burrata Salad Board for a light lunch or dinner. It's also a great side dish to serve with grilled steak. We're still grilling, are you?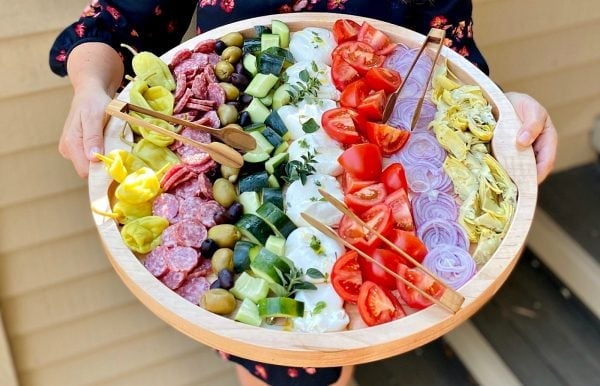 We had our friends here for the weekend and enjoyed this salad. You can drizzle olive oil and balsamic or let guests do it themselves.
This is the perfect late-summer, early-fall salad!
Ingredients for Burrata Chopped Salad Board
Artichoke hearts
Purple onion
Heirloom tomatoes
Burrata minis
Cucumber
Colossal olives, stuffed with garlic cloves
Kalamata olives
Salami nuggets
Golden pepperoncini
Olive oil + balsamic vinegar
Fresh oregano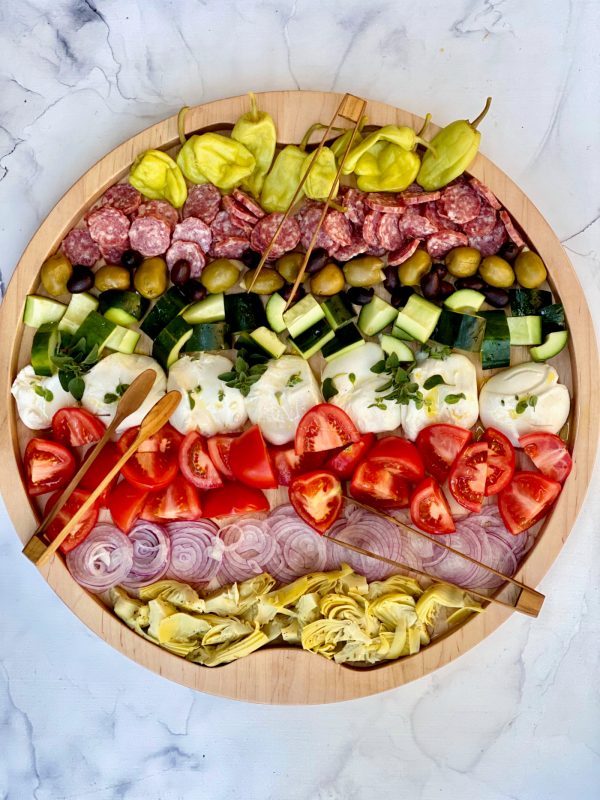 Enjoying this fall season
With our friends over, we were able to get out into the great outdoors for a beautiful hike. Central Oregon is so pretty right now!
If there are any upsides to this season of not being around others as much as we are used to, one of them for sure is to appreciate nature more.
We've been going on hikes, meeting friends for dinner (outside), and as the leaves are changing colors, I sort of dread the next season.
For us, we can get snow over night. In a snap, we could have snow! In fact, the other day we saw the elk (about three dozen) right down the street from where we live.
Amazing, majestic animals they are!
For now, take one day at a time and enjoy this lovely salad!
How to serve the salad
Set out mini glass or plastic cups (or very small bowls)
Everyone serves themselves with their favorite ingredients.
Drizzle with olive oil and balsamic vinegar and serve!
Friends, The Big Board is here! Yes, I've partnered with JK Adams, the premier woodmaking company in Vermont, with my own line of RE boards!
20-inch
26-inch
12 x 36-inch
A board with a lip (or raised edged) so the food doesn't fall off
FOOD SAFE
Made in the USA
Undercut handles (a unique design)
Thank you for your support, as we've sold out so many times already!
Order The Big Board today before the holidays!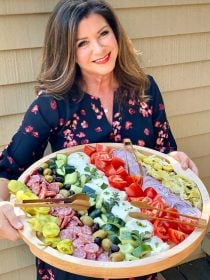 Get the Recipe: Burrata Chopped Salad Board
Ingredients
1 can artichokes, drained (we love the grilled ones from Delallo, but you can use plain ones)
1 purple onion, thinly sliced
4 heirloom tomatoes, quartered
1 8 oz tub burrata minis
1 large cucumber, cut in large chunks
1 16 oz jar colossal olives, stuffed with garlic cloves
1/2 cup kalamata olives
8 oz pkg salami nuggets
2 cups golden pepperoncini, whole
Drizzle with olive oil
Granish with fresh oregano
Instructions
Arrange ingredients in rows on a food safe board.

Serve with olive oil and balsamic vinegar.

Optional to add a pinch of kosher salt.

Set out small bowls or plates for self-serve!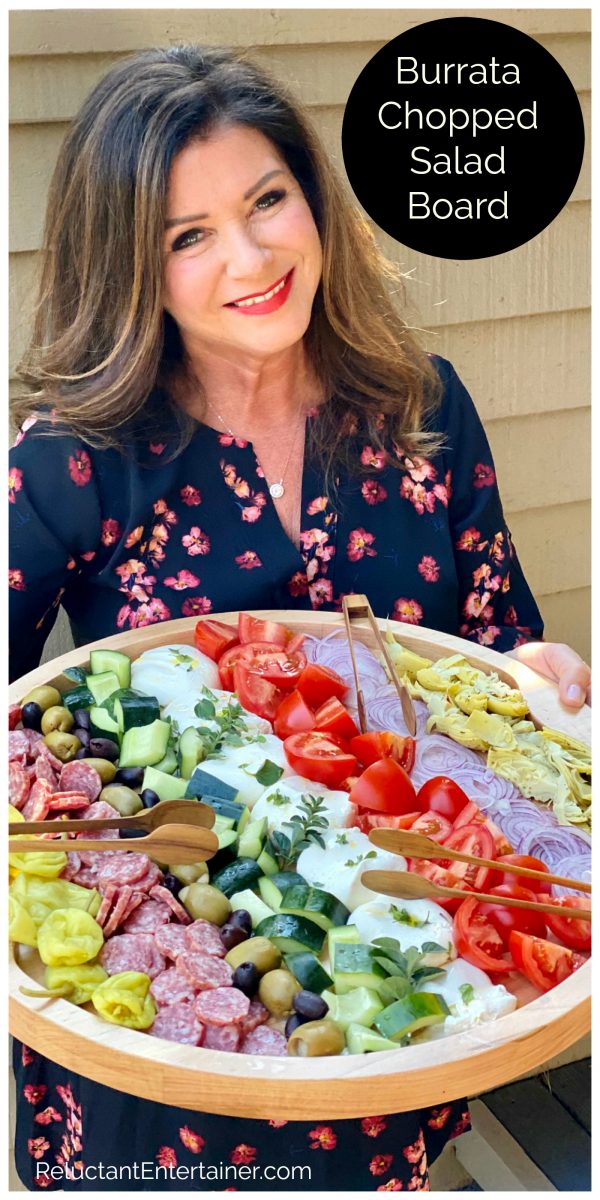 Hello and welcome to my home and table!
I'm Sandy—lover of food, family, cooking, THE BIG BOARD, travel, and bringing people together. Through great recipes and connection around the table, we become better, stronger, and more courageous people. Feasting on Life is real, and every time we do it, we grow a little more. Read more...