Shrimp Cobb Salad Board Recipe
A light, filling salad board, loaded with Cobb salad ingredients such as shrimp, bacon, and avocado, with your favorite dressing.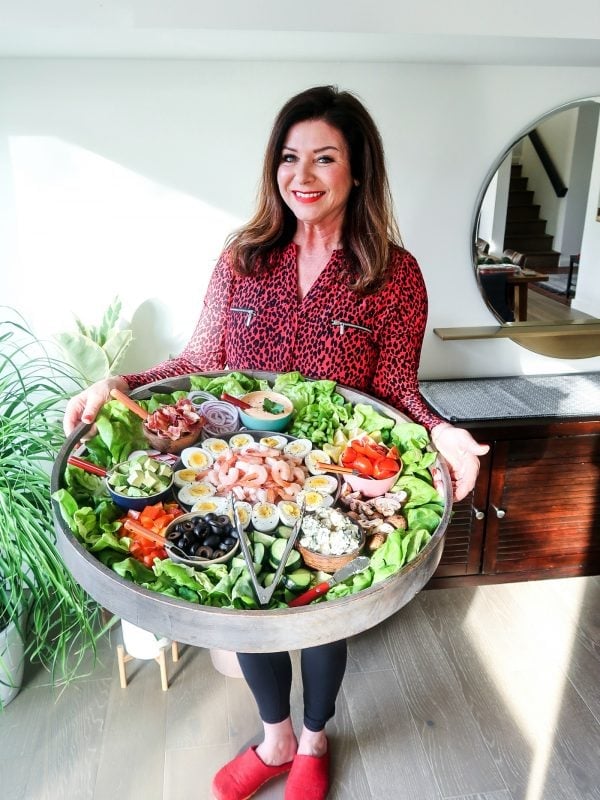 Delicious and satisfying, try this twist on the original Cobb salad, with shrimp! Or, maybe you've tried my Southern Cobb Salad with Sweet Onion Dressing (the dressing is soooo good!)
Shrimp Cobb Salad Board Recipe
Maybe you've already indulged in our Chicken Cobb Salad, or Vegan Cobb. Either way, your family will love this Shrimp Cobb Salad Board "bar" idea today.
An epic salad board hits all the right notes for being fresh, healthy, and perfect for summer hosting.
A Cobb salad isn't complete without bacon and avocado, in my humble opinion, but take it a step further and add jammy eggs, black ollives, and red onion.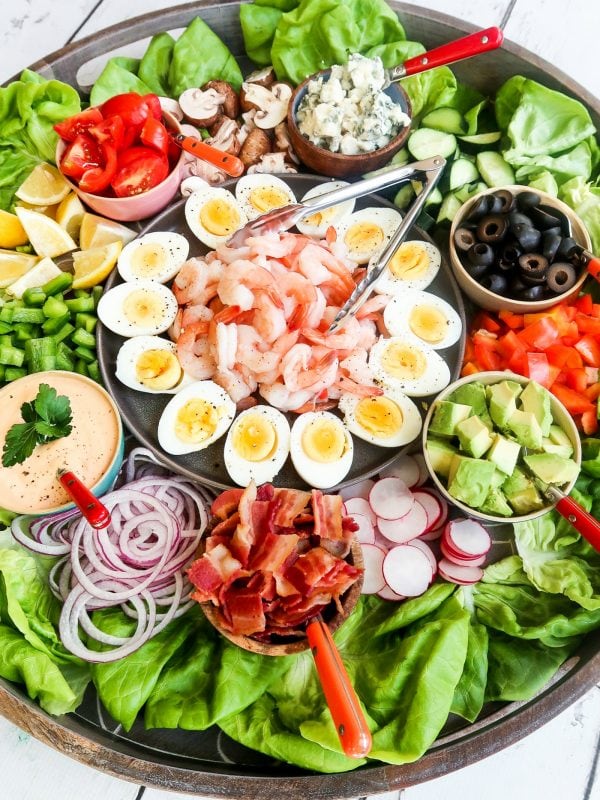 Why serve a salad board?
Salad boards are casual and fun, with all ingredients on one big board. Sort of like a "build your own salad bar."
You can prep the ingredients the day before, and assemble right before the guests come! Easy!
Also feel free to swap out the shrimp for diced chicken or ham, and trying crumbled feta instead of Roguefort cheese.
Summer breeze—eating outside
Eating outside is easy when dinner is on one board. For us, we carry it down to our bottom deck with a stack of dishes, napkins, and forks. Now if all salads were like this, I'd have no problem eating one of these every single day! :)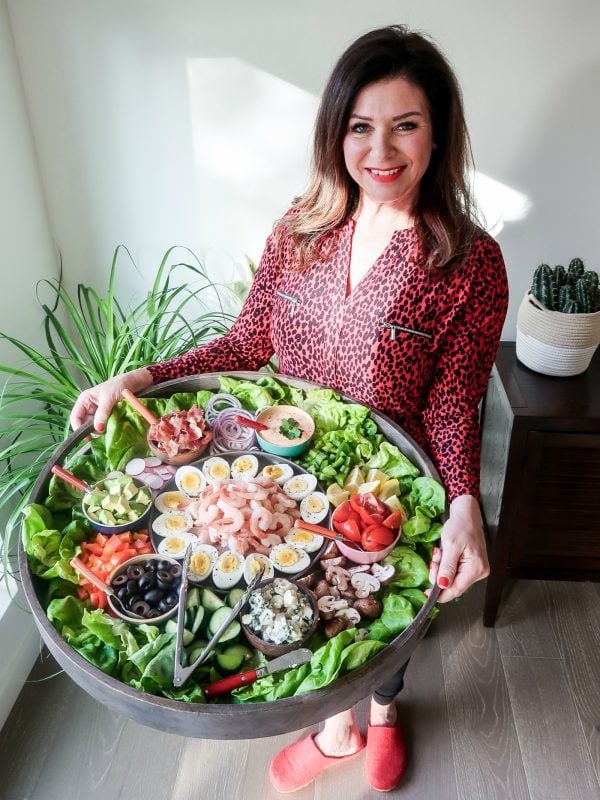 Ingredients for Shrimp Cobb Salad
This salad is loaded with tons of goodies, and you can always toss the shrimp in your favorite seasoning, and lightly grill before serving!
Large shrimp
Hard boiled eggs
Avocado
Black olives
Red bell pepper
Green bell pepper
Mushrooms
Radishes
Bacon
Onion + cucumber
Lemon
Roquefort cheese
Thousand Island Dressing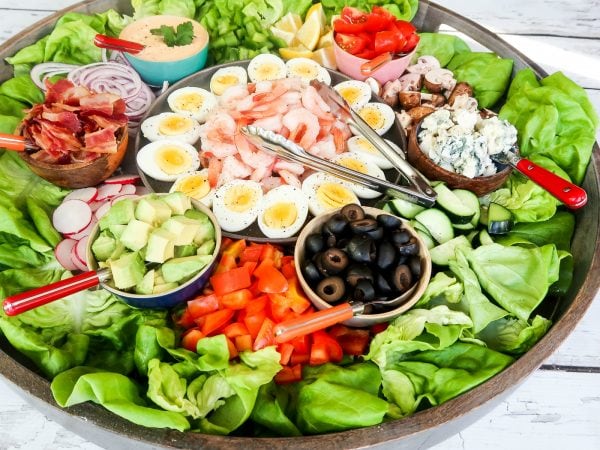 What dressing do you serve with a Cobb?
Everyone tosses their own salad in their bowl, with your favorite dressing. We love our BEST Thousand Island Dressing (make ahead and chill in the fridge).
You may want something light and fresh, so feel free to make your own vinaigrette. You want flavors that will complement the other ingredients.
For that final touch of WOW – make our perfect "jammy" soft-boiled eggs to add to the Cobb salad board.
More recipes to try:
Miso Soup Recipe with Soft-Boiled Eggs
Butter Lettuce Spring Veggie and Salmon Salad
Friends, The Big Board® is here! Yes, I've partnered with JK Adams, the premier woodmaking company in Vermont, with my own line of RE boards!
20-inch round, maple
26-inch round, maple
12 x 36-inch maple
12 x 24-inch maple
NEW 12×24" travel board
26-inch ebonized BLACK, cherry
12 x 36-inch ebonized BLACK, cherry
A board with a lip (or raised edged) so the food doesn't fall off
FOOD SAFE
Made in the USA
Undercut handles (a unique design)
Thank you for your support, as we've sold out so many times already!
Order The Big Board® today!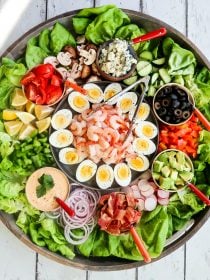 Get the Recipe: Shrimp Cobb Salad Board
Ingredients
1 pound large shrimp
8 hard boiled eggs, sliced (with black pepper)
1 large avocado, cubed
1 cup sliced black olives
1 red bell pepper, sliced
1 green bell pepper, sliced
10 large mushrooms, sliced
8 radishes, sliced
10 slices bacon, cooked and chopped
1 onion, sliced
1 cucumber, sliced
1 large lemon, sliced
1 cube Roquefort cheese, crumbled
1 cup Thousand Island Dressing
Instructions
On a large plate, place the chilled, cooked shrimp. Arrange soft boiled eggs (cut in half) aroun the shrimp. Place the plate in the center of a prepared board.

In 6 small bowls, fill with cooked bacon, olives, avocado chunks, tomatoes, dressing, and cheese. Arrange the bowls around the shrimp plate.

Around the outside of the board, lay down the lettuce leaves (optional to chop).

Fill in open areas with remaining chopped veggies and lemon slices. Don't forget the tongs and small utensils. Serve!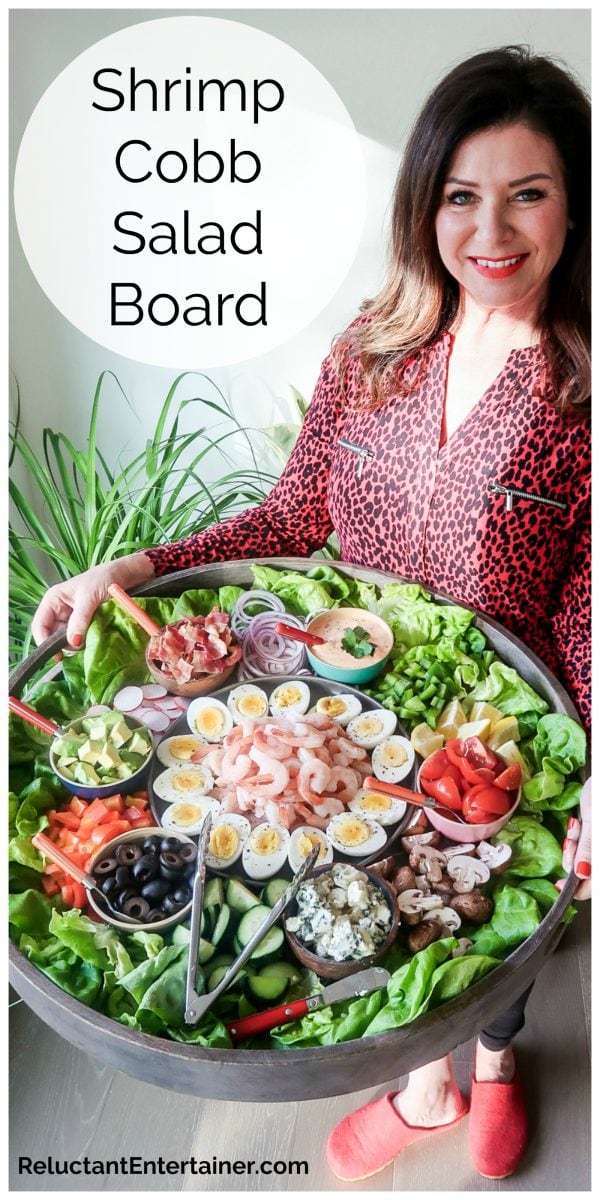 Hello and welcome to my home and table!
I'm Sandy—lover of food, family, cooking, THE BIG BOARD, travel, and bringing people together. Through great recipes and connection around the table, we become better, stronger, and more courageous people. Feasting on Life is real, and every time we do it, we grow a little more. Read more...