Honey Apple Gluten-Free Muffins
Just in time for the holidays, or a quick brunch or breakfast, are these Honey Apple Gluten-Free Muffins. Easy to freeze and defrost for last-minute guests!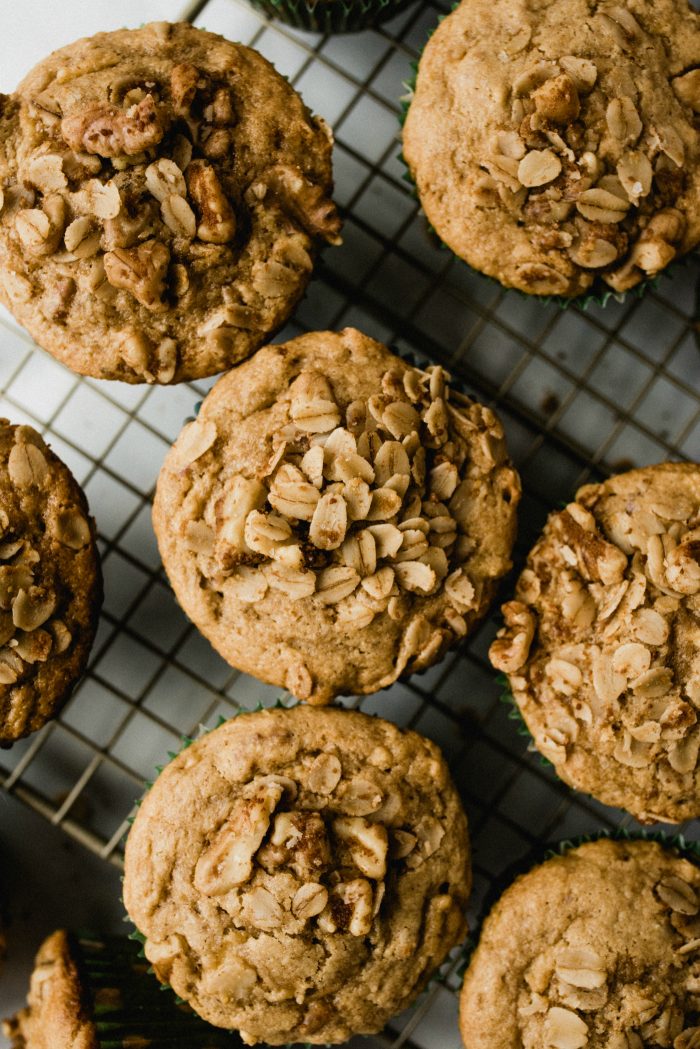 Today I'm sharing a very easy recipe: Honey Apple Gluten-Free Muffins.
I'm so happy it's December! What makes a cozy home in December, even before the tree and Christmas decorations are up?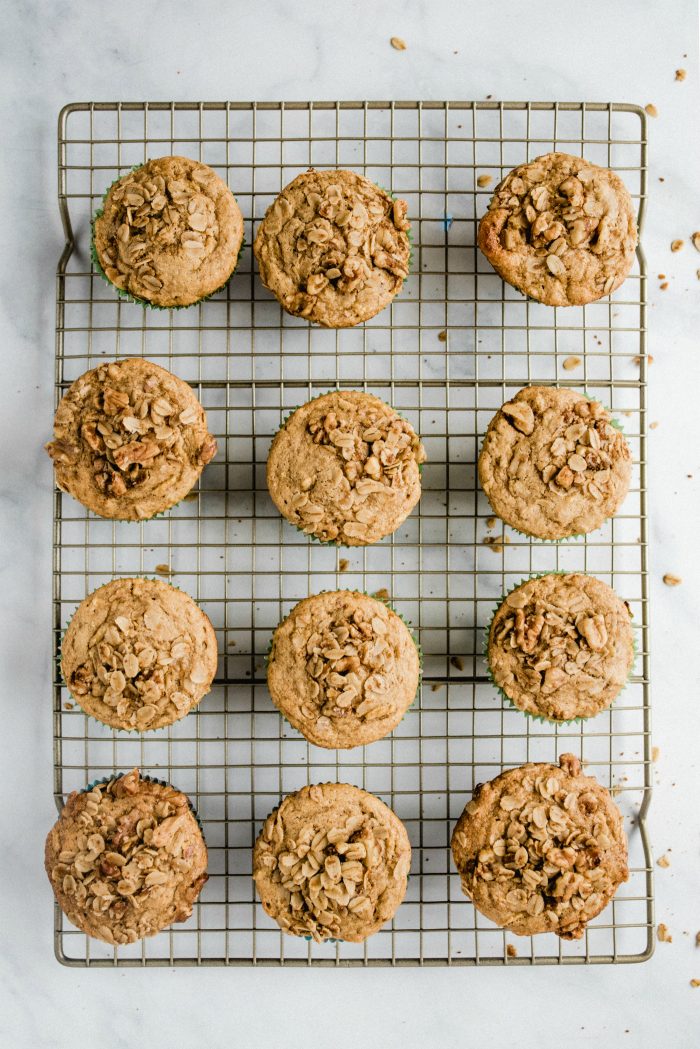 Honey Apple Gluten-Free Muffins
I'd say something baking in the oven (that smells so good), like these Honey Apple Gluten-Free Muffins, or Mulled Pear Cider simmering on the stove.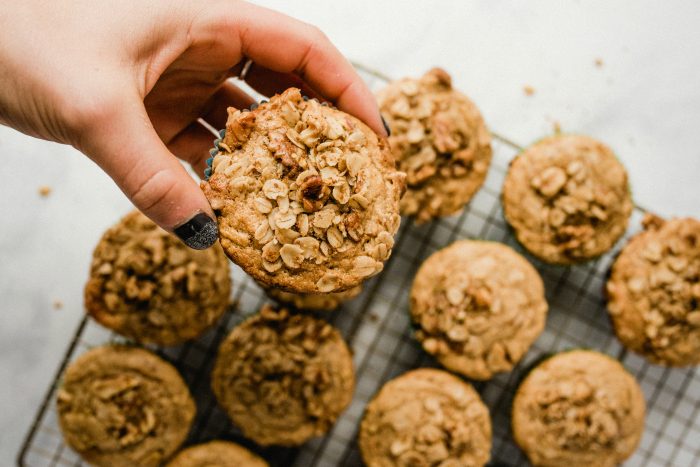 These muffins are so moist and airy, especially for a gluten-free batter! If you're a muffin love, you may have already tried my Buttermilk Raisin Bran Muffins (recipe makes a LOT), or this Sour Cream Caramel Banana Muffins Recipe!
Or, have you ever made Cinnamon and Sugar Doughnut Muffins? OMGoodness!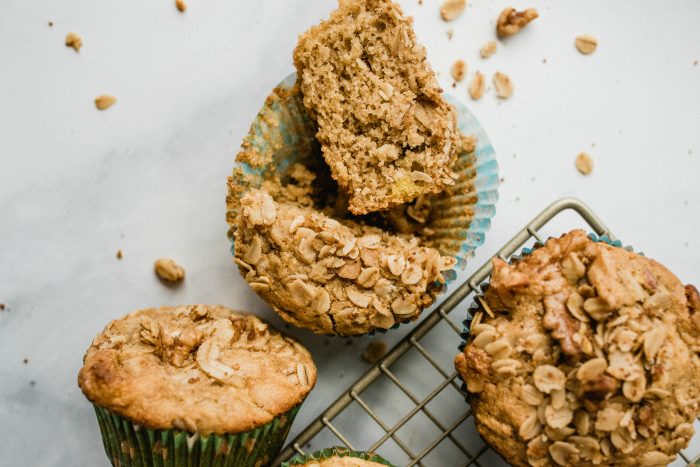 They are lightly sweetened with honey and coconut sugar, have a slightly zesty flavor from the lemon and shredded apple, and make your kitchen smell like cinnamon–what more could you ask for?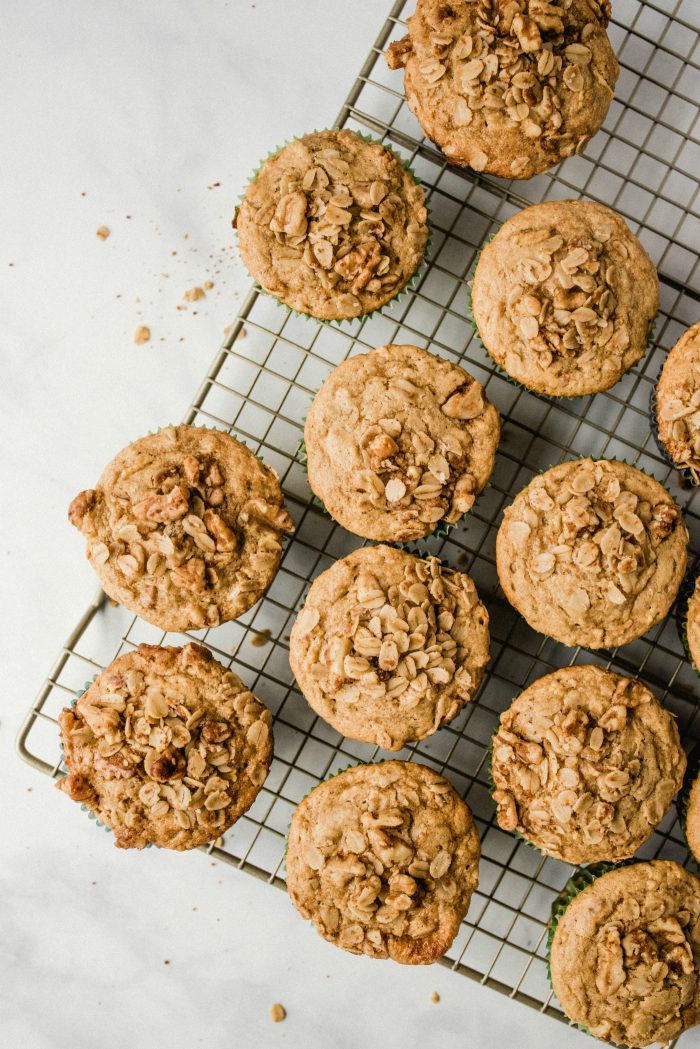 What makes cozy?
And then of course, family. The kids are home, we are all together, and that always creates coziness. And a fluffy Whoodle who loves to cuddle!
I think back to our first small home on Whitman Avenue in Medford, Oregon.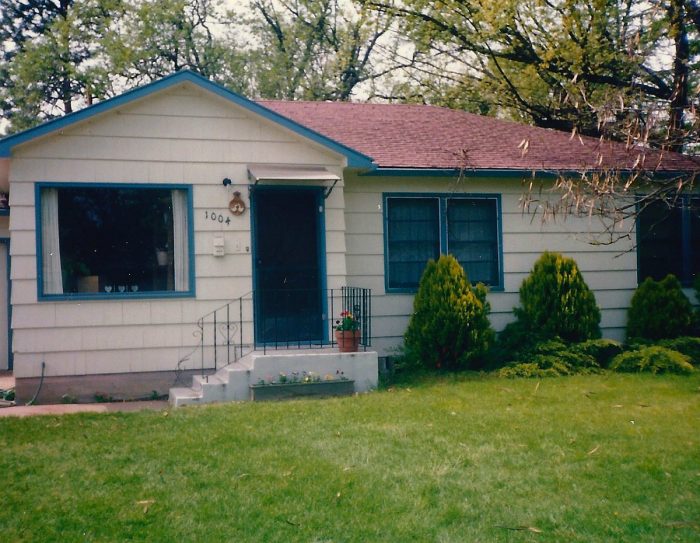 In those four walls we experienced our first thrills of newlywed life, and our first Christmas together in 1991.
That house was where we learned the art of making a home, in our own little space (and a table for 4), where we could practice hospitality.
I'll never forget the intimate dinner parties we had with friends cramming into that small space. We had out-of-town guests come, and we pulled out the hide-a-bed bed for them, since we were short on rooms. Back then, no one really cared.
For breakfast, I'd pull out of the freezer muffins that I'd made the weekend before. Easy to defrost.
Serve warm with butter and honey and jam.
Such great memories.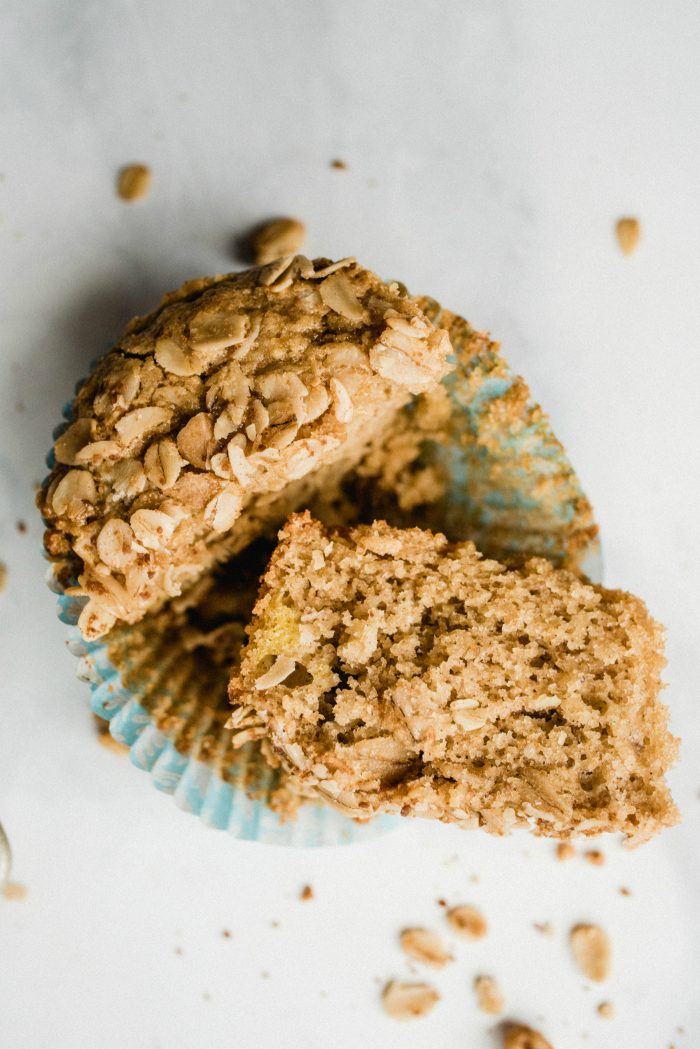 How to freeze muffins
One way to freeze the muffins is to keep the muffins in the tin.
Bake muffins.
Allow muffins to cool down to room temperature.
Freeze muffins for about an hour, until solid (you can keep right in the muffin tin)
Transfer muffins into a freezer bag and store in freezer up to two months.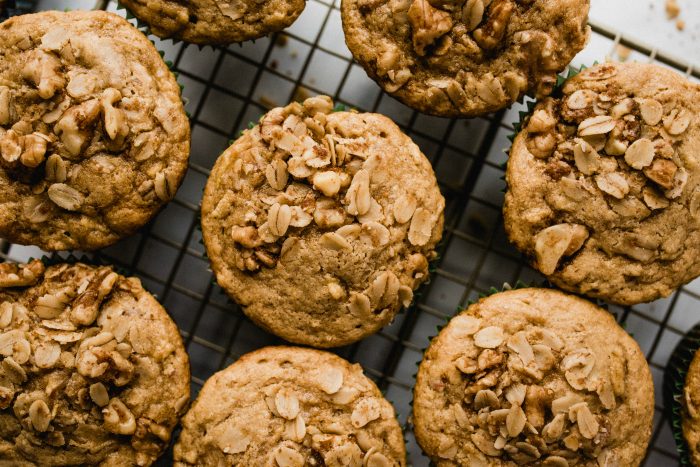 I've always been a muffin lover!
Now, years later, I just wish they'd stay in the freezer after I make them, instead of being devoured by my kids. :)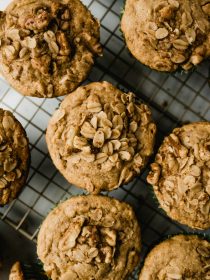 Get the Recipe: Honey Apple Gluten-Free Muffins
Ingredients
4 large eggs
1 Tbsp. fresh lemon juice
1/4 cup plus 2 Tbsp. coconut sugar
1/3 cup honey
1 tsp. vanilla
1/4 tsp. nutmeg
⅔ cup plus 1 Tbsp. avocado oil
1½ cups gluten-free oat flour
1 cup almond flour
1 Tbsp. flaxseed meal
1 1/2 tsp. baking powder
1/4 tsp. baking soda
1 tsp. ground cinnamon
1/4 tsp. nutmeg
1 tsp. kosher salt, plus a pinch
1 medium honey crisp or pink lady, shredded
¾ cup coarsely chopped walnuts, divided
¾ cup gluten-free old-fashioned oats, divided
Instructions
Preheat oven to 350°. Line two standard 12-cup muffin pans with paper liners.

Beat together eggs, lemon juice, 1/3 cup honey, and ⅔ cup oil in a large bowl.

In a separate bowl, whisk oat flour, almond flour, flaxseed meal, baking powder, baking soda, cinnamon, nutmeg, and salt until smooth.

Add to the egg mixture 1/2 cup at a time and whisk to combine. Mix in the apple, ½ cup of walnuts, and 1/2 cup of oats. Pour batter into prepared muffin cups, filling each just about to the very top.

Mix remaining walnuts, oats, 2 Tbsp. coconut sugar, and 1 Tbsp. oil in a small bowl. Sprinkle oat topping over each muffin.

Bake muffins until tops are golden brown, and a tester inserted into the centers comes out clean, 24–28 minutes.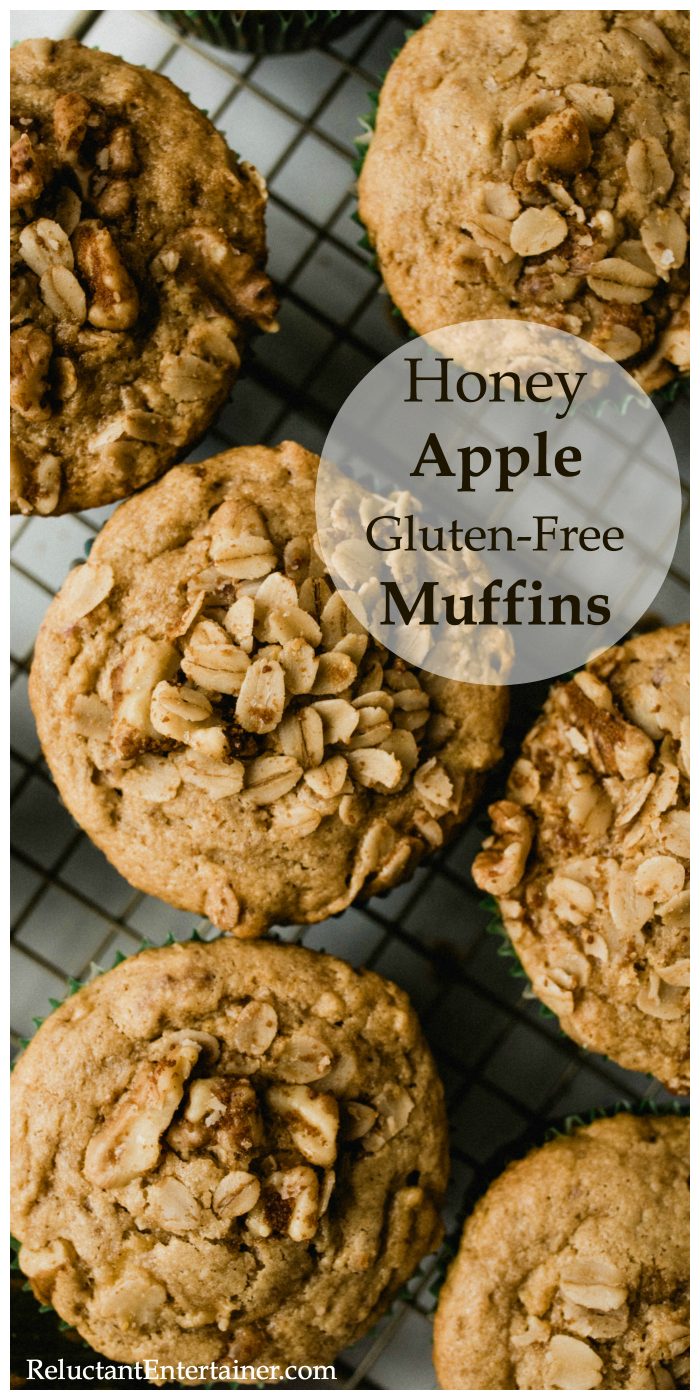 Hello and welcome to my home and table!
I'm Sandy—lover of food, family, cooking, THE BIG BOARD, travel, and bringing people together. Through great recipes and connection around the table, we become better, stronger, and more courageous people. Feasting on Life is real, and every time we do it, we grow a little more. Read more...