To Be Loved and Known with Green Dinner Party Salad Recipe
I'm sharing some thoughts on relationships today, on how to be really loved and known, along with a Green Dinner Party Salad Recipe.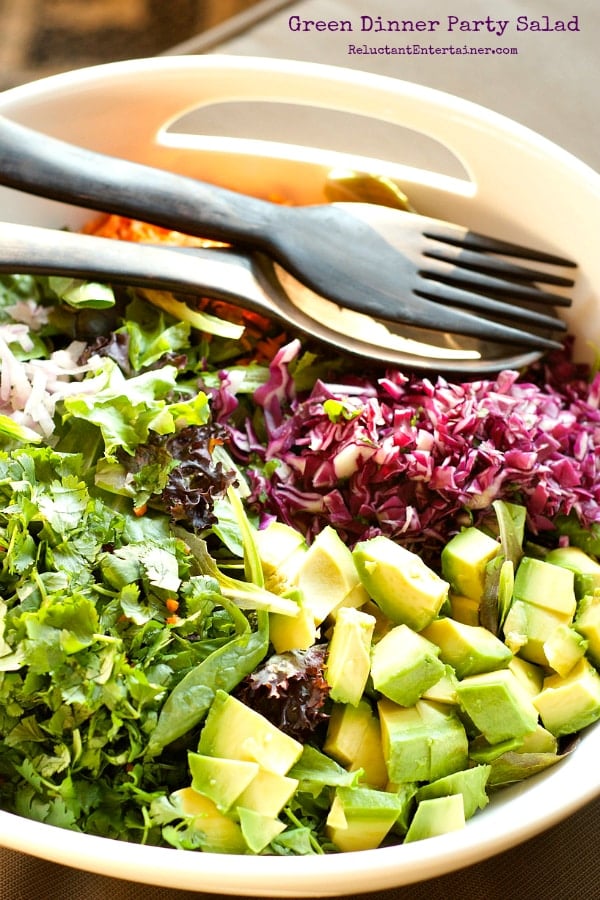 "To be loved but not known is comforting but superficial. To be known and not loved is our greatest fear. But to be fully known and truly loved is, well, a lot like being loved by God. It is what we need more than anything. It liberates us from pretense, humbles us out of our self-righteousness, and fortifies us for any difficulty life can throw at us." ― Timothy Keller
Oh, how I love this quote! I'm a big Timothy Keller fan. I've been to his church several times in downtown Manhattan, and my husband and I listen regularly to his podcasts. It warms my heart to see my hubby out working in the garden with ear buds in, because I know he is listening to Pastor Keller's words of wisdom.
Whatcha listening to, baby?
A Timothy Keller podcast.
Feed the body, feed the soul.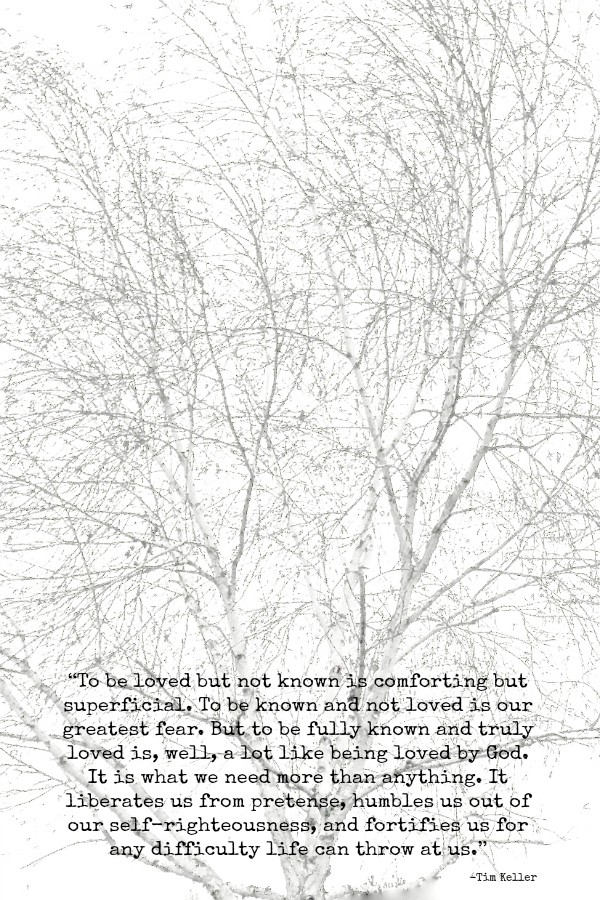 His quote above moved me this week when I saw it on Facebook. How do we really go deeper with one another to really be known? We can say, oh, I love so-and-so (maybe their comforting spirit or vivacious personality), but do we really know the depths of what makes them tick.
It's true, the things we get excited about in life are usually where our passions lie.
How do we take our passions, share them with one another, and challenge each other to do something bigger than ourselves, for others, for this world?
The last three dinner parties we were invited to, we stayed and talked for hours–discussing challenges, goals, passions, the world, our kids. As Tim says, part of being known is spilling it out on the table–being real and opening up our hearts. The way that God loves us, is the way we are to love others.
To fully be known and truly loved: It also liberates us from pretense, humbles us out of our self-righteousness, and fortifies us for any difficulty life can throw at us. When we don't focus on others, we tend to not need others, we think we can do it on our own, and we become pretty self-absorbed.
This is a big one. When we're truly known, our friends will call us out on pretense, arrogance and pride. It's our choice to listen, adjust, change our ways, revisit our ideas and possibly move toward something different or new. We challenge one another–iron sharpens iron. This is how we become better people!
And when hard times come, guess who's there for you? The people who really care! The people who really know you and can speak truth into your life.
We like to think of hosting dinner parties as more than serving good food. It's the chance to make a difference in others' lives, and vise versa, for our guests speaking truth into our lives!
Why we focus on the people.
I've thought about past entertaining moments in our home, and what we've done to focus on the people.
-Invite someone new (doesn't have to be at every dinner party, but challenge yourself to keep the guest list fresh and new).

-Be careful with your introductions. Point out the person's virtues, rather than accomplishments.

-Talk about things that matter. Don't get caught up in gossip.

-Ask questions and determine whether you should go deeper.

-Spend little time on our "stuff" and more on our guests' "stuff." This quote means a lot–link here.

-Speak truthfully. Always speak the truth in love. If there's no love, keep your mouth shut.

-Know when to end the conversation. Be sensitive and know when to stop talking.

-Know when to challenge the conversation. Be discerning and "know when you know when you know" that you need to challenge the talk.

-Don't worry about the food. What's done is done. I promise, at a good dinner party, people usually forget what was even served, but they'll always remember the stimulating, encouraging conversation!
Realistically, people are not coming to a dinner party for the food. They are coming to be loved and known!
Green Dinner Party Salad.
My favorite green dinner party salad is packed with cilantro and a few other simple ingredients. It's always a hit and so fresh (and guests always ask what the dressing recipe is!?)
Of course you don't have to use all of these ingredients to make the green salad. If you're not a cilantro lover, leave out the cilantro!
A good dinner party salad tip is to keep the salad as simple and fresh as possible!
Enjoy, my friends!
What's your greatest worry about "going deeper" with your dinner party guests?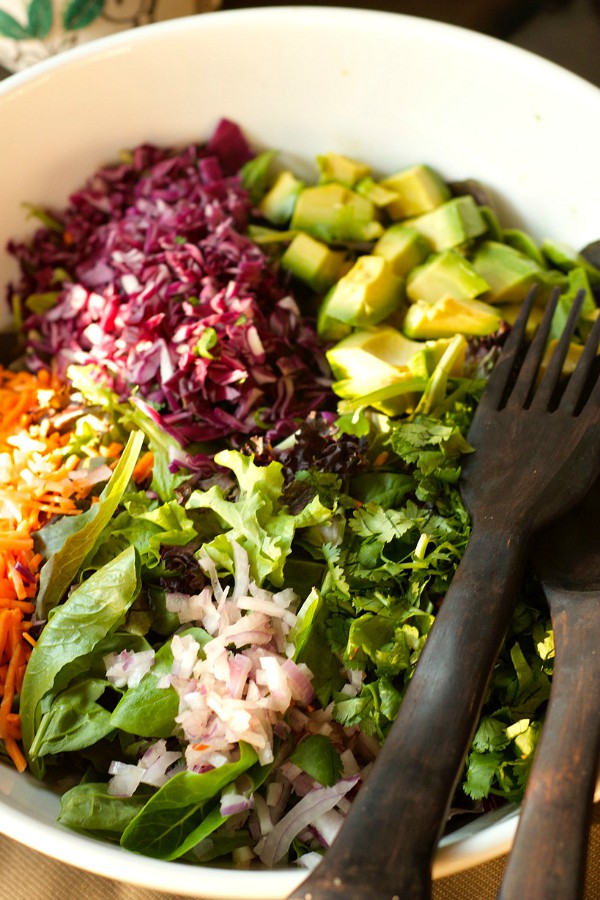 Get the Recipe: Green Dinner Party Salad
Use lots of fresh cilantro in the salad, and also in the dressing! Toss right before serving!
Ingredients
Fresh greens, cut in bite size piecesAvocado, cut in small piecesCarrots, finely choppedRed onion, dicedRed cabbage, finely choppedFresh cilantro leaves (cut off the stems), finely chopped (lots of it)1/3 cup seasoned rice wine vinegar1/4 cup fresh lime juice2 T. honey1 clove garlic, minced1 1/2 tsp. paprika1/2 tsp. kosher salt3/4 cup canola oil
Instructions
Add greens to a large bowl and place chopped vegetables on top. For the cilantro, set 1/2 cup aside for the dressing.

Add the vinegar, lime juice, honey, garlic, and paprika to a small bowl. Whisk together, drizzling in the canola oil. Add in 1/2 cup chopped cilantro. Shake or stir well.

Pour lightly on the salad; toss and serve.
Are you following me on Instagram, Twitter, Facebook and Pinterest? Thanks being here today, and if you'd like to subscribe to Reluctant Entertainer, to have each post delivered straight to your e-mail box, then please add your email, here. It's really easy!
Hello and welcome to my home and table!
I'm Sandy—lover of food, family, cooking, THE BIG BOARD, travel, and bringing people together. Through great recipes and connection around the table, we become better, stronger, and more courageous people. Feasting on Life is real, and every time we do it, we grow a little more. Read more...