Meg's Winter Green Salad Recipe
Just in time for winter and holiday entertaining, we can't get enough of Meg's Winter Green Salad Recipe. A bright, crunchy, healthy, flavorful salad!
Every time our friends Meg and Gary come for dinner, they always ask what they can bring. Of course, it's a simple answer now: Meg's Winter Green Salad.
Meg's Winter Green Salad Recipe
Or, in the summer, it's Meg's Summer Green Salad. :) You get it … we love the way our friend Meg makes a green salad. Everything is fresh and ready to go when she walks in the door. So whatever is in season!
This time seasonal winter ingredients!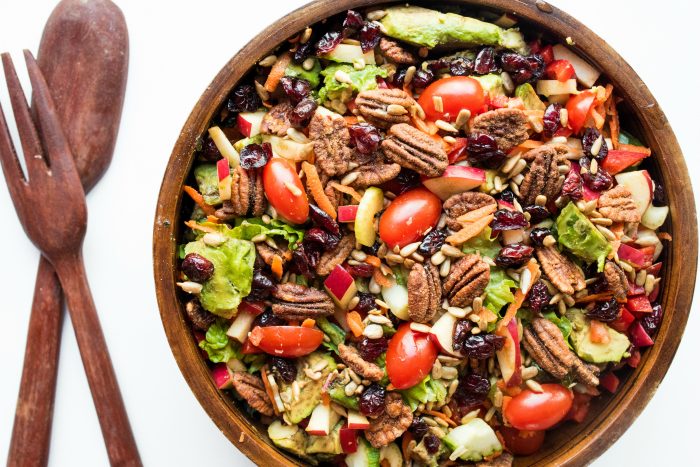 Ingredients for Winter Green Salad
She assembles it in our kitchen. I love this!
Fresh greens, celery, carrots, and tomatoes.
Delicious crisp apples, cranberries, cucumbers, and sunflower seeds.
Avocados are a must, and pecans are always optional!
Let others contribute to the meal
You can probably see why (by the photos), but I never deviate. Her salads are just …. so …. good!
I do have a variation, Winter Green Salad with Poppyseed Dressing, on my blog from quite a few years ago.
But this salad is perfected and the most delicious.
Also, when Meg comes for dinner, she gets right in there and helps.
What is the secret to a happy gathering?
I say, Let everyone help! Everyone wants to contribute somehow, whether bringing a dish or asking for a chore.
It really does take the stress off you as a host.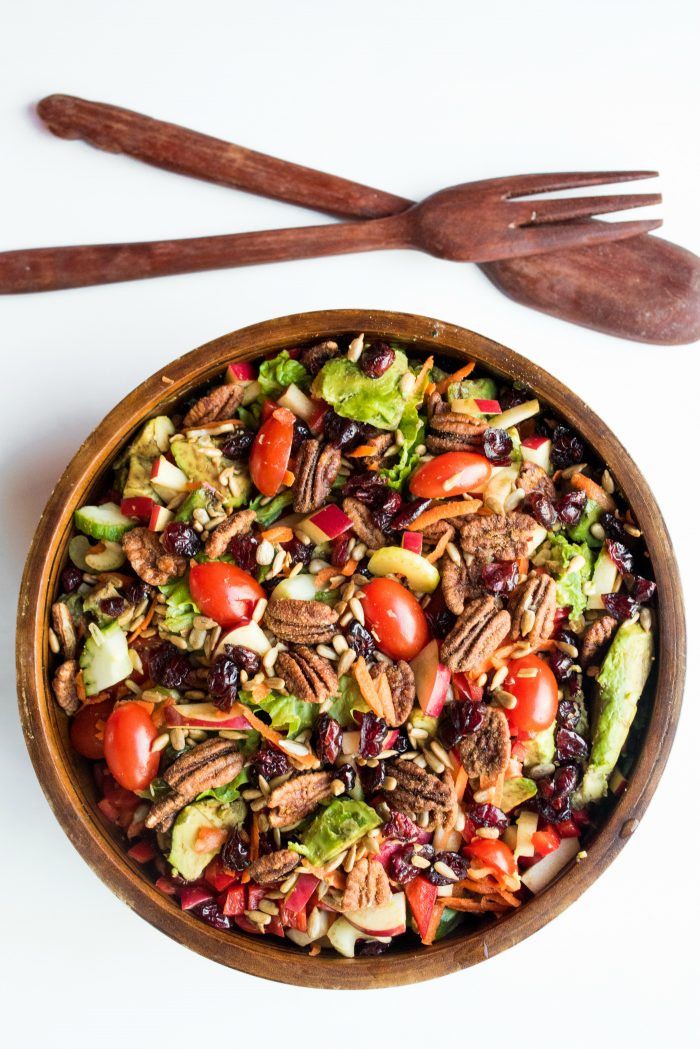 Meg always jumps up and does the dishes!
Dinner parties are a different deal, for sure. But casual dinners (which is what we host 99% of time now), everyone pitches in.
It's fun!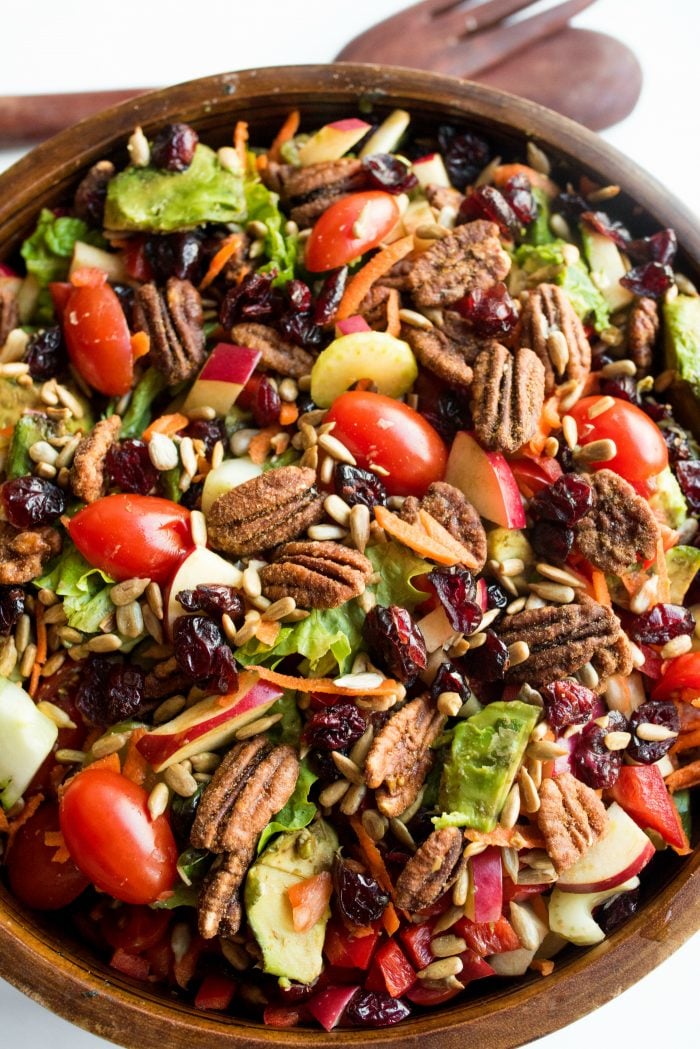 How to serve a Winter Green Salad
The toppings are so delish on this salad, I say serve it with a poppyseed or light vinaigrette, or even a balsamic dressing. Here's another one of my favorite salads, Ali's Everyday Salad Recipe, or one of my anytime of year salads: Mandarin Mixed Greens Salad Recipe.
HOLIDAY HOSTING TIP:
An empty dishwasher and garbage container before the gathering begins can really be helpful for clean-up and dishes!
Enjoy!
Get the Recipe: Meg's Winter Green Salad Recipe
Ingredients
8 cups fresh greens, chopped
2 celery stalks, sliced
Shredded carrots
2 honey crisp apples, diced
Dried cranberries
Cucumber, diced
Sunflower seed
Avocado
Spicy pecans, optional
Favorite dressing, poppyseed or a light vinaigrette or even a balsamic dressing
Instructions
In a large bowl add the lettuce.

Layer the rest of the ingredients, ending with avocado, pecans (optional), and serving salad dressing on the side.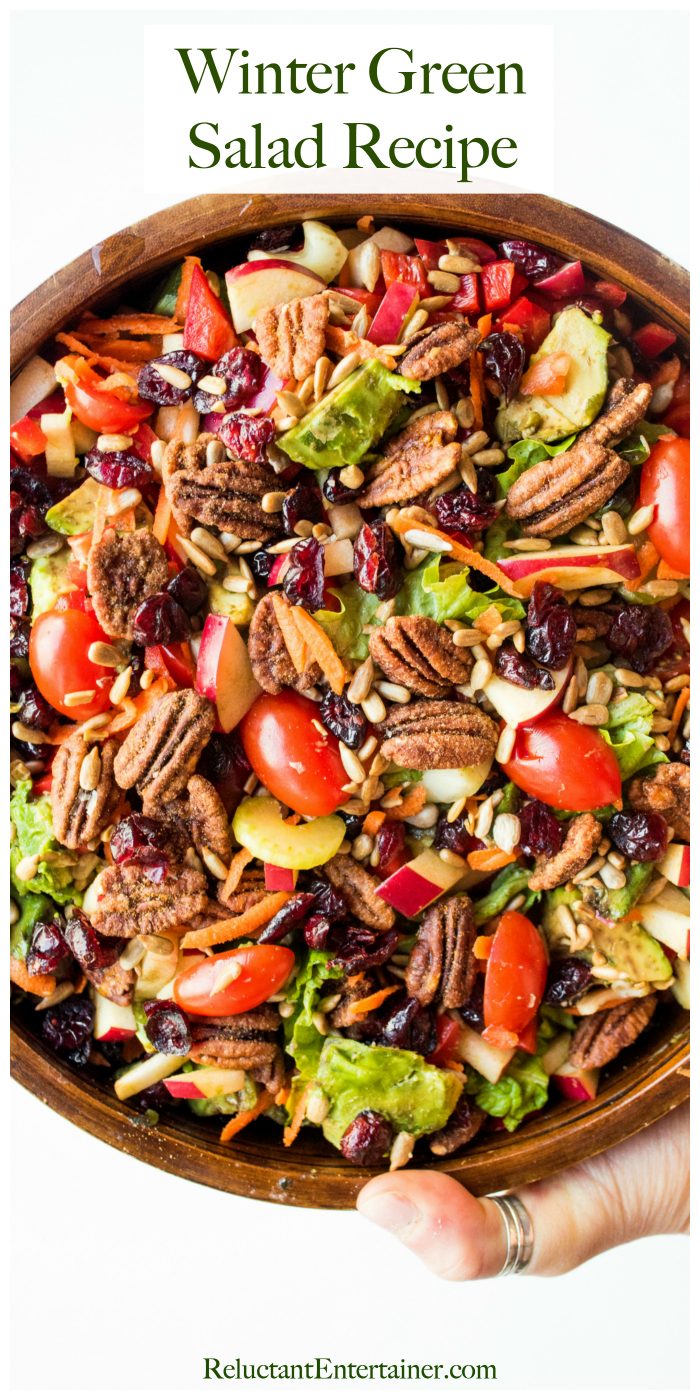 Hello and welcome to my home and table!
I'm Sandy—lover of food, family, cooking, THE BIG BOARD, travel, and bringing people together. Through great recipes and connection around the table, we become better, stronger, and more courageous people. Feasting on Life is real, and every time we do it, we grow a little more. Read more...