Summer Snack Board
Looking for how to make a Summer Snack Board? Grab your favorite vibrant produce, cheeses, crackers and dips and fill up THE BIG BOARD!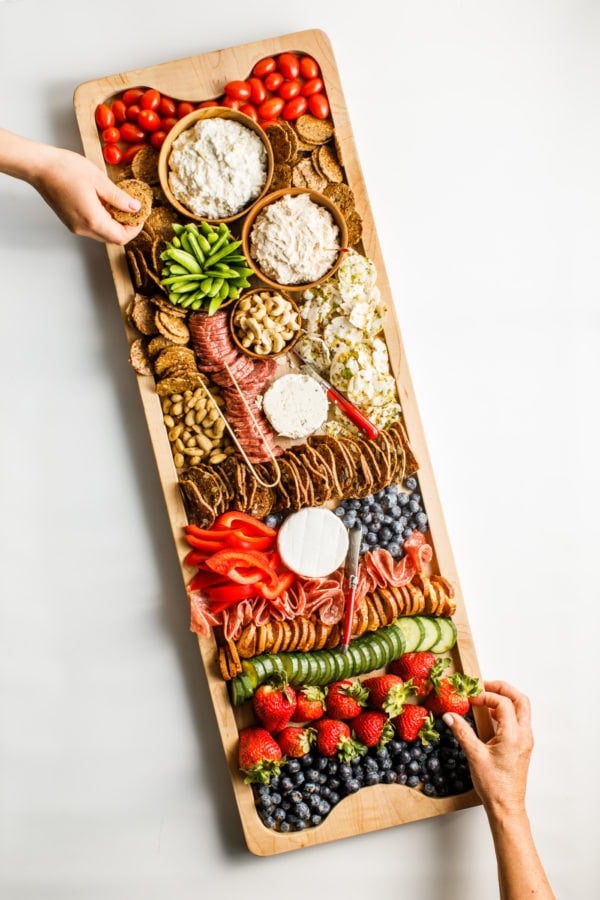 Friends, just in time for Fourth of July (right around the corner), this post is about how to make a Summer Snack Board spread. We recently brought the 12×36-inch board to a party, and all the cheese and goodies on served were devoured within minutes.
How to make a simple Summer Snack Board in just 10 minutes!
I like to think about the season, and for July 4th coming up, so I gathered red, white and blue produce.
Arrange cheeses, crackers, raincoast crisps, strawberries, blueberries, almonds, cashews, and more on your favorite cheese board.
It's the ultimate killer cheese board to impress all your guests!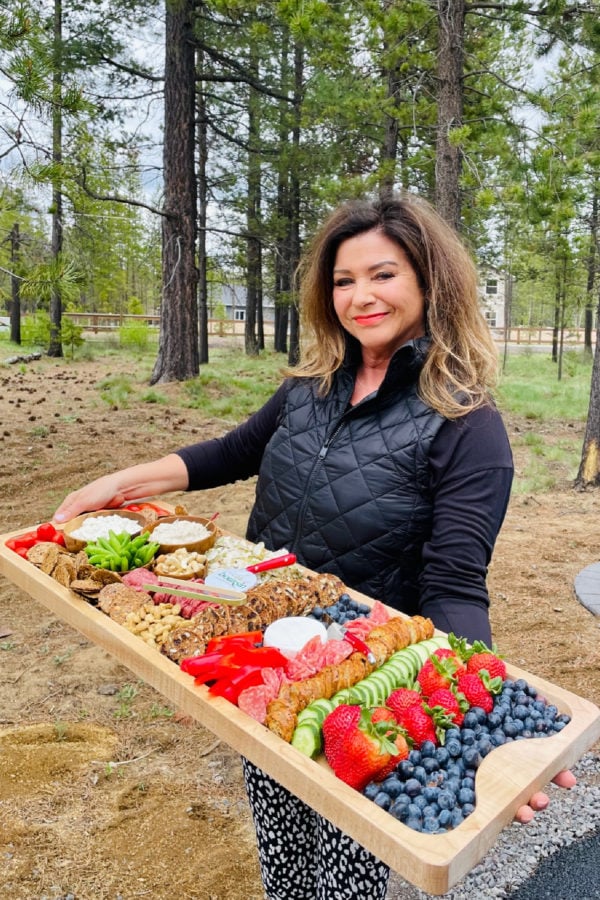 Ingredients for summer snack board
Let's get started–grab your Big Board and these easy ingredients:
Blueberries + strawberries
Cucumber + snap peas
Cherry tomatoes
Red pepper
Crostini toasts (or favorite crackers)
Sweet potato gluten free crackers
Raincoast crisps
Brie cheese
Boursin cheese
Cashews
Marcona almonds
Salami
Vegan onion dip (Trader Joe's)
Salmon dip (Trader Joe's)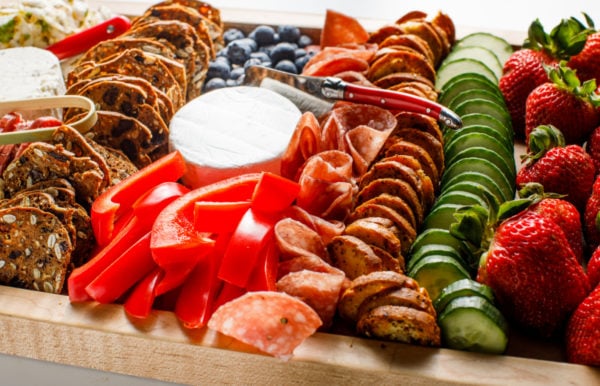 Summer grazing board
This grazing board is perfect for any summer party. Set it out, they will come (my motto). HA.
Remember the beauty of the "big board" is that it has the ultimate design for a "board" because of the raised edge. This allows the food to all stay in one place. Have you ever been to a party where a bunch of flat surface boards were served, and within 10 minutes, there's food everywhere? Especially when kids are reaching in.
Yes, we have, too.
So we love the smart design of the big boards!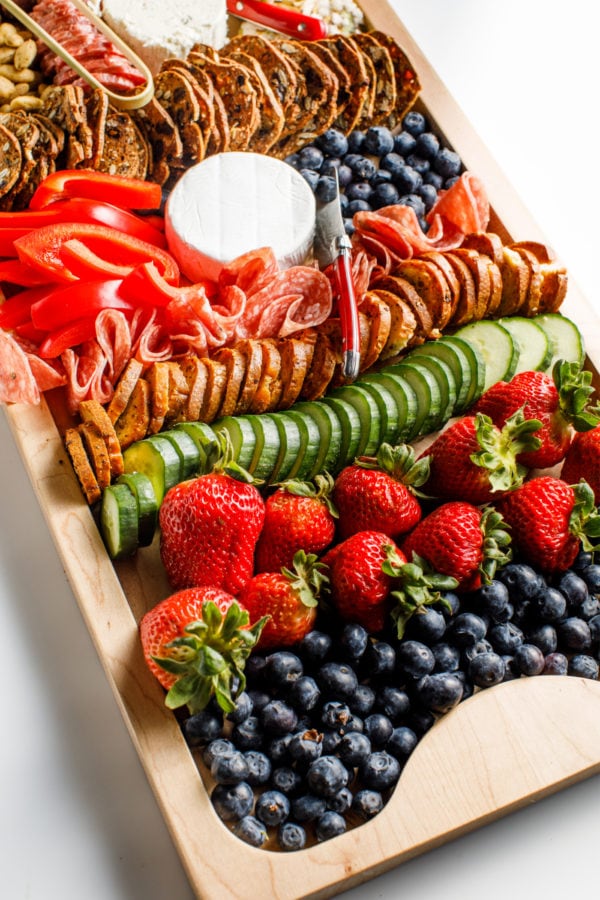 Cheese options:
What cheeses go on a charcuterie board?
Here are some of the best cheeses for charcuterie boards:
Hard cheese: chunks of asiago, Parmesan, gouda.
Firm cheese: Gruyere, manchego, colby, cheddar, Jack.
Semi-soft cheese: havarti, muenster, goat cheese.
Soft cheese: burrata, mascarpone, Boursin cheese.
Blue cheese: gorgonzola, Oregon blue cheese (our favorite) and Smokey Blue (Rogue Creamery)
My boards are stacked and ready for summer. My pantry is full, and as always, I'm sure we have lots of company coming and going all summer long. This is what I love!
Friends, The Big Board® is here! Yes, I've partnered with JK Adams, the premier woodmaking company in Vermont, with my own line of RE boards!
20-inch round, maple
26-inch round, maple
12 x 36-inch maple
12 x 24-inch maple
NEW 12×24" travel board
26-inch ebonized BLACK, cherry
12 x 36-inch ebonized BLACK, cherry
A board with a lip (or raised edged) so the food doesn't fall off
FOOD SAFE
Made in the USA
Undercut handles (a unique design)
Order The Big Board® today!
TIP: For the Vegan dip, I added a toothpick to let guests know it's 'Vegan."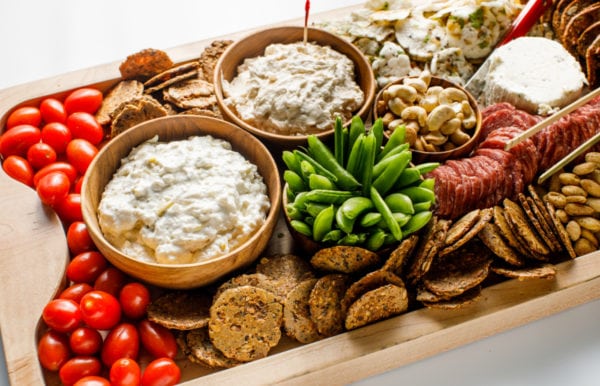 What to drink with a Summer Cheese Board?
For a summer board, I recommend these wines:
Riesling – pairs great with the fresh sweet fruits
Rosé – perfect with cheese and pairs well with the fruits
Chardonnay – light and refreshing, delicious with a bite of cheese and salami on a cracker, with a bite of fruit
If you follow me on Instagram, you know that we entertain a lot. Especially in the summer months here in central Oregon.
We have a beautiful landscape, with occasional deer (or fawns) bopping through the yard. I love to host people, serve people, and because of this, you may have already seen we have our second cookbook, Big Boards and More, coming out in October! It's going to be a stunner, with 100 recipes (for everyday cooking, hosting, and even outdoor entertaining). Get in on the June giveaway now!
Bon Appetit and happy board building!
Get the Recipe: Summer Snack Board
Perfect for the 4th of July , made with red, white, and blue foods. Made on the 12x36-in BIG BOARD.
Ingredients
2 pints blueberries
2 pints strawberries
1 English cucumber, sliced
1 pkg crostini toasts, or favorite crackers
Rice crackers
1 small round Brie cheese
1 red pepper
1 pkg raincoast crisps
1 pkg Boursin cheese
1 cup cashews
1 cup marcona almonds
8 oz salami
1 pkg sweet potato gluten-free crackers
4 oz sweet snap peas
6 oz vegan onion dip, Trader Joe's
6 oz salmon dip, Trader Joe's
1 pint cherry tomatoes
Instructions
Arrange cheeses on the board first. Next, fill the 4 nesting bowls with 2 dips, cashews, and the pea pods.

Fill in the open areas with artisan crackers, raincoast crisps, strawberries, blueberries, cucumber, almonds and tomatoes on The Big Board.

Add a toothpick to the "vegan" dip to distinguish from the other one. Serve and enjoy!
Hello and welcome to my home and table!
I'm Sandy—lover of food, family, cooking, THE BIG BOARD, travel, and bringing people together. Through great recipes and connection around the table, we become better, stronger, and more courageous people. Feasting on Life is real, and every time we do it, we grow a little more. Read more...