Best Slow Cooker Sweet Potato Roast Beef Dinner
Perfect for a cozy meal, enjoy Best Slow Cooker Sweet Potato Roast Beef Dinner, simmered in shallots, fennel, red wine. Oh, so good!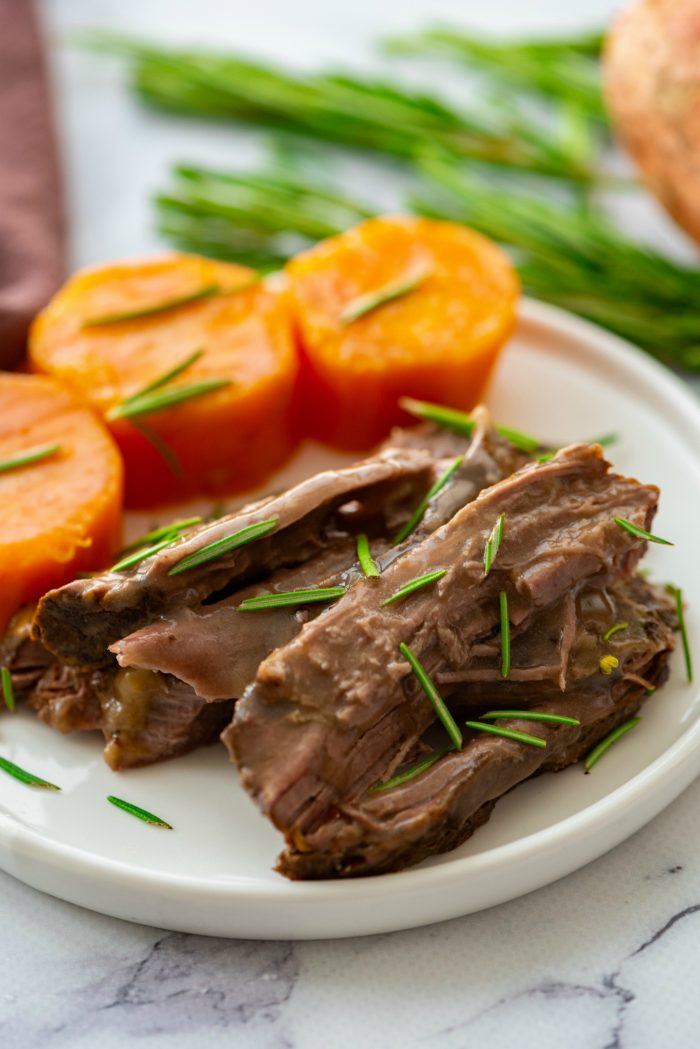 Dreaming of a tender Sunday roast? Last Sunday we enjoyed this Best Slow Cooker Sweet Potato Roast Beef Dinner, with fresh Orange Cranberry Salad and Best Blueberry Crunch for dessert!
So comforting and good!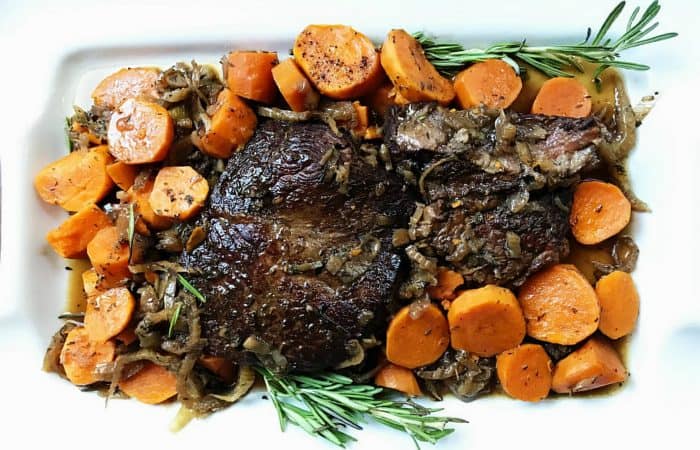 Best Slow Cooker Sweet Potato Roast Beef Dinner
What are the best things about the spring months? While we are loving the beautiful sunshine, but it's still pretty chilly out. These are perfect days for cozy meals!
We love a cozy, warm and delicious dinner like this Sunday Pot Roast with Sweet Potatoes. Sitting down to a hearty bowl, steeped in flavor and slow-cooked to perfection, makes us happy! And have we talked leftovers? The leftovers are SO good! You can always make The Pioneer Woman's Perfect Pot Roast Turned into Soup recipe!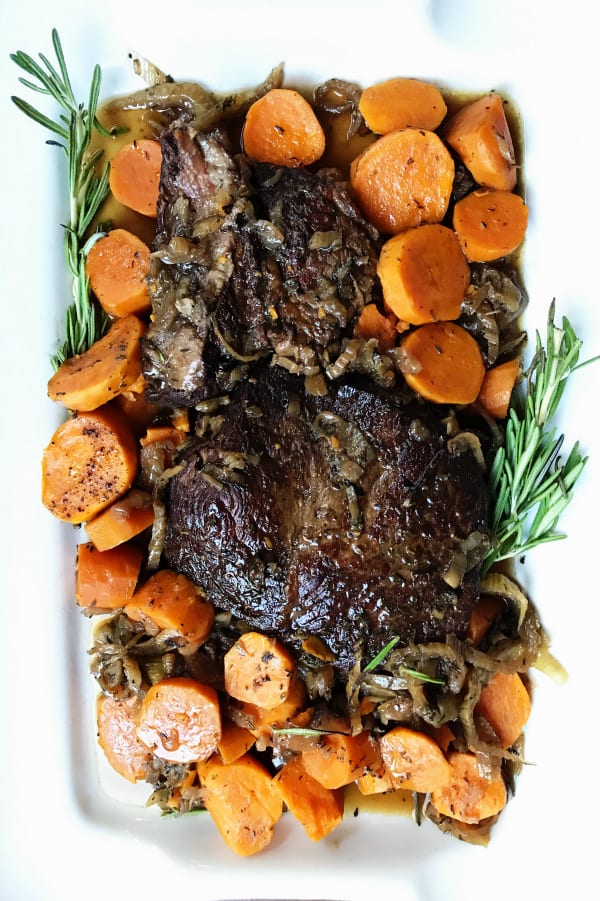 All you need are these ingredients:
Beef chuck roast, I buy 2 pack at Costco and freeze one
Salt & pepper
Olive oil
Red onion + shallots
Fennel
Celery
Beef stock
Red wine
Red wine vinegar
Worchestersire sauce
Thyme + parsley + rosemary
Sweet potatoes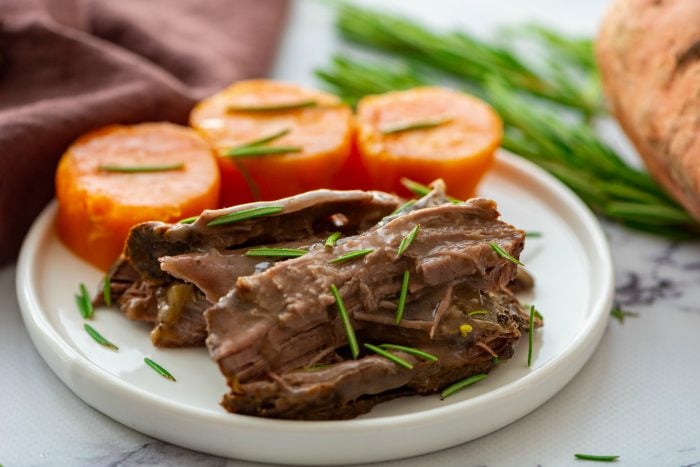 Best Slow Cooker Sweet Potato Roast Beef Dinner
Easy to prepare in the morning (let it cook all day), or even after church on a Sunday (let it simmer for the afternoon), I love the flavors of fennel, shallots, red onions, and red wine.
The last hour add chunks of sweet potatoes.
Serve and enjoy!
The wood pile
We moved to central Oregon 5 years ago. When I see this wood pile, and a picture of our kids, it makes me smile. A lot has changed in our lives the past 5 years. We are now empty nesters!
This wood pile resembled many hours of splitting, stacking, and preparing for winter–one of the ways of creating comfort and the feeling of warmth in our home.
It heard many conversations during the long, hot days of summer, home to the chattery chipmunks. The splitting and stacking of firewood became "an experience," with our family's first wood stove. It gave a feeling of being prepared, and satisfaction. Like all was right with the world, when the wood was stacked and ready.
Stack a heaping amount of gratitude on top of that wood pile, along with a cozy roast beef meal, and it reminds me of the saying, home is where your heart is.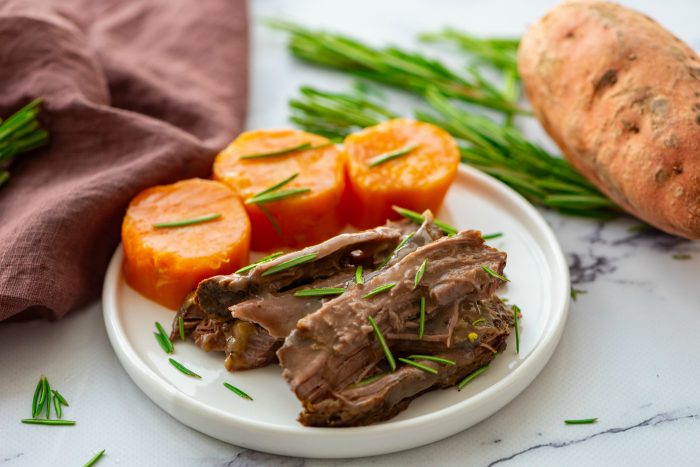 More recipes with sweet potatoes:
Seafood Sweet Potato Risotto [RE], 4-ingredient Turkey Sweet Potato Meatballs [RE], Sweet Potato Soup [RE], Melting Sweet Potatoes [Foodie with Family].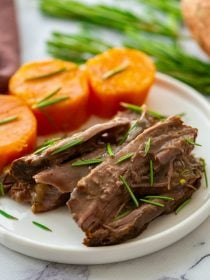 Get the Recipe: Best Slow Cooker Sweet Potato Roast Beef Dinner
Ingredients
2-3 pound beef chuck roast, I buy 2 pack at Costco and freeze one
Salt & pepper
2 Tbsp. olive oil, plus more if needed
2 large red onion, sliced
1 fennel, thinly sliced
2 shallots, thinly sliced
2-3 celery stalks, cut in thirds
1 cup of beef stock
1 cup red wine
2 Tbsp. red wine vinegar
2 Tbsp. Worchestersire sauce
2 tsp. thyme
Parsley or rosemary for garnish
2-3 small sweet potatoes, peeled and cut into 1-inch pieces
Instructions
Heat olive oil in a large frying pan and sear the roast on each side, for about 2 minutes per side, until nicely browned. Heavily salt and pepper both sides. Set aside.

In the same pan, add the fennel and shallots and cook on medium until tender, 4-5 minutes, stirring often. Add more oil if needed.

Spray the inside of slow cooker with cooking spray. Lay the red onion slices at the bottom. Place the roast beef on top. Place the cooked fennel and shallot on top of the beef. Next, lay celery on top.

Mix together the stock, red wine, Worchestersire sauce, and thyme. Generously add salt and pepper. Pour over the beef and vegetables. Salt and pepper again.

Cover and cook on HIGH for 4 hours. (Cook on LOW 6-8 hours:) The last hour of cooking time, lay the sweet potatoes on top. Lightly salt and pepper. Cook for one more hour; garnish and serve!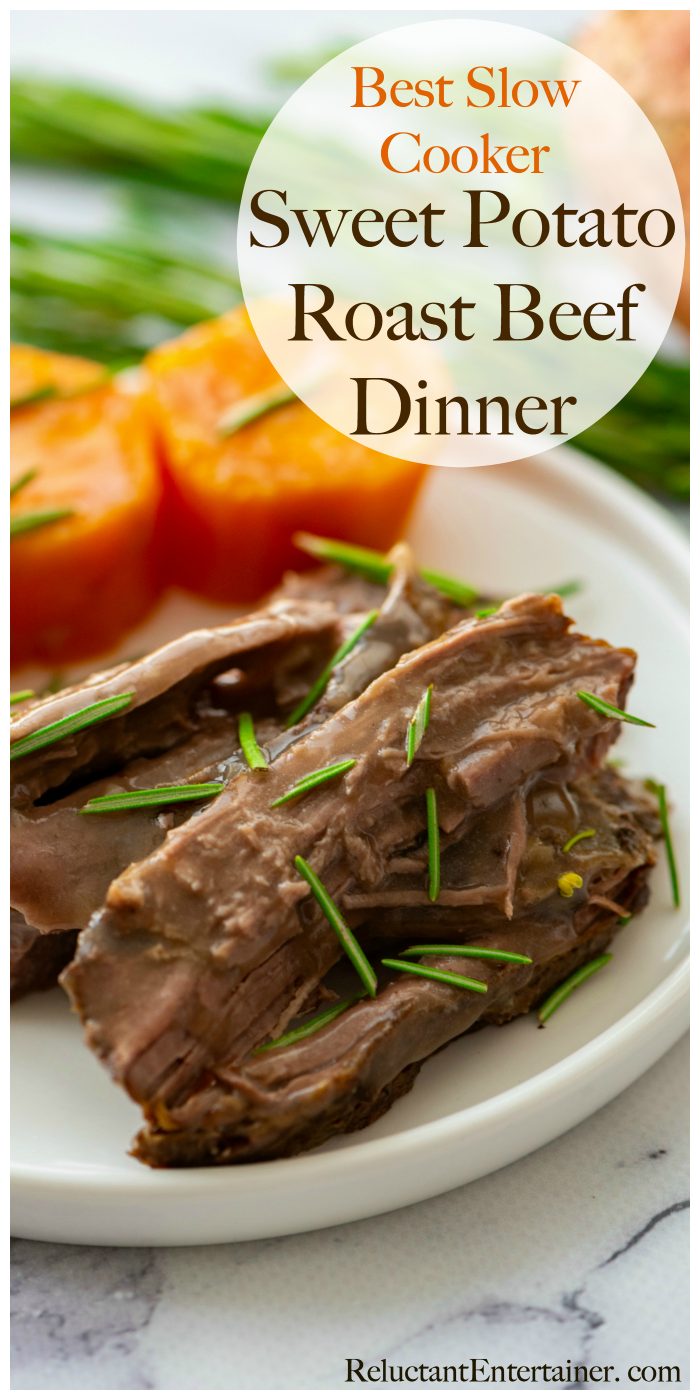 SaveSaveSaveSaveSaveSaveSaveSaveSaveSaveSaveSaveSaveSave
SaveSave
Hello and welcome to my home and table!
I'm Sandy—lover of food, family, cooking, THE BIG BOARD, travel, and bringing people together. Through great recipes and connection around the table, we become better, stronger, and more courageous people. Feasting on Life is real, and every time we do it, we grow a little more. Read more...