Curried Chicken Salad
Today I'm sharing a Curried Chicken Salad, a recipe from The SkinnyTaste Cookbook, by Gina Homolka, a fresh lunch or dinner entree!
Last week I made Skinnytaste's Curried Chicken Salad for lunch, and like Gina, I dreamed about it for days! Not only did I enjoy it, my husband and son did as well.
All of Gina's recipes are so healthy, fresh, easy, nutritional, tasty, and seriously, I think her The Skinnytaste Cookbook may be my new best friend!
Le Creuset.
I also love Le Creuset, and this 3 1/2 quart braiser is my new favorite piece in my kitchen! (Did you happen to pin my One-Pot Chicken Paprika Thigh recipe?)! Their pieces are gorgeous enameled cast iron, perfect to use with Gina's fabulous recipes (in her new book), such as her Mongolian Beef and Broccoli or Chicken Marsala.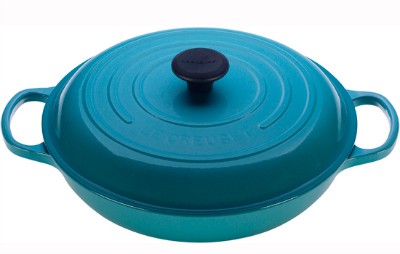 The colors.
Le Creuset makes timeless gifts that any seasoned cook or beginner would love to own. I personally love the vibrant colors that are available in the Le Creuset line, with Carribean Blue in my kitchen.
Gues what? The winner today gets to choose their favorite color! How awesome is that!? What color will you choose if you win?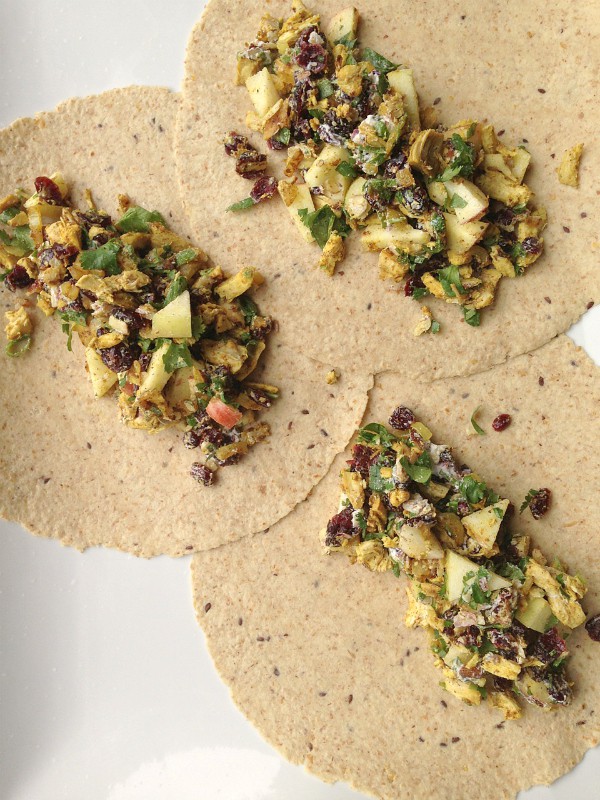 The recipe.
Today's recipe, Curried Chicken Salad, makes (5) 1 cup servings, but I just knew the recipe would be so good, I doubled it. I also used rotisserie chicken. YUM. Perfect for school lunches, a formal luncheon, a baby or wedding shower, tea party … fun for fall entertaining!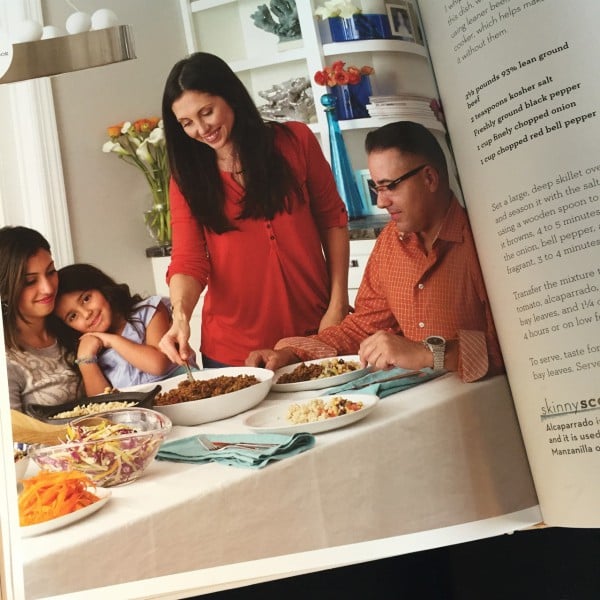 Amazing Gina.
Gina's my good friend who I adore and she blogs at Skinnytaste.com.
She is positive, inspirational, she's been sharing her "skinny" recipes for years, helping people with nutritional, lower calorie foods, and she genuinely cares about her family, community, blogging community, NYC, the world! She's a lover of people and helping people, I would say, in many ways.
Her beautiful book.
You'll have to read her story in her book (with gorgeous photography), how she got started with blogging and creating healthy recipes, but I will tell you that her book will help you with calorie count, eating healthy, taking charge of your kitchen, and eating REAL food. If you don't win today, you can buy your own copy, HERE. Better yet, stock up on this book for gifts. I did!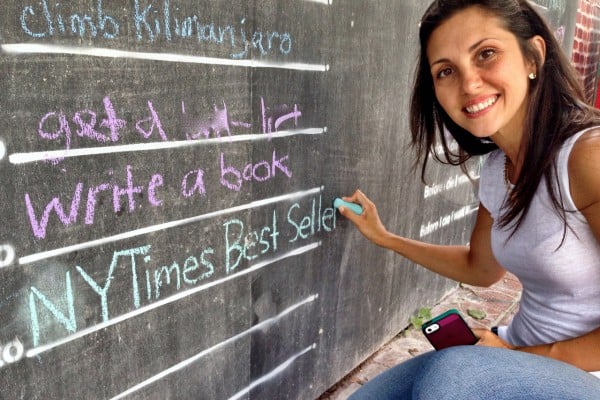 Last month we spent a few days together in Asheville, NC, and when we game to this "Before I die …" wall, downtown Asheville, well, we had a little fun. :)
I said, Amen, sister! Let's do it!!
So my prediction is that Gina has already done it – written a NY Times Bester Sellers book! Let's sit back and watch it happen!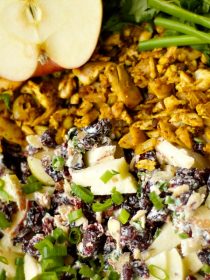 Get the Recipe: Skinnytaste's Curried Chicken Salad
From The Skinnytaste Cookbook. Gina serves this salad cold on a large romaine lettuce leaf, which adds a nice amount of crunch and stands in for bread. I doubled the recipe and used rotisserie chicken. You can also serve it over a bed of greens or in a whole wheat wrap, which I did. Very tasty!
Ingredients
2 tsp. olive oil
1/4 cup chopped onion
1/2 tablespoon curry powder
1 pound boneless, skinless chicken breasts, cut into 1/2-inch cubes
1/4 tsp. kosher salt
Freshly ground black pepper
2 tablespoons 0% Greek yogurt
1/4 tsp. ground cinnamon
3/4 cup dried cranberries
1 large sweet apple, peeled and finely chopped (1 1/2 cups)
1/4 cup silvered almonds
2 tablespoon chopped fresh cilantro
1/4 cup scallions
Instructions
In a large, heavy nonstick skillet, heat the olive oil over medium heat. Add the onion and curry powder and cook, stirring utnil golden, 3-4 minutes.

Increase the heat to medium-high, add the chicken, salt, and a pinch of black pepper, and cook stirring frequently, until just cooked through, about 5 minutes. Transfer the chicken to a large bowl and let cool.

When cool, add the yogurt, cinnamon, cranberries, apple, almonds, cilantro, and scallions. Toss together to coat.
This post is sponsored by Skinnytaste and Le Creuset.
Hello and welcome to my home and table!
I'm Sandy—lover of food, family, cooking, THE BIG BOARD, travel, and bringing people together. Through great recipes and connection around the table, we become better, stronger, and more courageous people. Feasting on Life is real, and every time we do it, we grow a little more. Read more...