Vegetarian Enchiladas with Tomatillos
Today I'm sharing a Vegetarian Enchiladas recipe with beans, lentils, onions, corn, and fresh tomatillos straight out of the garden.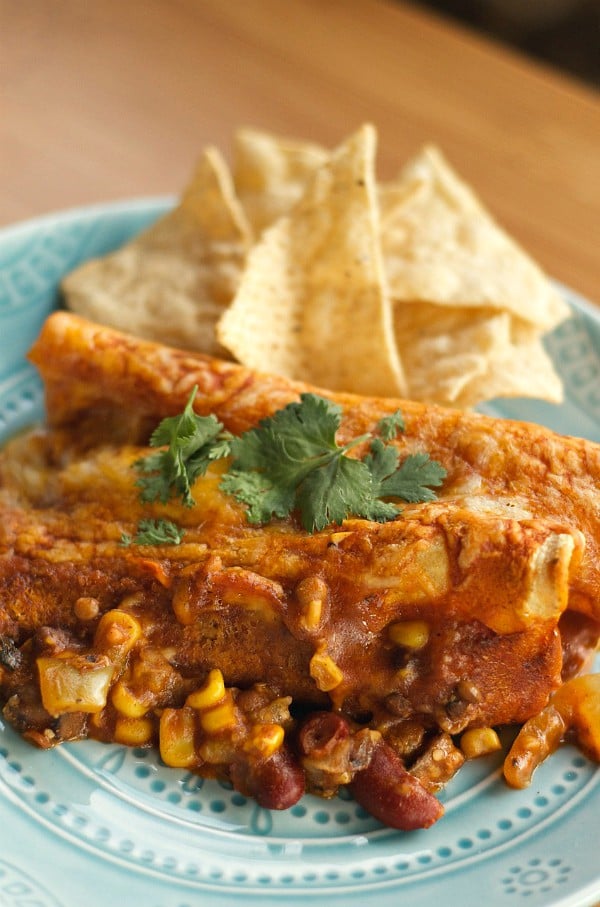 Last week I made these yummy vegetarian enchiladas for our family. My family is really cool about vegetarian dishes, which I love.
Vegetarian Enchiladas
There's always protein in beans, quinoa, cheese – outside of meat. It's a quick, easy way to whip up a dinner if you don't have fresh meat or defrosted meat. Plus, I love using up garden fare! (Harvest a few weeks ago:)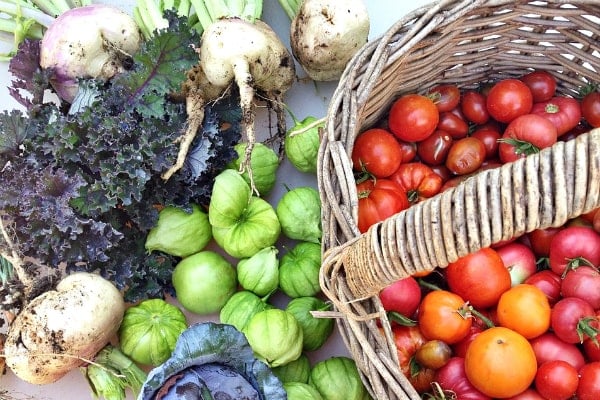 Ingredients for Vegetarian Enchiladas:
Corn tortillas + olive oil
Onion
Tomatillos
Cumin
Salt and pepper
Lentils, I buy at Trader Joe's
Corn, or corn chile from Trader Joe's, or frozen sweet corn
Kidney beans, drained
Salsa
Mexican or Jack cheese
Enchilada sauce, I buy Trader Joe's red sauce
Fresh cilantro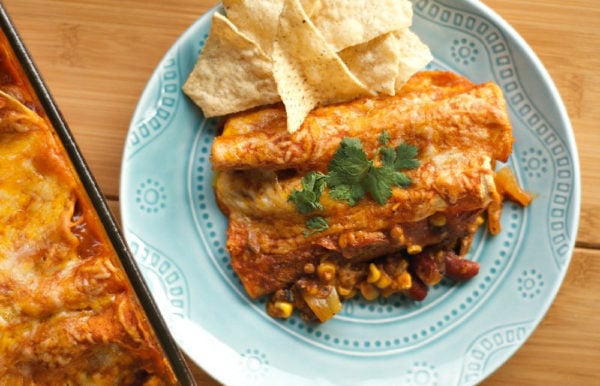 A friend recently asked me a little bit about our Oregon home. This is what I told her:
I love our home because it's a warm, functional space where people gather. Being a 1970's home that we've fixed up over the years, perfect was never our goal, and it didn't stop us from hosting dinner party after dinner party with a tiny kitchen, original bathrooms, funky intercoms and poor lighting throughout the house.
Love and food
Early on, my husband and I decided that no matter what our surroundings, the benefit of owning a home was having it to share with others, a conduit of love and food.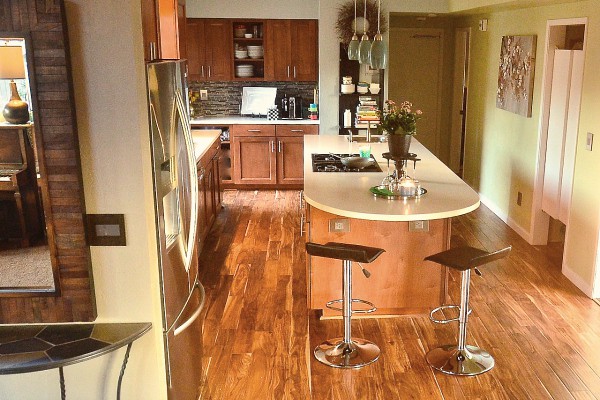 Center island
We eventually tore down a couple of kitchen walls, and with help and a creative design by my Dad, we built a giant center island. It has become the hub of the home, where guests hang out, and we can cook together as a family.
Our motto: Home is a place where people gather, feel safe, inspired, nurtured, loved, and are fed.

How to serve Vegetarian Enchiladas with tomatillos
Serve with salsa and sour cream and your favorite hot sauce. You can always sprinkle the top with red chopped onion or green onions (chopped). YUM – so good!
Why are tomatillos toxic?
Are garden tomatillos toxic or poisonous? Yes, there are parts of the plant that are poisonous, which includes the leaves, stem, and the husk.
As the fruit ripens, the lantern (or the papery husk) will loosen, revealing the fruit inside. The husk will leave behind a sticky residue, but needs to be removed.
Enjoy!
Do you have a motto, or a statement of belief, for your family, regarding your household (or family, or hospitality) philosophy?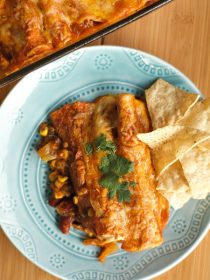 Get the Recipe: Vegetarian Enchiladas
Ingredients
12 corn tortillas
Olive oil
1 large onion, sliced
3-4 medium tomatillos, diced
2-3 tsp cumin
Salt and pepper
2 cups cooked lentils, I buy at Trader Joe's
1 cup corn, or corn chile from Trader Joe's, or frozen sweet corn
1 15-ounce Bush's kidney beans, drained
1 cup salsa
8 ounces Mexican or Jack cheese, shredded
12 ounces enchilada sauce, I buy Trader Joe's red sauce
Fresh cilantro
Instructions
Preheat oven to 350F. Heat enchilada sauce on the stove, adding 1/2 cup to the bottom of a 9×13 sprayed pan.

For the filling, drizzle a small amount of oil into a large sauté pan. Add the onions, tomatillos, salt, pepper and cumin; sauté for 5 minutes, stirring frequently.

Next, stir in the beans, cooked lentils, corn and salsa and cook for additional 2-3 minutes.

Steam the corn tortillas to make them soft, wrapping them in a wet paper towel and microwave on HI for 1 minute.

To assemble each enchilada, lay the corn tortilla on a plate, adding about 1/2 cup of filling, sprinkling with shredded cheese. Roll and gently place seam-side down into the prepared baking dish, repeating until the pan is full.

Top enchiladas with remaining sauce and add remainder of the shredded cheese. Bake for 20-25 minutes, until cheese is melted and bubbling.

Top with fresh cilantro before serving.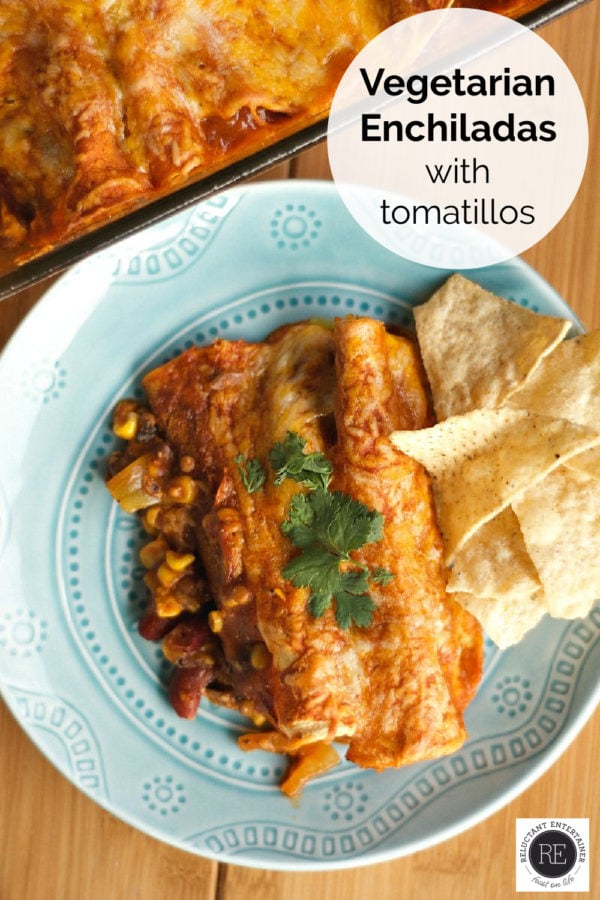 Hello and welcome to my home and table!
I'm Sandy—lover of food, family, cooking, THE BIG BOARD, travel, and bringing people together. Through great recipes and connection around the table, we become better, stronger, and more courageous people. Feasting on Life is real, and every time we do it, we grow a little more. Read more...