Dairy Free Chocolate Chip Cookie Bars
Delicious Dairy Free Chocolate Chip Cookie Bars for an anytime treat. Make in a baking pan with parchment paper. Make ahead; cool and freeze!
Friends, if you're been following me on Instagram ( @reluctantentertainer ) and watching my stories, you'll see that we are in the middle of a megastorm right now. And we're talking mega! Just in time for a winter storm … these Dairy Free Chocolate Chip Cookie Bars!
We decided to not take the snow off the table for this storm, to see how much snow we really got.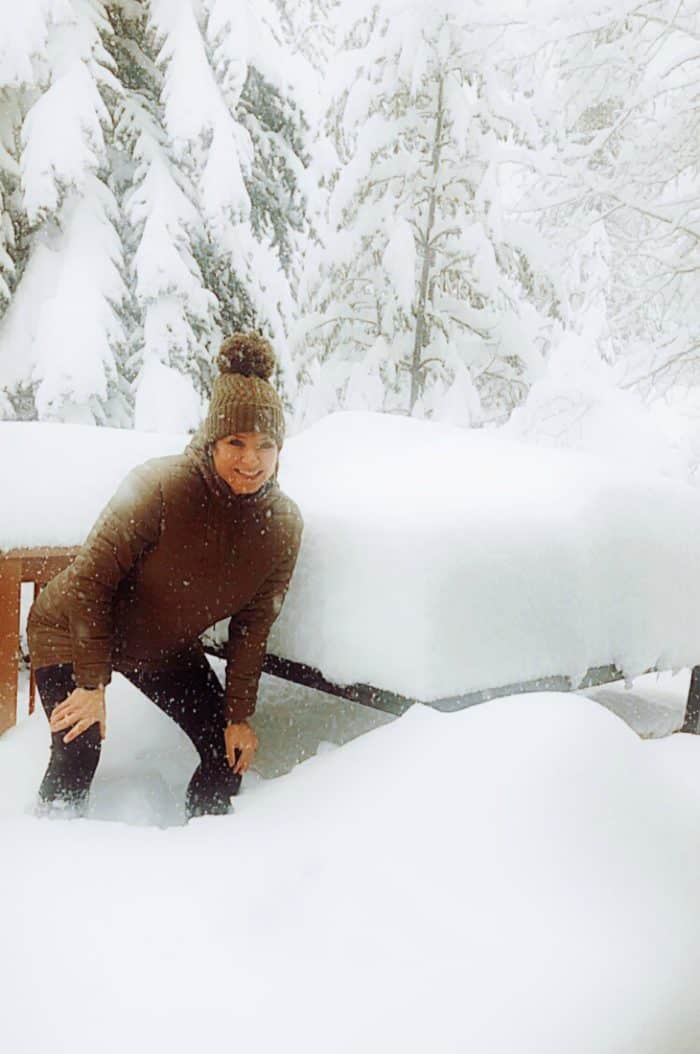 Big winter storm in PNW
Believe it or not, we had shoveled the snow off this table just yesterday, so this was in the last 24 hours.
Which, by the time you read this, will be a day earlier. Right now as I write, I'm having a cup of tea and a bite of Dairy-Free Chocolate Chip Cookie Bars. [And a lovely cup from my friend, Cindy.]
This is what I love about snow. A warm fire, the colors of nature changing, everything is so bright. People want to help each other out, and text and email, are you okay? What can I bring you for dinner?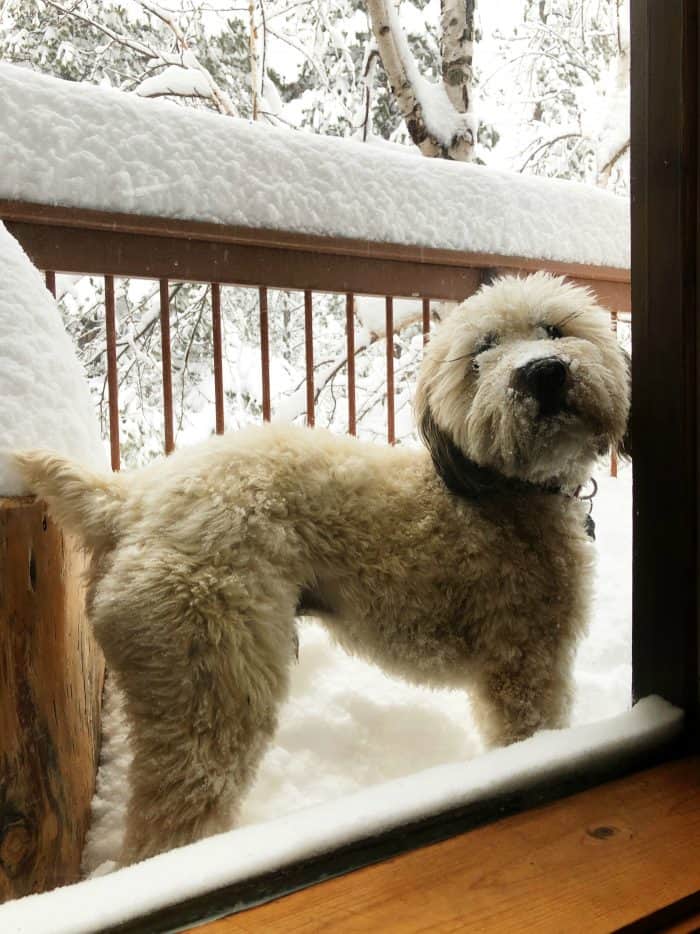 Even dogs are cuter in the snow. [Follow #AldertheWhoodle on Instagram!]
Uh, Alder, that's suppose to be me in that chair! HEE HEE.
And then, treats like these Dairy-Free Chocolate Chip Cookie Bars (we have a dairy-free family member in our household).
Finally … life just slows down in the snow.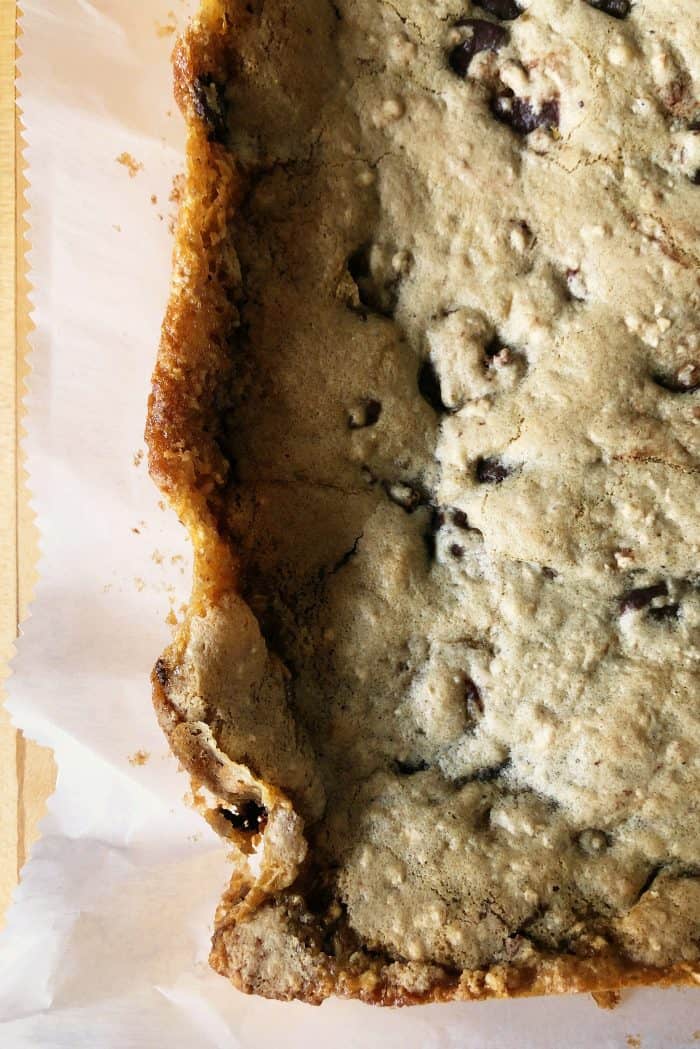 How you make dairy-free cookies
I wanted to make a dairy-free oatmeal cookie, so I changed a few recipes ingredients around.
You make these dairy free (not butter) by using oil, of course, lemon juice, and then dairy free chocolate chips!
Do you like to make cookies or bars? I like bars, because they are quicker.
But again, on a "snow day" … I guess I could slow down and make cookies :)
To be honest, I miss the flavor of butter in this recipe. But that's why it's "dairy-free." But I love, love, love butter. LOVE butter. Okay, you get the point.
We also used "Enjoy LIfe" dark chocolate chips (purchased at Whole Foods), because this brand is dairy-free, too. 100% real chocolate, which is good, but not my favorite.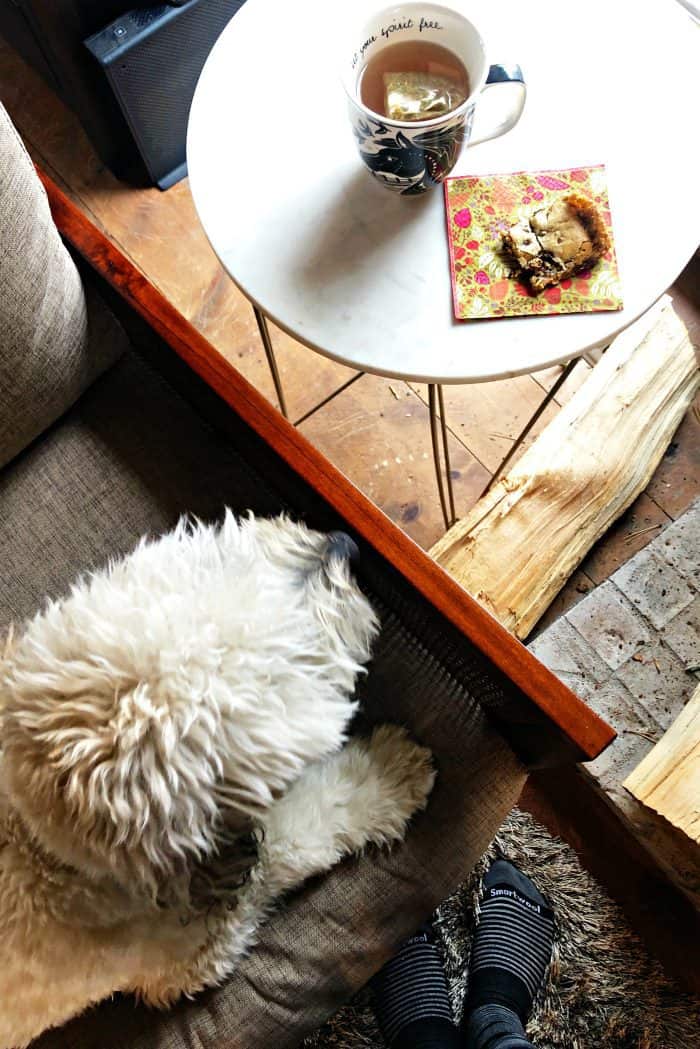 Snow days in central Oregon
They say snow is coming for several days.
Time for a cup of tea, a bite of cookie, and an hour of reading by our fire!
And a bunch of goofy kids (with a fallen icicle!)
PS. We are so snowed in, I'm going to have to get outside and shovel to work off these cookie bars. HA.
ENJOY!
Here are a few other great recipes: Crustless Gluten Free Chocolate Chip Pie, Vegan Tahini Coconut Chocolate Cookies, Two Ingredient Chocolate Chip Banana Bites [BakerMama], and Peanute Butter Chocolate Chip Snowball Cookies [Wine and Glue].
Get the Recipe: Dairy Free Chocolate Chip Cookie Bars
Ingredients
2 cups rolled oats, not instant
1 cup flour, all-purpose
1 cup light brown sugar, packed
1 cup powdered sugar
1 tsp. baking soda
1 tsp. baking powder
1/2 tsp. salt
3 Tbsp. oil
2 large eggs, lightly beaten
2 Tbsp. lemon juice, I used Meyer lemons
1 tsp. vanilla extract
1 9 oz package Enjoy Life, dairy-free dark chocolate chips
Instructions
Preheat the oven to 375 F. Line a large 8x8 baking pan with parchment paper and set aside.

Mix together the oats, flour, brown sugar, powdered sugar, baking soda,​ baking powder, and salt.

Add in the remaining ingredients (minus the chocolate chips) and mix until combined. (I used my KitchenAid mini mixer.)

Fold in the dairy-free chocolate chips.

Spread the mixture in the prepared pan.

Bake for 8 to 12 minutes, or until lightly golden brown around the edges. Bake for 20-25 minutes until baked to the texture you like.

Remove and cool before serving.
Notes
Cut into squares, and store in an airtight container at room temperature for up to a week. Or, freeze the baked cookies for up to three months.
Hello and welcome to my home and table!
I'm Sandy—lover of food, family, cooking, THE BIG BOARD, travel, and bringing people together. Through great recipes and connection around the table, we become better, stronger, and more courageous people. Feasting on Life is real, and every time we do it, we grow a little more. Read more...