Dijon-Maple Chicken with Brussels Sprouts
Skinnytaste's Dijon-Maple Chicken with Brussels Sprouts and Butternut is a delicious, savory-sweet sheet pan dinner made with chicken thighs and drumsticks!
Friends, last week I was in Ithaca, New York, celebrating the release of my friend Gina's new cookbook, Skinnytaste One and Done: 140 No-Fuss Dinners for Your Instant Pot®, Slow Cooker, Air Fryer, Sheet Pan, Skillet, Dutch Oven, and More.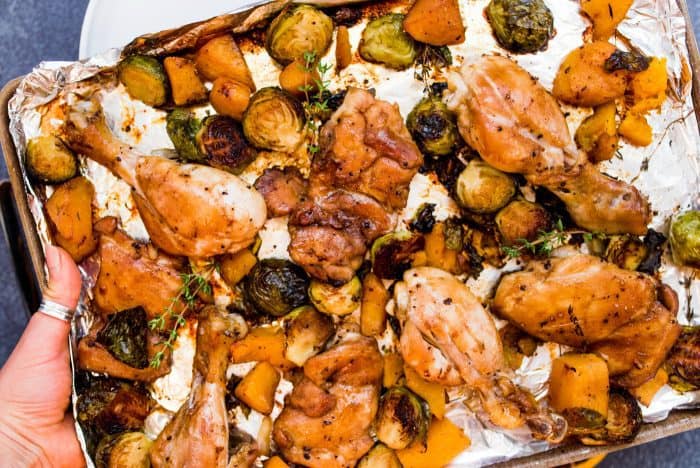 This week we enjoyed a recipe from her book, Dijon-Maple Chicken with Brussels Sprouts and Butternut, a super easy and flavorful meal to make any night of the week! For fall, you may also like my Parsnips Rutabaga Sausage Sheet Pan Dinner or Brussels Sprout Pear Bratwurst Sheet Pan Dinner – both so good!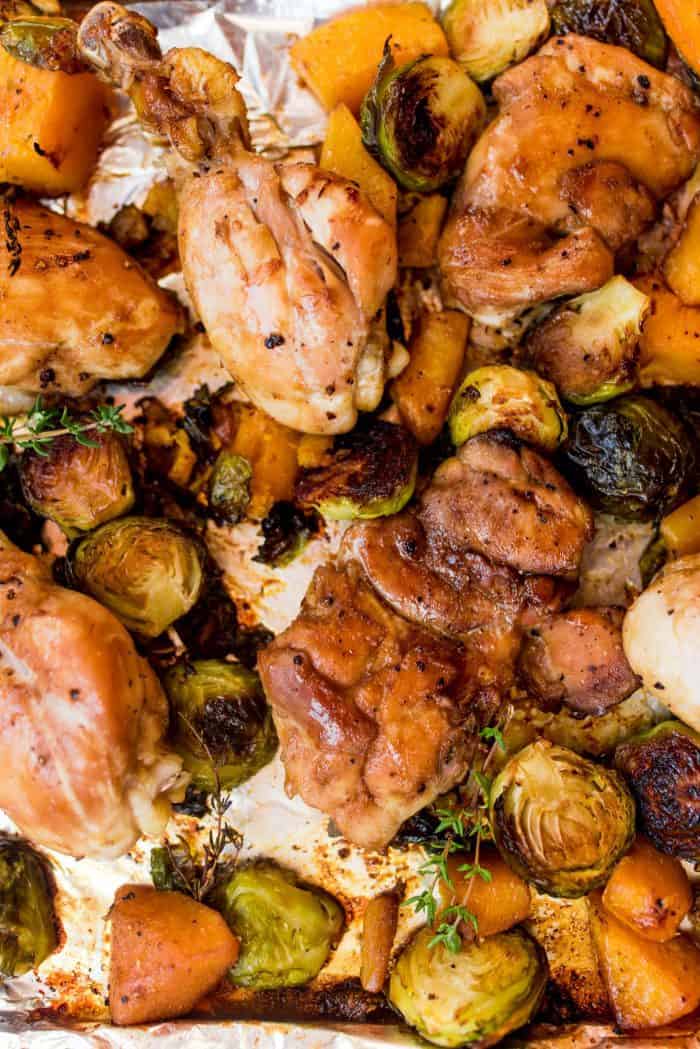 But first, have you ever been glamping? Well, all we had a great time. We gathering in Ithaca at Firelight Camp for 4 days! Yes, it was a bit chilly, but honestly, we all survived. (More details about our glamping experience coming in another post.)
We did more than survive, we had fun hiking, eating, shopping, food tasting in downtown Ithaca, and just enjoying being by the fire with one another.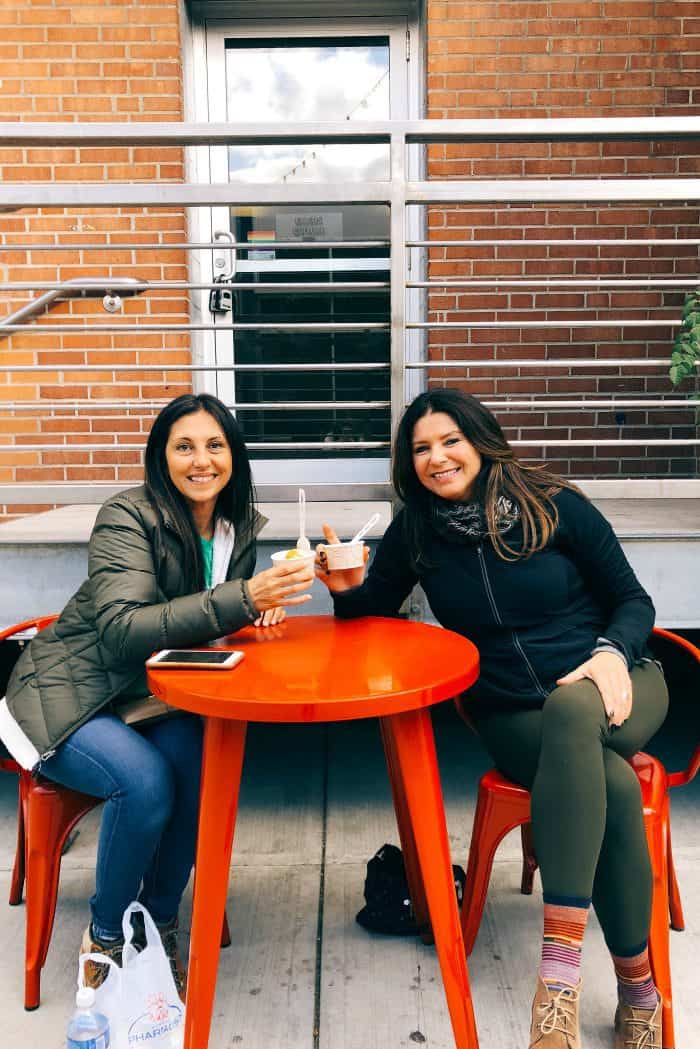 The falls in Ithaca are so lovely.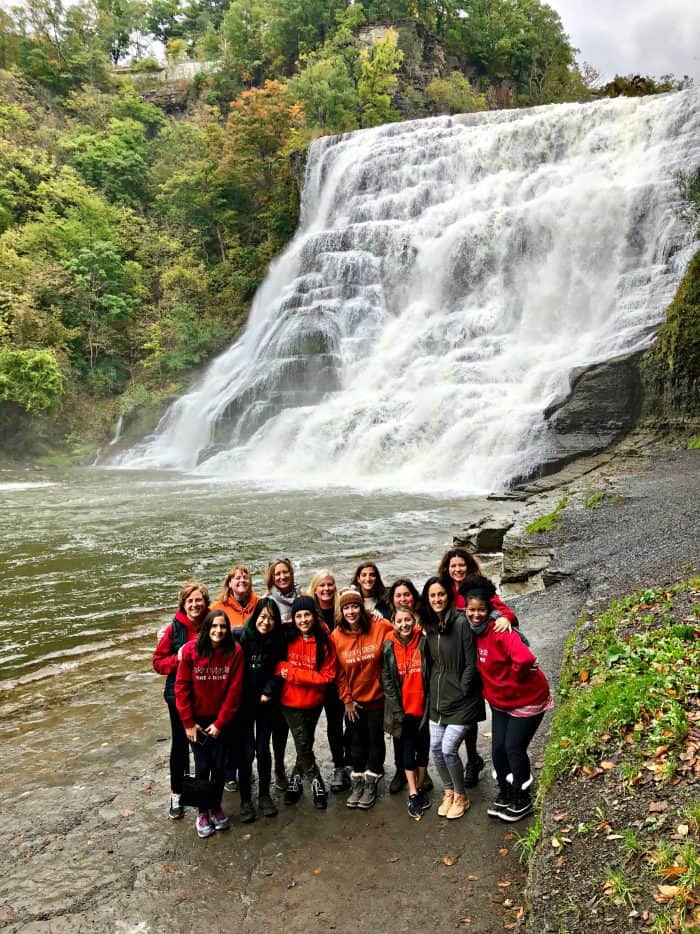 We went foraging, too, a first for me. We saw so many things to eat, like mushrooms, berries, garlic, mustard leaves, herbs, and so much more.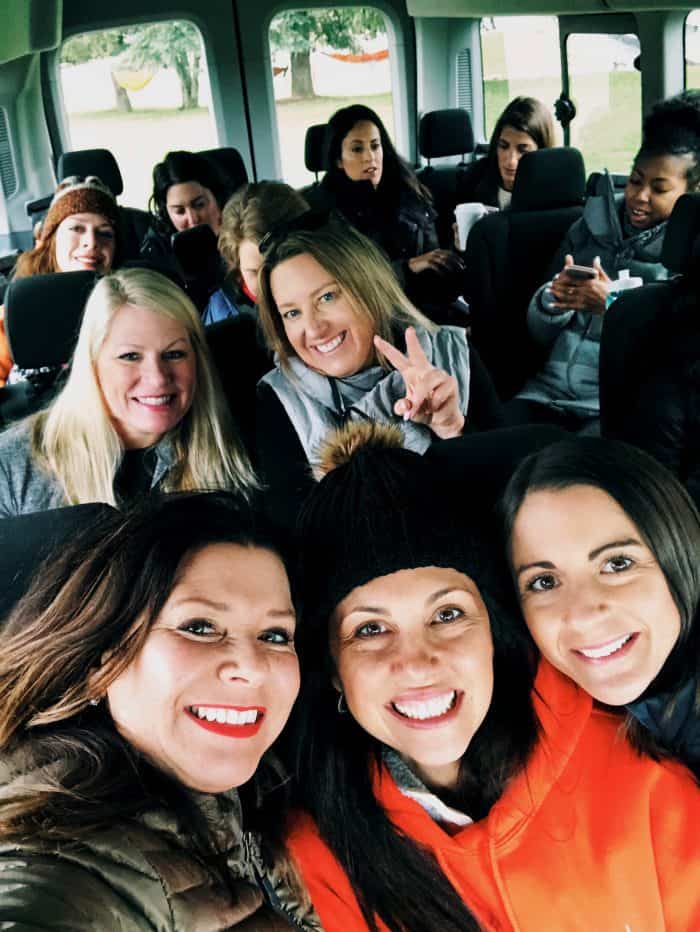 My favorite … the beautiful leaves, the slow walking, talking, getting to know this wonderful group of women. (Above, on the bus with Skinnytaste, Two Peas and Their Pod, Foodie Crush, Recipe, Girl, A Spicy Perspective, Granbaby Cakes, and Inspiralized).
Order the book!
Skinnytaste One and Done: 140 No-Fuss Dinners for Your Instant Pot®, Slow Cooker, Air Fryer, Sheet Pan, Skillet, Dutch Oven, and More, by Gina Holmolka.
Order the book, HERE.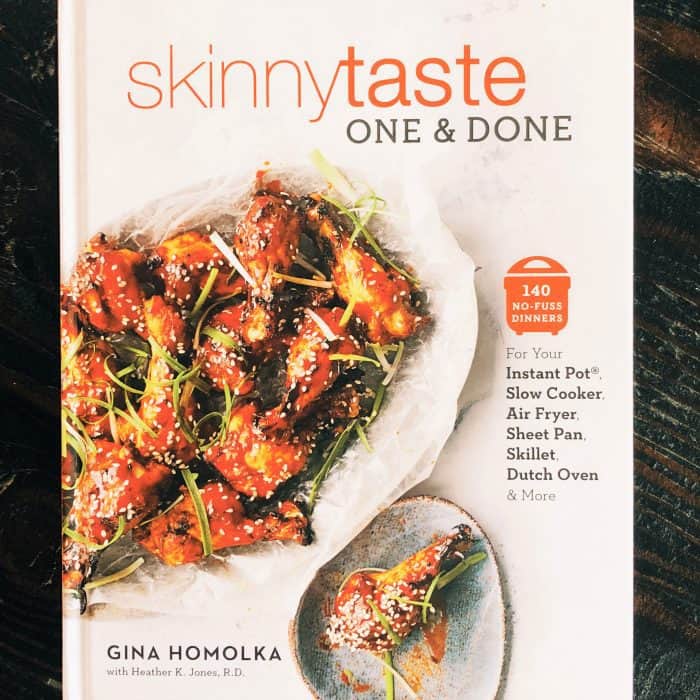 The second night, we enjoyed a delicous meal of Gina's recipes from this cookbook, under the main tent. It was pouring and stormy outside, but we were snug as a rug inside, and had so much fun.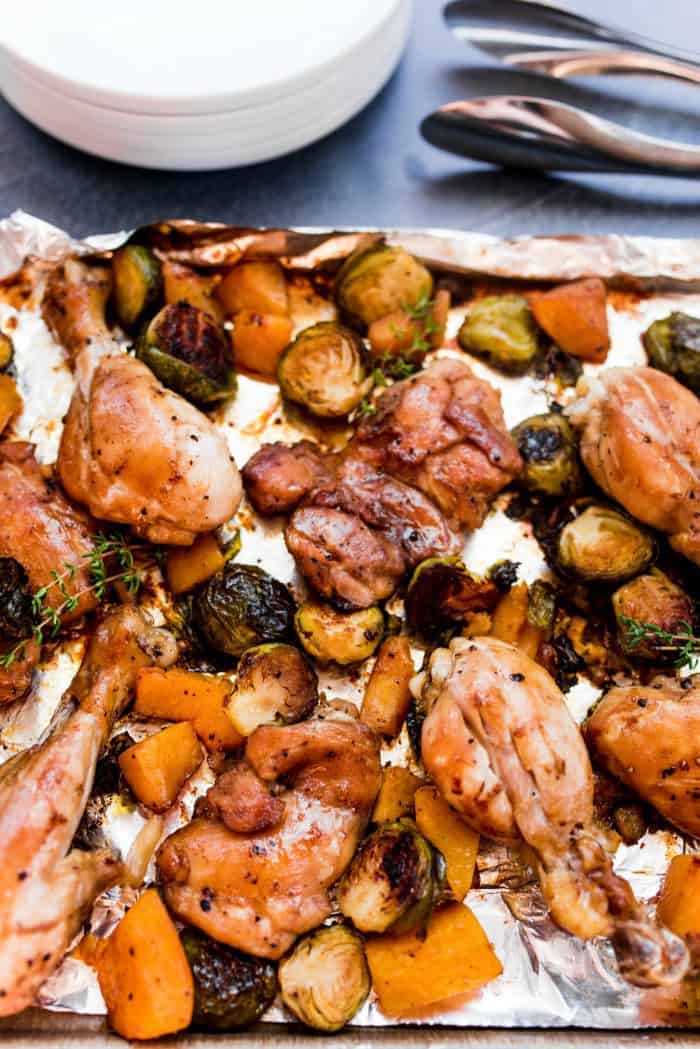 Dijon-Maple Chicken with Brussels Sprouts
The glaze in this dish combines spicy mustard and sweet maple syrup. I love this combination!
I also love this recipe for fall, with the Brussels sprouts and butternut squash.
A deep flavor of savory-sweet … honestly, Friends, this is good enough for company!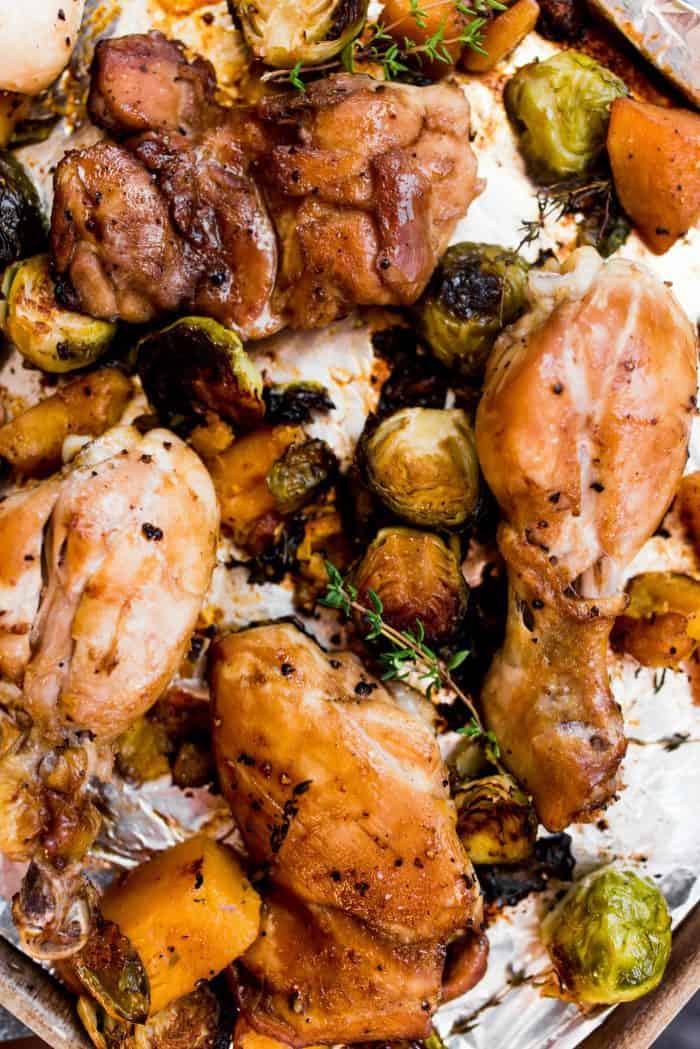 Skinnytaste's recipes are the best—and right now at Costco I just saw ALL of her books! So if you don't have any, buy them all, beccause you'll never want to cook from any other cookbook again.
Thanks Gina!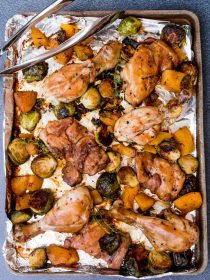 Get the Recipe: Dijon-Maple Chicken with Brussels Sprouts and Butternut
Ingredients
Olive oil spray, like Misto or Bertolli
4 Tbsp. Dijon mustard
3 Tbsp. pure maple syrup
2 Tbsp. reduced-sodium soy sauce
4 large bone-in chicken thighs, 6 1/2 ounce each, skin removed and fat trimmed
4 skinless chicken drumsticks, 3 1/2 ounce each
3/4 tsp. kosher salt
Freshly ground black pepper
12 ounces Brussels sprouts, trimmed and halved
12 ounces butternut squash, peeled, seeded, and cut into 3/4-inch cubes
6 sprigs of fresh thyme
1 1/2 Tbsp. olive oil
Instructions
Preheat the oven to 425 degrees. Line an 18 x 13-inch large, rimmed sheet pan with foil or parchment and spray with oil.

In a small bowl, combine 3 tablespoons of the mustard, 2 tablespoons of the maple syrup, and the soy sauce.

Season both sides of the chicken with 1/2 teaspoon of the salt and pepper to taste, then arrange it on the prepared pan.

In a large bowl, combine the Brussels sprouts, butternut squash, thyme, and olive oil, and the remaining 1/4 tsp. salt. Season with pepper and toss well.

Arrange the vegetables on the prepared sheet pan in a single layer around the chicken. Pour the Dijon-maple sauce over the chicken, turning to coat completely, and pour any remaining sauce over the vegetables.

Bake until the chicken is cooked through and the vegetables are tender, about 40 minutes.

Meanwhile, in a small bowl, whisk together the remaining 1 tablespoon each mustard and maple syrup.

Brush the mustard/maple mixture over the chicken. Bake for 5 more minutes, until brown, and serve right away.
More sheet pan dinners: Sriracha-Spiced Shrimp and Broccoli Sheet Pan Meal [Kalyn's Kitchen], and Sheet Pan Chicken and Black Bean Nachos [BakerMama].
Hello and welcome to my home and table!
I'm Sandy—lover of food, family, cooking, THE BIG BOARD, travel, and bringing people together. Through great recipes and connection around the table, we become better, stronger, and more courageous people. Feasting on Life is real, and every time we do it, we grow a little more. Read more...