Parsnips Rutabaga Sausage Sheet Pan Dinner
A lovely Parsnips Rutabaga Sausage Sheet Pan Dinner filled with vegetables, our favorite beef sausage, olive oil, and fresh herbs. Baked to perfection, sheet pan dinners are a tasty dish for St. Patrick's Day!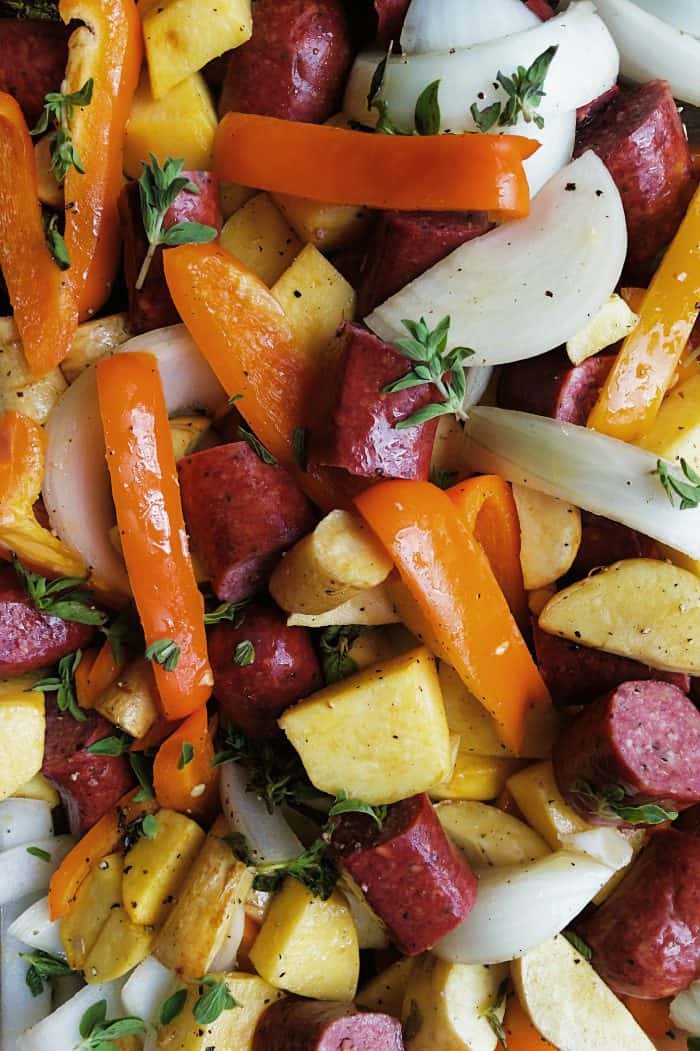 Friends, do you make sheet pan dinners? Then you will love this Parsnips Rutabaga Sausage Sheet Pan Dinner recipe today! They are perfect for when you want your family to come together for a simple meal, without the fuss and effort of a big meal.
Sausage Sheet Pan Dinner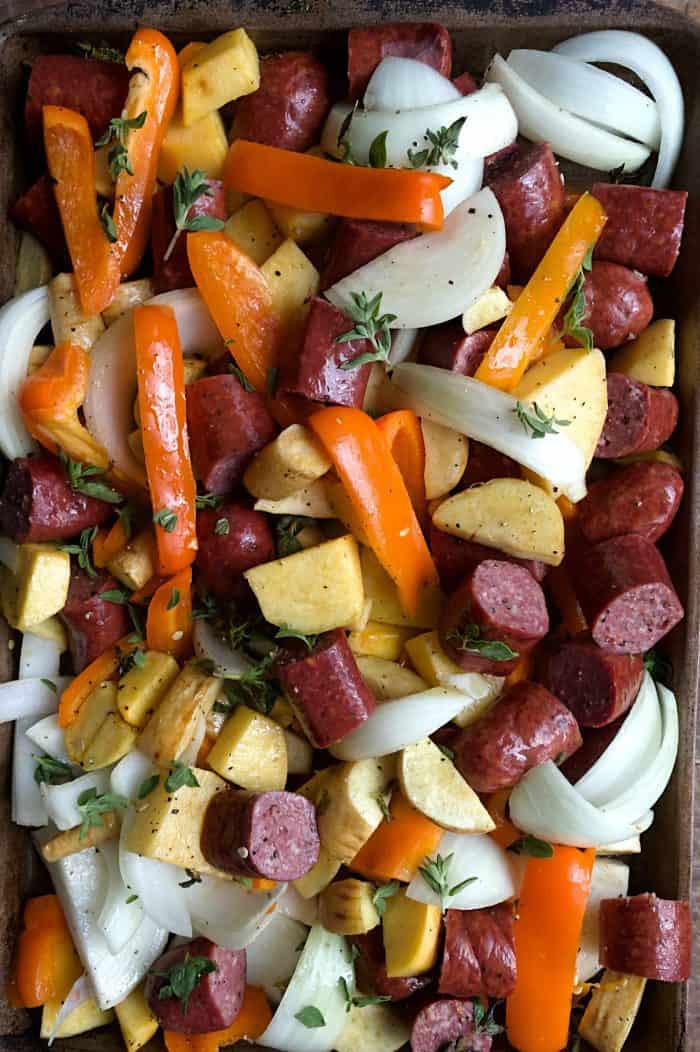 Sheet pan dinners are essentially taking a large baking sheet, and filling it with chopped vegetables and your favorite protein! How easy is that? You can make a sheet pan dinner in the summer, using all those glorious fresh garden veggies, or in the winter, using root vegetables, like carrots, beets, parsnips, or rutabagas.
On a cold winter's day, I relished in the cold and the joyful simplicity of being in my kitchen, preparing a meal for my family.
Chopping, paring, peeling, adding so much color to a drab cookie sheet–all very calming activities for me.
How to make Sausage Sheet Pan Dinners
When I say color, when I'm cooking, my heart never fails to take a leap when I see all the glorious colors of the rainbow, even if they're a little more drab in the winter. The orange of carrots, the mixed colors of rutabaga and white parsnips, the rich chunks of beef sausage. (I buy Organic Kielbasa Smoked Beef Sausage from Costco.)
Drizzled with oil. Topped with delicious-smelling fresh herbs.
Be still my heart!
We have a beautiful life, Friends. Even with cooking, I don't want to rush the process, but instead enjoy the thoughtfulness of cooking. Cooking for my family brings me a sense of comfort, one of my highest priorities right now in this season of life.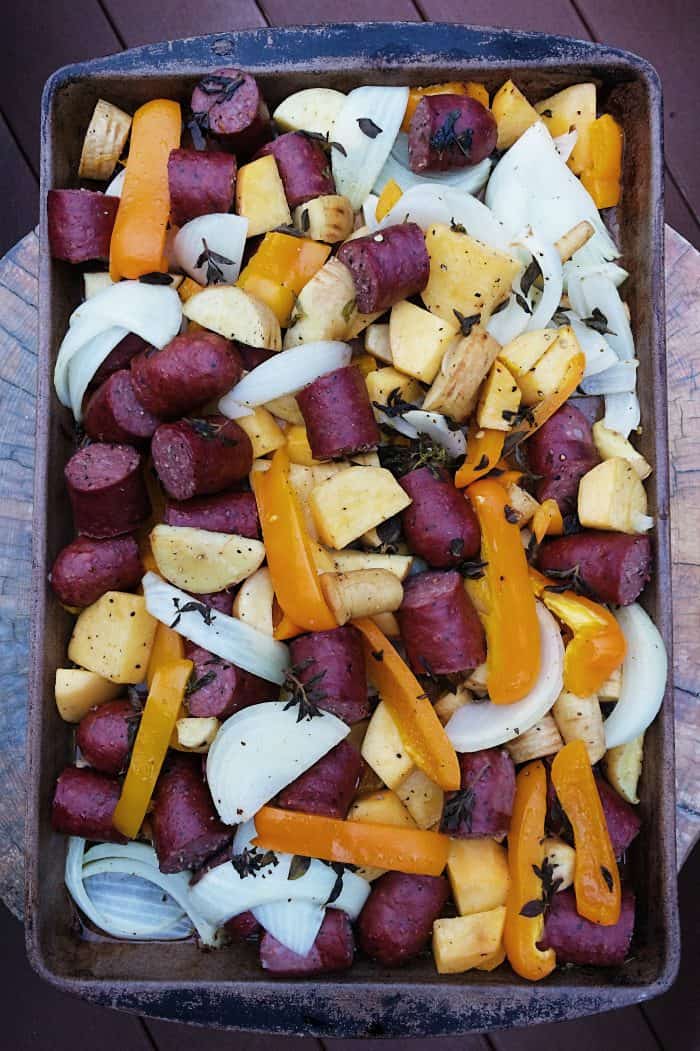 A delicious sheet pan dinner makes me thankful that I can eat in our own home, even with such a simple meal.
Served with a side of brown rice! You can always serve it with a sauce, or sriracha sauce or soy sauce too!
So good!
Looking for more sheet pan dinners? Pesto Bratwurst Sheet Pan Dinner [RE], Sheet Pan Chicken Parmesan [The Cookie Rookie], Brussels Sprout Pear Bratwurst Sheet Pan Dinner [RE], Sheet Pan Thai Peanut-Chili Chicken [Host the Toast].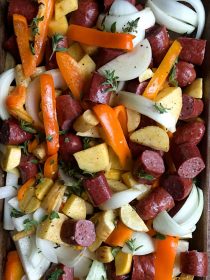 Get the Recipe: Parsnips Rutabaga Sausage Sheet Pan Dinner
Ingredients
1-2 pounds sausage links, cut in chunks (I buy Organic Kielbasa Smoked Beef Sausage)
3-4 parsnips, cut in small chunks
2-3 rutabaga, peeled and cut into small chunks
2 sweet white onion, quartered
2 yellow bell peppers, sliced
Salt & pepper
1 tsp. dried thyme
1/4-1/3 cup olive or avocado oil
Fresh thyme
Red pepper flakes
Instructions
Preheat oven to 375 degrees, and line a large baking sheet with aluminum foil or parchment paper.

Make sure and chop the rutabaga and parnips into small pieces, the peppers and onions into larger pieces. (If larger pieces, roast them longer before adding the beef.)

In a large bowl, add all the ingredients together (except fresh thyme and red pepper flakes). Drizzle the mixture with oil. Mix together with your hands or a large spoon. Season with salt, pepper, and dried thyme.

Pour onto the large baking sheet. Cover with foil and bake for 40 minutes. Remove foil and cook an additional 10-15 minutes, until the parsnips and rutabaga are soft. Sprinkle with fresh thyme and red pepper flakes (optional).

Serve right in the pan, with a side of rice!
Hello and welcome to my home and table!
I'm Sandy—lover of food, family, cooking, THE BIG BOARD, travel, and bringing people together. Through great recipes and connection around the table, we become better, stronger, and more courageous people. Feasting on Life is real, and every time we do it, we grow a little more. Read more...