Remembering Childhood Dove Chocolate Almond Snowball Cookies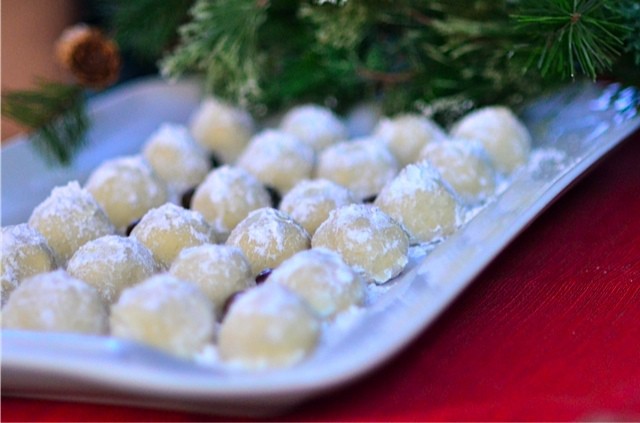 Today I want to share a little about holiday baking and easy ways of giving to others.
The beauty of the holidays is that you can embrace nostalgia on your own terms. I try to encourage my readers to put their hesitation aside and reach out to others, by either inviting people into their homes, hosting a small dinner party or a casual get-together, or even what I call, "taking your hospitality with you," … reaching out to others by giving small gifts of love.
The holidays can be a very emotional time for many, because our pasts creep in, creating feelings both bittersweet and beautiful.
But today I'd love to encourage you to reach deep, and to think of a fun holiday cookie that you enjoyed as a kid.
Embrace those happy memories (or create some new ones if you can't find "happy"), and think of ways to give out this year.
I'm happy to share with you a childhood recipe that my mom made every year, as far back as I remember as a little girl, up until the year she passed away. Snowball cookies were a part of our Christmas diet. They melt in your mouth and they provide comfort.
My favorite version has a little secret inside … Dove Chocolate-Covered Almonds. Oh, boy!
A little treat inside a big treat.
Christmas doesn't get any better than packaging up a few classy treats, and then giving them away.
It's the thought that counts. Small, simple, inexpensive, yet festive, wintery and tasty – is what I love to give.

Ideas on how to package Christmas cookies:
Dollar Store plates
Dollar Store or Clearance baskets
Canning quart-sized jars with a cute, cut-out Christmas top (over the lid)
Decorated brown lunch bags
What was your favorite holiday cookie as a kid?

[print_this]
Recipe: Chocolate Almond Snowball Cookies
Summary: A ball of sweet buttery goodness with a surprise chocolaty almond in the center.
Ingredients
1 1/2 cups butter (3 sticks)
2/3 cup powdered sugar
1 tsp. vanilla extract
1 tsp. almond extract
4 cups flour
2 tbsp. ice water
1 1/2 cup Chocolate Covered Almonds (I use Milk and Dark Dove Chocolate Covered Almonds)
Instructions
Turn oven to 300 degrees. Cream the butter.
Beat in the powdered sugar, vanilla, and almond extract.
Work in the flour and ice water.
Shape and roll into balls.
Push 1-2 almonds into each ball, making sure the chocolate is completely covered.
After baking, roll in sifted powered sugar while hot.
Cool and roll again in the powdered sugar.
Preparation time: 20 minutes
Cooking time: 30-35 minutes
Number of servings (yield): 24
[/print_this]
Hello and welcome to my home and table!
I'm Sandy—lover of food, family, cooking, THE BIG BOARD, travel, and bringing people together. Through great recipes and connection around the table, we become better, stronger, and more courageous people. Feasting on Life is real, and every time we do it, we grow a little more. Read more...