Drop-In Dinners: Forget About Perfection!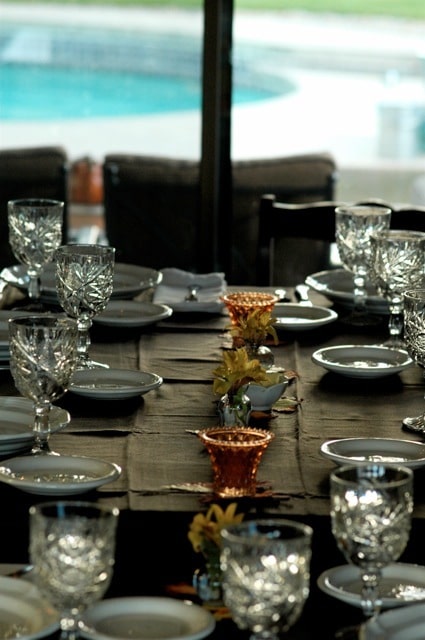 Awhile back we had friends stop by to deliver something to us (it was actually a delicious cake!), right at dinner time, right as I was pulling this lasagna out of the oven.
Of course I wanted our friends to stay, but they had other plans.
I think back to times when friends have stayed. Even though the tablecloth I quickly threw on the table might have had a few wrinkles, our time together was still the best!
The beauty of drop-in dinners is to not lose your mind, but to invite, give yourself a quick pep-talk that you are not going to overdo, and then keep it simple.
And then to prepare yourself to relax and ENJOY your company, no matter what happens!
– Offer your guests a beverage
– Give them a chore to help with in the kitchen
– Hand them a stack of dishes and silverware to set the table with
– If you need something from the store, ask them to make a quick food run
The key is to not worry about perfection.
I bet at the end of the evening, with this kind of meal, that your guests will hop up and help clean the kitchen too! As I recall dropping in to bed, and thinking how surprised I was by simple the dinner turned out to be, it gave me a sense of satisfaction that I really don't have to spend the time worrying about making things perfect.
It always seems to flow …
When's the last time you had a drop-in dinner? Did you enjoy it or were you stressed?
Hello and welcome to my home and table!
I'm Sandy—lover of food, family, cooking, THE BIG BOARD, travel, and bringing people together. Through great recipes and connection around the table, we become better, stronger, and more courageous people. Feasting on Life is real, and every time we do it, we grow a little more. Read more...