Easy Blueberry French Toast Casserole
Try this Easy Blueberry French Toast Casserole for Father's Day weekend, 4th of July, or any breakfast, brunch, or holiday meal!
-Gratitude turns what we have into enough. – The Mercy House
My girlfriends and I were recently talking about my friend Kristin's meaningful organization, The Mercy House (an organization that funds maternity homes in Kenya), one morning over breakfast. We were also enjoying this Easy Blueberry French Toast Casserole, drizzled with 100% maple syrup. :)
But first, I want to tell you about another friend's Beyond Kindness Tour coming up in September, and ways we can jump on board with this sometimes forgotten Christian virtue.
If you have time, check out Emily's mission and thought-provoking, heart-stirring challenge to consider "kindness" to shape our lives, and what the tour is all about (and her blog, Beyond The Red Chair). Sign up for Emily's blog so you can get the updates!
Kindness and love
Kindness is moving … and it's not what we often think of as "just being nice." It's actually a very generous way to live, and we could change the world, if only we'd be kind to one another.
I think about how in our 40's my husband and I were leaders. Now in our 50's, we're on a different path. We have moved more into a mentoring role (didn't we just get married?) We're now thinking of things like, who, with a different background than ours, can we come alongside, who can we reach out and share a meal with? With a heart that is willing to bridge the gap of differences with kindness and love.
Right?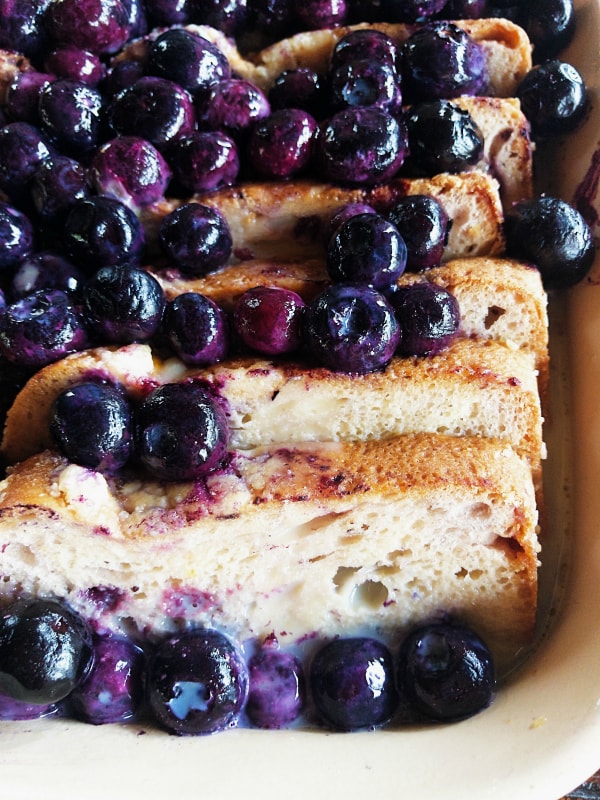 Easy Blueberry French Toast Casserole
Our family is so in love with blueberries, especially this time of year! We eat them all year round in our home, even in the winter, when you can buy organic frozen blueberries! And what better to share with others than a beautiful blueberry dish?
If you cannot find Lake Chelan Blueberry Streusel Bread in the store, use a specialty cinnamon bread.
So easy to prepare (the night before), pull out of the fridge in the morning and BAKE!
You'll have a simple, summertime breakfast to serve, with coffee and fresh fruit.
Use frozen or fresh blueberries.
Better yet, make 2 and invite your neighbors over for brunch this weekend!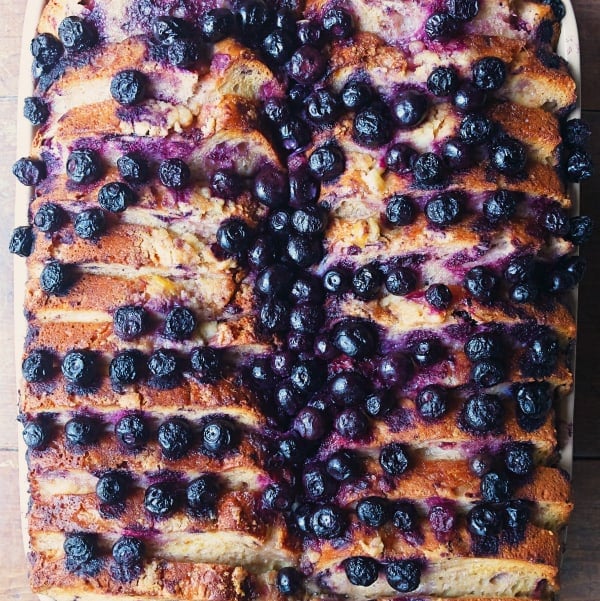 Get the Recipe: Easy Blueberry French Toast Casserole
You can make this ahead and bake the next day. If you cannot find Lake Chelan Blueberry Streusel Bread in the store, use a specialty cinnamon bread.
Ingredients
1 package Lake Chelan Blueberry Streusel Bread
3 cups fresh or frozen blueberries
3 Tbsp. melted butter
3 cups milk
1/2 cup dark brown sugar
6 egg yolks
4 eggs
1 tsp. vanilla
Powdered sugar or maple syrup
Instructions
Preheat oven to 350 degrees. Spray a 9×13 pan with cooking spray. Pour melted butter into the 9×13 pan, coating the bottom entirely.

Layer the bread evenly in the pan. Pour the blueberries on top.

In a large mixing bowl, combine brown sugar, milk, egg yolks, whole eggs, and vanilla. Mix ingredients well.

Pour the egg mixture over the blueberries and bread.

Bake for 55 minutes, or until French toast has set and browned.

Served warm with 100% maple syrup. Optional to dust with powdered sugar.
More breakfast recipes: Banana French Toast (made in an Insta Pot)[Living Locurto], French Toast Roll Ups [Baker Mama], Baguette Ham Overnight Casserole [RE], Bluebery Coconut French Toast Bake [Well Plated], Peach Breakfast Cake [RE].
SaveSaveSaveSaveSaveSaveSaveSaveSaveSave
Hello and welcome to my home and table!
I'm Sandy—lover of food, family, cooking, THE BIG BOARD, travel, and bringing people together. Through great recipes and connection around the table, we become better, stronger, and more courageous people. Feasting on Life is real, and every time we do it, we grow a little more. Read more...