Easy Lasagna Recipe with Gnocchi + Dinner Menu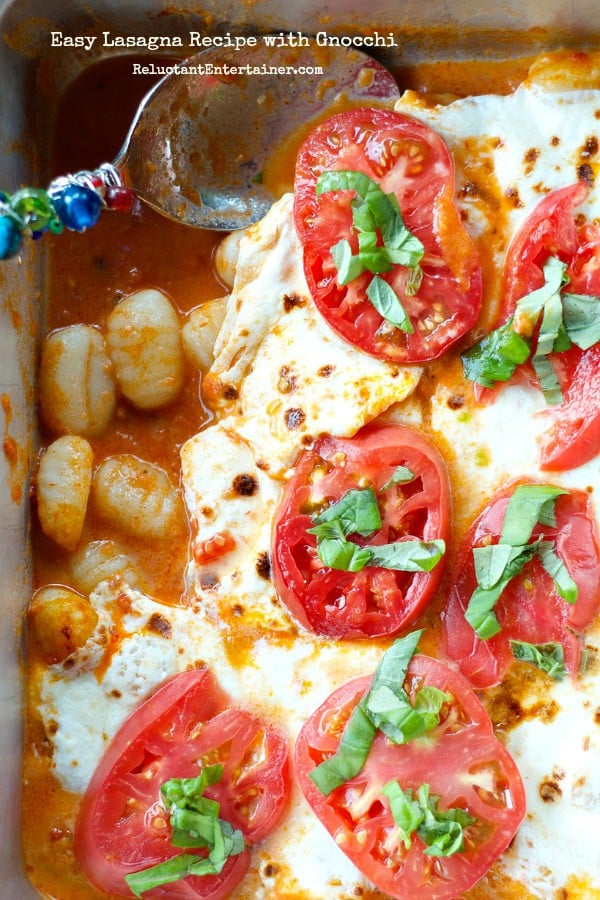 Lasagna is a wonderful food for its versatility, made with pasta, cheese, and sauce (sometimes meat or vegetables). Today I'm serving a different spin on the standard recipes: Easy Lasagna Recipe with Gnocchi. But the question is, is gnocchi a pasta or a dumpling? I've asked around and everyone has a different answer. So I went to the experts: DeLallo Foods, who I think has the best pasta around! (Plus, my entire menu is at the very bottom of this post.)
What is gnocchi?
Though descendants of Northern Italy, where heartier pastas reign, gnocchi have become a part of Italian cuisine—from north to south and everywhere in between. The word "gnocchi" (pronounced N'YAW-kee) has an unknown origin, but it's speculated to come from the Italian word nocca, meaning knuckle. Essentially, gnocchi are a form of dumplings, and, of course, not exclusive to Italy. But their light, airy texture and full potato flavor makes them a unique pasta with a long history in classic European cuisine. Even different regions of Italy have their respective versions, and before it was made with potatoes, gnocchi existed, but with different ingredients—breadcrumbs, squash, chestnut flour, egg and cheese, just to name a few. Gnocchi, being filling and inexpensive, were the perfect peasant food. For this reason, many parts of the world have made and appreciated dumplings for centuries. –DeLallo
I'm raising my hand here! Both sides of my family have special "family peasant food recipes" using dumplings!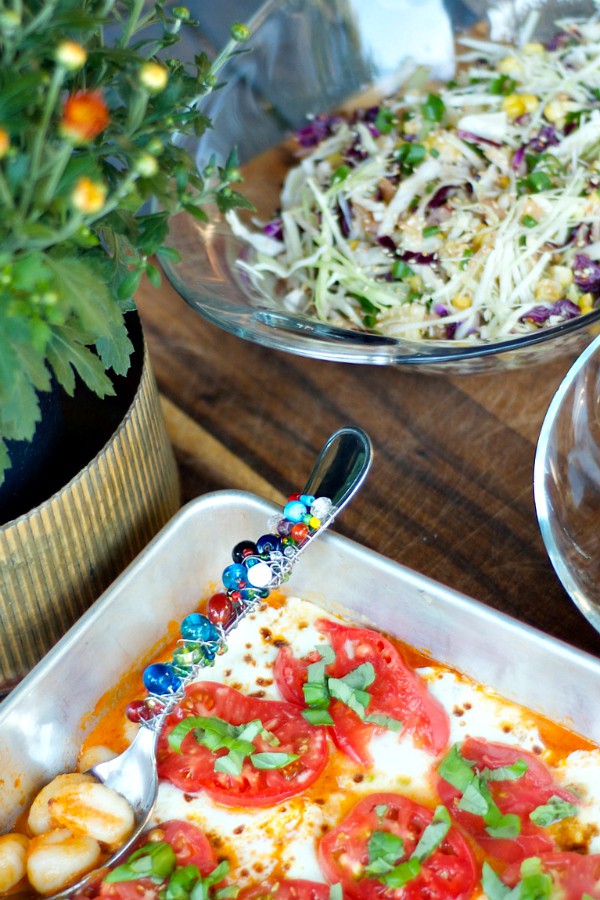 A few weeks ago I made a very simple recipe with 5 ingredients, and it was a BIG hit! I served it with a crock pot pork roast and this yummy corn slaw. It was so good!
5-Ingredients:
Gnocchi are an Italian pasta, pillowy little potato dumplings make for a hearty meal, I don't think you need that, cuz you just spent quite a bit of time defining gnocchi up above, and today I included a red sauce, fresh Mozzarella cheese, garden tomatoes and basil.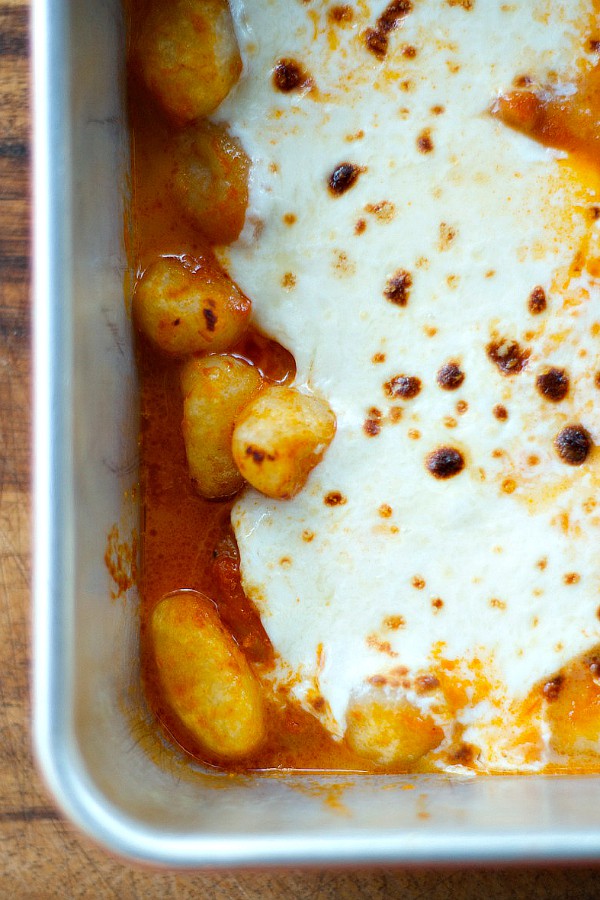 Our family sat around enjoying an early autumn meal in the backyard, with our pets, of course, with summer in every bite! We ended with Tillamook ice cream, 3 delicious flavors, happy and grateful to all be together for only a couple more weeks.
Hail to dumplings, pasta, family traditions, ice cream, and this easy gnocchi recipe today!
Do you consider gnocchi a pasta or a potato? Do you have a favorite recipe to make with it?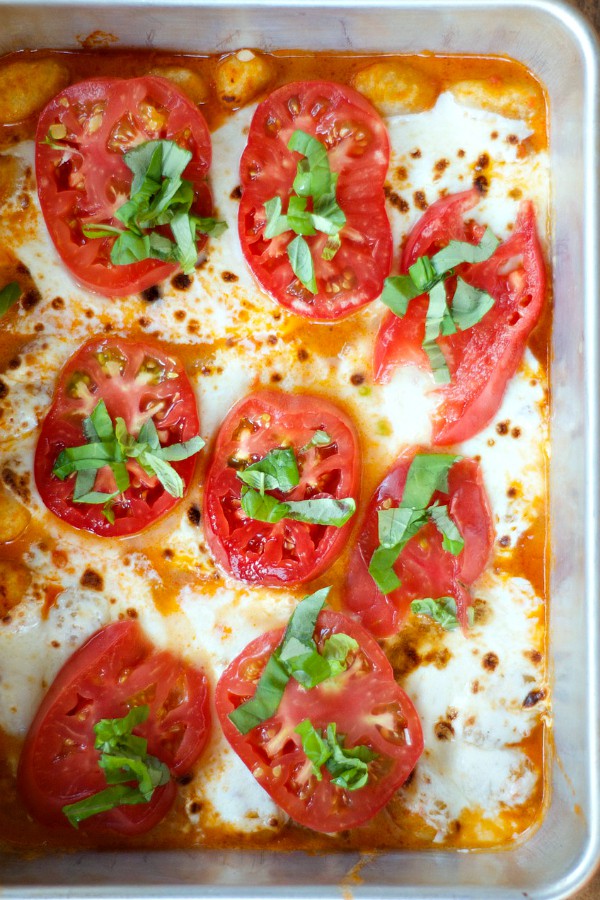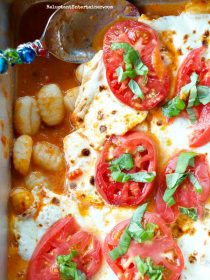 Get the Recipe: Easy Lasagna Recipe with Gnocchi
Ingredients
16 oz. package of gnocchi
25 oz. pasta sauce
16 oz. fresh mozzarella
1 handful basil leaves, torn
3-4 heirloom tomatoes
Salt and pepper
Instructions
Cook the gnocchi according to package directions; drain.

Prepare an 8×8 baking pan with cooking spray. In a medium pan, heat the gnocchi and pasta sauce; salt and peppering to taste.

Layer the mixture with torn pieces of mozzarella, ending with whole pieces of cheese.

Broil for 5-7 minutes, or until the cheese is melted, bubbly and golden.

Top the gnocchi lasagna with fresh basil and heirloom tomatoes.

Easy Menu:
THIS recipe today: Easy Lasagna Recipe with Gnocchi
Sweet Asian Slaw with Apple and Corn
Need dessert?
White and Dark Chocolate Pumpkin Cake
Are you following me on Instagram, Twitter, Facebook and Pinterest? Thanks being here today, and if you'd like to subscribe to Reluctant Entertainer, to have each post delivered straight to your e-mail box, then please add your email, here. It's really easy!
Hello and welcome to my home and table!
I'm Sandy—lover of food, family, cooking, THE BIG BOARD, travel, and bringing people together. Through great recipes and connection around the table, we become better, stronger, and more courageous people. Feasting on Life is real, and every time we do it, we grow a little more. Read more...