Easy Maple Ice Cream + Collin Street Bakery Apple Cinnamon Pecan Cake
This Easy Maple Ice Cream recipe is delicious to make ahead, freeze, and serve with a slice of Collin Street Bakery Apple Cinnamon Pecan Cake!
Friends, Happy November!
The season is here that brings us around outdoor fires, indoor dinner tables, and plenty of mingling (and munching) in the kitchen. Somewhere between the holiday drinks and the pumpkin pie, we rekindle, renew, enjoy family, and make new friends during the holidays! I say make new friends, because even though the holidays usually revolve around family, there's always room to make space for others. Life is short and unpredictable. Every day we can impact those around us – and invite new people into our lives!
Recently our friends Will and Michelle sent us a lovely Apple Cinnamon Pecan Cake to enjoy, from their Collin Street Bakery in Texas, who is known for their Texas Pecan Cakes! Check out the varieties, here.
As friends were coming to dinner, I set this adorable cake in the center of the table for a lovely fall centerpiece. Eventually, the cake did the talking … you should have heard the mm-m-m-m's and ah-h-h's around the table, as it became the topic of conversation.
I whipped up (literally) a very simple Maple Ice Cream recipe, and popped it in the freezer, and served it alongside the slivers of cake.
I say slivers, and let me tell you why.
Apple Cinnamon Pecan Cake.
The Apple Cinnamon Pecan Cake arrived in tip-top shape, perfectly baked and wrapped tightly, ready for entertaining!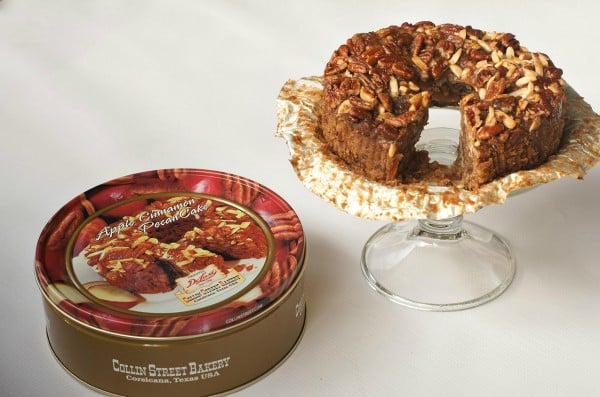 One of the things I learned about Collin Street Bakery is that they are one of the few kitchens in America that still bakes the old-fashioned way–a family-owned-and-operated bakery, specializing in the DeLuxe® Fruitcake for over 118 years. Each pie and cake is baked fresh to order, using their traditional recipes and fresh ingredients. For example, for this cake of unique honey batter, they use local fresh-shelled pecans, and chunks of apples from the state of Washington. Just before each cake is popped in the oven, it is hand-decorated with a generous topping of pecan halves and slivered almonds. I love that personal touch!
The cake is so moist and delicious, and comes in 2 sizes: one size that serves 16-20 guests, the other that serves 24-30 guests.
It also makes the perfect gift, as each cake arrives in a pretty keepsake tin.
Again, it's so rich and delicious, you only want to serve a sliver for each serving!
If you're doing a lot of entertaining this holiday season, you may want to consider a Collin Street cake, or even a pie. I seriously have never tasted a moister apple cake in my life! You can also keep it refrigerated, and it stays moist and delicious for months. But it will never last that long once your family gets a taste of it!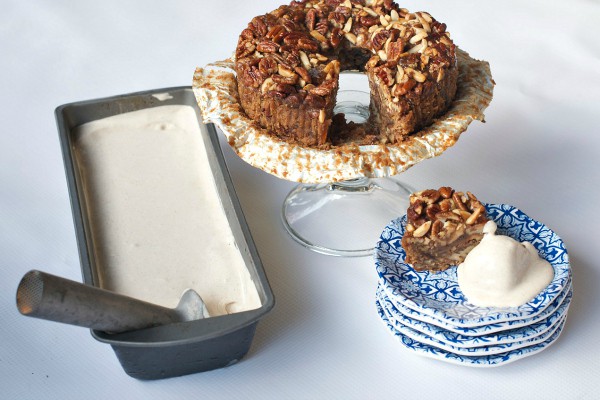 Easy Maple Ice Cream.
I served it with my no-churn Easy Maple Ice Cream recipe. Making your own ice cream only takes 10 minutes, and is one of my secret entertaining tips! This time I whipped the cream, added the maple extract and pumpkin pie spice and sweetened condensed milk, and placed it in the freezer. In six hours, it's ready to serve! The combination of flavors with the apples, pecans, and cinnamon in this cake … with creamy maple ice cream? Words can't express.
Collin Street Bakery.
Collin Street Bakery also specializes in native pies, luscious cheesecakes, cookies (no preservatives added to any of their products), and even coffee! Which, by the way, did you know that they are a family-owned and operated business? My friend Will is the 4th generation. I love stories like these. All of their products are guaranteed, if for any reason you are dissatisfied with your selection. Now that is great customer service!
I'm thinking about ordering several of these cakes for last-minute guests for the holidays, and for peace of mind, to make our entertaining one-step easier … knowing I can pull the dessert from the fridge and that it would be loved and devoured by all!
Free Shipping THIS WEEK.
Friends, Will and Michelle are also offering free shipping right now! Use this promotional keycode when you place your order. Keycode: 51yum1
This code is good for free shipping on online orders of $50 or more, Sunday through Friday this week (November 1-6, 2015).
Enjoy, and I hope you're all having a beautiful November day!
Easy Maple Ice Cream
Freeze in the loaf pan, covered, for up to 1 week.
Ingredients:
2 cups cold heavy cream
1 can (14 ounces) sweetened condensed milk
1 tsp. maple extract
2 tsp. Pumpkin Pie spice
Directions:
In a medium bowl, whisk together condensed milk, maple extract, and pumpkin pie spice.
In a large bowl, using an electric mixer, beat cream on high until stiff peaks form, 3 minutes.
Gently fold the condensed mixture into the whipped cream; lightly mix together with a spatula.
Pour into a loaf pan. Freeze until firm, for approximately 6 hours; serve!
All images and text ©
This post is sponsored by Collin Street Bakery.
Are you following me on Instagram, Twitter, Facebook and Pinterest? If you'd like to subscribe to Reluctant Entertainer, to have each post delivered straight to your e-mail box, then please add your email, here. It's really easy! Thanks for being here today!