The Comfort of Friendship and Easy Minestrone Soup Recipe
"Never underestimate the power of your words and deeds. With a few words, you can change a person's life. For better or for worse. God puts us all in each other's lives to impact on another in some way." -Joyce Meyer
When I think of the power of words, a few friends come to mind. They seem to always build others up and truly care about the lives of others, when realistically they could be negative and drowning in their own sorrows, worries, and hardships. But no … it's always positive and genuine. They seem to be … comforting.
I recently shared a bowl of minestrone soup with these friends. A comforting bowl of soup.
There's something about friendship + soup, both comforting and delicious at the same time.
I whipped up a new recipe that my sister told me about, adapted from Olive Garden, using what I already had in my kitchen. Which meant this time of year, no fresh zucchini.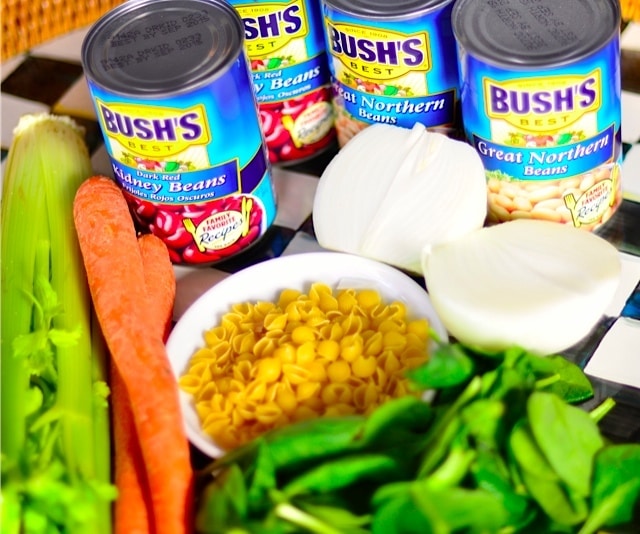 It was delicious! So good, I want to share it with you today!
An easy recipe to keep ingredients on hand for, and good enough for company, too!
So when it comes to provision, goodness, our health, so many blessings in life – I raise my hand to being more positive and comforting to those around me.
When's the last time you enjoyed a cup or bowl of soup with a friend?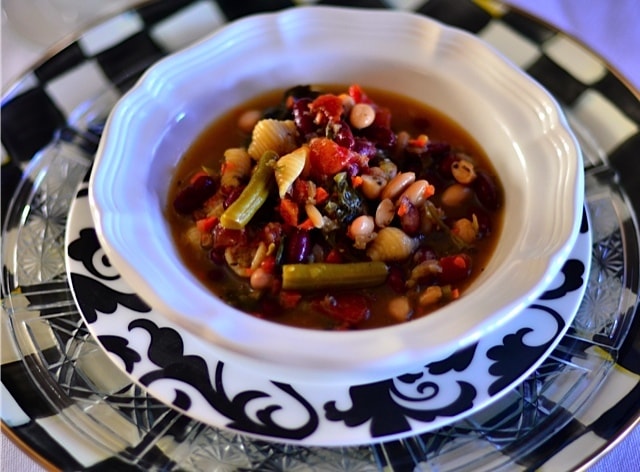 Get the Recipe: Minestrone Soup Recipe
Ingredients
3 tablespoons olive oil
1 medium minced white onion
1 can cut green beans
2 stalks minced celery
4 cloves minced garlic
4 cups vegetable broth
2 cans, 15 oz Bush's Beans kidney beans, drained
2 cans, 15 oz Bush's Beans great northern or small white beans, drained
1 can, 14 oz diced tomatoes
2 chopped carrots
2 tablespoons minced parsley
2 teaspoons dried oregano
3 teaspoons salt
1 teaspoon ground black pepper
1 teaspoon dried basil
3 cups hot water
4-5 cups fresh baby spinach
½ cup small shell pasta
Instructions
Measure olive oil into a large stock pot and heat on medium.

Put the onion, celery, garlic, and carrots into the pot and saute for about 5 minutes or until the onions become translucent.

Add the vegetable broth, drained tomatoes, beans, green beans, hot water and spices to the pot.

Bring to a boil and then reduce to a simmer for 20 minutes.

Add the spinach leaves and the pasta and cook for an additional 20 minutes.
Although I do have a blogging relationship with Bush's Beans, this post is not sponsored today. :)
Hello and welcome to my home and table!
I'm Sandy—lover of food, family, cooking, THE BIG BOARD, travel, and bringing people together. Through great recipes and connection around the table, we become better, stronger, and more courageous people. Feasting on Life is real, and every time we do it, we grow a little more. Read more...