BEST Easy White Bean Soup
This simple Easy White Bean Soup is a quick go-to recipe when you crave a good comfort soup. Add cannellini beans, and serve with baguette toasts!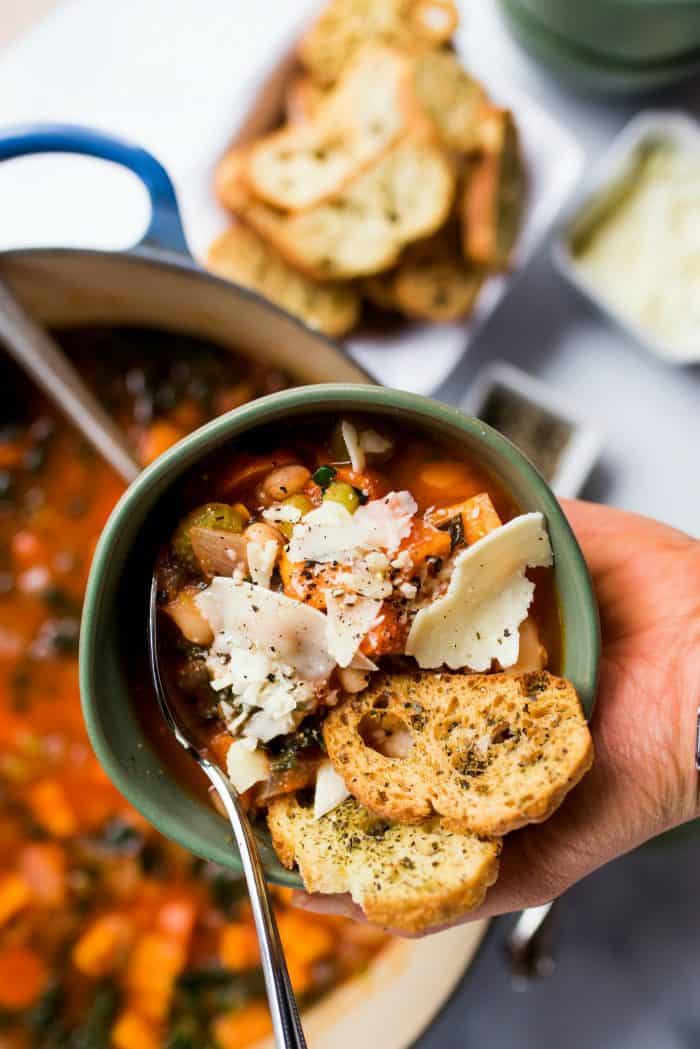 Just in time for winter, serve a hot bowl of Easy White Bean Soup for a simple lunch. It's vegetarian, full of delicious sautéed onion and carrot.
Easy White Bean Soup
Add cannellini beans, and don't forget the baguette toasts and Parmesan cheese! If you have a little more time on your hands, for sure make my BEST Clam Chowder or Cheeseburger Dill Pickle Soup Recipe, 2 comfort soups for sure!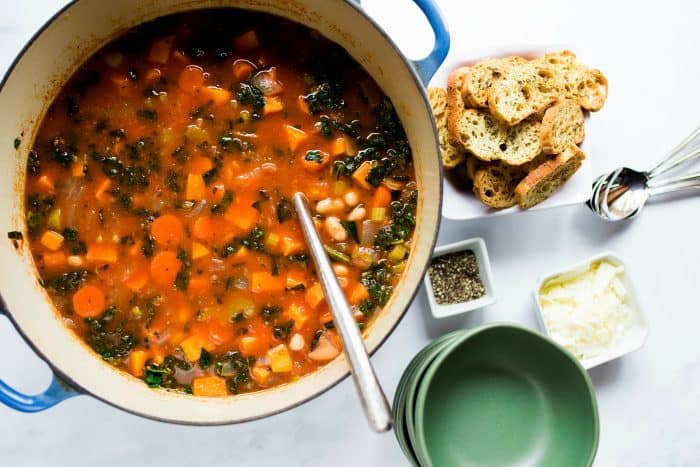 Friends, a hearty bean soup doesn't have to take hours to make. We love opening 2 cans of cannellini beans, because it cuts the cooking time down drastically. Let's get started!
Ingredients for White Bean Soup
Olive oil
Carrots
Sweet potatoes
Yellow onion
Vegetable stock
White pepper, kosher salt, oregano
Cannellini beans
Curly kale
Crushed tomatoes with basil
Parmesan cheese
Bag toasted whole-wheat baguette slices

How to you make a white bean kale soup?
In a Dutch oven, sauté onions and carrots for 7 minutes. I use my big Le Creuset pot.
Stir in stock, pepper, salt, and oregano, and bring to a boil. Reduce heat, and simmer 20 minutes.
Stir in beans, kale, tomatoes, and Parmesan cheese; let stand 5 minutes.
Serve with Parmesan cheese and crunchy baguette slices.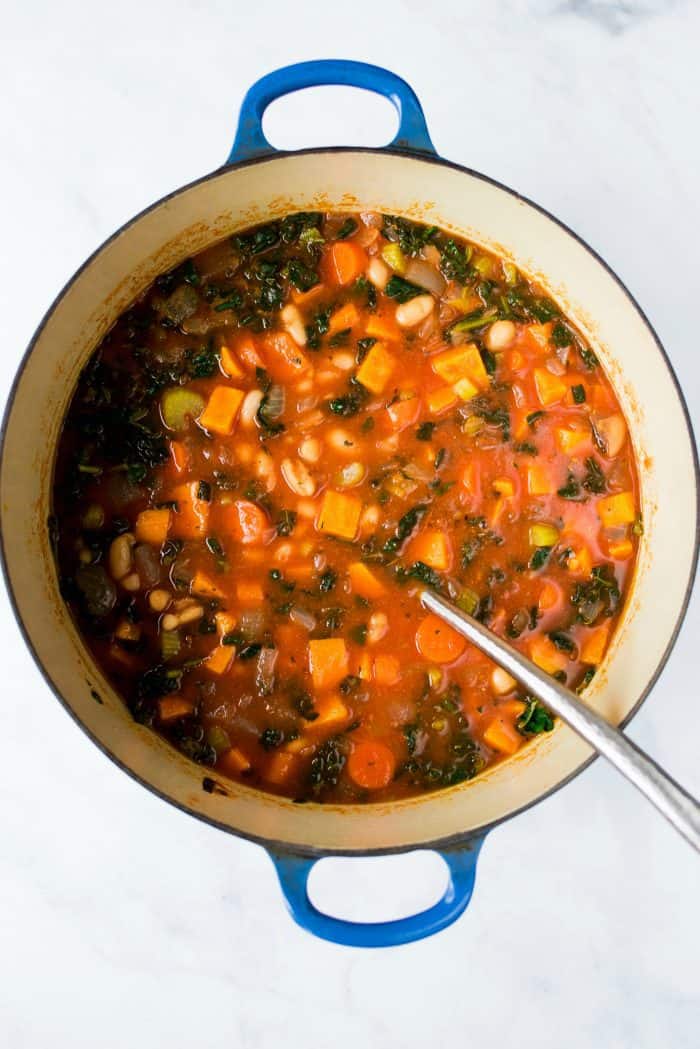 BEST Easy White Bean Soup
What I love about this soup is that it doesn't take long to make. And I say best, because it has sweet potatoes in the recipe! We're big sweet potato fans!
I am a huge fan of my Le Creuset Dutch Oven, incredibly useful for this recipe and many more!
It's also great as leftovers!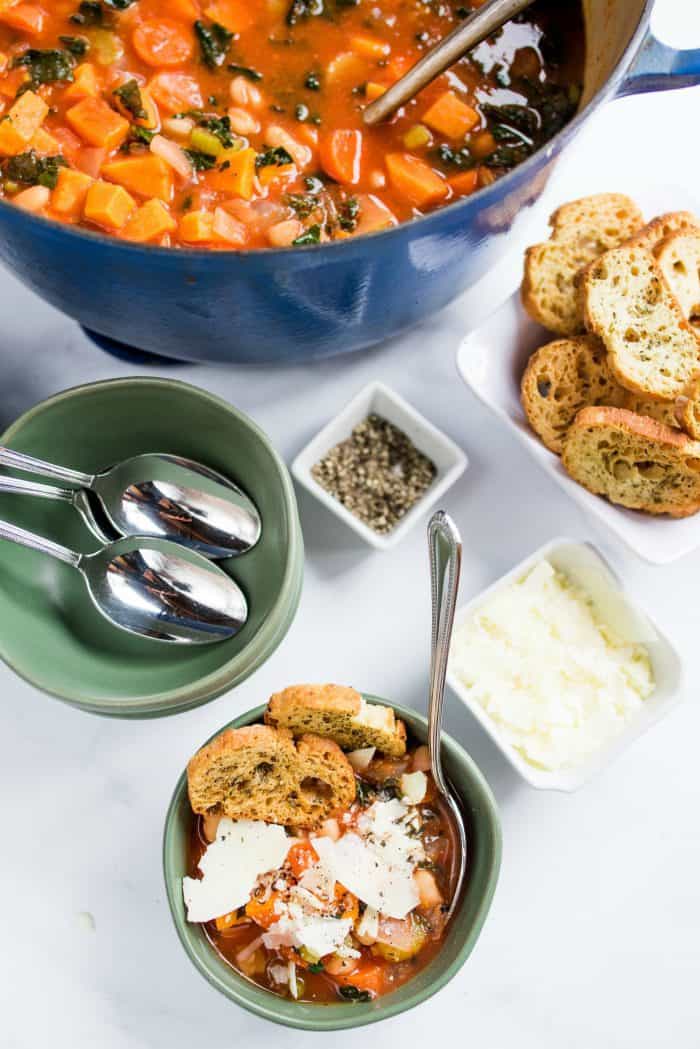 Our journey to Bend
Three years ago, we came to central Oregon for two weeks (in the snow) to see if we'd want to move here. I was more hesitant than Paul, to see if we could make this area work, to feel like home, a place that felt as rich and loving and supportive as the community we had back home in southern Oregon. It was a doubt that continued to enter my mind, but I faced my fears and finally said, "yes." Three years later, it brings tears to my eyes to see how much our move has changed my family and me.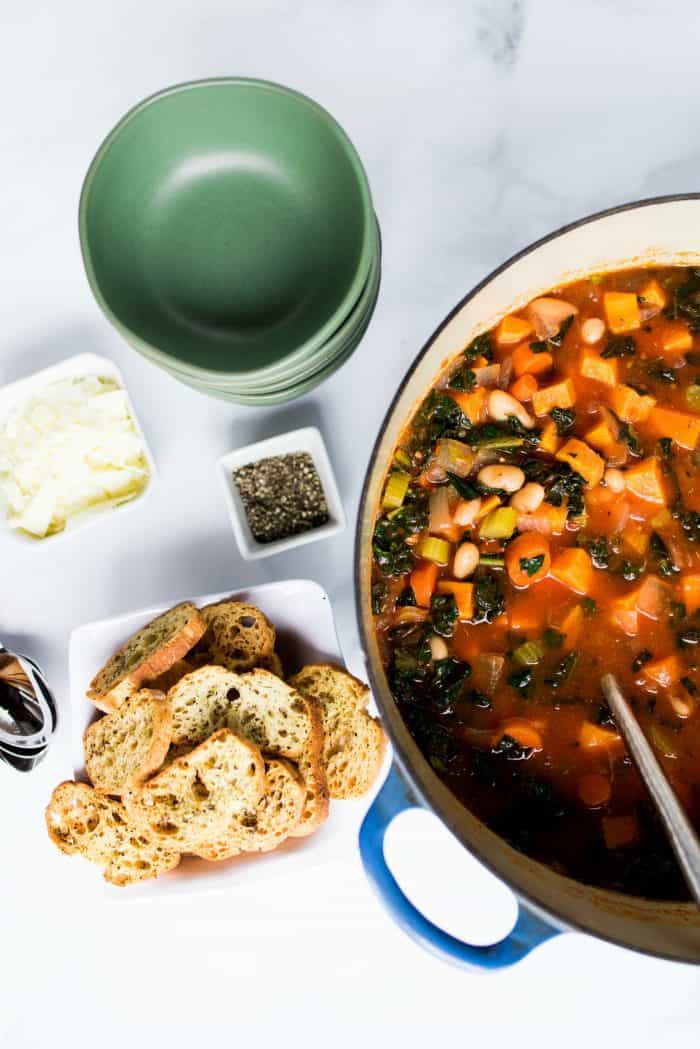 Although we will never stop missing our people back home, we have been surrounded by so much love and acceptance, and so many opportunities here. It takes time, when you move, to build that circle of friends who become your new tribe.
We hosted so many gatherings and dinners, I'd have to look back on my calendar to list each one.
We were also invited to many homes. Every single opportunity felt just right.
Does my life bring meaning and change?
Being challenged and asking myself this is so important: Does our daily living bring meaning and change to this world? Are we looking to people for happiness? Or looking inward for how we can make a difference? Are we judging and keeping a very narrow, almost insecure, selfish, and fearful perspective (thus never having anyone over)?
I don't know about you, but when we come across negative or fearful people, we can look away. Or, we can actually pray and ask for discernment and try to encourage others. It's way more satisfying to push past our pride (that we are better than the other person, or more wise, or fortunate).
Liberation comes from serving.
Back to moving here almost three years ago… it has definitely brought me out of my comfort zone.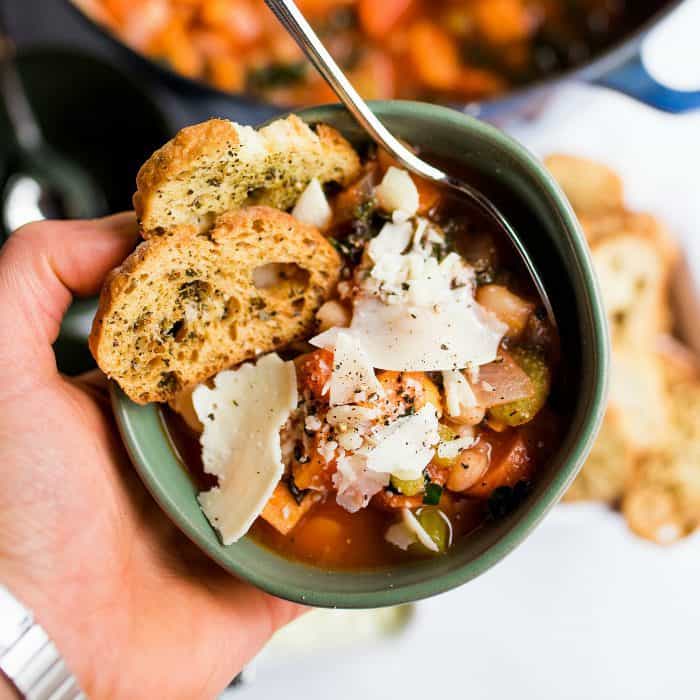 I'm reaching out this week to invite a few new ladies over for lunch. And serving a bowl of Healthy White Bean Vegetarian Soup is a great place to start.
Will you join me?
More white bean recipes:
White Bean and Roasted Mushroom Soup [She Wears Many Hats] and Crockpot White Chicken Chili [Well Plated].
Get the Recipe: Easy White Bean Soup
Ingredients
2-3 Tbsp. olive oil, divided
1 cup peeled chopped carrots
2 sweet potatoes, peeled and cut into small chunks
1 yellow onion, chopped
4 cups vegetable stock
1/2 tsp. white pepper
1 tsp. kosher salt
1 tsp. oregano
2 15-oz. cans unsalted cannellini beans, rinsed and drained
2 cups stemmed chopped curly kale
1 28 oz can crushed tomatoes, with basil
2 ounces Parmesan cheese, finely grated
1 small bag toasted whole-wheat baguette slices
Instructions
Heat 2 teaspoons oil in a Dutch oven over medium-high heat. Add carrots, sweet potatoes, and onion; sauté 7 minutes. Stir in stock, 1 cup water, pepper, salt, and oregano and bring to a boil. Reduce heat, and simmer 20 minutes.

Stir in beans, kale, tomatoes, and Parmesan cheese; let stand 5 minutes.

Serve with baguette pieces on top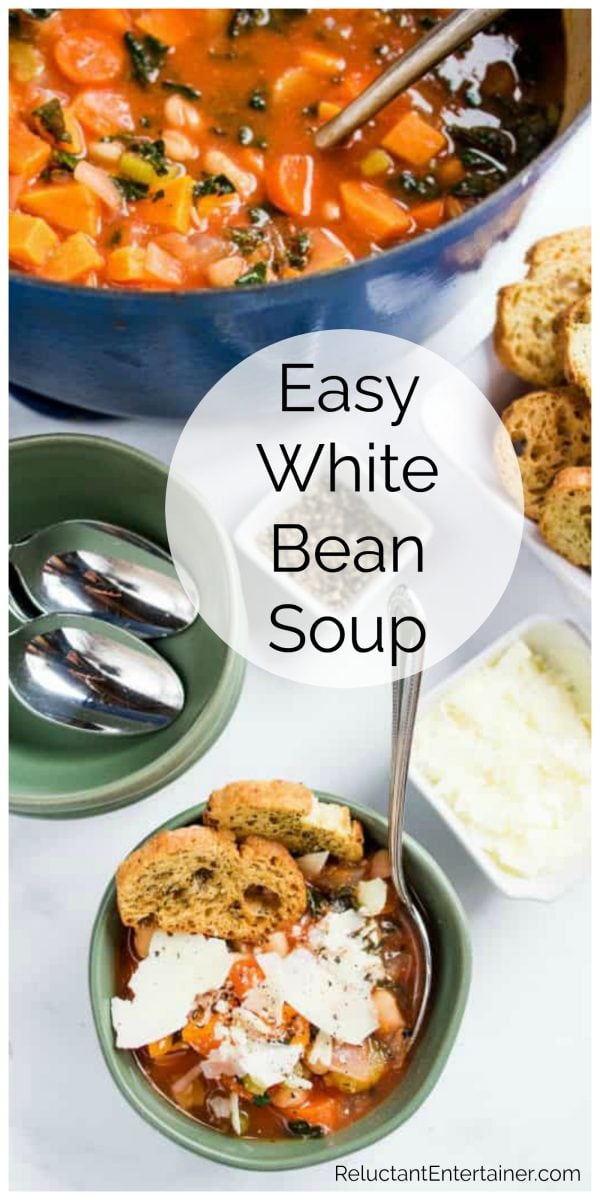 Hello and welcome to my home and table!
I'm Sandy—lover of food, family, cooking, THE BIG BOARD, travel, and bringing people together. Through great recipes and connection around the table, we become better, stronger, and more courageous people. Feasting on Life is real, and every time we do it, we grow a little more. Read more...