Cheeseburger Dill Pickle Soup Recipe
This Cheeseburger Dill Pickle Soup Recipe is a fun, easy potluck or soup night dish, made with DeLallo's whole grain pasta and Pomodoro Fresco sauce!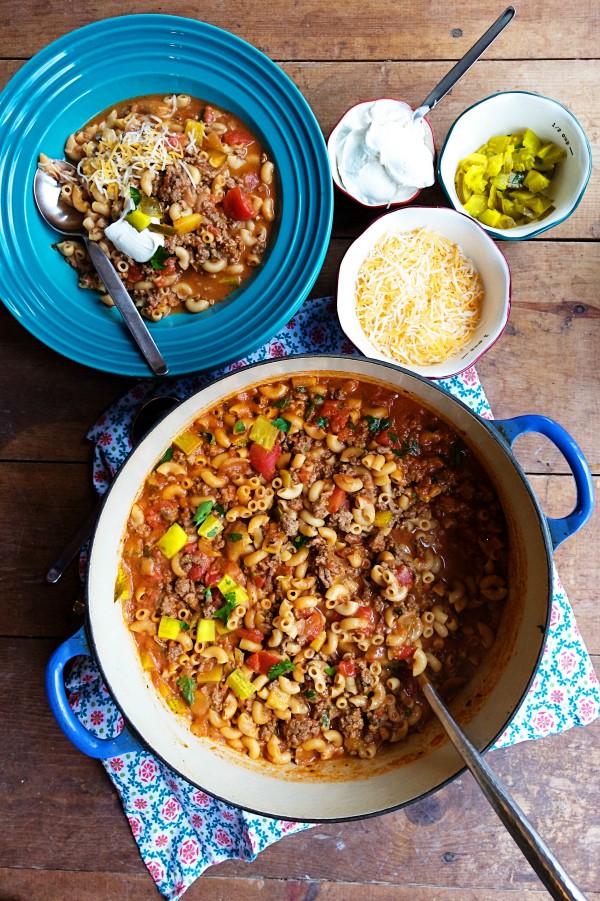 Friends, have you thought about why you like to entertain a certain way, and not another? Today I'm sharing a super fun, Cheeseburger Dill Pickle Soup Recipe, for EASY hosting!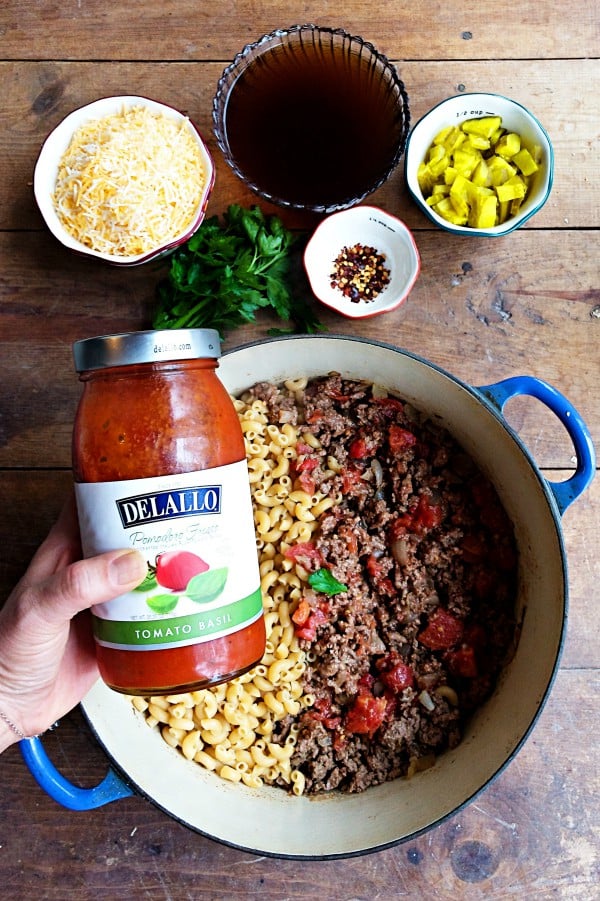 My hosting style has changed over the years, and now in our new cozy mountain home, I'm loving a more casual style of entertaining.
4 personalities, entertaining styles
When I think of the 4 personality types, the hospitality environment is different for all of us. Florence Littauer was the author of many books that I read on the personality types years ago. Now it's all about the Enneagram, with 9 personalities!
Today I'm summing up hosting with just 4!
Melancholy/Blue
You're not spontaneous, and you have to be in control with the guest list, decorations, menu, and the conversation, with assigned seating! (Yup, been there!)
You're sensitive to how things turn out–flavor of food, décor, if people enjoyed themselves–and you have a tendency to over-personalize the outcome, if there is a problem.
This type of personality does entertaining well, because it's so thought out–colors, smells, the greeting–everything is magnificent! (Which can cause a bit of stress.)
Choleric/Red
This person definitely has a sense of being in charge, from beginning to end. Being a visionary, you can see (and do) the entire party by yourself. You're driven by excellence!
But you're not opposed to delegating (handing off chores), and can even be a bit bossy.
You are a person who has very high standards, and might even be a bit competitive when it comes to activities (games, conversation), and even the people you hang out with (welcoming guests who are similar in taste, background, outlook).
Phlegmatic/Green
This hostess is very pleasant, everyone loves you, and you have a ton of friends who enjoy your company.
Being an introvert, you may be less organized and prepared for the event, and feel a little frazzled when company arrives. Let's just say, you're a last-minute planner.
You love sitting around the table, engaging in good conversation, but would panic if there was any discomfort or controversial subjects discussed. Guest's may get up to do the dishes, which you're okay with. You do not always have to be in charge!
Sanguine/Yellow
You are super bouncy, fun, and friendly to everyone. No one is a stranger. In fact, come one, come all. The more the merrier! You're very creative with ideas, meals, décor, games, discussion points.
You see everyone's needs and jump in to help, being sensitive to each person, and engaging with the quieter ones during the meal. (You're an excellent conversationalist:) Now you can be a bit scattered, when throwing a party together (bad time management), but you are impulsive and adventurous with your ideas.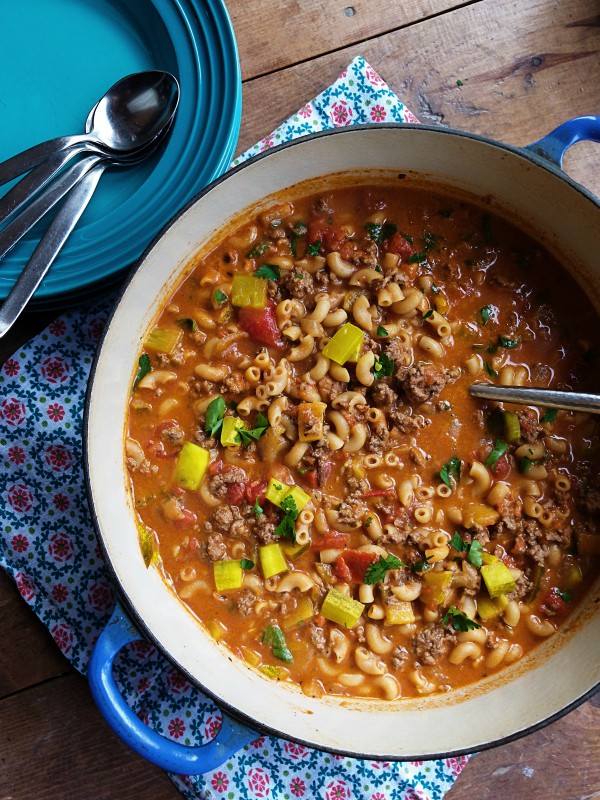 What category do you fall under, friends?
My personality falls under the yellow/red, which is why I love to host, and a sit-down dinner is alright by me! :)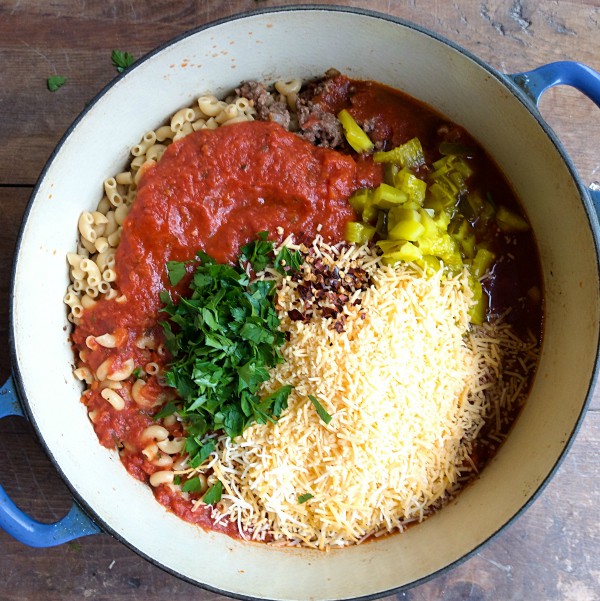 Cheeseburger Dill Pickle Soup Recipe
If you are planning a casual dinner anytime soon, hosting a soup night is super easy. You make one pot of soup, serve bread and drinks – BAM!
We love Cheeseburger Dill Pickle Soup Recipe! Dill pickles? Why, yes. My friend, Cathy, at Noble Pig, has a creamy dill pickle soup recipe, and also a dill pickle butter (what?? yum!) We also love my Golden Rice Salad, made with dill pickles (sort of like potato salad!), and speaking of potato salad, you'll have to try my Best Potato Salad (with bread and butter pickles, but you can certainly use dill pickles).
This recipe is made with DeLallo Food's Elbows pasta and Tomato Basil Pomodoro Fresco sauce, it's a hearty soup that tastes just like a cheeseburger!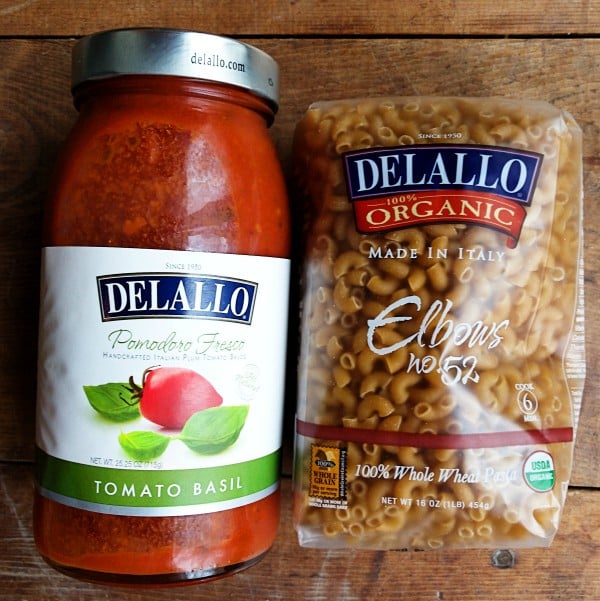 Serve it with your favorite toppings!
Soup Night is a great way to make your guests feel welcome and relaxed.
Time to get a date on the calendar and make that invite!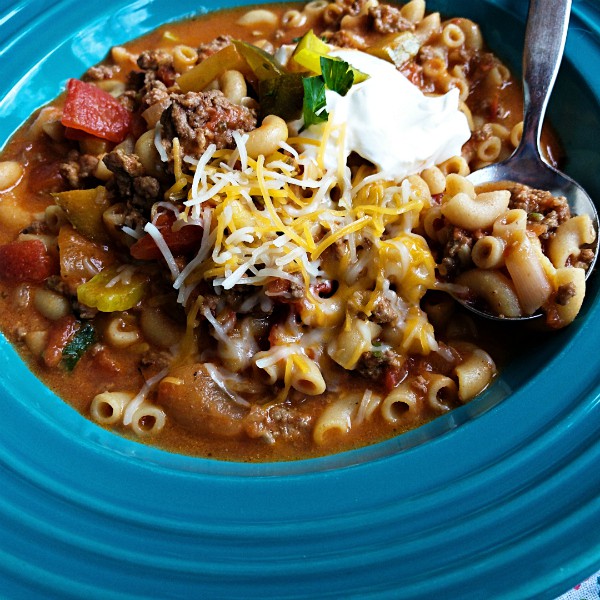 Print Recipe
Cheeseburger Dill Pickle Soup Recipe
Ingredients
2

pounds

ground beef

2

Tbsp.

olive oil

1

onion

diced

1/2

tsp.

garlic powder

1/2

tsp.

onion powder

1

tsp.

kosher salt

1

tsp.

ground black pepper

1

Tbsp.

dried parsley flakes

2

Tbsp.

yellow mustard

2

Tbsp.

red pepper flakes

1 25

ounce

DeLallo Pomodoro Fresco Sauce

Tomato Basil (or your favorite flavor)

32

ounces

beef broth

14.5

ounce

can diced tomatoes

16

ounce

DeLallo Whole Wheat Pasta Elbows

1 6 ounce jar Dill Pickles, diced

8

ounces

shredded cheddar cheese

Garnish: shredded cheese

sour cream, diced pickles
Instructions
In a large frying pan over medium heat, add ground beef. Break apart beef and cook until browned. Use a slotted spoon to transfer ground beef to a bowl or plate; cover and set aside.

Add olive oil to pan. Add the diced onion; cook, stirring occasionally, for 3-4 minutes. Add garlic, salt and pepper; continue to cook, stirring constantly, for 1 minute. Add dried parsley, yellow mustard, and red pepper flakes; stir.

Boil a large pot of water; cook macaroni according to package directions. (Undercook the pasta 1-2 minutes, el dente); drain.

Add to the beef mixture DeLallo sauce, beef broth, diced tomatoes (undrained), cooked pasta, pickles, and cheese. Cook for 2-3 minutes on medium heat; stir well and serve. (Optional: you can add in the pickle juice if you want more pickle flavor.)

Garnish with shredded cheese, sour cream, and diced pickles.
This post is sponsored by DeLallo Foods, which I love cooking with their products; but as always, all opinions are my own.