Epic VEGAN Hummus Board
Just in time for the weekend, here's a delicious Epic VEGAN Hummus Board for a fun party! Serve with dips, veggies, and Vegan chips and pita bread.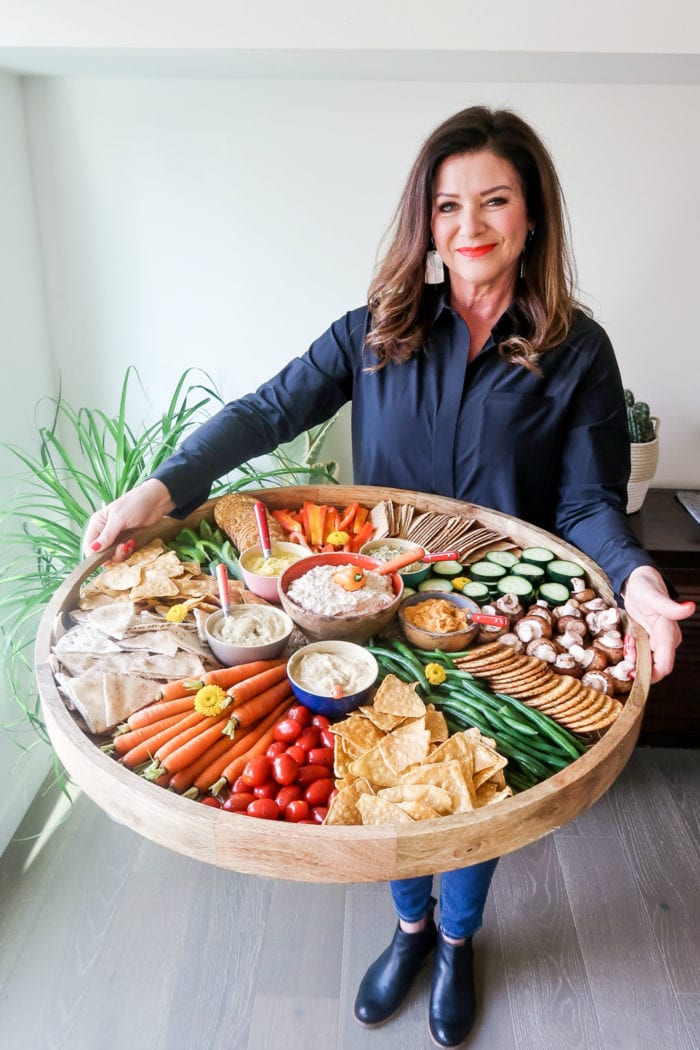 Friends, I can't tell you how many times I've been asked over on Instagram @ReluctantEntertainer, when am I making a vegan board?
Epic VEGAN Hummus Board
Well, a few weeks ago, we knew that a few friends were vegan, and a few friends loved hummus! SO, we put this board together to please everyone at the party! In fact, grab all the big board ideas here on my blog.
But honestly, I don't do boards simply to please people. The beauty of making EPIC boards is that there is usually a little something on the board for everyone!
By the way, here's to celebrating 150,000 followers on Instagram this week! I'm humbled and grateful for my little community over there! Thank you if you follow me over there, with all my stories on life, food, the Whoodle, outdoors, sprinter van, and our fixer upper!
Also for a quick appetizer (put together in less than 10 minutes), you can serve my Epic Chips and Dips Board or this smaller Charcuterie Board.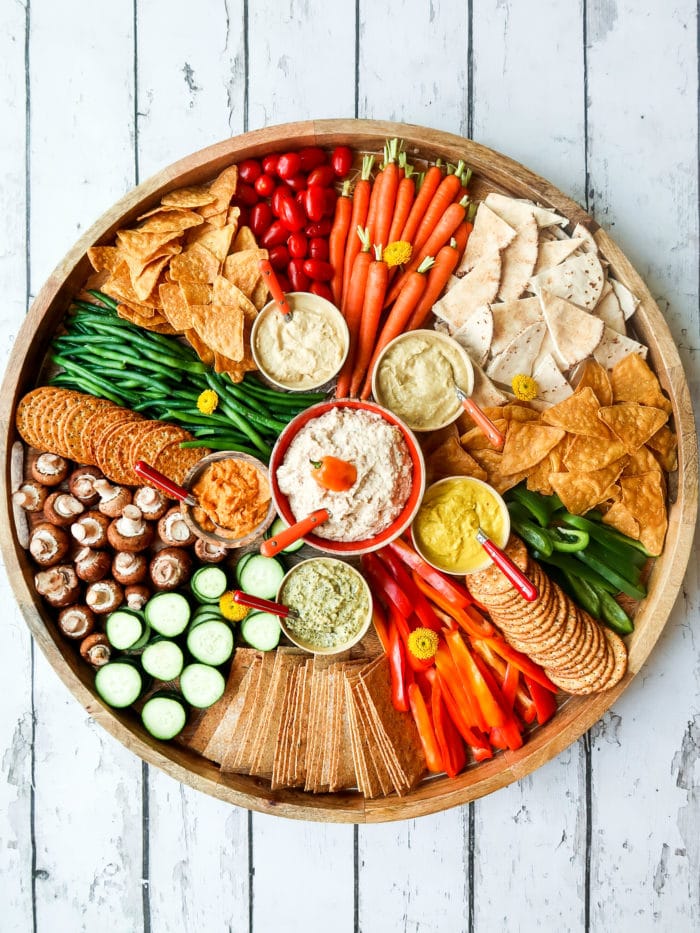 What's the size of the board?
This is the biggest board that I have, with a lip around it so the food does not fall off. It's 28 inches but no longer available, which is why I came out with my own line. A board that is also food safe! [INFO BELOW]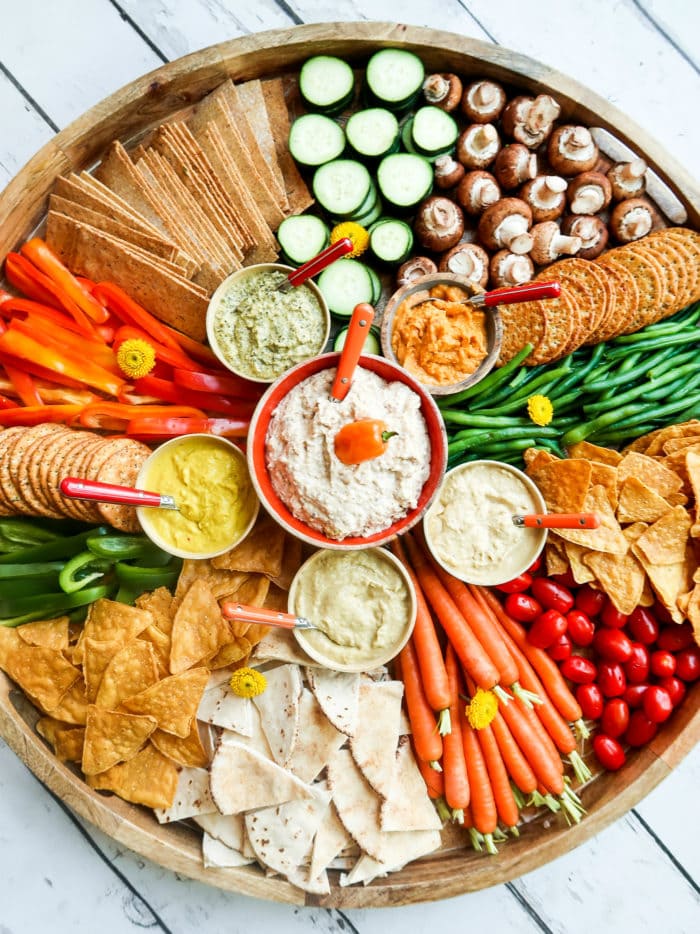 How many does this board feed?
I get asked all the time, how many does this board feed? ACK! This is a hard question!
The truth is that it depends on many factors!
Is the board going to be the entire meal for the party?
Are guests bringing other dishes?
Is it a snack board, or a dinner board? What will the side dishes be?
Is is just a grazing board?

Ingredients for a vegan board
We bought 8 oz tubs of HOPE hummus brand from Fred Meyer (Kroegers): Thai Coconut Curry Hummus, Kale Pesto hummus, Spicy Avocado Hummus, and Cashew & Almond Dip (Costco). Then we added Trader Joe's Buffalo Style Hummus!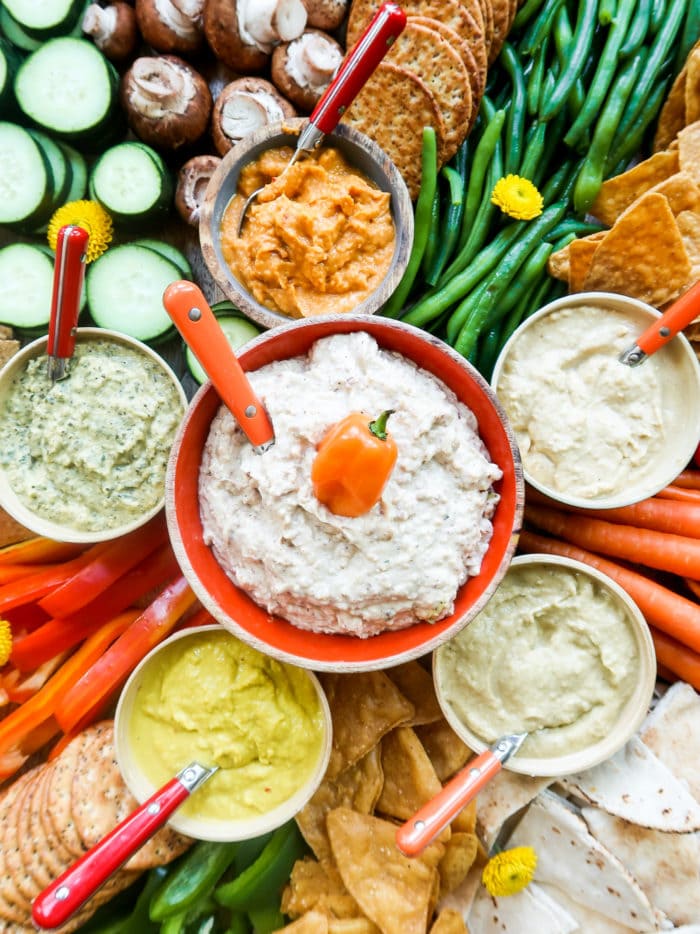 Veggies included: Mixed colored peppers, cucumbers, organic carrots, blanched green beans, baby tomatoes, and baby bella mushrooms.
I was so happy to find at Kroger a small freezer by the bakery that had a bunch of vegan foods! So I picked up B-Free Pita Breads (frozen), and added Trader Joe's multigrain crackers, baked Mediterranean crackers, and sweet potato corn chips!
If you want, garnish with little flowers (but totally optional).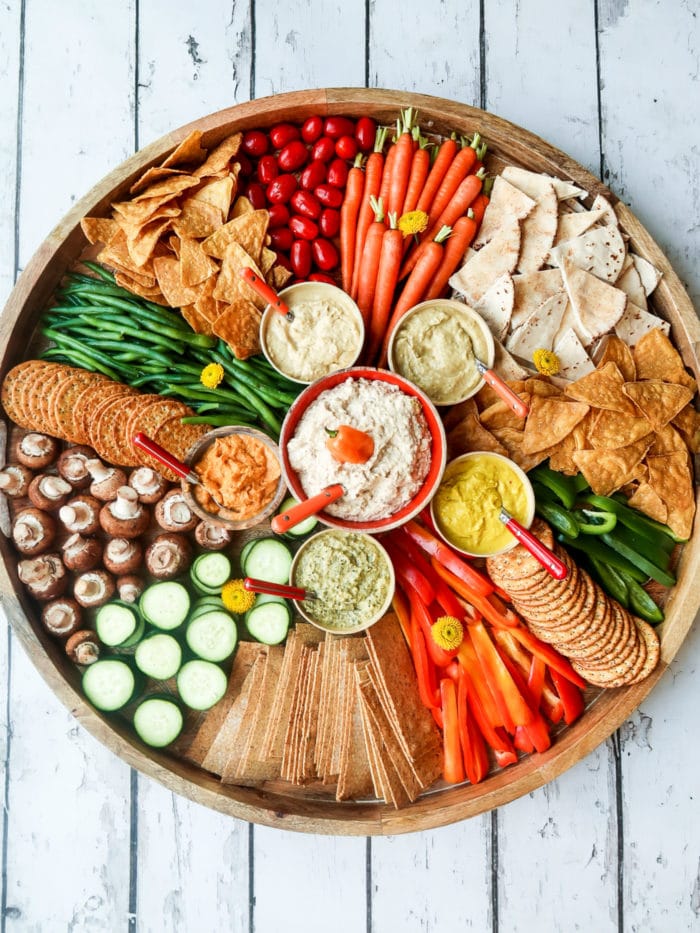 Don't worry about perfect
The bottom line for making a specialty board (let's say gluten free, vegan or vegetarian), is don't worry that things have to be PERFECT.
What I have found is that people really appreciate the effort.
Hosting is not about perfection for me, it's about connection and bringing people together!
Happy hosting!
Friends, The Big Board is here! Yes, I've partnered with JK Adams, the premier woodmaking company in Vermont, with my own line of RE boards!
20-inch
26-inch
12 x 36 inches – I LOVE this size!
A board with a lip (or raised edged) so the food doesn't fall off
FOOD SAFE
Made in the USA
Undercut handles (a unique design)
Thank you for your support, as we've sold out so many times already!
Order The Big Board today!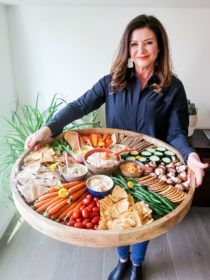 Get the Recipe: Epic VEGAN Hummus Board
Ingredients
8 oz tubs HOPE Thai Coconut Curry Hummus
8 oz tub Kale Pesto Hummus
8 oz tub Spicy Avocado Hummus
Cashew & Almond Dip, Costco
Trader Joe's Buffalo Style Hummus
Colored bell peppers
Cucumbers
Organic carrots
Blanched green beans
Baby tomatoes
Baby bella mushrooms
2 pkg "B-Free" Pita Breads
2 pkg Trader Joe's multigrain crackers
1 pkg Mediterranean baked crackers
1 pkg sweet potato corn chips, Kroger
flowers for garnish, totally optional
Instructions
Fill small bowls with the hummus and arrange on epic prepared board.

Arrange the veggies and chips around the small bowls.
Hello and welcome to my home and table!
I'm Sandy—lover of food, family, cooking, THE BIG BOARD, travel, and bringing people together. Through great recipes and connection around the table, we become better, stronger, and more courageous people. Feasting on Life is real, and every time we do it, we grow a little more. Read more...