Feast on Life with Beet Brie Crostini
This Beet Brie Crostini is a delicious springtime appetizer to bring to a party!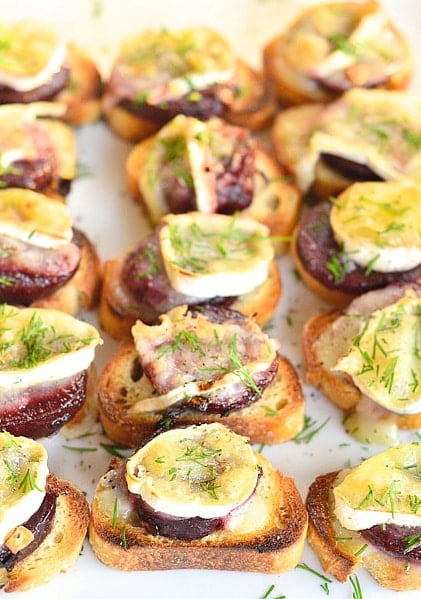 Being a seasoned hostess of 22 years, I've learned that hosting a dinner party means creating community around the table. We all know that it's not only about the food being served, it's about what happens while we're eating—or what my new tag line—feasting on life.
Feasting on Life (my new tagline here at RE) is when we allow people to open up and share more about themselves. (My motto: It's about them. Not about us :) )
Feasting on Life is about strengthening new friendships, and reconnecting with the old.
Feasting on Life makes me teary as I think about the intimacy that takes place, where … life just happens.
Feasting on Life is the goal of practicing hospitality, and making it intentional.
Feasting on Life sometimes involves chaos, particularly when children are involved, which makes it even sweeter.
Feasting on Life becomes even more complex, with trust and love, when food allergies are thrown into the mix.
Feasting on Life is not about being so busy planning, serving, and making things perfect, that you miss out on the guests, or even family time.
Feasting on Life is about eating from the garden, the very food harvested, served to our dinner guests as a fine gift.
We take in the food, chew it, and as quickly as we ingest, our thoughts are flowing back out. Through food and connection, we usually become better and stronger and more courageous people.
I say usually, because not every single act of eating with others is as pleasurable as others. Do you agree?
It's so beautiful to dine with people you love, and quite honestly, it could make any delicious meal taste horrible, to dine with people you don't like. This is a real, very painful subject for some people, and we've all experienced it. It's where grace and love join together, with a little tempering of the tongue, and you make it through the meal.
Hospitality isn't always easy, but it can benefit our difficult guests and our own character when we do it anyway, with a heart for God, with heart-filled effort. A hard night with bad people can still be a "beautiful experience" if it accomplishes God's purposes. We don't know how we possibly may have touched their lives in a positive way.
Feasting on Life is when our guests come empty-handed, or with a dish, and they bring their story. It all begins the moment our front door (or side gate) is opened …
A dinner party happens when we bring all of these elements to the table, creating what we call "community." It's when we share the common life together—feast on life— that includes beauty, but also joys and pains.
Feasting on Life is real, and every time we do it, we we grow a little more.
When is the last time you put effort into inviting someone into your home to share a meal with your family?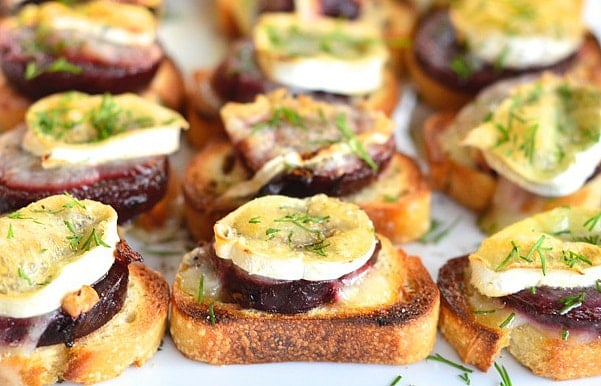 Friends, it's almost beet season! I can hardly wait – but until then, in almost any grocery store now, you can buy little packets of already roasted baby beets! They are perfect for salad, roasted vegetables, hummus, appetizers … just like this delicious simple recipe I'm sharing with you today.
Enjoy and be inspired with the guests you serve it to!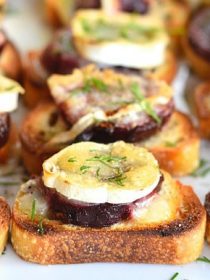 Get the Recipe: Beet Brie Crostini
Ingredients
1 loaf baguette bread, thinnly sliced
1/2 cup mixture chopped onions, shallots, garlic (or just garlic)
4 tbsp. extra virgin olive oil
8 oz. package beets, cut into thick wedges
4 oz. brie, cut into slices
Fresh dill, finely chopped
Instructions
Preheat the oven broiler and then toast the baguette slices on one side.

Heat 2 Tbsp. olive oil in a medium-hot pan, sauteeing the mixed onions, shallots, and garlic.

Rub the untoasted side of bread with the remaining 2 tbsp. of olive oil, sprinkling with the onion mixture.

Arrange the beet slices on the untoasted side of the bread, topping with a slice of brie.

Broil until the cheese is hot and bubbling. Serve immediately as an appetizer, or as a side with a salad.
Hello and welcome to my home and table!
I'm Sandy—lover of food, family, cooking, THE BIG BOARD, travel, and bringing people together. Through great recipes and connection around the table, we become better, stronger, and more courageous people. Feasting on Life is real, and every time we do it, we grow a little more. Read more...