Canning Jam Part 5: Flipping the Jar Over to Seal the Jam Method
Canning Jam Part 5: Flipping the Jar Over to Seal the Jam Method is used by many, but a disclaimer shows, this "bottled" method may not always be safe!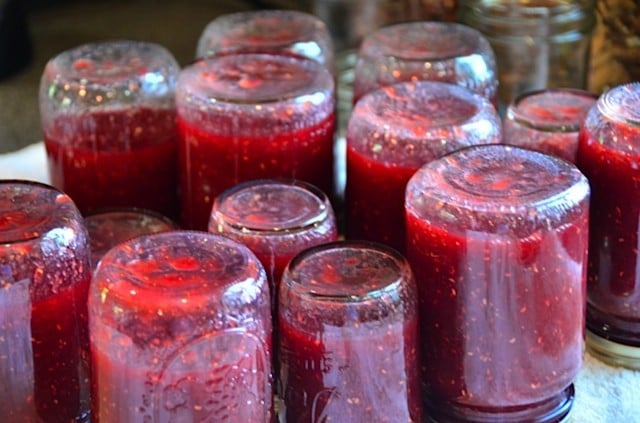 Disclaimer: New studies have shown this "bottled" method is not safe. Visit the canning experts for any questions you may have on inversion canning. To be safe, if you use this method, refridgerate and eat it right away!
Last post, I shared our family's favorite jam combination and recipe, using both strawberries and raspberries right from our garden.
This post I'm sharing how the method of "Flipping the Jar Over to Seal the Jam Method" works beautifully, effectively and quickly.*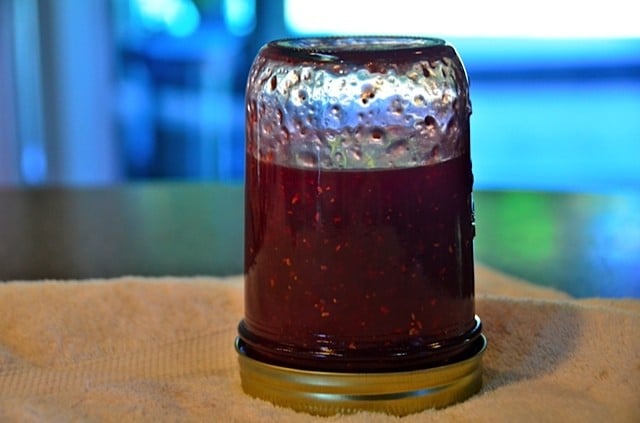 Flipping the Jar Over to Seal the Jam Method
How to Flip and Seal the Jars
1. When you've completed the recipe and the jam is boiling for the last time, you're now ready to fill the jars.
2. Using a funnel, ladle the jam into the jars.
3. Take a clean, hot towel and wipe the rim of the jar to remove any residue.
4. Place a sterile lid on the jar.
5. Place a ring around the lid/jar tightly.
6. Immediately flip the jar upside down.
7. Allow the jars to sit in this position for 30-40 minutes.
8. Flip the jar back over and put your finger in the middle. If it pops, the jar is not sealed. Flip the jar back over until it is sealed.
9. When the lid does not pop, or move up and down, then the jar is sealed.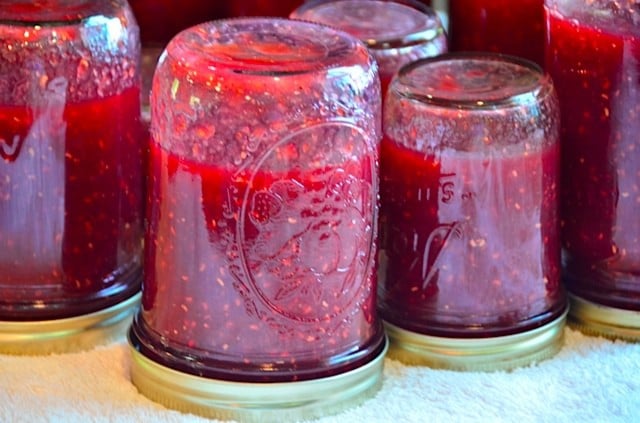 *Here's a disclaimer: canning websites and books don't recommend this method; they recommend you use a full hot-water bath for canning jam. I prefer this "bottled"method for jams and jellies only, to be eaten right away, exactly the way my Mother and Grandmother taught me.
Ball recommends against it for seal quality reasons. They say, "Do not invert, move or store jars while cooling, as this may cause seal failure."
For any other type of canning (besides jams and jellies)–vegetables, pickles, tomato sauces, fruit, etc.–process exactly according to current food safety recommendations for canning.
Sealing tip
When I can (bottle) jams and jellies, if the lid doesn't seal, refrigerate and eat as soon as possible. There will be nothing wrong with the food, so don't throw it out, but it must be refrigerated and used soon.
Here's our jam on a yummy breakfast treat … Hootenanny (recipe in my book.)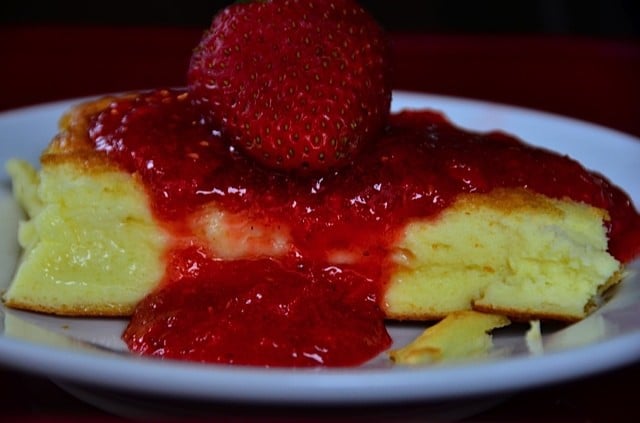 Thank you for joining me this week in my 5-Part Canning Jam series. It's been really fun reading your comments. So many of you have very similar stories of learning to make jam the way I did!
If you missed …
Canning Jam Part 1: How to find you passion and get started
Canning Jam Part 2: Supplies you will need for canning
Canning Jam Part 3: Getting your family involved in canning
Canning Jam Part 4: Strawberry Raspberry Jam Recipe
Canning Jam Part 5: Using the "Flip-Over" Method to Seal the Jar