Courage and Flourless Date Chocolate Cake
This Flourless Date Chocolate Cake is delicious for any holiday!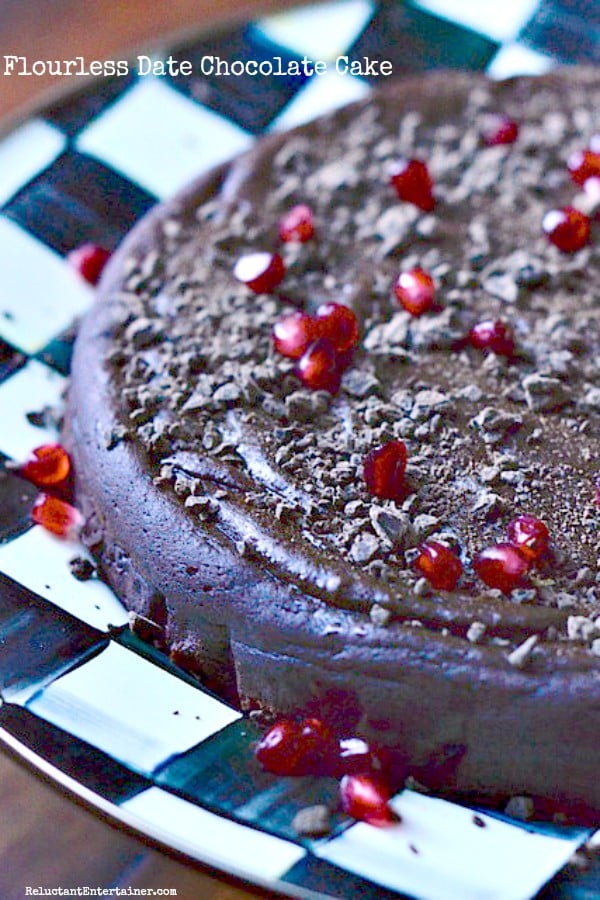 I think about people this time of year. Shopping, gift giving, opening our homes for gatherings and dinners, and the courage that it takes for some of us to even face this holiday. For many the holidays are painful and dreaded, so it takes effort to coordinate the schedules, be vulnerable with possibly inviting those you're not crazy about, and extending good cheer and happiness when you don't really feel like it. For me, I love this time of year. I love planning different events with different groups of friends and family. But just because entertaining comes easy to me doesn't mean I don't feel the losses, hardships, divorces, and sadness that some of my friends are facing this holiday season.
I'm reminded of Anne Lamott's words:
"People say you can't have faith and fear at the same time. But you can. I'm exhibit A. I prefer to think, Couarge is fear that has said its prayers. So I said my prayers: Help, help, help."
I wrote in a few posts back how I didn't decorate the tree this year, instead choosing to display just its tiny white lights. I wondered who all would even notice, but as the front door began to open, in the background our neighbor, who was delivering a gift to our family over the weekend, could see tiny white lights on the tree, said, Oh, I love the white lights on the tree.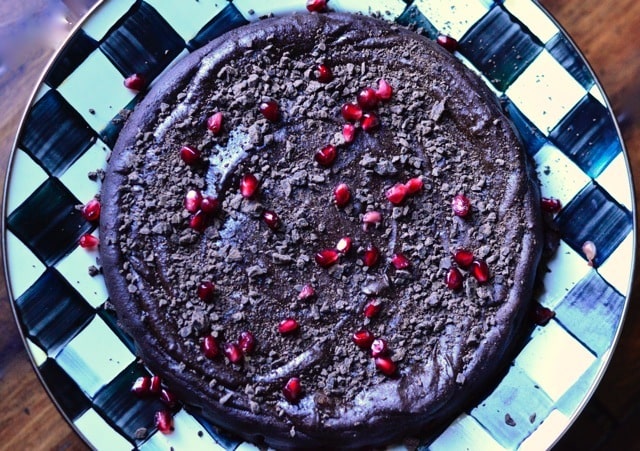 As I sit in the living room in the early mornings, coffee in one hand, gazing into the tree, I think about my friends and people who are hurting. Christmas has come to bring joy to the world, and peace to mankind. It reminds me to pray, for not only myself and my family, but for others in this world who need courage – and help, help, help!
Thinking of my love for those people in our lives, who overcome to do things when they're afraid, and for the lowly and hurting around us, I offer this delicious Flourless Almond Date Chocolate Cake today!
Wouldn't it be great if all it took to make this world a better place was to bake a cake, to offer a slice, and all hurts would be healed?
For the gluten-free crowd out there, and for any chocolate lover, my prayer is that each bite of this cake would bringing healing, unity, love, and peace this Christmas season!
Have a wonderful next few days, my friends!
Do you lack courage when it comes to entertaining, or is it something you really enjoy doing?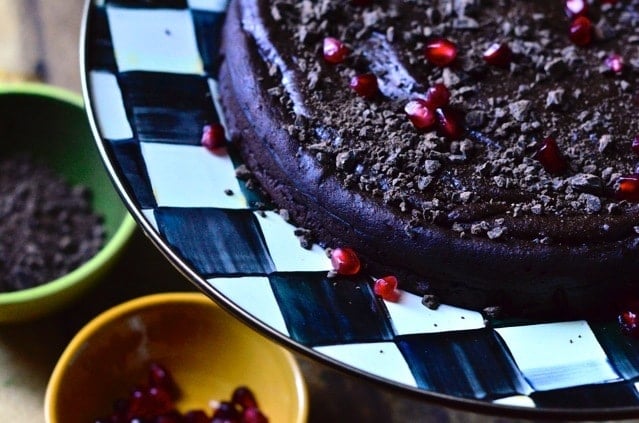 Get the Recipe: Flourless Date Chocolate Cake Recipe
This cake is so rich, and perfectly paired for the holidays with Egg Nog or Peppermint or a rich Vanilla Bean ice cream!
Ingredients
1 cup heavy cream
12- ounce bag semi-sweet chocolate chips + 1/4 cup for garnishing
2 teaspoons vanilla extract
1 tsp almond extract
8- ounce bag pitted dates
5 eggs
1/4 cup blanched almond flour
Instructions
Heat the oven to 350 F. Coat a 9-inch springform pan with cooking spray.

In a small saucepan over medium heat, heat the cream until just simmering. Remove the pan from the heat and add the chocolate chips. Stir until melted and smooth.

Combine the chocolate-cream mixture, vanilla, almond extract, and dates in a blender. Puree until smooth (it will be very thick), about 2 to 3 minutes. Add the eggs and blanched almond flour, then puree again until completely blended.

Pour into the prepared pan and spread evenly with a spatula.

Bake for 25 to 30 minutes, or until completely set at the center. Cool completely, then remove the sides of the pan.

Grate 1/4 cup of chocolate (using a small Cuisinart or a grater) and sprinkle over the cake. Garnish with pomegranates or fresh raspberries and serve. Excellent served with a small scoop of ice cream.
Hello and welcome to my home and table!
I'm Sandy—lover of food, family, cooking, THE BIG BOARD, travel, and bringing people together. Through great recipes and connection around the table, we become better, stronger, and more courageous people. Feasting on Life is real, and every time we do it, we grow a little more. Read more...