3-Ingredient Green Salad Beans Grapes
Savor a simple 3-Ingredient Green Salad Beans Grapes with a wonderful addition of spicy nuts–delicious for any luncheon, potluck, or holiday party!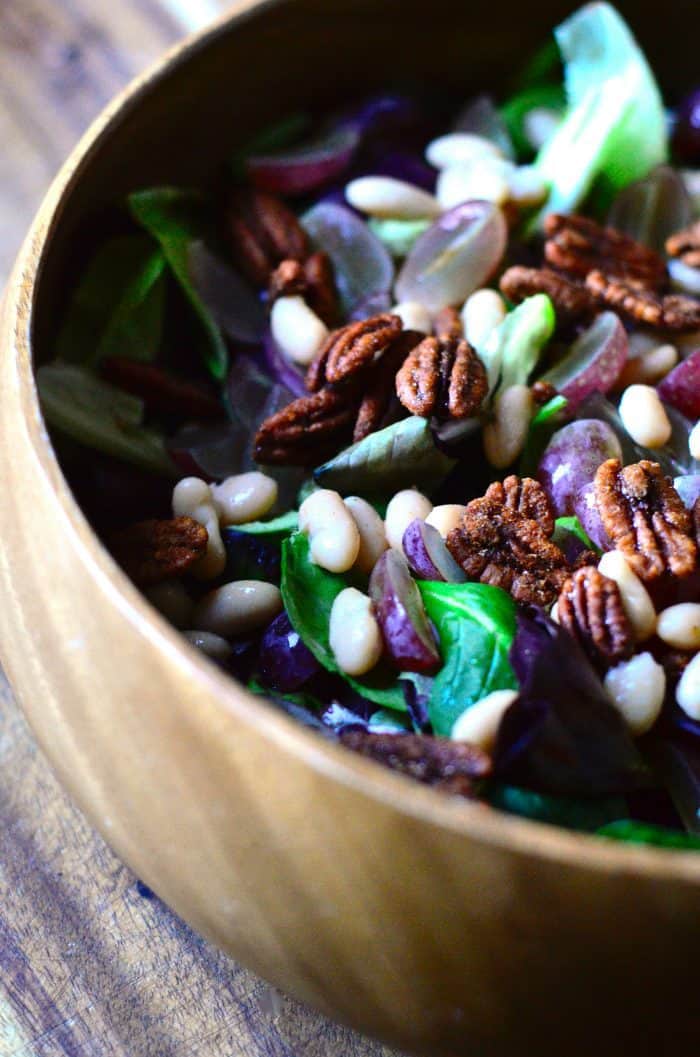 A few days ago I had an informal and simple holiday luncheon in my home. I invited my sisters and cousins over to my house so we could get into a festive holiday spirit — eat, catch up, and sing a song or two! We always love getting together. There's nothing quite like family (our moms were all sisters).
I am not naturally a big luncheon party planner so one cousin brought a pot of soup, and I made a main dish and a delicious 3-Ingredient Green Salad Beans Grapes, which included lettuce with beans, grapes, and spicy nuts.
3-Ingredient Green Salad Beans Grapes
It was so good, in fact–what a great recipe to serve on Christmas Eve or Day. Try sprinkling a few pomegranate seeds on top for a more festive flair.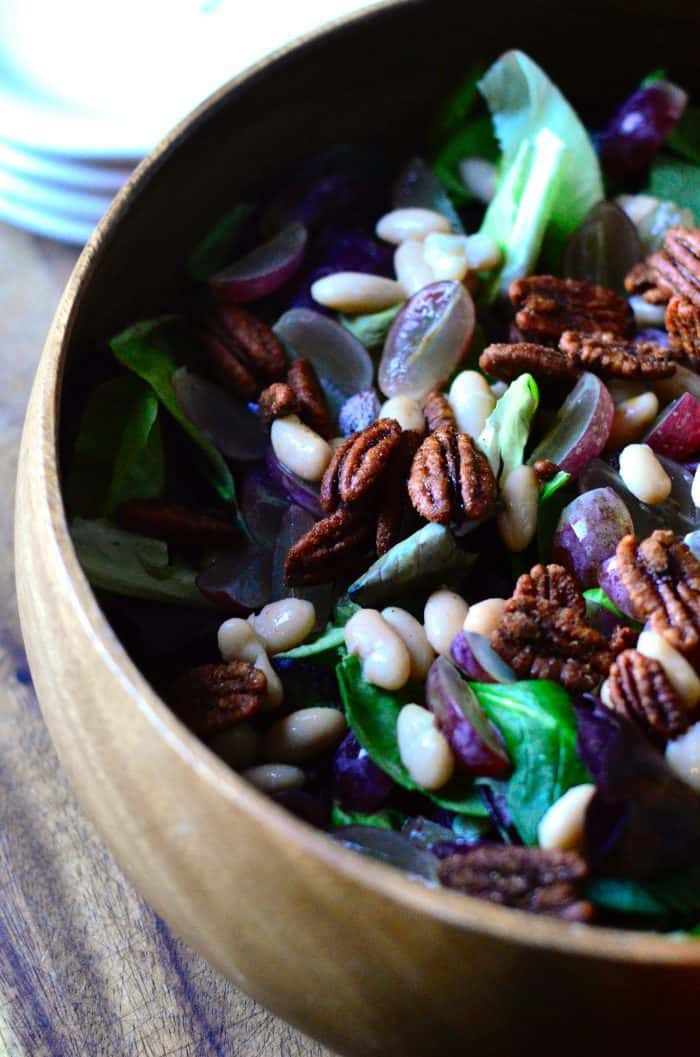 Back to girl cousins. You can only imagine the laughs–the "remember whens"–that always lead to good conversations, which is perfect since conversations are really the point of it all.
Coming together, we reminisce–talk about the past, present, and hopes for what lie ahead. It's the experiences in life that have made us who we are today. I believe that in the grand scope of life, we never know when it's our last time to be together, so it's important to make these lunch dates happen.
It does take effort. Effort for me is choosing a date, coming up with a simple menu, and then just making it happen. Otherwise we only talk about it, but we never do it.
When we are together we laugh, we sing, we share touching stories. They're not always perfect stories, and, in fact, many times they are sad and so very real. But just being together yields up the firm ground of our common bond—the awesome gift of Christmas—which resonates so deeply in all of our hearts.
When we are together, love is present.
A simple love.
The gift of love.
When's the last time you put a lunch date together and invited important people into your home?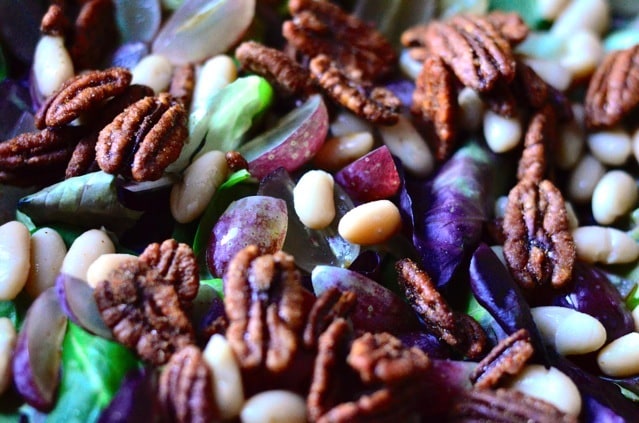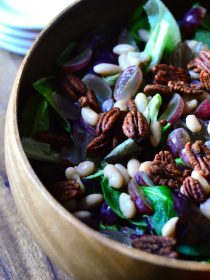 Get the Recipe: 3-Ingredient Green Salad Beans Grapes
Delicious served with Poppy Seed Dressing.
Ingredients
1 bag of your favorite lettuce greens
1 15.5 oz. can Bush's Cannellini Beans, drained
1 1/2 cups halved seedless red grapes
1 cup toasted nuts, such as spicy pecans, pistachios, or pine nuts
Your favorite light salad dressing
Instructions
Toss all ingredients together and serve.
More healthy salad recipes: Quick & Easy Green Salad [RE], Winter Green Salad with Poppyseed Dressing [RE], Blueberry and Apple Salad with Shaved Parmesan [Foodness Gracious], and Green Mango Salad [Aggie's Kitchen].

Hello and welcome to my home and table!
I'm Sandy—lover of food, family, cooking, THE BIG BOARD, travel, and bringing people together. Through great recipes and connection around the table, we become better, stronger, and more courageous people. Feasting on Life is real, and every time we do it, we grow a little more. Read more...