Quick Easy Green Salad Recipe
This Quick Easy Green Salad Recipe, served with Aggie's Kitchen Clementine Vinaigrette, is a beautiful, delicious salad for the holidays!

Friends, from our snowy house to yours, Merry Christmas!
Sometimes we need a fresh, new salad idea, especially when the holidays are here and we want it to look and taste festive and healthy!
Quick Easy Green Salad Recipe
This Quick Easy Green Salad Recipe is made with a delicious Clementine Vinaigrette (thank you, Aggie's Kitchen).
Fresh greens and yummy dried mandarin orange slices (Sun Tropics) that we found at Costco, with gorgonzola cheese, nuts, and pomegrante seeds!
It's so quick and easy.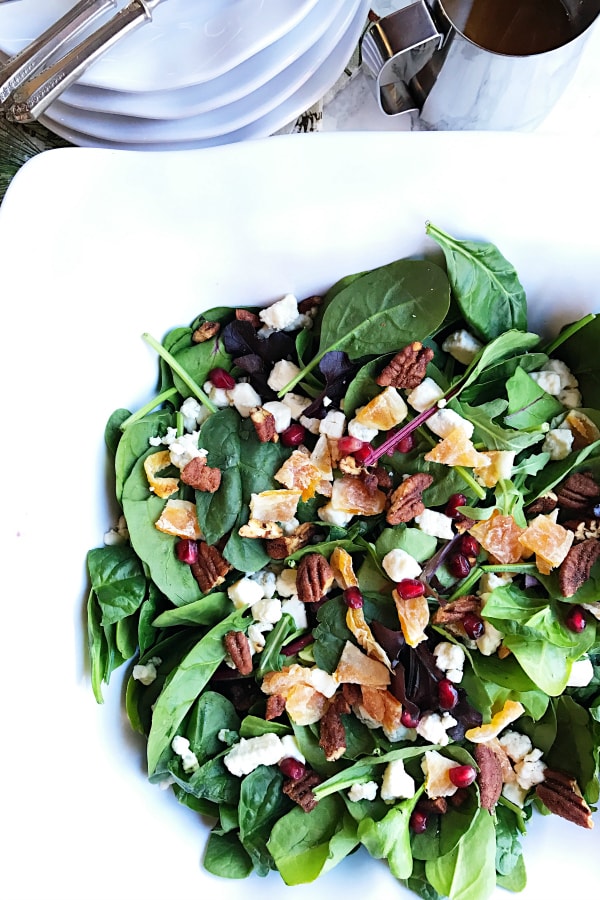 Whip up this Clementine Vinaigrette.
The perfect holiday salad!
I was looking through my photos, reminiscing a bit about our home we left in May, where we lived and raised our kids for eleven years, when we had a snowy Christmas.
And then our new small home (yes, it's tight with five of us right now) in central Oregon. We love all the snow, and mountain living!
It's all about attitude and gratitude, folks! Look around us! We have enough for today, blessings right in front of us.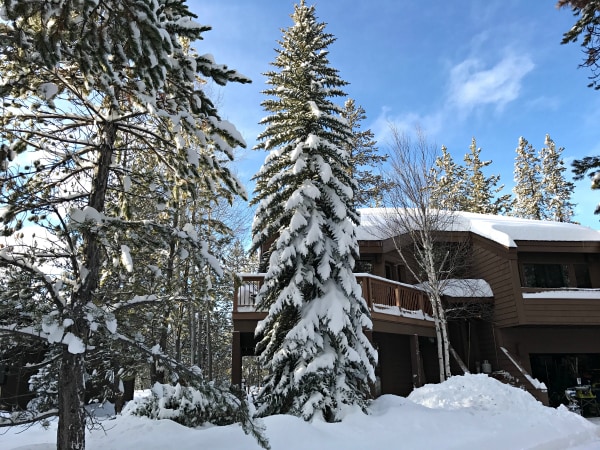 I know Christmas is hard for many. But the blinders of expectations can cheat the true blessings. Expectations can be the killers of true gratitude and joy!
One year later, in this snowy mountain home, we focus on the blessings and where God has us today, where we are no longer hooked by expectations or externals.
"It seems to me that we often, almost sulkily, reject the good that God offers us because, at that moment, we expected some other good." – C S Lewis
It's really a peace and contentment through the blessings of Christmas (Christ coming to earth and living in our hearts) that brings true joy!
What will be on your menu this weekend?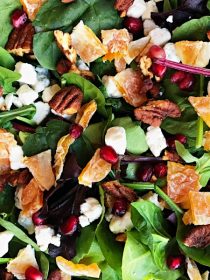 Get the Recipe: Quick Easy Green Salad Recipe
Ingredients
Mixed lettuce greens
Gorgonzola Cheese, crumbled
Toasted, or spicy walnuts or pecans (we buy at Trader Joe's)
Dried mandarin oranges, Sun Tropic, sweet and good!, cut in small pieces
Pomegranate seeds
Clementine dressing
Instructions
Prepare a bowl of spinach. Layer on top cheese, toasted walnuts (or spicy pecans), mandarin oranges, and sprinkle with pomegrante seeds.

Mix dressing in a jar. Shake.

Right before serving, drizzle with dressing; toss and serve!

Hello and welcome to my home and table!
I'm Sandy—lover of food, family, cooking, THE BIG BOARD, travel, and bringing people together. Through great recipes and connection around the table, we become better, stronger, and more courageous people. Feasting on Life is real, and every time we do it, we grow a little more. Read more...