Setting a Blue and Green Table and Gingerbread Cake with Chocolate Frosting
Celebrating the holiday season includes setting a beautiful table to ending the evening with a delightful dessert, Gingerbread Cake with Chocolate Frosting.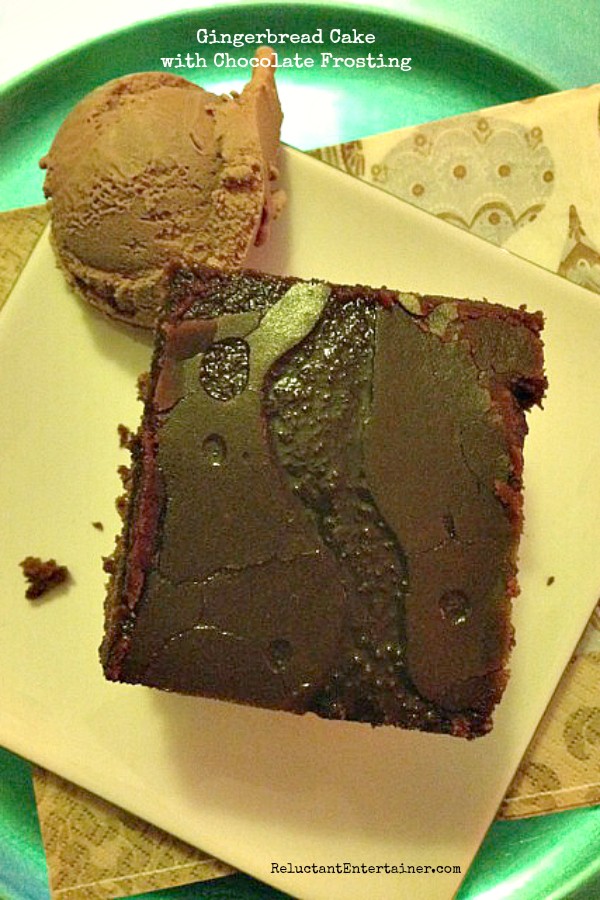 It's the most wonderful time of year, getting together with family and friends to celebrate one of my favorite seasons, from setting a beautiful table to ending the evening with a very yummy dessert.
When it comes to setting a holiday table, gathering things I already have around the house brings a satisfying feeling. Being able to say that the greens were cut from the yard, or that I reused a family heirloom, or used a bargain piece from the thrift store, gives not only nostalgic feelings, but the perfect festive ambience for the dinner party.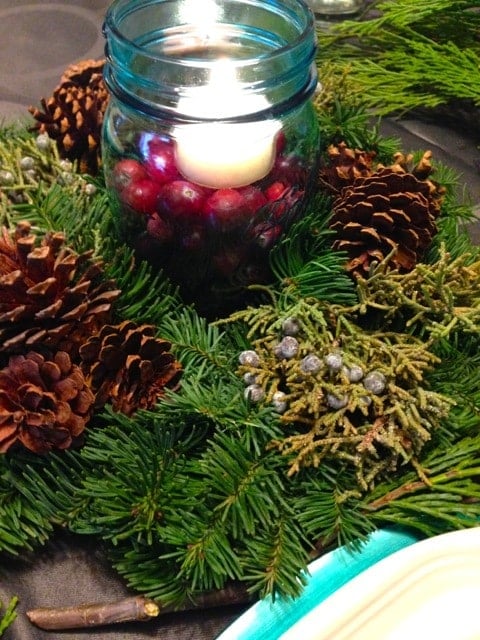 Two things that I cherish. My grandmother's piano (the Christmas carols and music books are out!), and the plate that I made for me and my sisters a few years back, of my mother's writing (found on an old Christmas box), stenciled onto it to keep as a keepsake – forever!
Here are a few ideas for setting the theme:
-Keep things simple, using a solid tablecloth, and dress up the table with festive touches of greenery, canning jars full of cranberries, and lots of candles.
-Add to the fun dinner party atmosphere with bright aqua blue chargers under the white dinnerware. If you don't have chargers, don't worry about it. You can always put a bright colored napkin under the plate, hanging over the side a few inches.
-Place the flatware on top of a solid white cloth folded napkin, and add ceramic place cards with erasable names of the guests.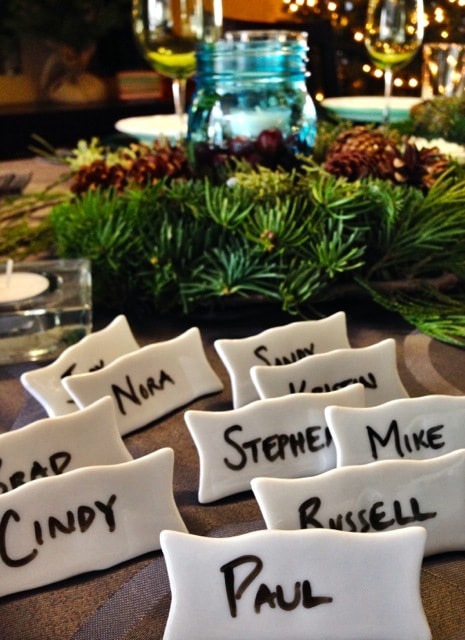 -There's no need to buy an expensive centerpiece. Use what you have or buy small wreaths that you can use again at a store like Trader Joe's.
-Add an extra splash of color to the holiday table by dropping a few cranberries into water glasses.
-Use green wine glasses that tie in nicely with the fresh-cut greenery.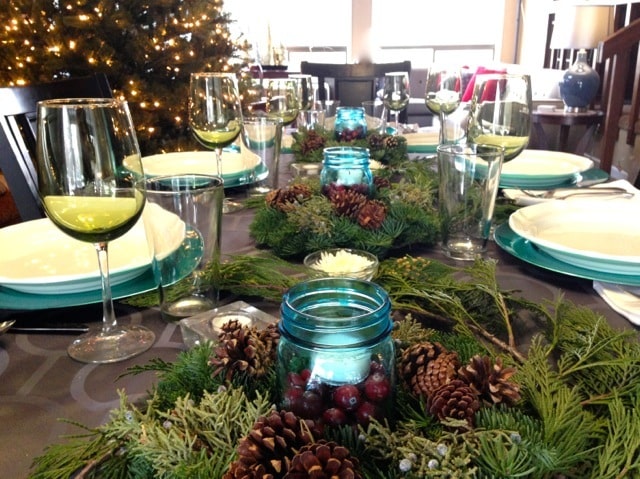 -Cut fresh greenery and place stragrically around the wreaths and down the center of the table. Cut small white flowers and place in small dishes of water, with candles down the center of the table.
The look is perfect for a casual gathering. It's a table that steps outside the normal red and green, and really makes your guests feel at home with the soft glow and color combination.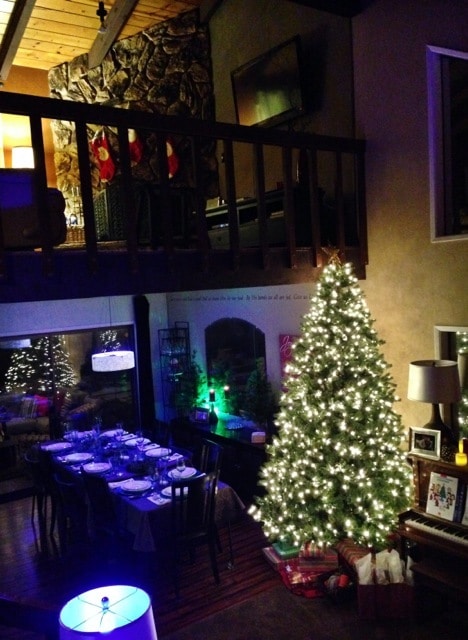 Last week for our dinner party, as guests walked through the door and saw the beautiful holiday table with candles lit, hopefully they had the feeling that they were in for an evening of fun and great food, especially as we were pulling the prime rib from the oven and getting ready to serve some festive drinks and killer appetizers!
We ended the night with an amazing Gingerbread Cake with Chocolate Frosting.
Enough said, here is the recipe. Enjoy!
What 2 colors do you like to combine for a holiday table setting?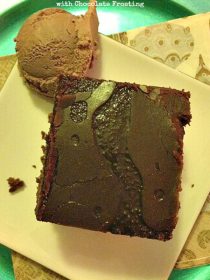 Get the Recipe: Gingerbread Cake with Chocolate Frosting Recipe
Ingredients
½ cup sugar
½ cup butter
1 egg
2/3 cup applesauce
1 cup molasses, Brer Rabbit unsulphered
2 ½ cup all-purpose flour
1 ½ tsp baking soda
2 tsp ground cinnamon
2 tsp ground ginger
1 tsp ground cloves
1 tsp salt
1 cup hot water
2 cup confectioners' sugar
2 tbs unsalted butter
1 tbs unsweetened cocoa
¼ cup ginger ale
Instructions
Preheat oven to 350. Grease and flour a 9" square pan

In a large bowl, cream together the sugar and butter. Beat in the egg, then the apple sauce and finally the molasses.

In a bowl, sift together the flour, baking soda, salt and spices. Blend into the creamed mixture. Stir in the hot water. Pour into the prepared pan.

Bake 45 minutes to 1 hour. Check at 45 minutes to see if it's done. Allow to cool in pan.

Stir the confectioners' sugar. In a heavy saucepan heat the butter, cocoa and ginger ale. Once the butter is melted, whisk in the confectioners' sugar. Pour the frosting over the gingerbread until it's spread evenly over the top.
Hello and welcome to my home and table!
I'm Sandy—lover of food, family, cooking, THE BIG BOARD, travel, and bringing people together. Through great recipes and connection around the table, we become better, stronger, and more courageous people. Feasting on Life is real, and every time we do it, we grow a little more. Read more...