Roasted Yam Arugula Salad
Enjoy Garlic Roasted Yam Arugula Salad for the holidays, garnished with a pop of pomegranate seeds and a drizzle of balsamic glaze! DELISH!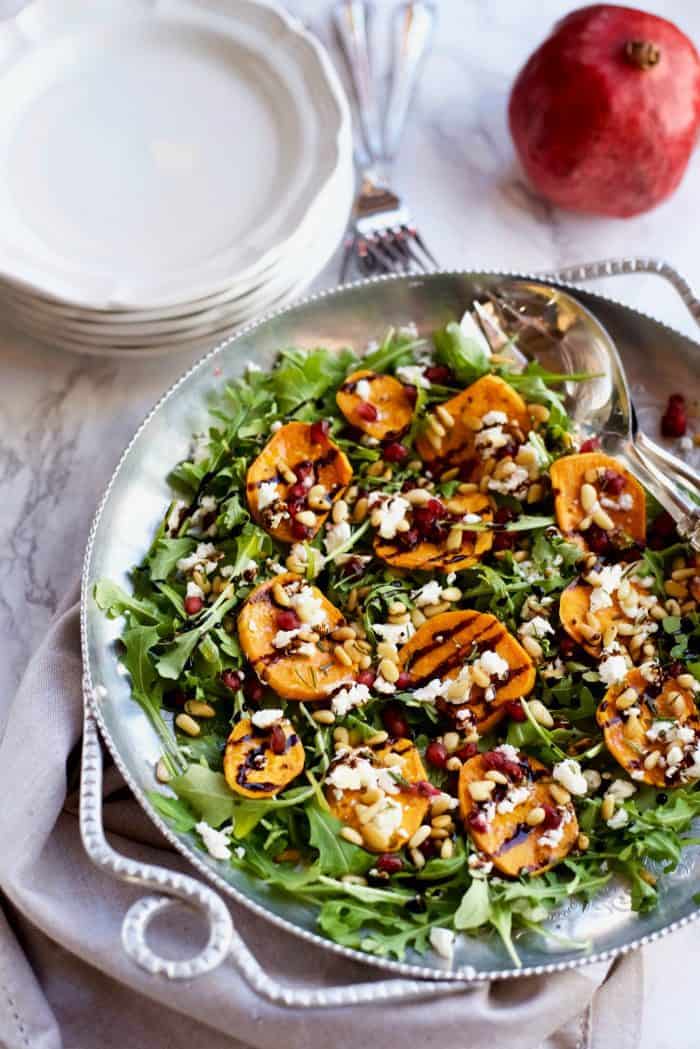 Friends, let's talk Christmas and holidays salads! This Roasted Yam Arugula Salad is elegant, wholesome, and delicious!
Roasted Yam Arugula Salad
For the holidays, you may want to try this Roasted Beet and Yam Salad with Balsamic Glaze and Blood Orange or Tossed Butternut Brussels Sprouts Salad, but I really love this Roasted Yam Arugula Salad wiith the pomegrante seeds on top!
All you need are these ingredients:
Pine nuts
Pomegranate seeds
Yam (or sweet potato)
Goat cheese
Garlic
Olive oil
Balsamic glaze, we buy DeLallo brand
Salt
Fresh rosemary
Arugula greens
Can I share a little secret with you? My home is not decorated for Christmas yet, and I'm not sure when it will be. I'm sure I'll add a few touches here and there, but honestly, the less, the better.
I just thought I'd share with you, I felt my heart race a little when seeing on social media that so many bloggers already have their homes all decked out. Trees are up, everything looks perfect!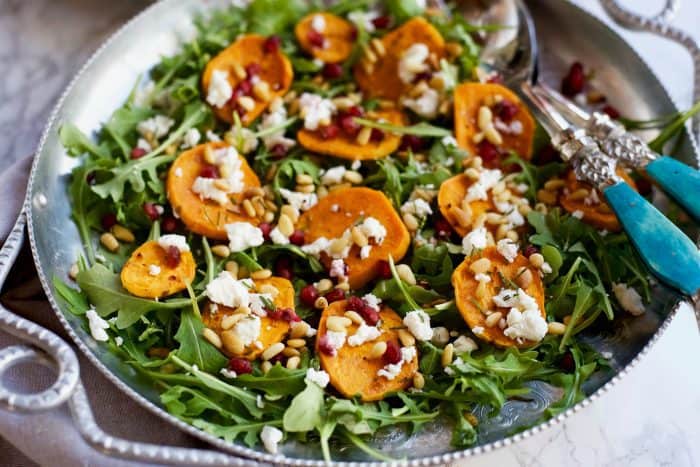 Comparison is a robber of all joy, and there's no question that the hours we spend measuring our own life against that of others could be better spent practicing gratitude for what we do have, and helping others and working toward goals and dreams. Instagram doesn't help, so for me, I limit the time I spend there.
My home is enough, just as it is. :)
Also, true confession, last year we did not put a tree up. I know, can you believe it?
We were still settling into our small space and we had a few Christmasy things up–wreathes, festive pillows, candles, blankets, and the great outdoor pine view we enjoy!
Home is important. Whether we're out partying, getting a tree, or going to events … most of our memories are made in our home.
I say, make it what you want it to be, but what I've learned is to not drag the family into my expectations (usually revolving around old family traditions). And surely I will not drag them into silly details that don't really matter (in decorating and hosting!)
Keep a fresh attitude, decorate simply in my own time frame, make good food, invite people over, and make good memories!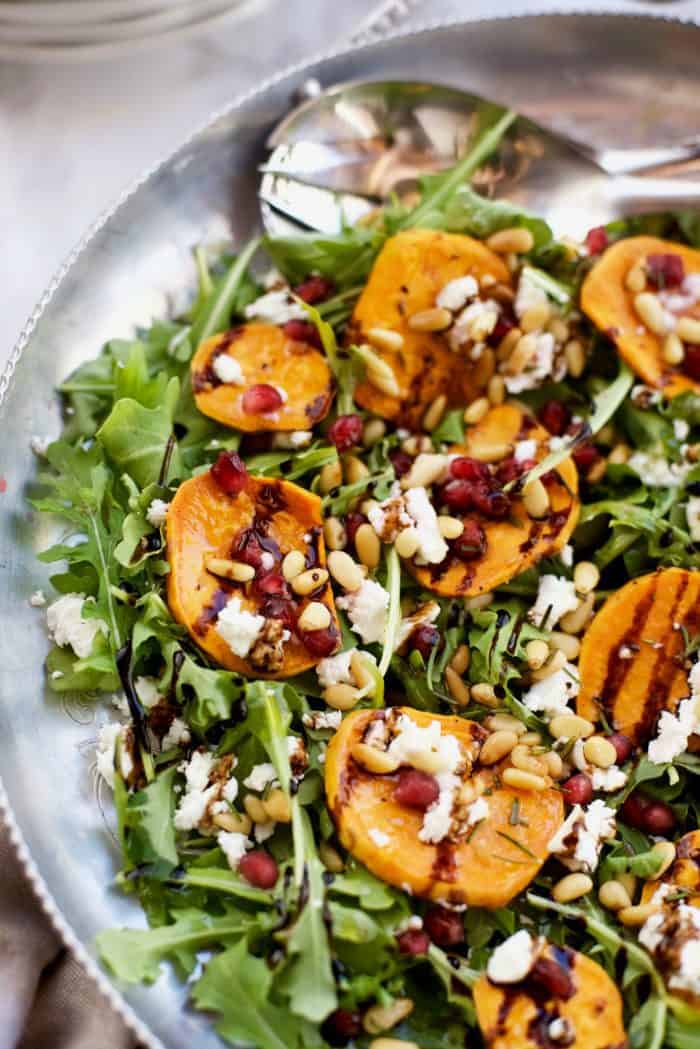 Garlic Roasted Yam Arugula Salad
This Garlic Roasted Yam Arugula Salad is festive for the holidays, whether Thanksgiving or Christmas.
I love pomegranate seeds for salads, main dishes, and garnishes.
They just add that extra pop of color and crunch!
This dressing is light and simple.
A reminder that I truly want to keep the month ahead the same.
Fresh, light, easy, festive, happy, memorable, and simple.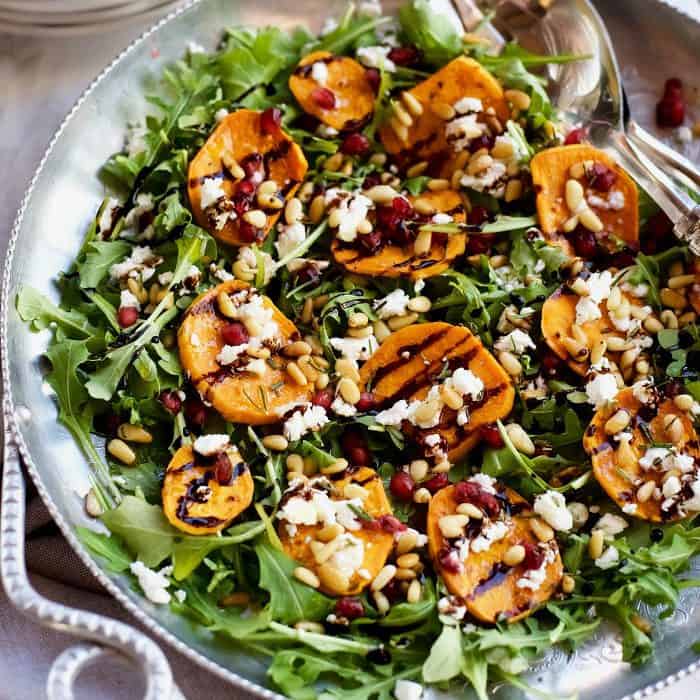 More arugula recipes:
Arugula Pizzas [Crazy for Crust], Arugula Pasta Salad (so good) [RE], Panna Cotta Basil Appetizer Recipe [RE].
Get the Recipe: Garlic Roasted Yam Arugula Salad
Ingredients
3 Tbsp. pine nuts
3 Tbsp. pomegranate seeds
1 medium yam, peeled
3 oz. goat cheese
1 1/2 Tbsp. garlic
2 Tbsp. olive oil, plus some for dressing
Balsamic glaze, we buy DeLallo brand
1 tsp. salt
2 tsp. fresh rosemary
6 cups arugula greens
Instructions
Peel and slice the yams into 1/2 inch rounds; add to a medium size bowl. Toss with 1 Tbsp. garlic, 1 Tbsp. olive oil, and salt. Add a few cracks of fresh pepper if desired. Bake in the oven at 400 degrees for about 30 minutes, stirring occasionally. (I like to place on a sheet of foil or parchment paper for easy clean up.)

In a small frying pan add 1/2 Tbsp. of olive oil. When hot, add pine nuts and 1 tsp. fresh chopped rosemary. Cook on stove on medium heat until golden. Drain any excess oil and set aside.

In a large salad bowl, add arugula. Layer yams, pine nuts, pomegranate seeds, remaining finely chopped rosemary, and crumbled goat cheese on top. Lightly drizzle with olive oil and balsamic glaze; serve!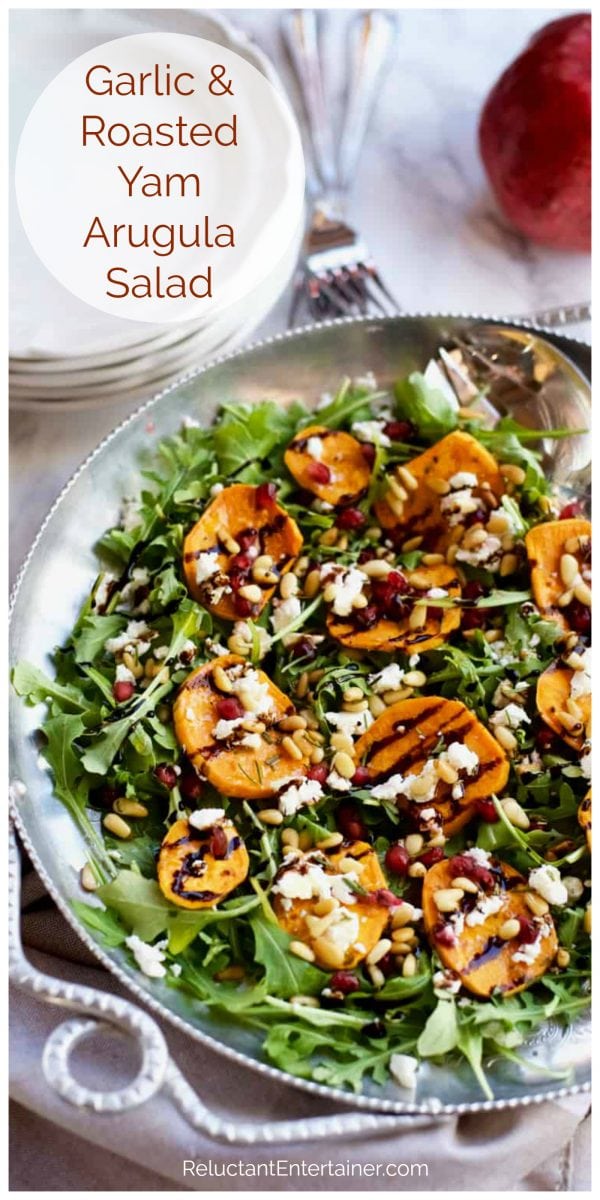 Hello and welcome to my home and table!
I'm Sandy—lover of food, family, cooking, THE BIG BOARD, travel, and bringing people together. Through great recipes and connection around the table, we become better, stronger, and more courageous people. Feasting on Life is real, and every time we do it, we grow a little more. Read more...