Gluten-Free Apple Sausage Bacon Stuffing for the Holidays
This Gluten-Free Apple Sausage Bacon Stuffing is a delicious combination of flavors for the holidays and your gluten-free guests.
Friends, are you as tired as I am? We had so much fun with our Portland friends this past weekend, plus our kids were home – a very full house! One of our guests is gluten-free, so I planned ahead for a menu that we could all enjoy! When there is a special diet, I don't mind at all cooking differently, or trying a few new recipes. I for sure do better when I have a plan though, instead of winging it. For example, I buy Bob's Redmill Spelt Flour when our friends come. You can make scones, waffles (recipe to come), biscuits, use it in the gravy. Sky's the limit! Plus, Bob's in my backyard–well, sort of. Their headquarters is up in Portland, and we're down in southern Oregon.
The night before everyone came, I made two dinners for the upcoming week, a big (BIG) batch of buttermilk waffle batter, and then of course the sides for Thanksgiving (stuffing, cranberry sauce, etc.) And we made Brussel's sprouts the day of!
When everyone rolled in on Wednesday night, we all sat down to an easy, savory chili dinner.
The next morning, the organic bird went into the oven, and I had little helpers to get the table set for 13!
Thanksgiving Day.
So many lovely recipes, a few I'll be sharing with you in the next couple of weeks (Brussels sprouts, sweet potato cheesecake, apple cranberry relish, and gluten-free buttermilk waffles!) God bless the cooks (above–Steph, me, and Jenny).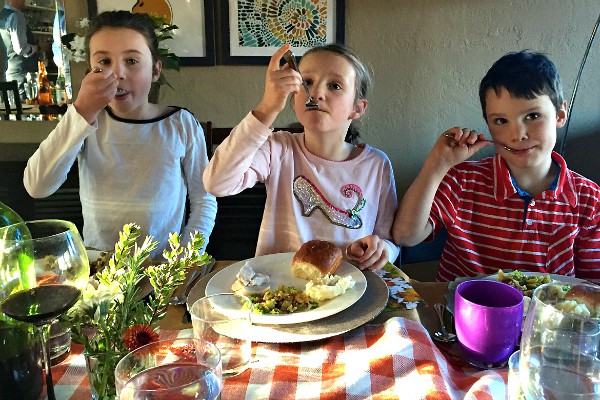 Our cute little tasters.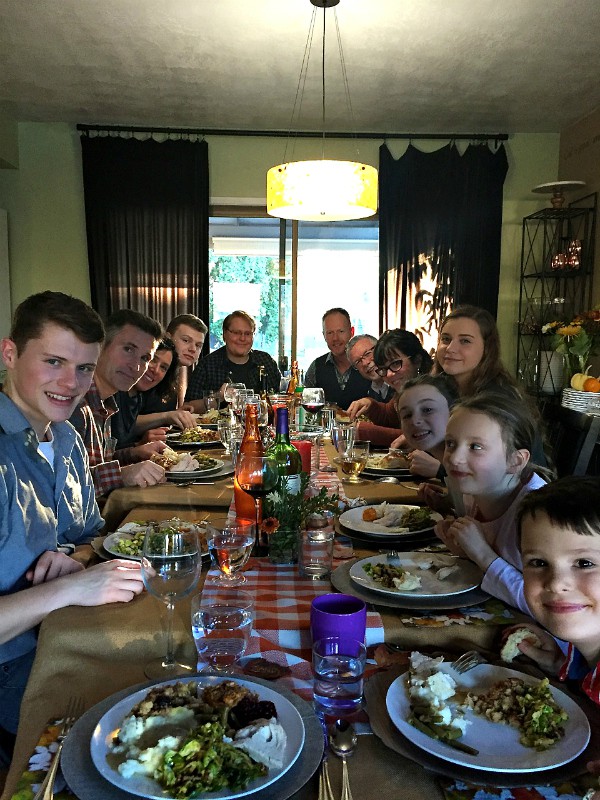 The gang all together!
The next day we walked off ALL these delicious calories on a hike to the top of Grizzly Peak in Ashland (more details to come).
The move: Inside Out.
And then home to delicious leftovers, and we watched one of the best movies of 2015, Inside Out. Have you seen it? It's a new Pixar movie about an 11-year-old girl and her emotions (joy, sadness, fear, etc.). It has a great message, that our goal isn't to be happy all the time. We're supposed to be … us. We're supposed to experience life in its wholeness, even in its sadness. There are indeed some very sad moments in this film. Overall the prickly emotions we see in Inside Out—can be catalysts for a much deeper joy down the road. We highly recommend it for all ages!
Gluten-Free Apple Sausage Bacon Stuffing.
So back to the gluten-free stuffing. This recipe was the BOMB! So yummy, I bought the actual stuffing at Trader Joe's, then adapted a Food Network magazine recipe. We'll probably be enjoying this with ham over Christmas!
Oh, and here's a fun little tidbit about our day. I looked over at our gluten-free friend's plate and saw no stuffing! I asked him why, and then was told … I'm so used to not eating stuffing all these years because it's never gluten-free!
Of course his face lit up when I told him how I made it.
It's lovely to make your guests feel special, right?
I'd love to hear the highlight of your Thanksgiving?
Get the Recipe: Gluten-Free Apple Sausage Bacon Stuffing
Recipe adapted from Food Network Magazine November 2015. You can use corn bread or regular stuffing as well.
Ingredients
1 stick unsalted butter, plus more for the baking dish
1/2 pound sweet Italian sausage, bulk, or casings removed
1/2 pound bacon
1 onion, finely chopped
5 stalks celery, finely chopped
2 apples, chopped (leave skins on)
2 tablespoon chopped fresh sage
2 tablespoon chopped fresh thyme
Kosher salt and freshly ground pepper
1 12- ounce bottle hard cider
2 1/2 cups chicken broth
2 large eggs
1/2 cup chopped fresh parsley
24 oz. 2 boxes Trader Joe's Gluten-Free Stuffing mix–do not use the seasoning in the package
1 cup walnuts, roughly chopped
6 oz. dried sweet cherries, Trader Joe's – optional
2 tablespoons butter
Instructions
Preheat the oven to 375 degrees F and butter a 3-quart baking dish. Melt 2 tablespoons butter in a large skillet over medium heat. Add the sausage and bacon and cook, breaking up the meat with a wooden spoon, until browned and cooked through, 6 to 8 minutes. Remove with a slotted spoon and transfer to a plate.

Melt the remaining 6 tablespoons butter in the skillet, then add the onion, celery, apples, sage, thyme, 1 teaspoon salt and a few grinds of pepper. Cook, stirring, until the vegetables are tender, about 5 minutes. Add the cider. Bring to a boil, scraping up any browned bits, and cook until reduced by half, about 5 minutes. Add the broth and return to a boil, then remove from the heat.

Whisk the eggs and parsley in a large bowl. Add the bread, sausage and vegetable-broth mixture, cherries, and parsley, and stir until combined. Transfer to the prepared baking dish; sprinkle with the walnuts and drizzle with butter.

Cover the dish with foil and bake 30 minutes, then uncover and bake until golden, about 30 more minutes.
Are you following me on Instagram, Twitter, Facebook and Pinterest? Thanks being here today, and if you'd like to subscribe to Reluctant Entertainer, to have each post delivered straight to your e-mail box, then please add your email, here. It's really easy!
Hello and welcome to my home and table!
I'm Sandy—lover of food, family, cooking, THE BIG BOARD, travel, and bringing people together. Through great recipes and connection around the table, we become better, stronger, and more courageous people. Feasting on Life is real, and every time we do it, we grow a little more. Read more...