Grilled Zucchini Black Bean Quesadillas
Serve Grilled Zucchini Black Bean Quesadillas for easy entertaining! Filled with fresh veggies, use zucchini, onions, tomatoes, eggs, cheese, and fresh herbs!
My grilling tip for summer is to keep food prep simple, cook as much as you can from the garden, and set a pretty table! This time, we served a very simple quesadilla recipe with fresh fruit.
Grilled Zucchini Black Bean Quesadillas
Whether from your own garden, a Farmer's Market, or the local store, there is an abundance of beautiful foods to enjoy in the summer! You can make this recipe vegetarian (grab the recipe below), or you can add meat, for all meat lovers!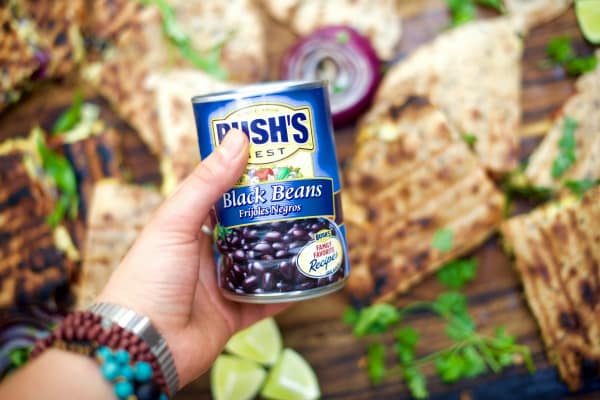 What I love about these Grilled Zucchini Black Bean Quesadillas is that they can be served for breakfast, brunch, lunch, or dinner! Made with BUSH'S Black Beans, you can substitute any of BUSH'S 40 varieties of beans, so you can try different flavors all year long!
There's a bean for every dish and taste – from vegetarian, reduced sodium and organic, to bolder flavors and varieties.
And if extra-hungry kids are hanging around the house? Quesadillas are always a big hit!
Set the table, usually with a platter of fruit and a delicious main dish as the focal point.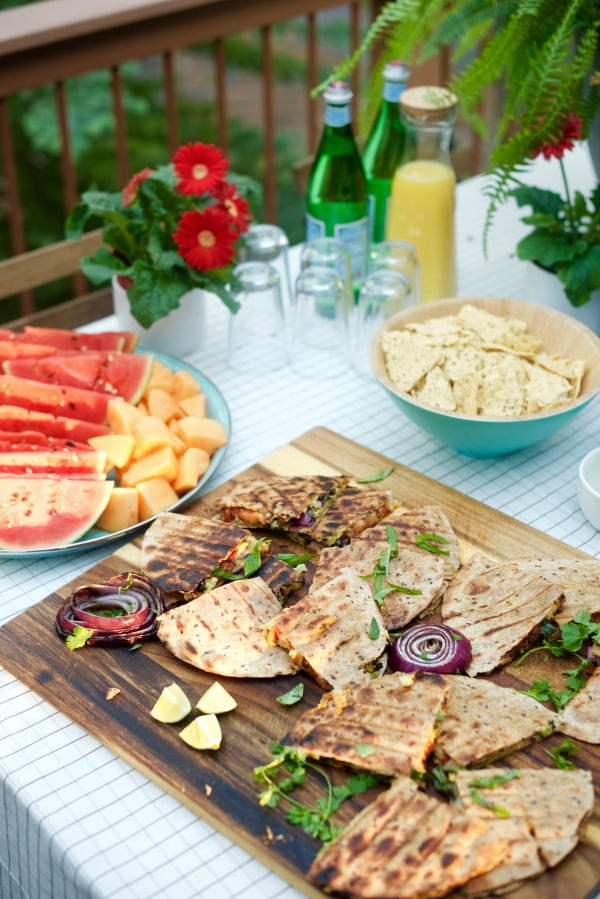 A simple setting where everyone digs in!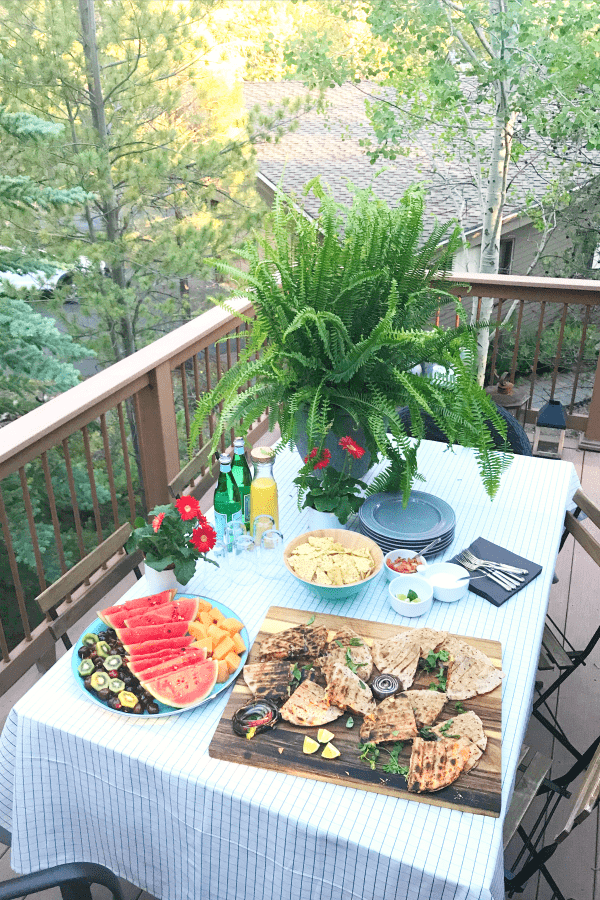 Missing our garden this year, these ingredients are easy to pick up at the store. But with our new "skinny gardening beds" already planted, we're looking forward to fresh garden tomatoes in a month or so!
How to make Grilled Quesadillas
Secret to great flavor? Fresh herbs–cilantro and basil.
Grill the veggies and set aside.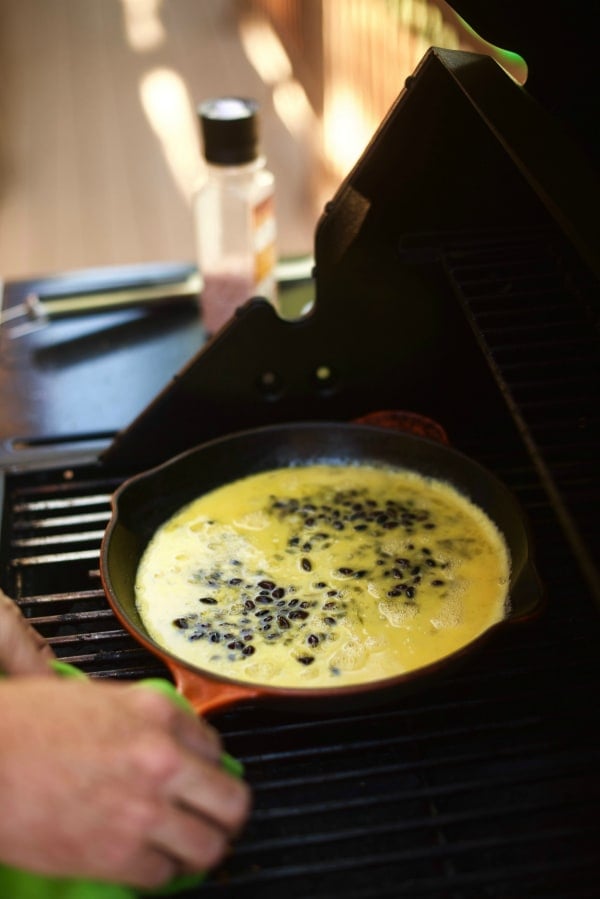 In a skillet over the grill, scramble eggs with the black beans.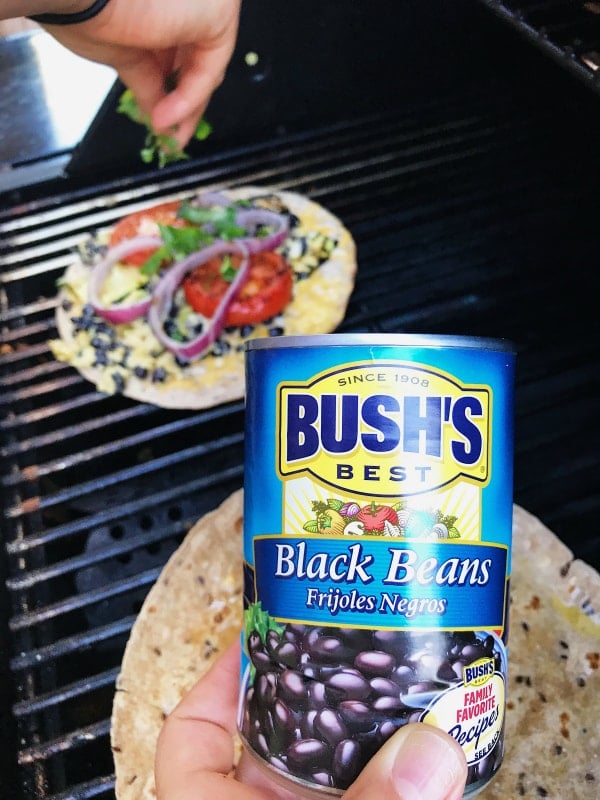 Assemble and place on a large cutting board.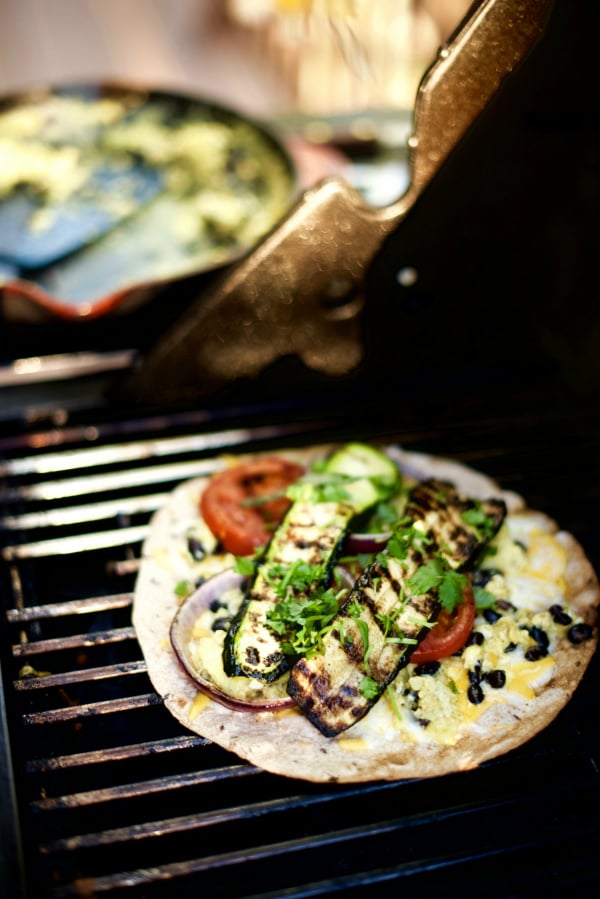 Cut into fourths.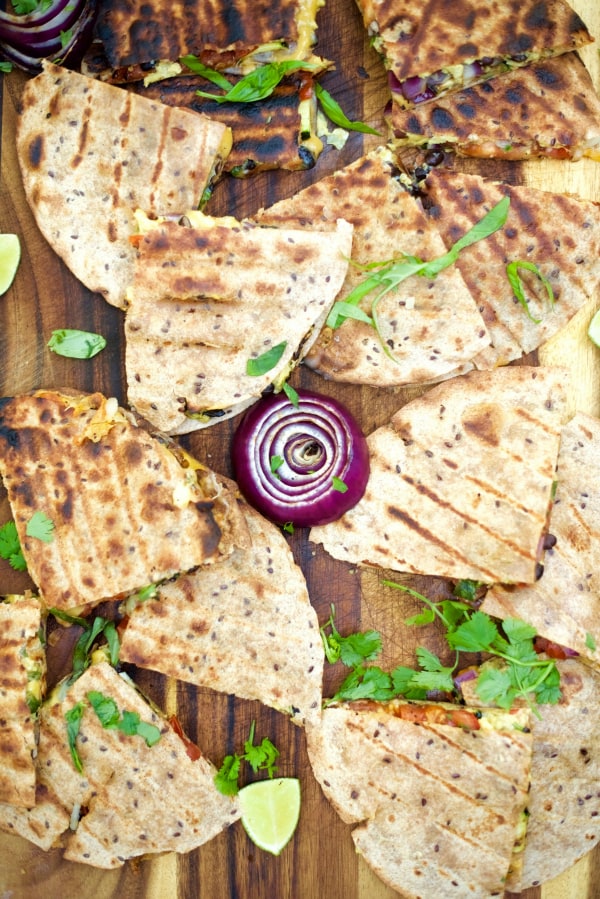 Everyone adds their own toppings – ENJOY!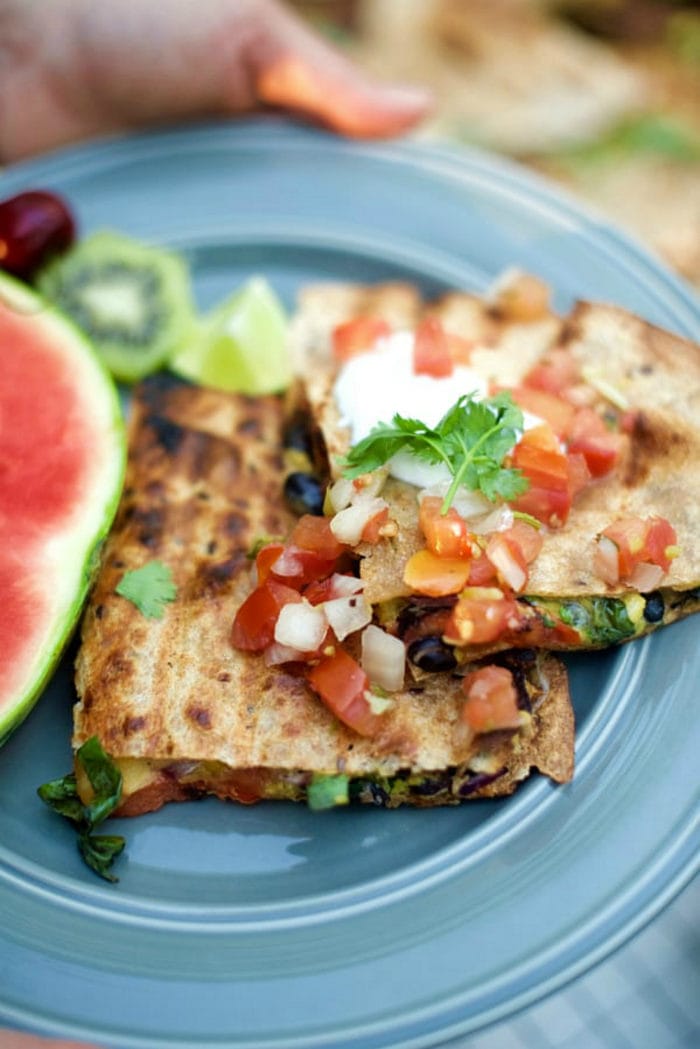 We've also made this delicious recipe out camping. It's a super-easy recipe to bring along, and cook over the campfire!
More summer recipes using beans:
Chicken Pineapple Cilantro Layered Salad, Barbecued Chicken Layered Pasta Salad, Cowboy Caviar Pineapple Dip.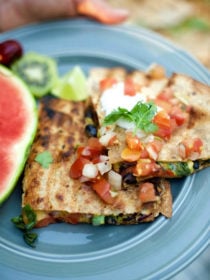 Get the Recipe: Grilled Zucchini Black Bean Quesadillas
Ingredients
1 large red onion, peeled and thickly sliced
2 zucchini, about 1 lb., thinly sliced lengthwise
3 large tomatoes, thickly sliced (compost ends)
Salt and pepper to taste
8 eggs, lightly scrambled
1 15 oz. can BUSH'S Black Beans, rinsed and drained
8 10-inch whole wheat flour tortillas
3 cups mixed Mexican blend shredded cheese
1/2 bunch fresh cilantro, chopped
1/2 cup basil, finely chopped
Olive oil, to lightly brush/spray on the sliced zucchini, tomato and onion
Instructions
Preheat grill to medium-high (about 350-375 degrees).

Spritz onion, zucchini, and tomato with olive oil midst. Starting with onion, place on hot grill for 3-4 minutes. Add the zucchini and tomatoes; lightly salt and pepper. Grill veggies, turning every 4 minutes until cooked.

Combine eggs in large bowl and whisk together. Reduce heat on grill to medium low. Lightly spray a grilling cast iron skillet with cooking spray; scramble eggs. Gently add in the black beans, salt and pepper to taste, stirring frequently. Remove from heat when almost fully cooked.

Turn heat to medium-low. Mist one side of each tortilla with cooking spray. Place tortillas, oiled side down, on work surface. Sprinkle cheese on top of each tortilla. Arrange chopped cilantro and basil, zucchini, tomato, and onion slices in layers over cheese. Add about 1/2 cup of scrambled egg mixture and top with additional 1/4 cup cheese. Oil one side of top tortilla (facing oil side up). Press the top tortilla down with spatula. Cook, allowing ingredients to melt before flipping again. Allow 3-4 minutes per side.

Place all 4 quesadillas on a large cutting board. Cut each quesadilla into 4 wedges and serve with toppings such as sour cream, lime, and salsa.
This is a sponsored conversation written by me on behalf of Bush Brothers & Company; opinions and text are all mine.
SaveSaveSaveSave
SaveSaveSaveSaveSaveSaveSaveSaveSaveSave
SaveSave
SaveSave
Hello and welcome to my home and table!
I'm Sandy—lover of food, family, cooking, THE BIG BOARD, travel, and bringing people together. Through great recipes and connection around the table, we become better, stronger, and more courageous people. Feasting on Life is real, and every time we do it, we grow a little more. Read more...