Harry and David's Cherry Nutella Pavlova Recipe
Enjoy this Cherry Nutella Pavlova Recipe made with Harry & David's Cherry-Oh! Cherries and a delicious chocolate pavlova – a simple summer recipe!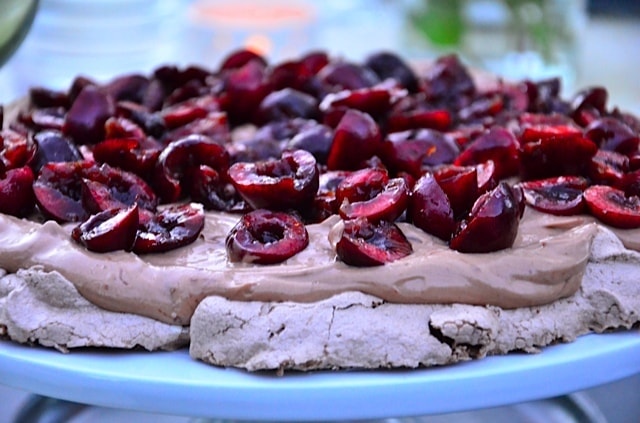 Last week I put my party dress on and my husband and I hosted a delicious, intimate dinner party in our backyard. It was the most glorious evening with some of our dearest friends, and long past due.
Sometimes I feel like I need to be a better friend when it comes to invitations, because even though my intentions are always good, there's just one missing ingredient that gets in the way: TIME.
(My friend helping me out with dessert.)
I've discovered that I'm also not quite the multi-tasker that I once was. I don't seem to get everything done that I'd like to accomplish. Maybe this is a familiar scenario to you, too.
But on this night, as we sat with good friends for hours under the party lights, around the table on our side patio, relishing catching up on good times, I tried to soak it all in.
We create a simple, pleasant environment for our guests. It was respite that can't help but grow the soul.
Especially when good food is involved, like the scrumptious Harry and David cherries that I used in a delightful summertime dessert, perfect for entertaining.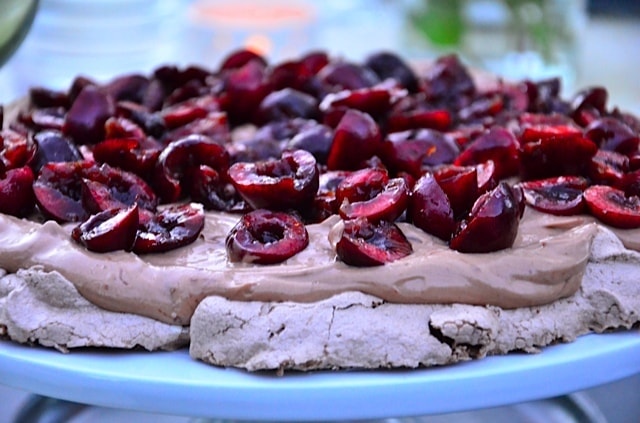 Which, by the way, I'm not sure you've heard of Harry and David's Fruit of the Month Club, but this week I received some amazing fruit:
Cherry-Oh! Cherries:
Hip, hip, hooray for the best cherries you've ever tasted. So plump and crunchy they'll pop when you bite them. So sweet they can even make you blush. These cherries are handpicked at the peak of ripeness from a handful of small orchards in the Northwest, where the climate, volcanic soil, and plentiful water make for ideal growing conditions.
We enjoyed eating them out of the box. And as a snack out under our patio.You can also pair cherries with wine and cheese, toss them in a salad (depitted) or add some sugar and make cherry compote.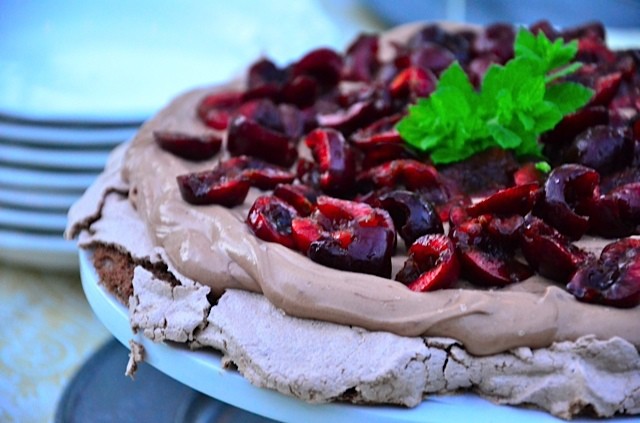 Cherry Nutella Pavlova
So with the very last of the cherries, I made a delicious dessert for our friends … Cherry Nutella Pavlova, garnished with fresh mint from our garden.
Even the little kids loved it (but who doesn't love Nutella?)
Are you ever creative with cherries, or does your family eat all of them before you even get a chance to try a recipe?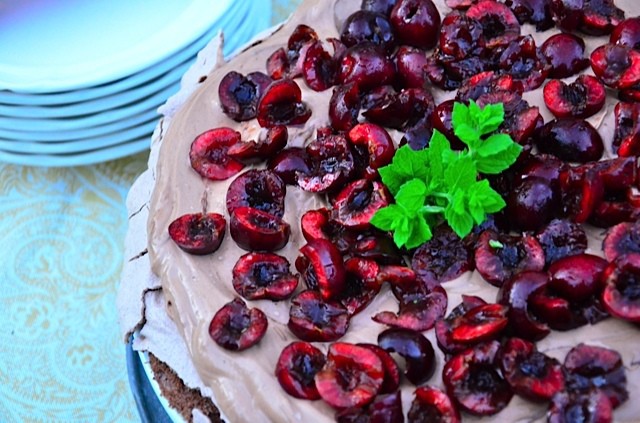 Get the Recipe: Harry and David's Cherry Nutella Pavlova
Meringue with chocolate, almond, and cherries. A delicious summer treat.
Ingredients
6 egg whites
¼ tsp. cream of tarter
1 cup sugar
1 tsp. white vinegar
1 tsp. almond extract
¼ cup cocoa
1 tsp. cornstarch
2-3 cups cherries, pitted and sliced in half
½ cup heavy whipping cream
¼ cup powdered sugar
½ cup sour cream
½ cup Nutella
1 tsp. vanilla
Fresh mint
Instructions
Preheat oven to 250 degrees. Line a baking sheet with parchment paper, cutting a 10-inch circle from the paper.

In a large bowl, combine egg whites and cream of tartar. Beat at medium-high speed until foamy. Gradually beat in the sugar, a tablespoon at a time. Continue beating until stiff peaks form. Fold in the vinegar and almond extract.

In a small bowl, combine the cocoa and cornstarch. Mix well and gently fold into the egg white mixture. Spoon this mixture onto the circle of parchment paper. Bake for 1 1/2 hours. Turn oven off and let meringue cool completely in the oven.

Beat the cream and powdered sugar until stiff peaks form. Add in the sour cream, Nutella and vanilla. Mix cover, and chill.

Pit and cut cherries in half and set aside.

Just before serving, assemble the pavlova by spooning the cream over the center of the meringue, and then place the cherries on top of the cream. Garnish with fresh mint and serve.
This post is sponsored by Harry and David, but all opinions are my own.
Hello and welcome to my home and table!
I'm Sandy—lover of food, family, cooking, THE BIG BOARD, travel, and bringing people together. Through great recipes and connection around the table, we become better, stronger, and more courageous people. Feasting on Life is real, and every time we do it, we grow a little more. Read more...