Harry and David's Gifts to Give–Blogging Event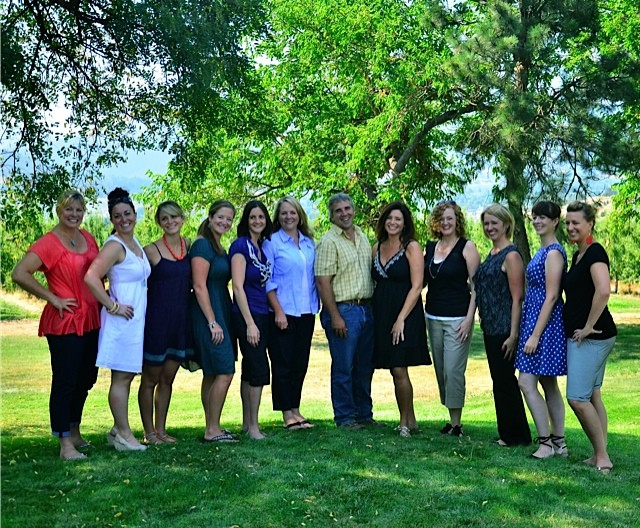 These past few days, here in the beautiful Rogue Valley, I was privileged to spend some incredible time with blogging friends (Lori, Jessica, Jenna, Rachel, Maria, Amy, Matt from HD, me, Bridget, Kristen, Rebecca, Heidi) learning more about the traditions of Harry and David and their orchards, Royal Riviera pears, candy kitchen, Moose Munch, perfect hand-tied, 7-loop bows, gifting departments, and the Country Village Store.
My history with Harry and David goes back as far as this photograph (seasonal workers around 1930) when my mom was born, the youngest of 7 and raised in Phoenix, Oregon, surrounded by orchards. My mom would have been 78 this year, the year that Harry & David started nurturing and harvesting the Royal Riviera Pear. Mom and her sisters worked their entire summers in the orchards here in the Rogue Valley. (I wouldn't be surprised if one or two of her older sisters are in the above photograph.) :)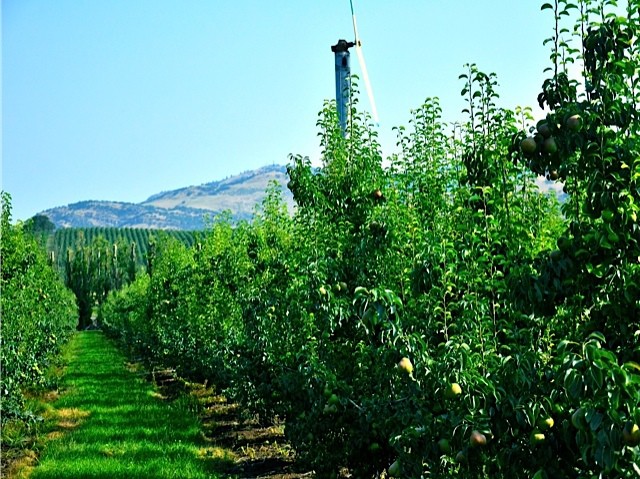 You may have read about the dinner party in my backyard, which was pure delight for me to host for my friends, and which featured so many delicious H&D products.
Then, the next day, we got down to business and started learning about Harry & David and the almost 700,00 pear trees. (Bridget in the orchards.)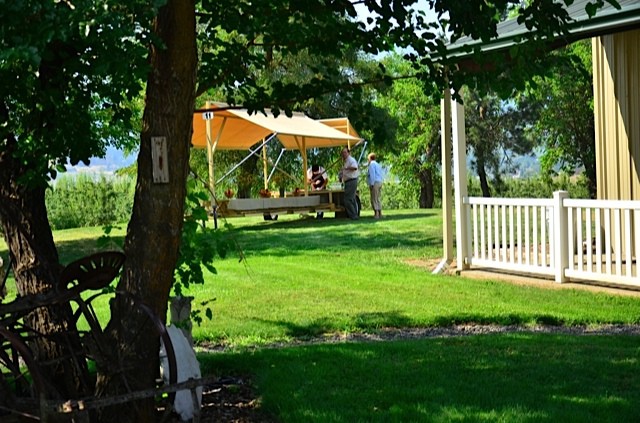 We toured the pear orchards (set on 2000 acres) with Matt Borman, H&D's Horticulturist, who relayed his love for the soil, trees, pears …
You're involved with agriculture because you love it. Just like cooking, the sun is the timing and the blooming is the seasoning. –Matt
He knew he was speaking to food bloggers and that we'd "get it." :)
We ended up at the Royal Crest Orchard area where we were served a light snack – peaches with Rogue Creamery's Smokey Blue Cheese. Oh, boy!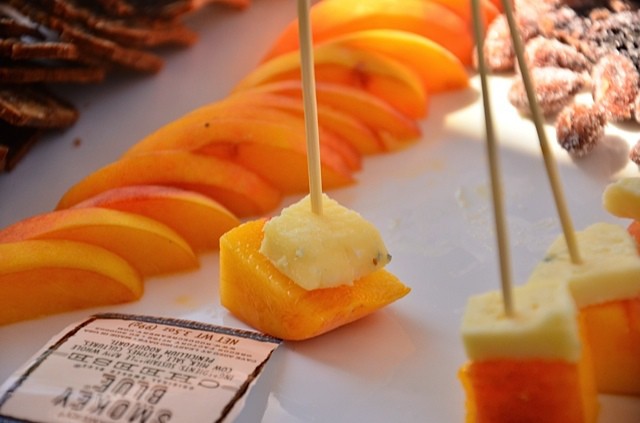 So tasty and talk about an easy entertaining idea! (Rachel testing out the yummy snack.)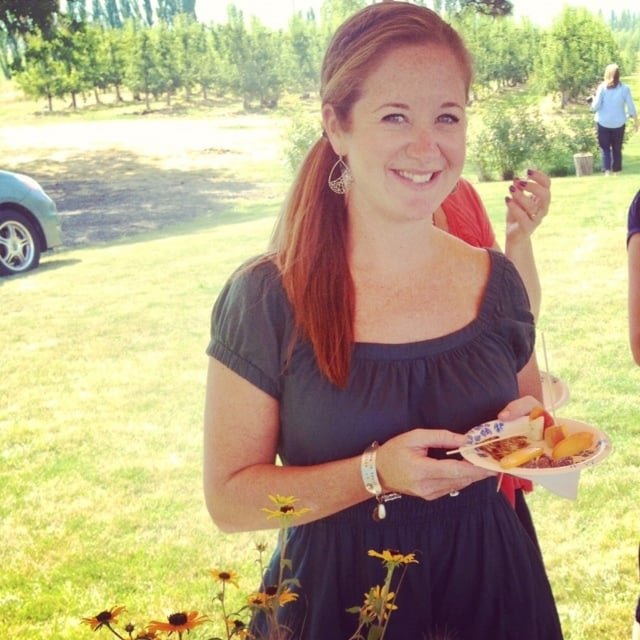 A little crazy fun. :)
On a serious note, I learned a lot how H&D treat their workers. Sun Crest is the place where they house them, feed them, they give them insurance and take the best care of them — all 330 workers.
They pick 3200 bins of pears a day, each bin holding about 450 pounds (about 9000 pears per bin). I could go on and on about the numbers. We bloggers were spinning these numbers around, calculating up a storm of pears in our minds, and eventually the numbers were so enormous, we quit trying to figure it all out. But it came out to something like this — 700 tons of pears are picked in a day in the Harry & David orchards.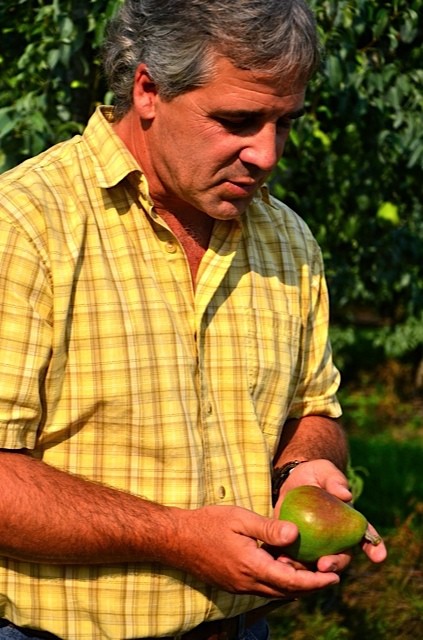 The Royal Riviera is an heirloom Comice pear that came from Anjou, of western France, a winter pear variety not commonly grown in the world, making up less than 8% of the pears you find on the market.
You can say it's our little "gem" here in the Rogue Valley, because of the specific weather conditions found here of heat during the day and a chill into the night. The pears are hand-picked in dry weather, sorted, hand-packed, held in cold storage at 30 degrees which allows the pears to last up to 5 months. An amazing process!
So, … do bloggers like to shop?
Yes!
We took a little break to Jacksonville where we ate lunch and did a bit of shopping. (Jenna leading the way.)
Rachel, Rebecca and Jessica having fun in Terra Firma.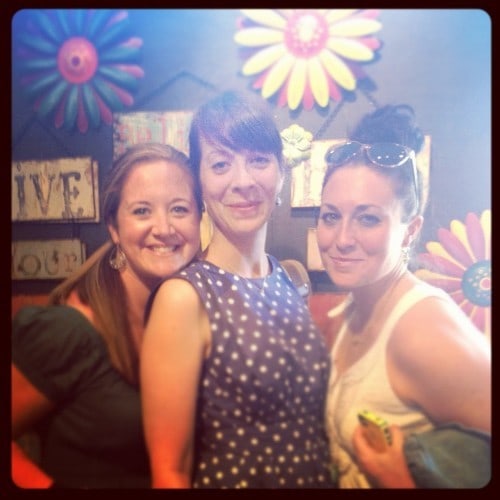 And, do bloggers like to have nice dinners?
Yes!
Out in the Applegate Valley we visited Red Lily Vineyards where H&D hosted a beautiful sit-down dinner, cooked by Chef Paul of C-Street Bistro (formally from the Santa Barbara area). The food, wine, and setting were spectacular.

Again, the H&D staff enjoyed the meal with us — just like family.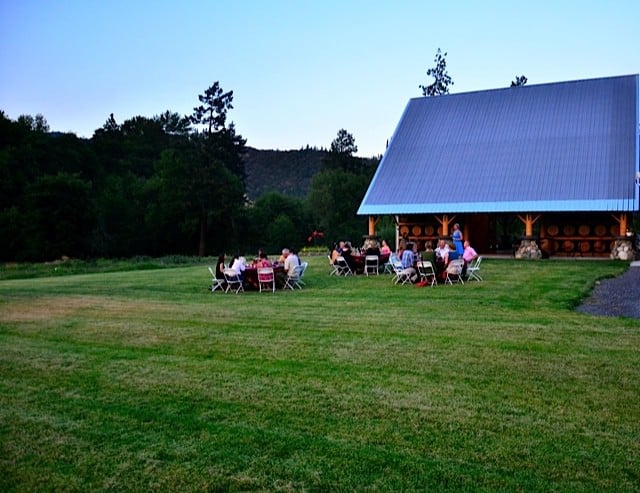 A captured moment with Maria and her little pea, Caleb, who also came on the trip.
The next day the fun began in the candy kitchen with Charlie Douglass.
Charlie grew up in the family business, apprenticing in the art of making chocolate, fudge, and saltwater taffy at Douglass Candies in Wildwood, NJ.
He told us he had lived in a teepee for 2 years prior to starting his 35-year-plus job with H&D. Of course we started calling him, Charlie and the Harry & David Chocolate Factory.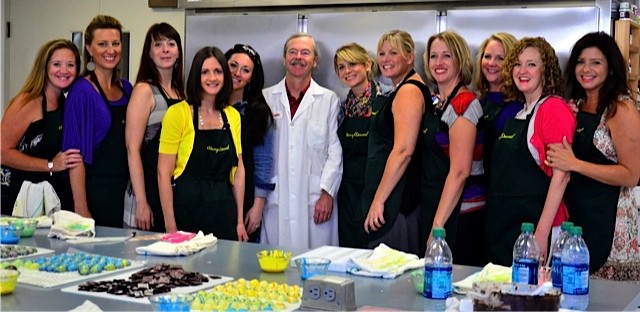 He taught us a lot about making chocolate, molds, his experiments, what works and what doesn't work.
We actually got to make our own designs, which Bridget was in "her element," of course.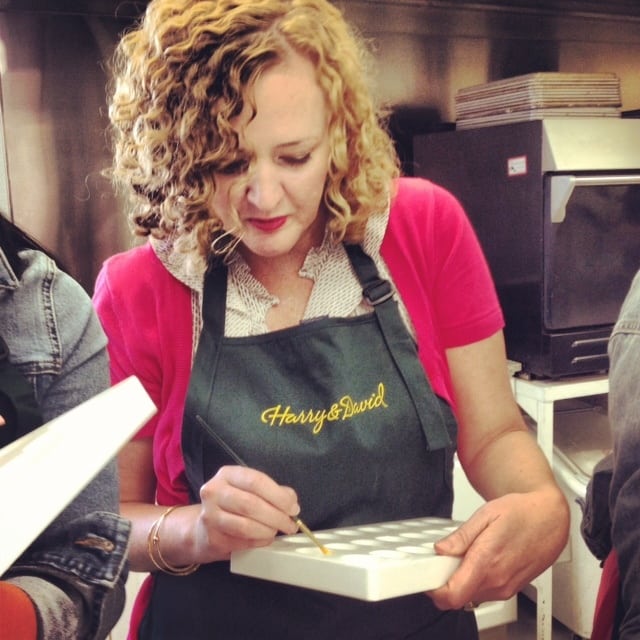 Bakin' pals, Amy and Bridget. :)
Heidi's documenting the amount of butter, and the gazillion flavors of Moose Munch that are now made! :)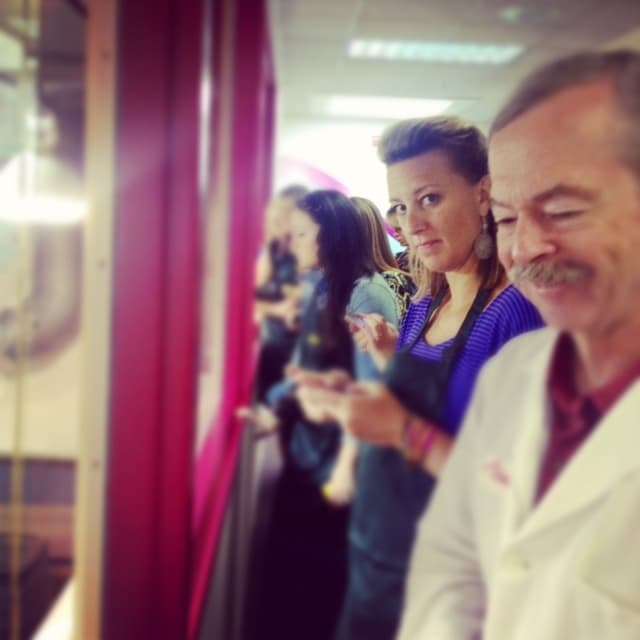 Gingerbread Bark and Kristen looking over the process. :)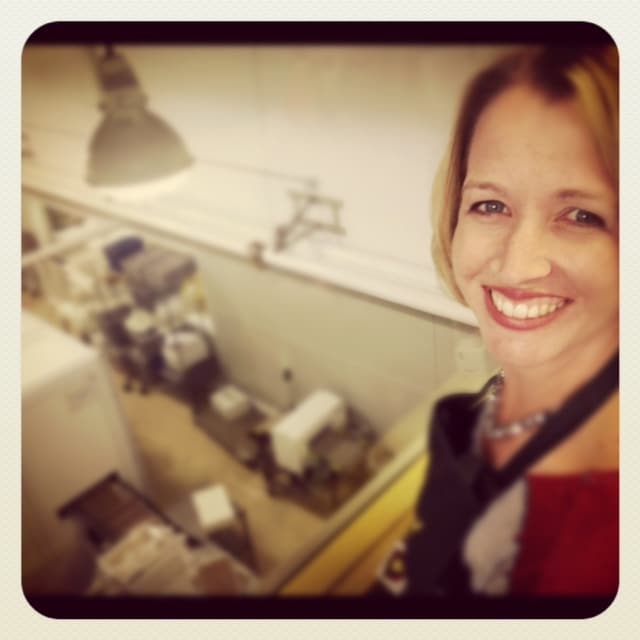 We did some chocolate tasting, touring, candy tasting, touring, … and then we enjoyed a beautiful lunch at the Ponds behind the H&D building.
The last part of the day, we got silly making ribbons.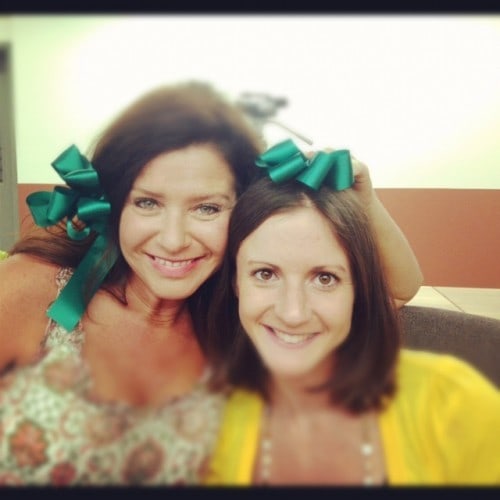 But … we had a new appreciation for all the hand-tied bows that are made and used for the gifting baskets.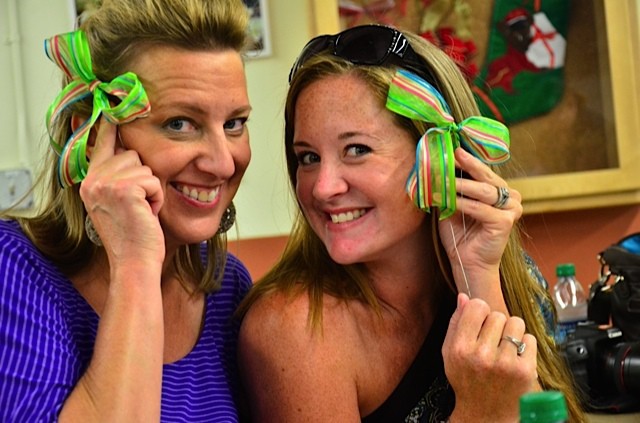 And we got to make our own basket–packed with pride, signed with our own names.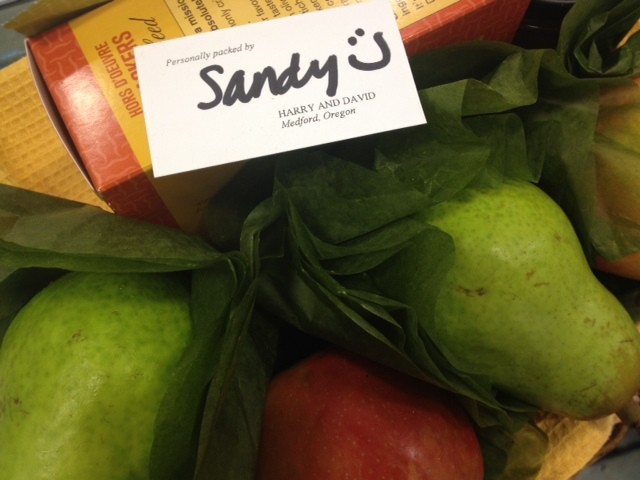 That was a blast. And then we got to send it on to whoever we wanted (thank you, H&D).
We can't thank these ladies (H&D staff) enough for all the hard work they put into this blogging event. It was one of the best trips ever!
That night we said our good-byes in Ashland after another fabulous dinner, and parted ways early the next morning.
Harry & David made our time so rewardable, not only sharing about the orchards, pears, and how to touch lives by sending the perfect Harry and David gift basket, but teaching us new ways to cook with their products from the Country Village Store, and encouraging us to take it a step further and practice easy entertaining with our friends and family.
The value of people and friendships in our lives — whether sharing a meal with them in our homes, or sending them a gift "just because" — Harry & David knows that their company's success begins and ends with good people.
What's your favorite Harry & David gift to give or receive?

(My 3 days in Medford were sponsored by Harry & David. And I personally want to thank Mary, Rhonda, Catherine, and Krystl for making this trip so spectacular and special for all involved.)
Other posts to share from HD blogger's experiences:
How Sweet it is
Eat, Live, Run
Two Peas and Their Pod
Foodie Crush
Foodie with Family
Recipe Girl
Bake at 350
She Wears Many Hats
Dine and Dish
Hello and welcome to my home and table!
I'm Sandy—lover of food, family, cooking, THE BIG BOARD, travel, and bringing people together. Through great recipes and connection around the table, we become better, stronger, and more courageous people. Feasting on Life is real, and every time we do it, we grow a little more. Read more...