Healthy Cheese Board Recipe
Make a crudite platter or Healthy Cheese Board Recipe, filled with your favorite vegetables and cheese. Fill endive leaves with feta and chopped pecans!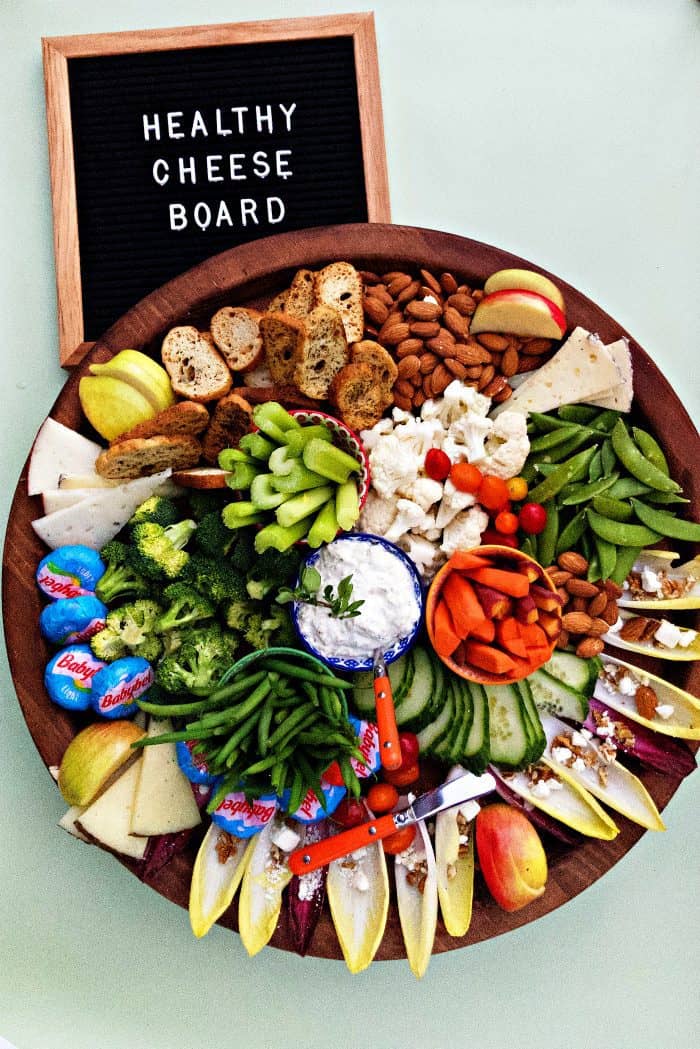 Friends, this is a benefit of doing life together, when we open our homes for true, open, authentic relationships. Which is why I love to serve a cheese board that brings everyone together!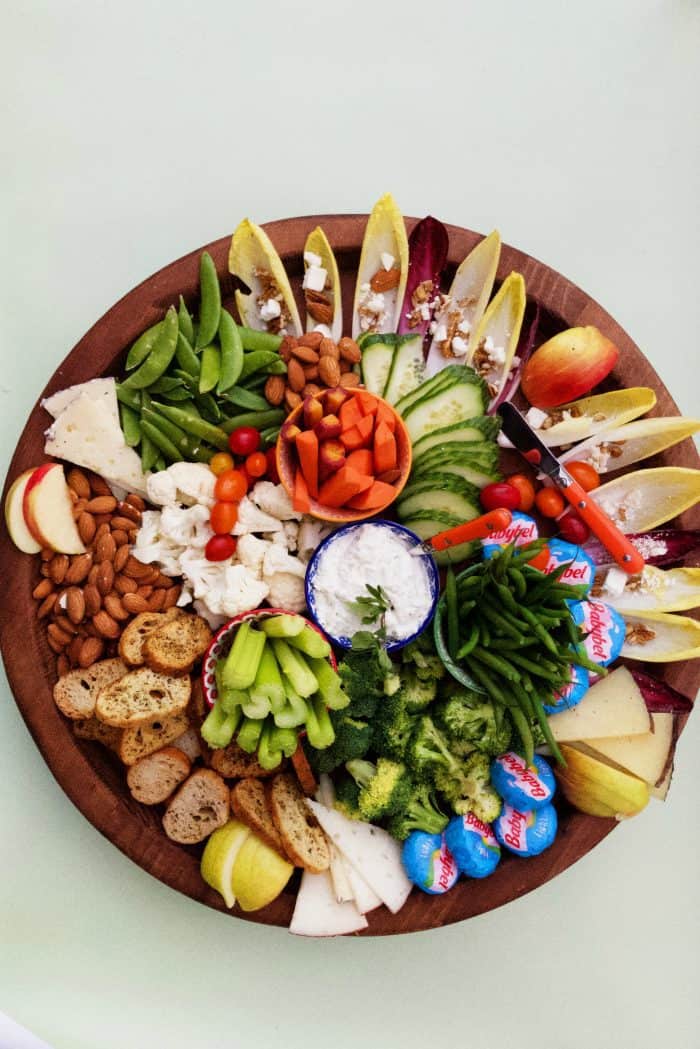 Healthy Cheese Board Recipe
Today on the blog, this delicious Healthy Cheese Board Recipe (plus shopping list), and watch the time lapse video over on my Instagram @reluctantentertainer to see how to assemble the board. Easy! (Also, visit my charcuterie/cheese board page.)
The other night we found out a young couple was coming to our town for a couple of nights for their anniversary. I took the chance … would they really want to stop by for appetizers and a glass of wine first? I mean, it was, after all, their anniversary.
Did they show up? Keep reading. (Above, our snowy winter wonderland!)
What is a healthy cheese board?
What did I serve? A Healthy Cheese Board. Grab the links to my new boards at the bottom of this post!
My Healthy Cheese Board is filled with mixed sliced cheese and vegetables that have been thinly sliced. Veggies (or crudités) are usually served with a dip, either as an appetizer or snack.
You can include seasonal, fresh vegetables such as carrots, cucumber, sweet mini peppers, celery, snap peas, tomatoes, green beans or radishes. You can watch the video in my post, 7 Tips to a Delicious Crudités Platter, too.
What goes on a veggie platter?
Think healthy and crunchy! A veggie platter usually has a variety of seasonal vegetables with a dip (ranch dip is the most popular), and even black olives. My Mom always added black olives. You can also make roasted carrots.
I love the endive leaves with feta and chopped pecans. You can use your favorite cheees or nuts, but they make the best bites!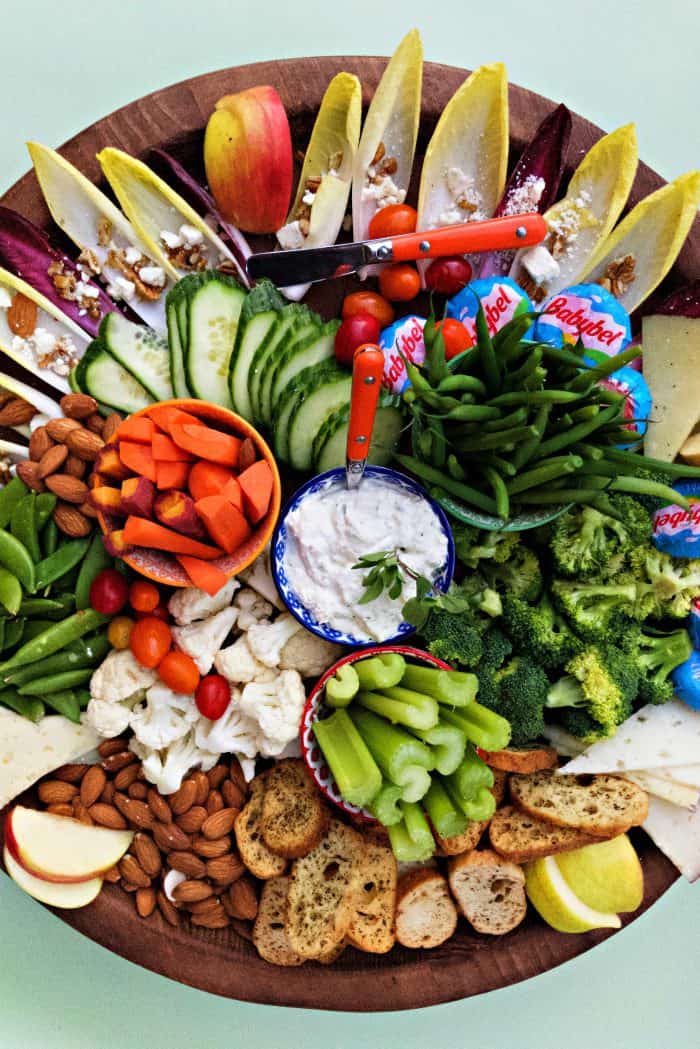 Hospitality is risky
Hospitality is risky. Because you can always hear a big "no." And that can hurt.
Because I've hosted for so many years, I get the dynamics of "no" and I always figure if it's meant to be, it will be.
The whole idea of creating space for others to join you in your home, to say–hey, we want to get to know you more–is what I love about hosting.
It's space for them to show up and join in.
What was a blast about this one hour with this amazing couple was our kids (in their 20's) happened to be there. We hung out in the kitchen and grazed over this board and enjoyed a glass of wine. We asked questions …
How did you meet?
Tell us about your first date?
What's your favorite thing about being married?
We also laughed until we cried. Honestly, we had some really sappy and funny moments.
Friends, this moment on a Friday night was special.
Later that night, I smiled as I went to bed. The footprint of that one hour was unique and meant to be.
Our hearts bonded with this couple, and we can't wait to have them into our home again.
I love the way we are wired to love on people.
And feed people (this healthy cheese board). Make it as beautiful as you can!
This is what feasting on life is all about.
Invite, eat, drink, share, love and invest.
BUY MY NEW BOARDS HERE, The Big Board.
2 epic sizes
Food safe
Made in the USA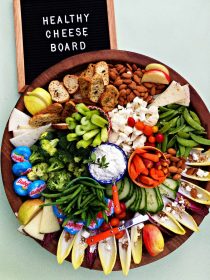 Get the Recipe: Healthy Cheese Board Recipe
Ingredients
Light queso dIp, or Ranch dressing or favorite dip
Celery sticks
Carrot Sticks
Green beans, blanched, cooled, and cut in half
Cucumbers, sliced
Snow peas
Apple slices
Baguette toasts
Almonds
Cheese
Babybel cheese
Endive stuffed with feta and pecans
Broccoli
Cauliflower
Cherry tomatoes
Cheese slices
Instructions
On a large platter or tray, place a bowl of dip in the center.

Start filling in the spaces with vegetables. Use small bowls if you want to group together.

Remove endive leaves from core (Barb, stem?) and lay on the outer part of the tray. Sprinkle with feta cheese and chopped pecans.
More cheese board posts: How to make a cheese board [Barefeet in the Kitchen].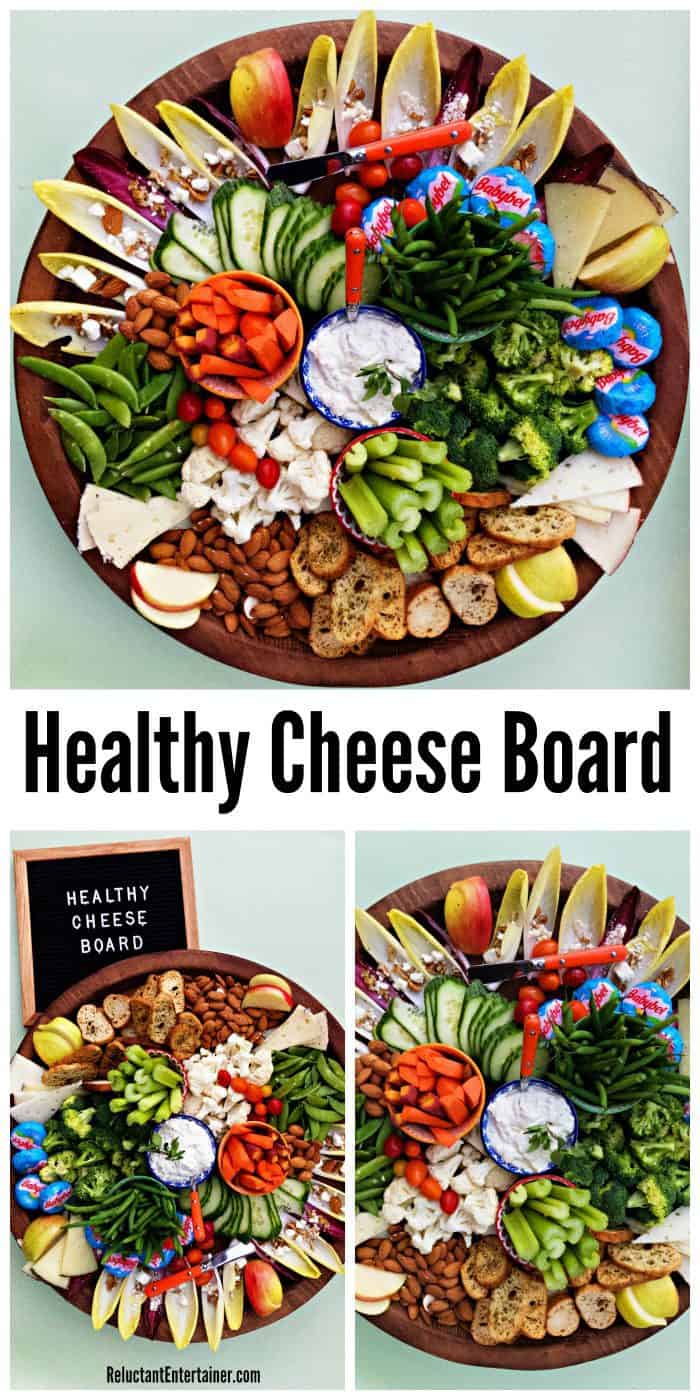 Hello and welcome to my home and table!
I'm Sandy—lover of food, family, cooking, THE BIG BOARD, travel, and bringing people together. Through great recipes and connection around the table, we become better, stronger, and more courageous people. Feasting on Life is real, and every time we do it, we grow a little more. Read more...