Holiday Meatball Charcuterie Board
With holiday party seasons just getting into full swing, enjoy this fabulous "party hit," easy entertaining recipe: Holiday Meatball Charcuterie Board. This post is sponsored by CLASSICO, to share information about their CLASSICO Riserva Sauces with my readers.
Friends, are you ready for holiday entertaining? If you're like me, you love an impressive charcuterie board when you go to a party, because there's always something to enjoy for everyone!
Nothing says "celebration" more than a delicious plate of fresh goods, with meats and cheese and an array of rainbow veggies! (Watch the VIDEO below that shows you how to make this recipe at home, and grab the recipe!)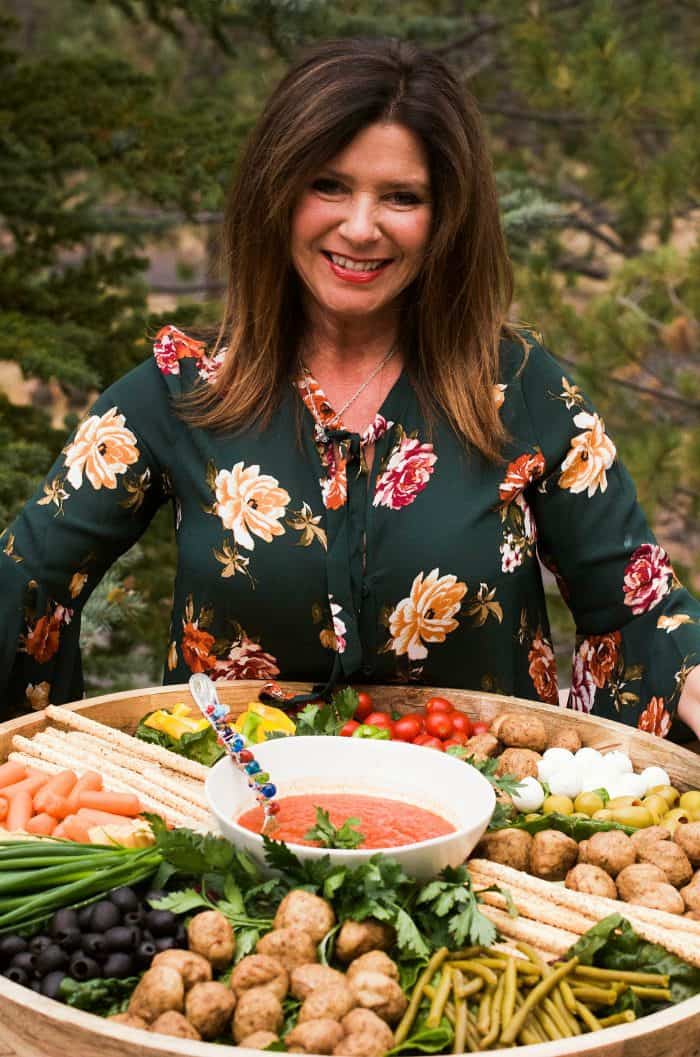 Today I'm sharing my charcuterie tips, along with a simple star ingredient: CLASSICO Riserva Marinara Sauce. CLASSICO Riserva sauce is a great-tasting, authentic Italian pasta sauce that you can be proud to serve your family for weeknight dinners, for an easy date night, dinner party, or the most fabulous charcuterie board – ever!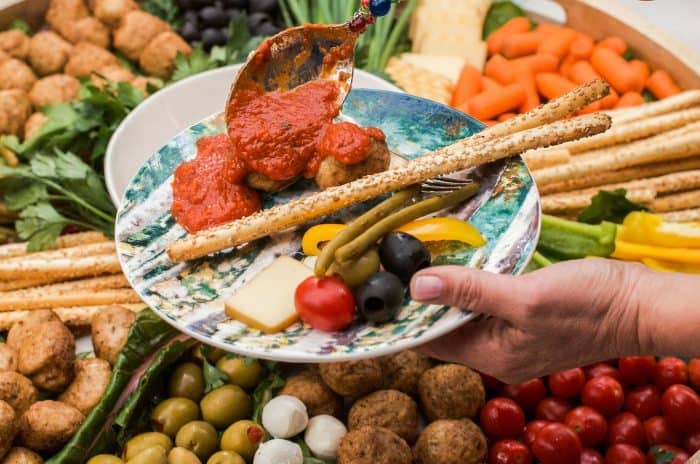 I say "star of the dish" because all you have to do is pop open a jar of these amazing flavors, pour into a large bowl, and place in the center of the charcuterie for dipping or spreading!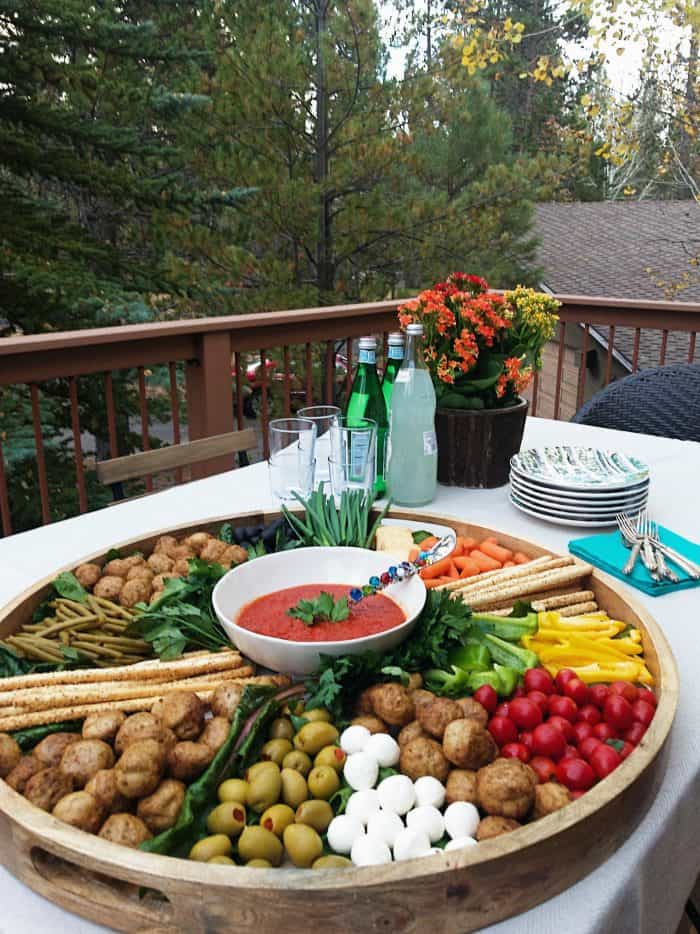 A charcuterie board is all about preparation! You first start with a platter or board that you feel confident in using. One that is large enough to hold all of the ingredients that you'll be adding (depending on the occasion, size of party, or how many you are feeding).
My board is rather large, but I have smaller versions as well.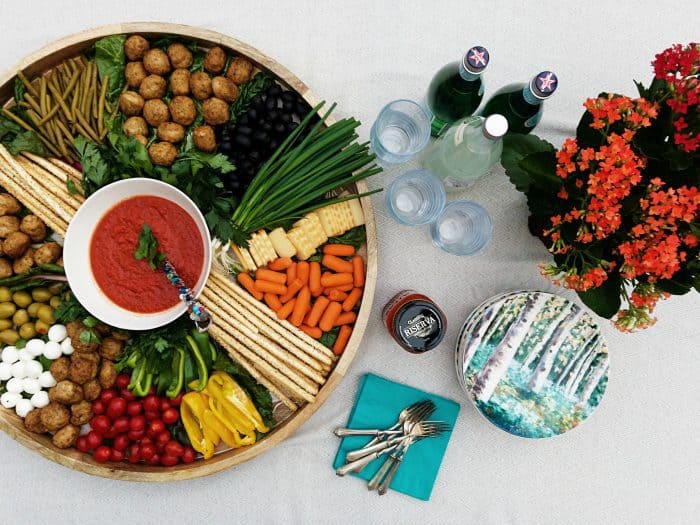 Holiday Meatball Charcuterie Board
Knowing I have key ingredients on hand also gives me confidence that I can please different palates. I may need to buzz to the store to pick up last minute fresh veggies, such as kale leaves (or lettuce), parsley, green onion, carrots, bell peppers, cherry tomatoes, and Italian parsley.
I always keep quality turkey meatballs in the freezer.
And in my pantry are a few jars of CLASSICO Riserva sauce. I fell in love with the flavors of this natural sauce, with no artificial sugars, its rich authentic Italian flavors, gluten-free (yes!), and guess what? Very reasonably priced, including only the highest quality ingredients (check out the clean ingredient statement that appears on the front of every jar!) PIC HERE. I keep pickled green beans, olives, and bread sticks in the pantry.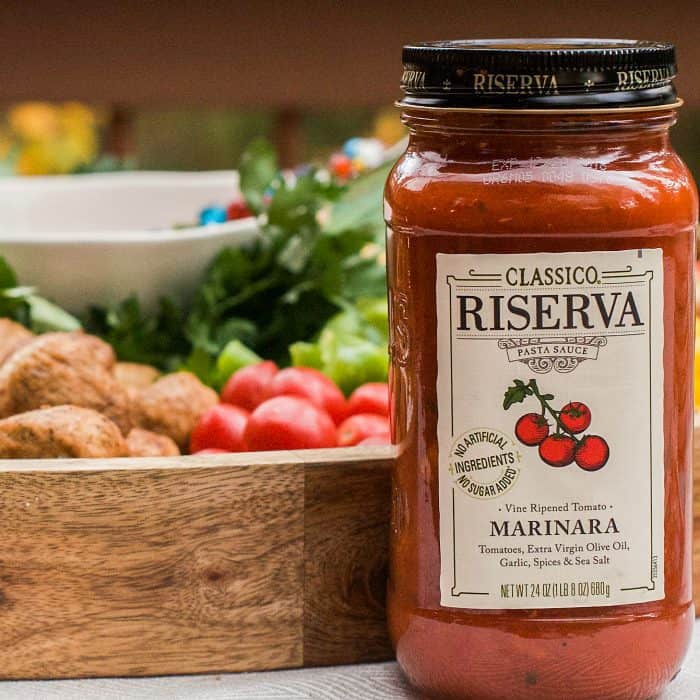 CLASSICO Riserva's flavors are restaurant-like quality, and super affordable (compared to other super premium/restaurant quality sauces, which retail for $8-10 per jar). You can't beat that!

Lay down parchment paper. Lay down beautiful dark green kale leaves (or lettuce), to lay ingredients on.
Intermix the veggies, cooked meatballs, cheeses, and bread sticks, around the CLASSICO Riserva Marina sauce! The sauce can be slightly warmed, or kept at room temperature if you're in a crunch.
Garnish with Italian parsley!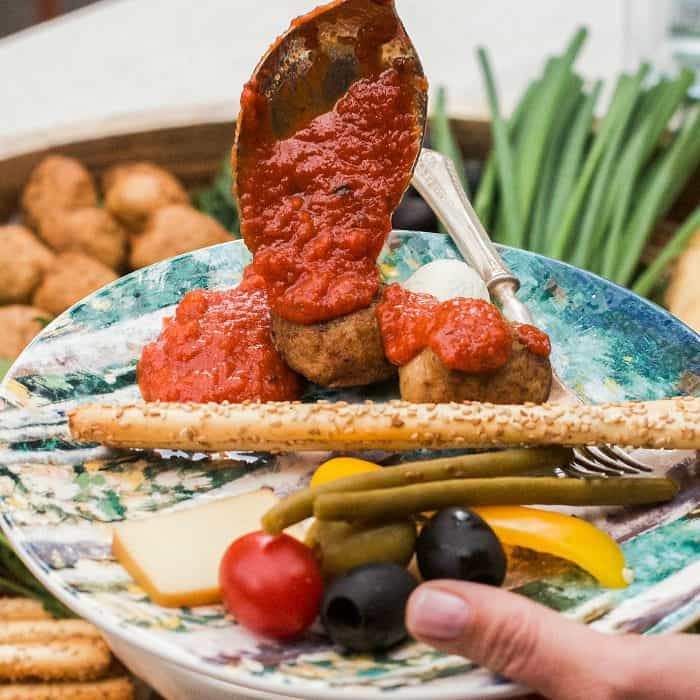 What I love about this recipe today is that there's something on the board for everyone!
So sit back, relax and fully enjoy your party, without having to be running back and forth to the kitchen, or scrambling last minute for an appetizer (or meal).
This Holiday Meatball Charcuterie Board? A meal in itself!
Looking for the perfect board or tray for entertaining? I love this round cheese board comes with a knife set, or this tray with metal handles, or my favorite rustic galvanized tray! This beautiful wood carved tray is on my Christmas list!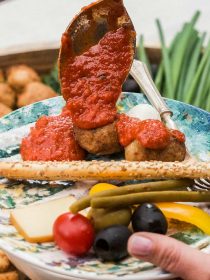 Get the Recipe: Holiday Meatball Charcuterie Board
Double or triple the recipe depending on the size of the party!
Ingredients
1 24 oz. jar CLASSICO Riserva Marinara sauce
1 bag frozen large turkey meatballs
Cheese, sliced smoked, mozzarella balls, or your favorite cheeses
Veggies, kale leaves, green onion, bell peppers, carrots, cherry tomatoes, Italian parsley, sliced
1 4 oz. package long bread sticks, or pretzel rods
Olives, 1 can of black, 1 can of green, drained
1 jar spicy long green beans, dilly beans, drained
Instructions
Layer the charcuterie board with parchment paper. Pour 1 jar of CLASSICO Riserva sauce into a large bowl, and place in the middle of a board or tray. (The sauce can be slightly warmed, or kept at room temperature if you're in a crunch.)

Heat pre-cooked turkey meatballs in the microwave according to package directions.

Surrounding the bowl, lay down fresh kale or lettuce leaves. Place veggies on the kale leaves. In between the veggies, layer meatballs, cheese, and breadsticks.

Garnish with parsley; serve!

(Only leave the platter out for a few (four) hours before refrigerating.)
More party ideas: Olive Kebabs [RE], Shrimp Sausage Kebabs [RE], Buffalo Chicken Meatballs [RE], Easy Meatball Crostini Appetizer, and Butternut Squash Stuffed Shells (another delicious recipe with CLASSICO) [RecipeGirl].
This post is sponsored by CLASSICO. As always, all opinions are my own, and I only promote products that I would use in my kitchen.

This post includes Amazon affiliate links at no extra cost to you. Thank you for supporting RE!
Hello and welcome to my home and table!
I'm Sandy—lover of food, family, cooking, THE BIG BOARD, travel, and bringing people together. Through great recipes and connection around the table, we become better, stronger, and more courageous people. Feasting on Life is real, and every time we do it, we grow a little more. Read more...